Dubai has always been the topmost choice as a vacation destination for tourists of all genres not only because of the glamour and glitz it has but also because of the endless entertainment option it offers. The city is always bubbling with energy and has no dearth of activities for visitors of all ages and preferences. If you are planning your next holiday in Dubai then you must know about 31 Best Things to do in Dubai.
Best Things to do in Dubai
1. Leisure Time in Dubai Beaches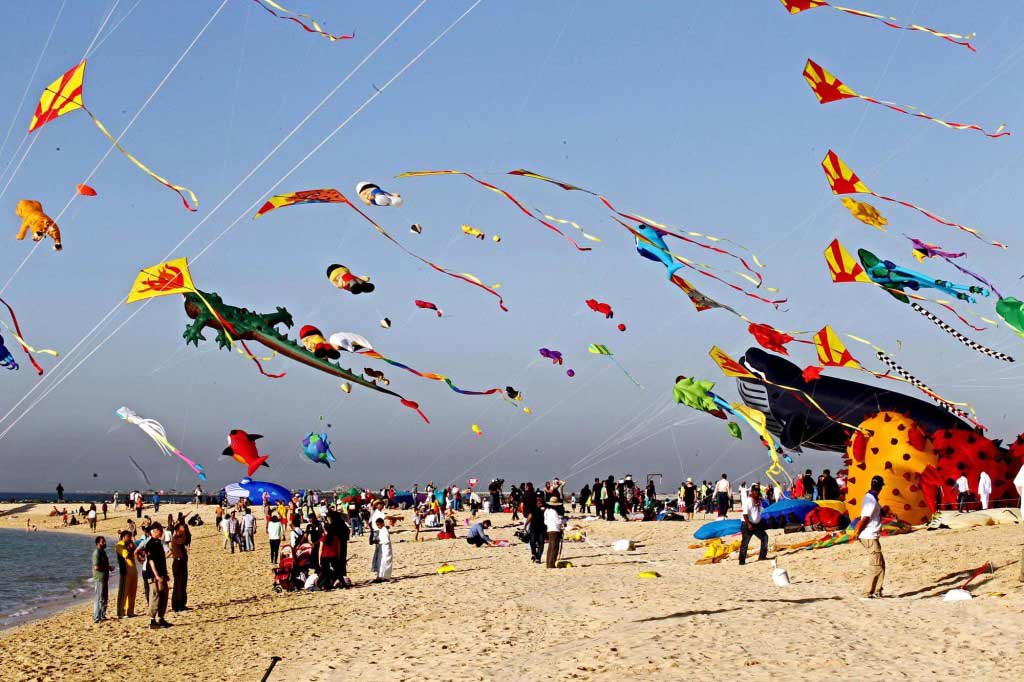 Dubai houses some of the finest beaches in the world. You must go for a walk at Jumeirah Beach Dubai stretched over an area of 1.7 km. This place is famous for its wonderful eateries, beachside bars and the latest fashion boutiques. Celebrities from all around the world are regularly spotted on this beach.
Another must visit the beach of Dubai is the Kite Beach that offers endless water sports and adventure activities for the beach lovers and adventure enthusiasts. Apart from kite surfing, other activities to be enjoyed here are paddle boarding, kayaking, body boarding, snorkelling etc. Beach Chalets are available for booking here.
2. Desert Safari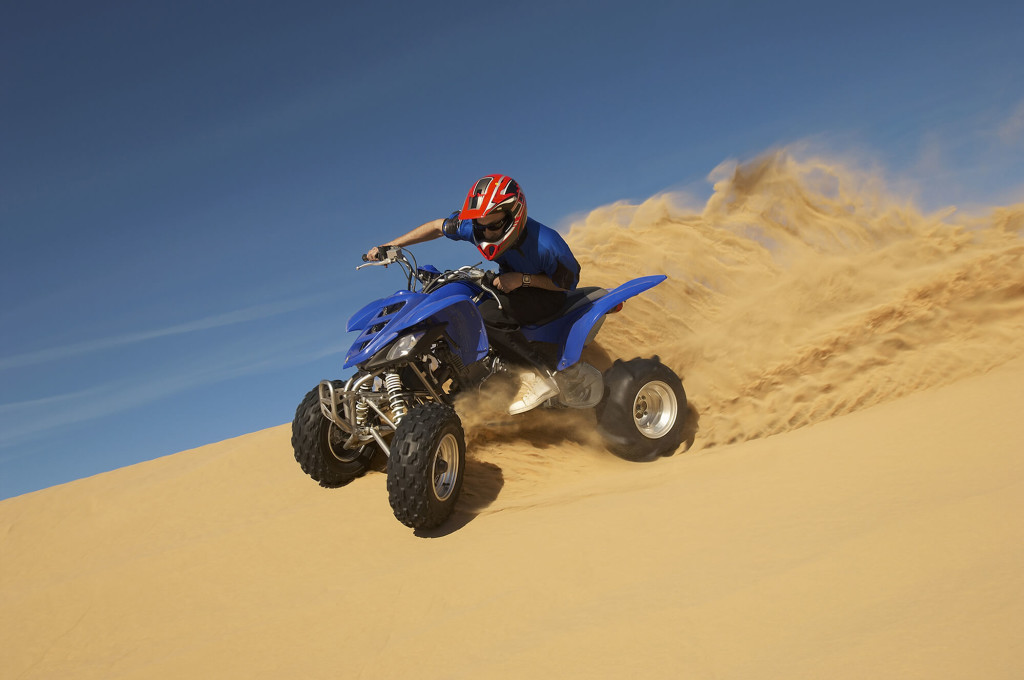 No trip to Dubai is complete without experiencing the Dubai Desert Safari. The adrenaline rush of 4×4 safari jeep, speedy mountain bike and camel rides in the majestic Dubai desert are experiences that goes with you a long way. If you have some extra time during your desert safari, you can go for enthralling sand boarding, have the henna tattoo done and enjoy a wonderful BBQ dinner in the evening desert camps. Almost every reputed tour operator offers pick-up and drop facility for your desert safari.

3. Shop till you drop in Dubai Malls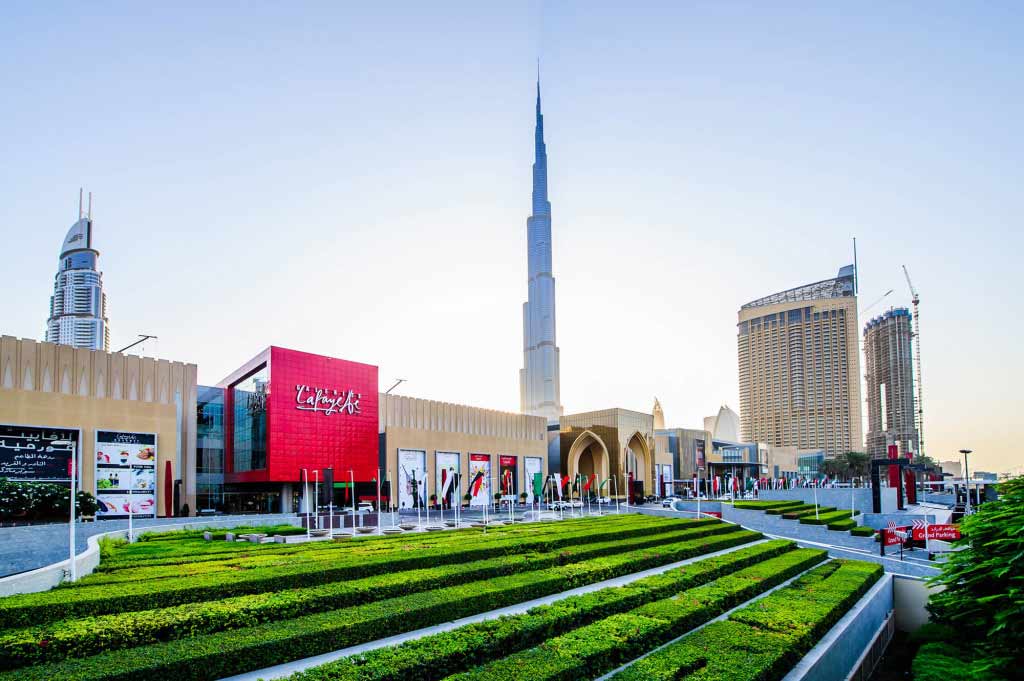 If there is a paradise on the earth for the ardent shoppers, it is none other than Dubai. It caters the preferences and budgets of shoppers of all genres. Malls of Dubai get the footfall of tourists from every corner of the world. Dubai Mall, the largest of all, not only houses more than 1200 stores selling a multitude of items but it also houses many theme parks, an aquarium and several eateries.
The Ibn Batuta Mall has an architecture based on the travelling experience of the famous traveller from Arab, Ibn Batuta. The architecture has places that are named after the courts of various places where Ibn Batuta went.
Also Read: Nightlife in Dubai
4. Historical Tour of Al Fahidi Fort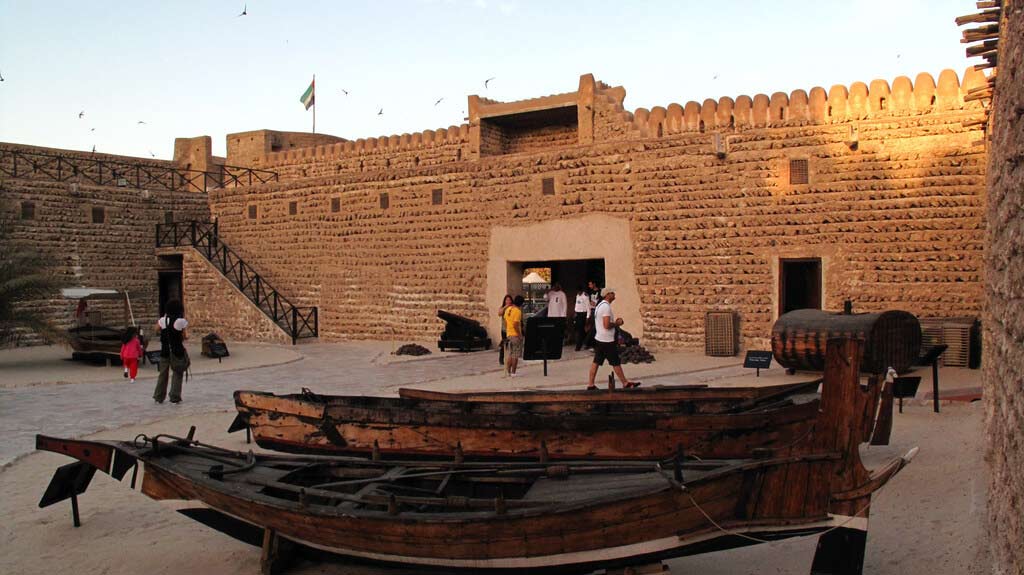 Al Fahidi Fort is the oldest monument of Dubai city and was constructed in 1800 AD. Right now this is the best place to know the inspiring history of Dubai City as it houses the famous Dubai Museum. Till 1896, this fort that was fortified by three huge towers and was the residential place for the local rulers of Dubai.
Here, visitors get to know how Dubai got transformed from a small fishing and pearling centre to one of the main centers of global business, fashion world and tourism. There are video shows that display the important events of Dubai between the period 1930 AD and 2000 AD. The exhibits include artifacts that were found during excavations.
This museum also showcases the lifestyle of Bedouins living in deserts. One of the museum rooms displays how the entire region got transformed after oil got discovered here. This fort got declared as a museum in 1971.
5. Speed Boat Tour around Palm Islands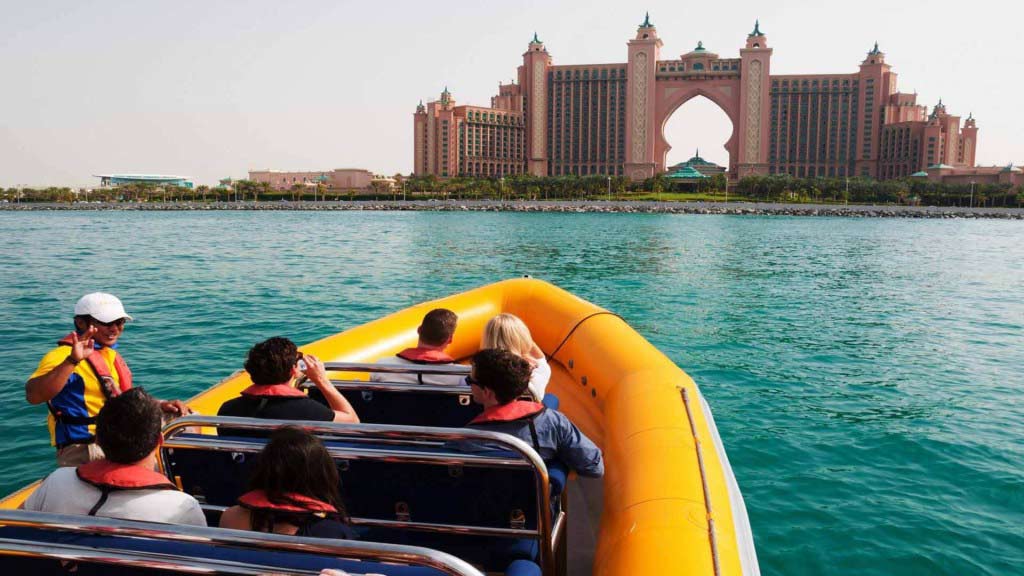 Considered as one of the must-see architectural excellences around the globe, the Palm Islands have fetched worldwide fame for Dubai. These islands consist of two man-made islands- Palm Jebel Ali and Palm Jumeirah. Enjoy the sight of spectacular man-made Palm Jumeirah Island that has the shape of a giant Palm Tree. Yacht Charter Companies have plenty of Speedboat Tours throughout the day making it possible for the visitors to enjoy a boat trip around the Palm Island.
[Check Out: Best Things to do at Atlantis the Palm Dubai]
6. Be part of Dubai Shopping Festival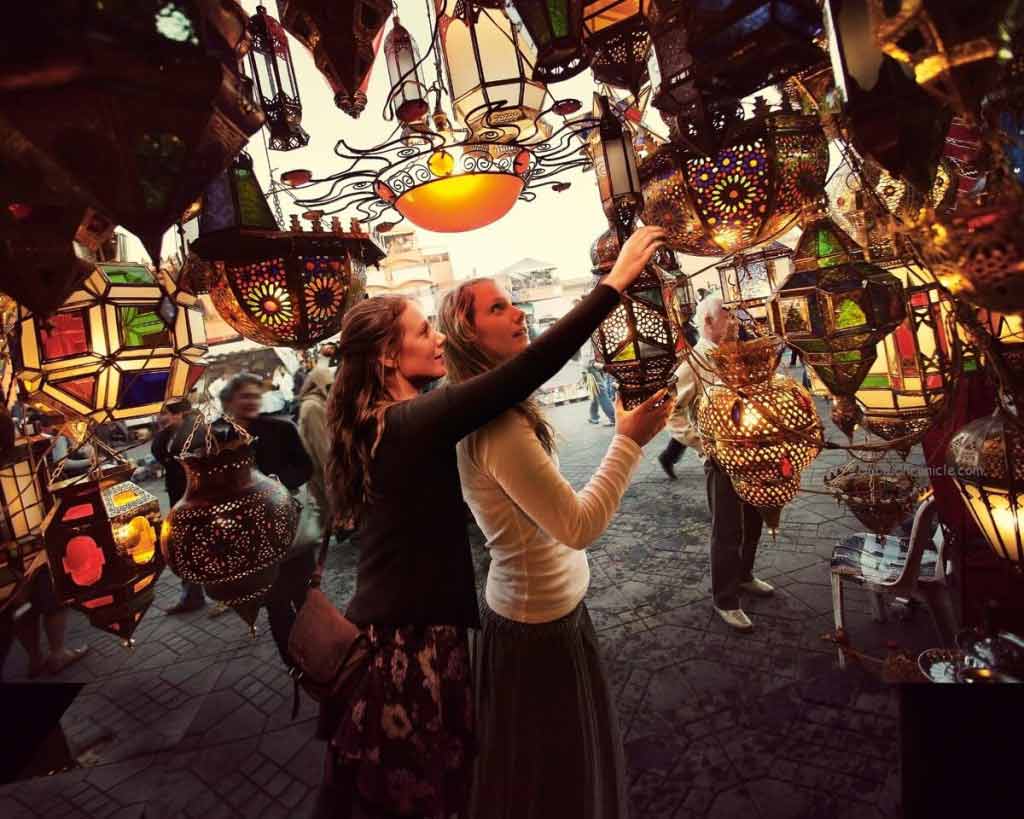 You can be part of one of the most awaited festivals of Dubai; the annual Dubai Shopping Festival provided you have your tour planned during January – February months. This one-month-long festival is a once in a lifetime opportunity for many to shop at their heart' desire. Apart from buying varieties of items like electronics good, gold ornaments, dresses and others, a multitude of events like fashion shows, music concerts, firework display and other entertainment programs get organized during this shopping festival.
Even if you are not much of a shopper, this festival gives a complete new vibrancy to the city of Dubai. Literally every street and every shop is a part of the festival and the experience creates an unforgettable mark in your life.
7. Enjoy at some of the world's best Theme Water Parks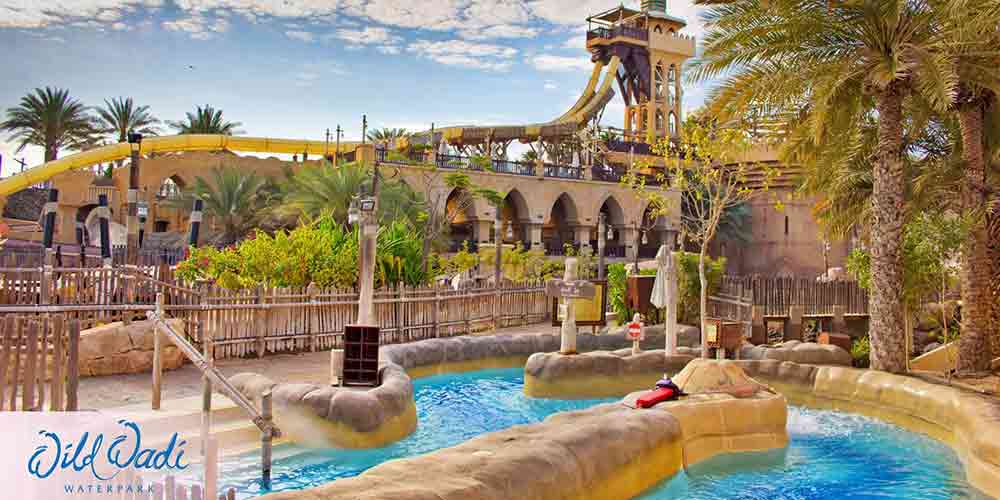 The first in the list is the Wild Wadi Theme Park. This water park is located in front of Burj Al Arab and offers about 30 exciting rides for the visitors. The park houses the longest slide of Middle East, Jumeirah Sceirah. Beakers Bay, the biggest pool in the Middle East, is another major attraction of this water park. The theme of this park has rides inspired by the Tale of Juha, a famous character of the Arabian Folktales. The must try rides of this water park are Tunnel of Doom, The Tantrum Alley, Juha's Dow and Lagoon and others.
Hear your heart thumping hard and adrenaline rushing fast while you are trying to beat the heat of Dubai at the Aquaventure Water world in Atlantis. You will find it hard to choose from endless activities here. Right from Shark Safari, Splasher Children's Play Area, and the Tower of Neptune to the Tower of Poseidon, there is something for every age group.
8.Feel of old Dubai at Bastakiya Quarter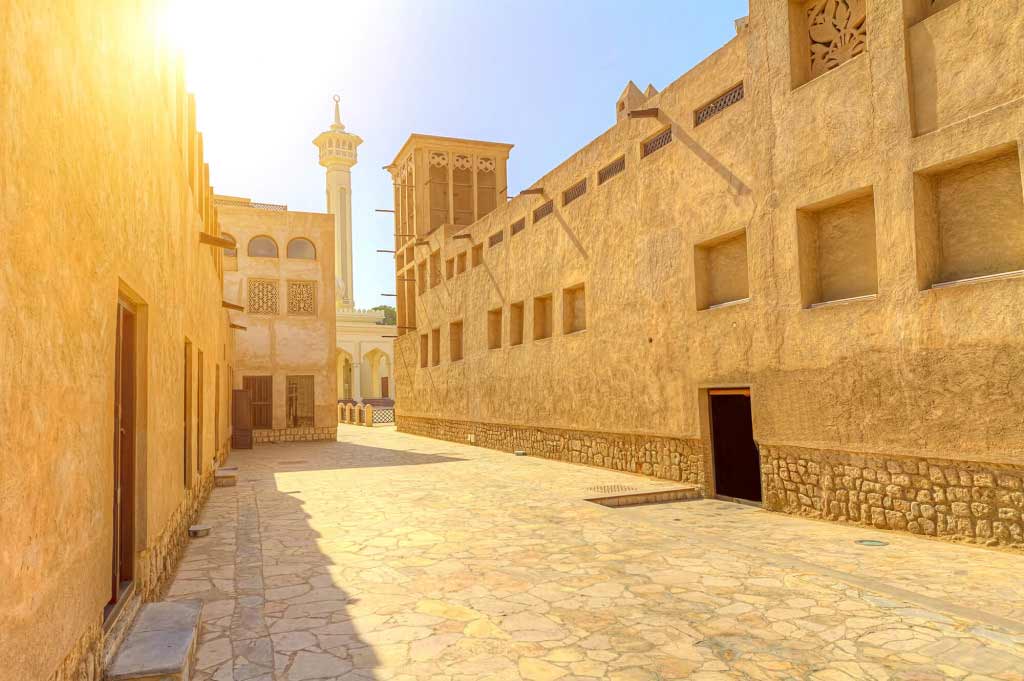 Visit Bastakiya Quarter in Bur Dubai to get the feel and look of old Dubai. You will find this place completely different from the rest of the city. Being declared as a conserved place, vehicles are debarred from entering in Bastakiya Quarter.
You can be part of the Walking Tours organized every morning at this fascinating place and go back with the splendid experience of walking through old pathways and courtyards. You must have 7 to 8 hours to spend here if you want to know more about Dubai before the oil boom and its non-stop growth as an ultra-modern city. Basta Art Café and many other galleries located here are worth visiting.
Also Read: Best Dishes in Dubai to experience heaven in every bite
9. Burj Khalifa Observatory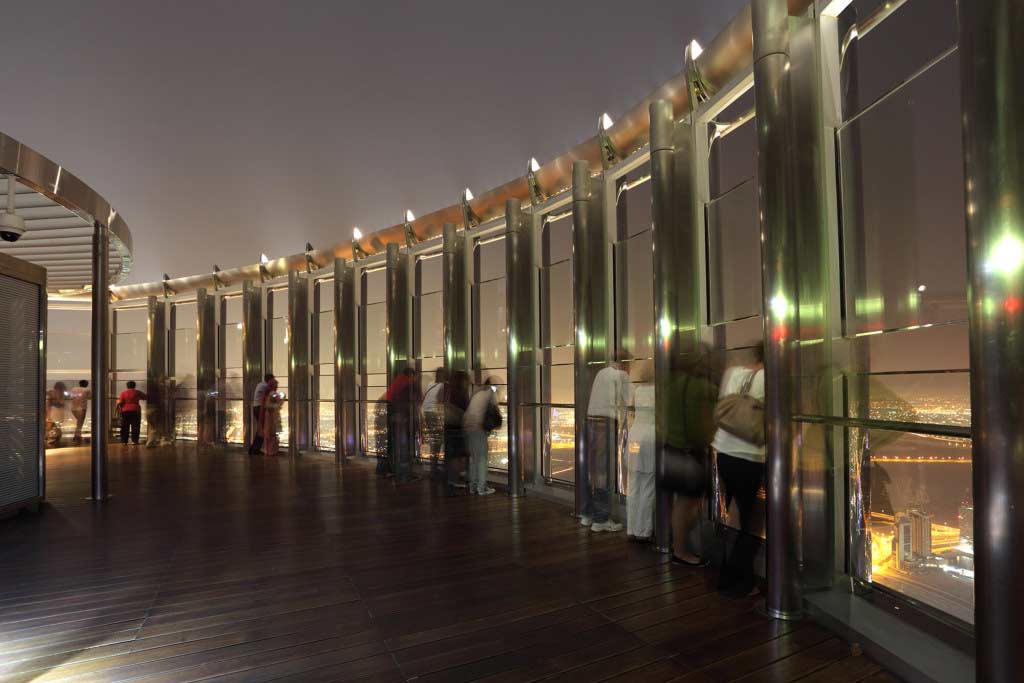 One of the most spectacular Dubai attractions is the Burj Khalifa Observatory. This is located on the 125th floor of Burj Khalifa, the highest building in the world. Entry to this observatory is through Dubai Mall and visitors will be taken to Burj Khalifa Observatory in one of the fastest elevators in the world. You can enjoy an hour or more here at this observatory and get unmatched views of the world below you.
10. Hot Air Balloon Ride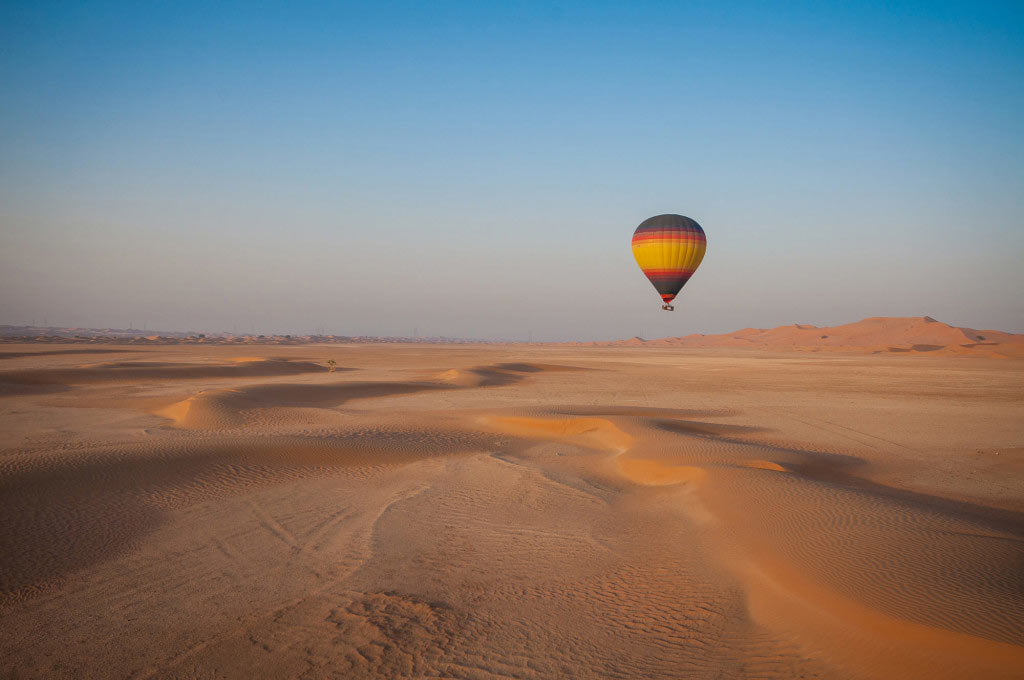 Book a hot air balloon ride in Dubai to go high up in the sky and get the view of panoramic landscapes of Dubai Desert. Glide over the barren desert land to have the sight of beautiful gazelles and camels. Hot Air Balloon Ride is the most preferred outdoor activities in Dubai especially for the people who always look for something different. One of the most romantic things to do in Dubai, go with your soulmate for an early morning ride that allows you a mesmerizing sight of the sunrise with the backdrop of lofty Hajar Mountains. The approximate cost would be 850 AED/child and 995 AED/Adult.
11. Enjoy Creek Cruise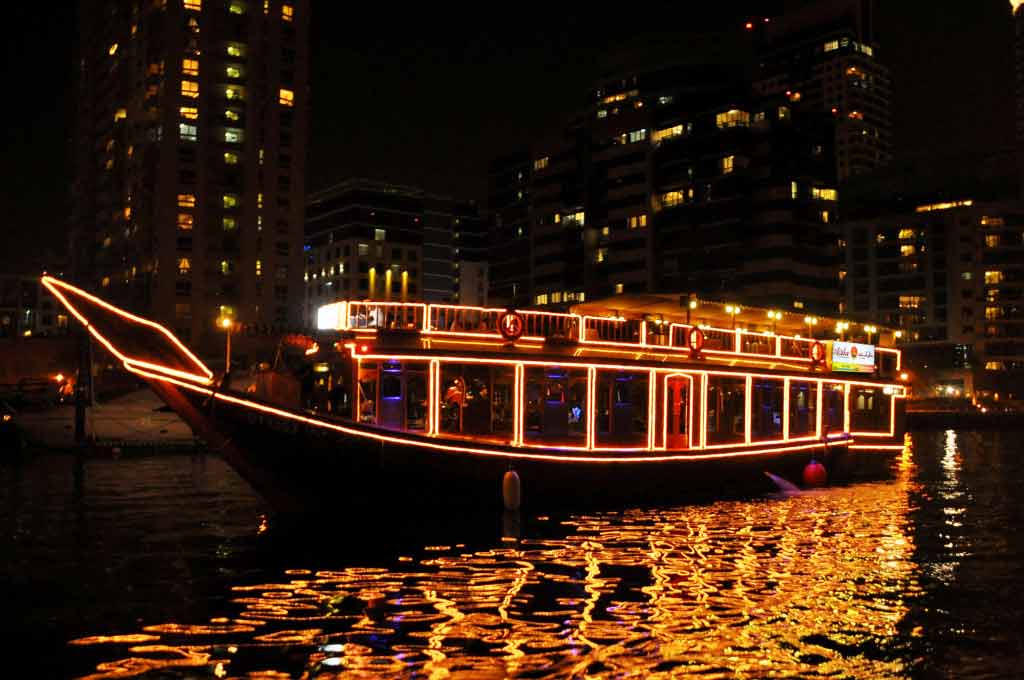 Why miss out the lifetime opportunity to go for an enjoyable Creek Cruise in Dubai? Have a pleasurable traditional Dhow ride on a moonlit night by booking Dubai Creek Cruises that include light and music show and belly dancing. One of the best things to do in Dubai, the cruise also includes an open air buffet to serve you with mouth-licking foods. You must have 2-3 hours to enjoy this unforgettable Dubai Creek Cruise.
12. Golfing in Dubai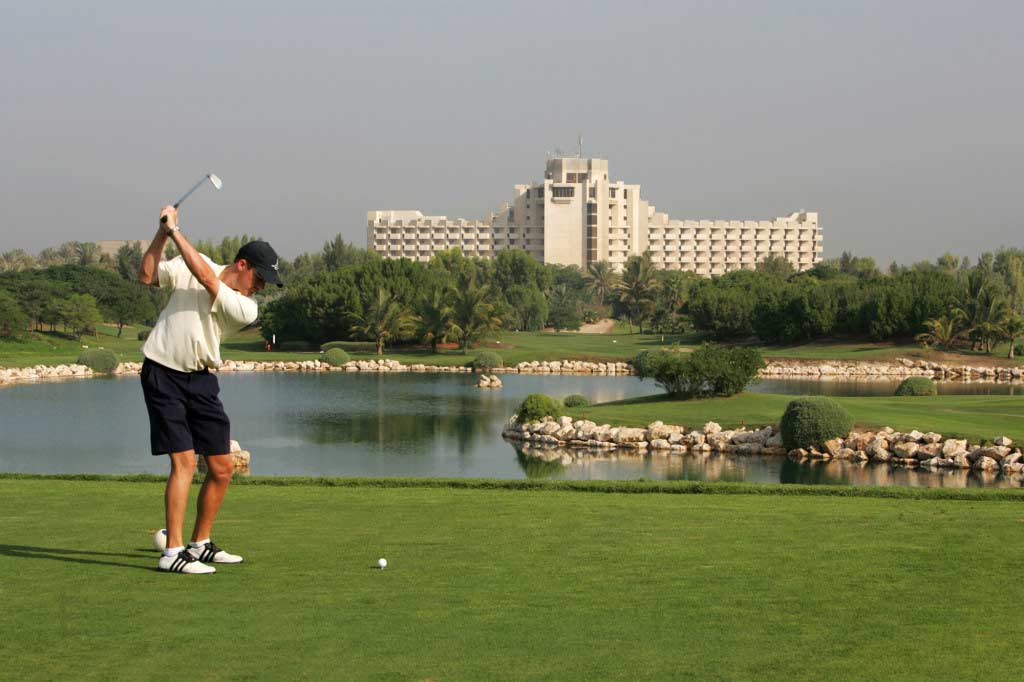 If adventure sport is not your favourite then you can always go for the classy sports activity like Golf. The Four Seasons Gold Club in Dubai has par 72 squares visited by the gold lovers from all over the world. You can also visit Emirates Gold Club that has the architecture inspired by Bedouin tents. Apart from the 72 par course, 7211 yard and 18-hole golf courses, these super luxurious golf clubs beckons visitors for its world-class ambiance and hospitality stations.
13. Skiing at Ski Dubai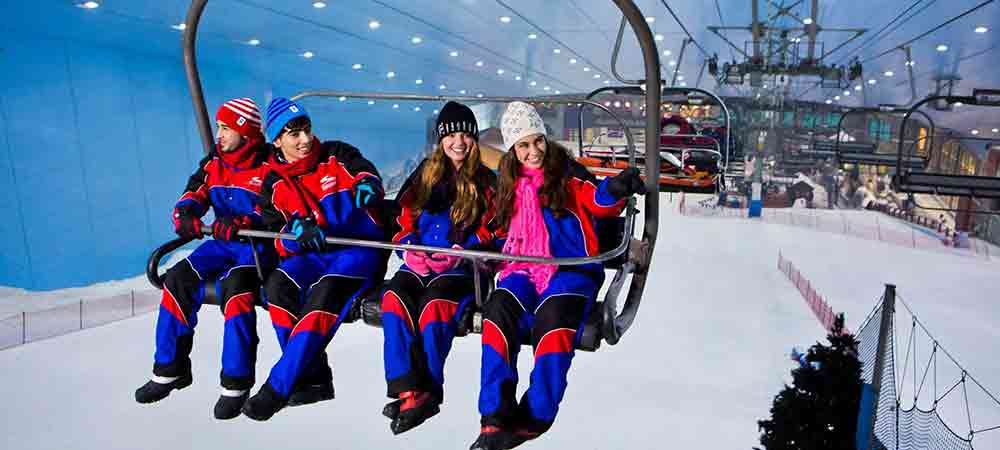 One of the most adventurous things to do and in Dubai is enjoy skiing at the indoor ski resort, Ski Dubai. Apart from skiing, adventure enthusiasts can also go for tobogganing, snowboarding or simply play in the snow. This mountain themed indoor ski resort attracts visitors throughout the year. Skiing is offered for the novice ones to the most experienced skiers. Professional guides are also there to help the participants. Another winter sport, snowboarding is also quite popular at this ski resort.
14. Exciting Sky Diving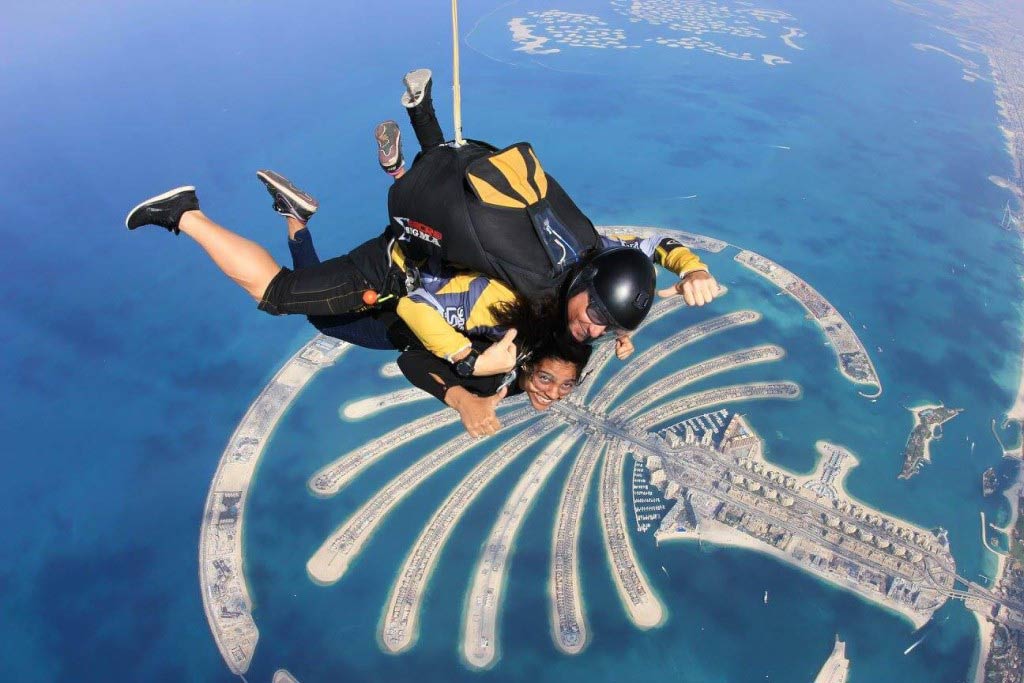 No, you need to be an expert sky diver. Even if it's your first time, you can do the sky diving adventure with the help of an expert. You can enjoy skydiving and parachute jumping in Dubai to the fullest provided you keep at least three hours for this adventurous activity. As you are diving into the air, you get to enjoy the mesmerising view of the Arabian Sea, Palm Island and Jumeirah Beach on your way down.
15. Light and Sound at Dubai Fountain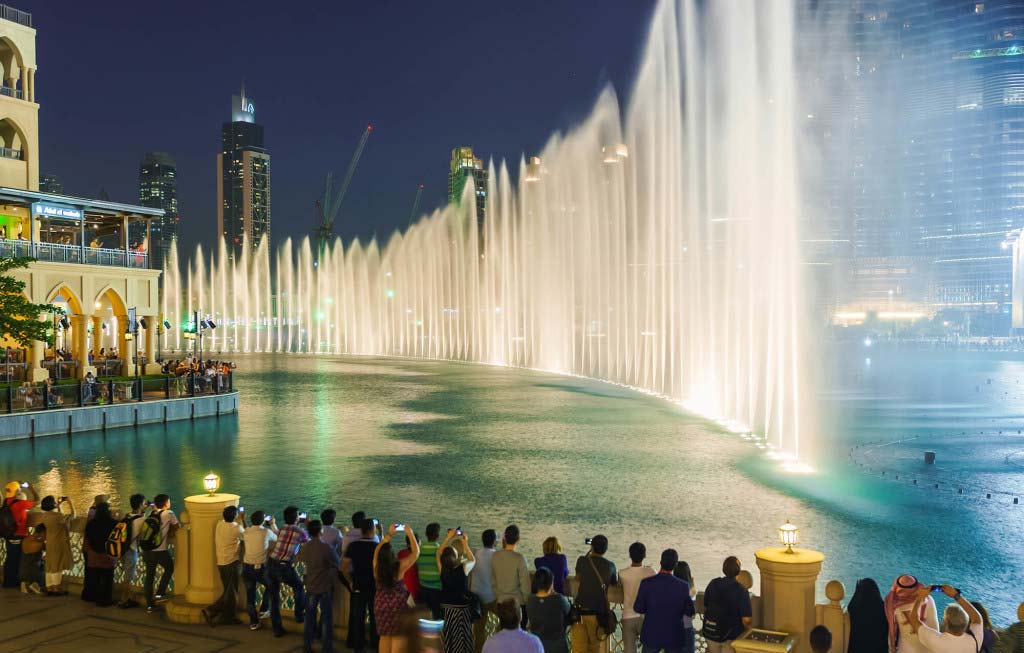 You do not have to spend a single buck to experience this wonderful light and sound show, simply be at the Dubai fountain at the Dubai mall around 6pm every evening. Get the sight of fountain water getting thrown at a height of more than 500 feet and appreciate the mesmerizing sight of Burj Khalifa Lake that gets illuminated by more than six thousand super lights during this show. While you are witnessing this show, you can also tantalize your taste buds with by ordering your favourite dish one of the eating houses nearby overlooking the fountain.
16. Helicopter Ride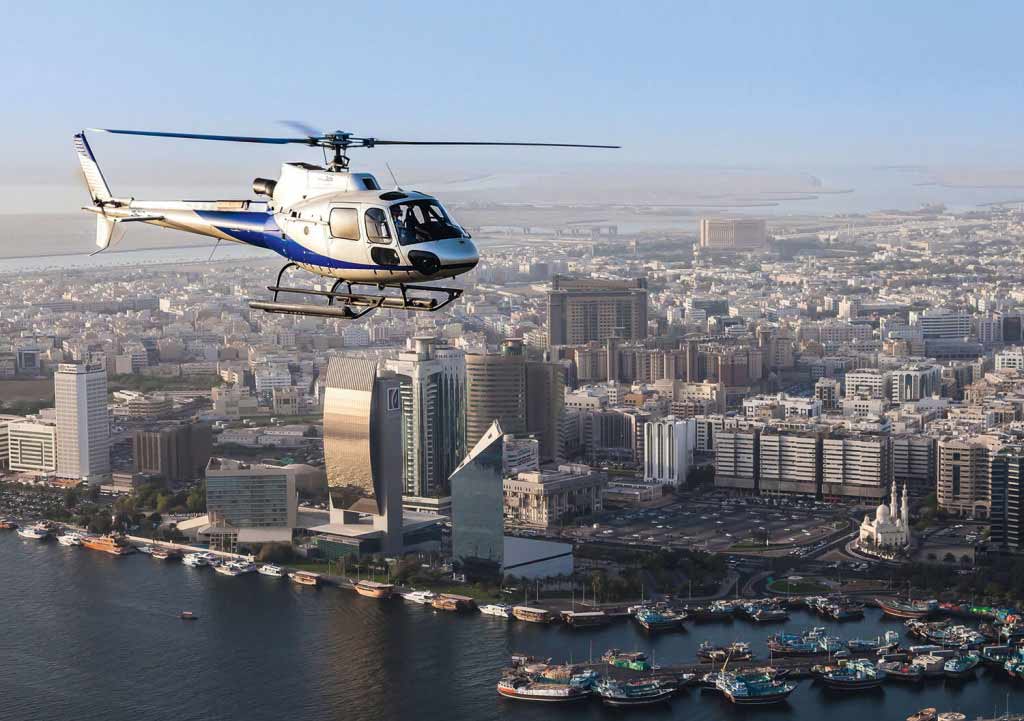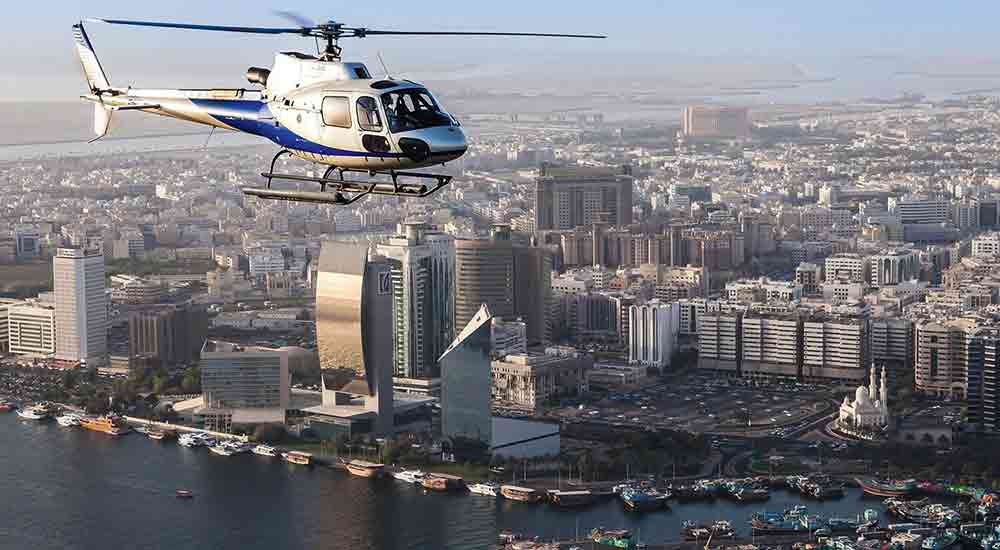 Helicopter Ride in Dubai Sky provides the best aerial view of the city. Book a 30 minutes helicopter ride to get the incredible views of the finest attractions of Dubai City. During this wonderful helicopter ride, you will get spectacular sights busy Rashid Port, Dubai Marina, skyscrapers Burj Khalifa and Burj Al Arab and the beautiful Palm Islands archipelago.
17. Enjoy Deep Sea Fishing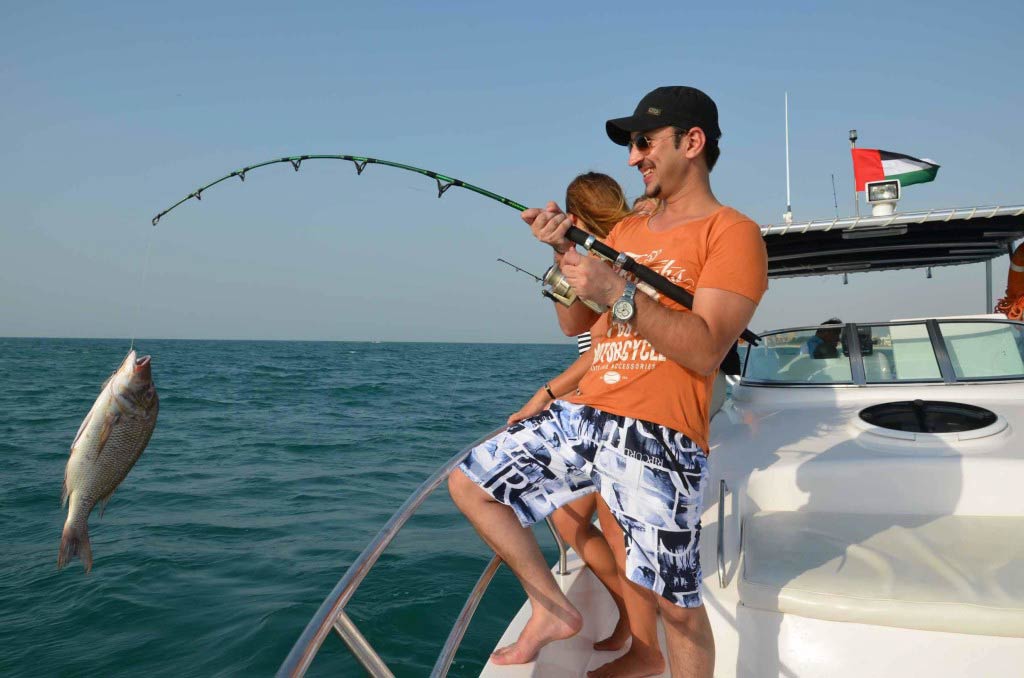 Both for the residents and the tourists, deep sea fishing in Dubai is an enthralling experience. The climate and water of Dubai makes it a perfect place for deep sea fishing. Yacht Charter Companies in Dubai offering Deep Sea Fishing Trips have a pool of experienced skippers who have spent years in fishing and divining in the sea water of Dubai. You can book for a half a day or full day fishing tour. Refreshment, fishing equipment and baits are organized by these tour companies and you will end up catching plenty of species like barracuda, local hammer and cuttlefish.
18. Enjoy the Big Bus Tour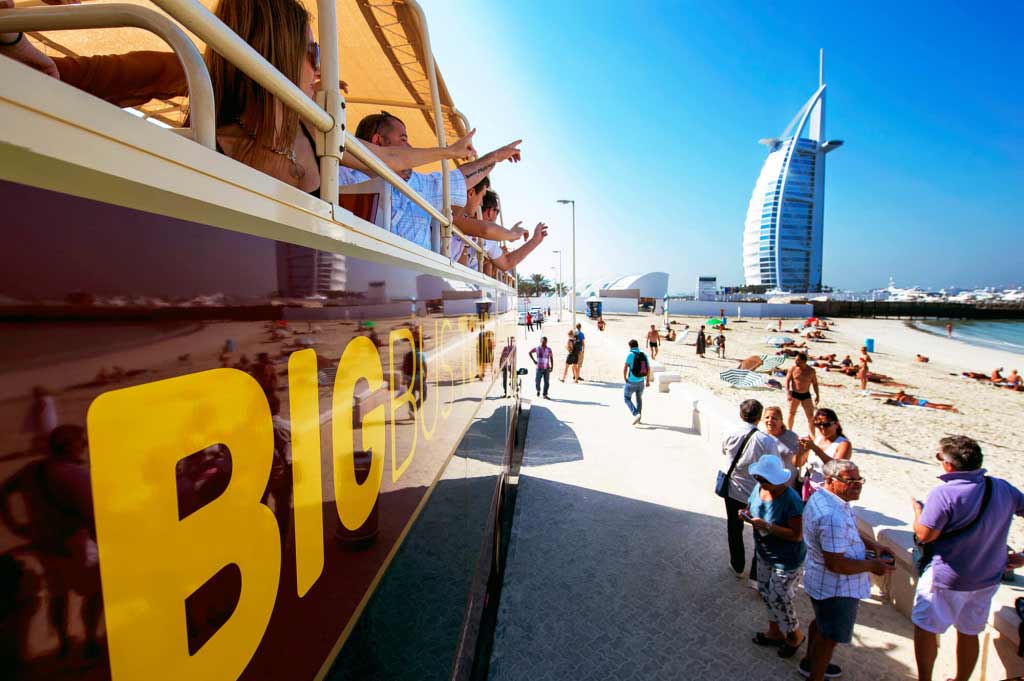 The Big Bus Tour takes you through the most important points in Dubai and updates you with the interesting history and facts behind these significant landmarks of the city. You can opt for Night Tour and the Day Tour. The tourists can opt for 24-hour or 48-hour big bus tour.
Enjoy free services with these tours such as free Dubai Museum tour and Dhow Cruise around Dubai Creek. Tourists get the opportunity to get on and off at the bus stops as per their choices. During the night tour, an extra attraction is the sight of illuminated skyscrapers of Dubai.
19. Visit Dubai Souks in Deira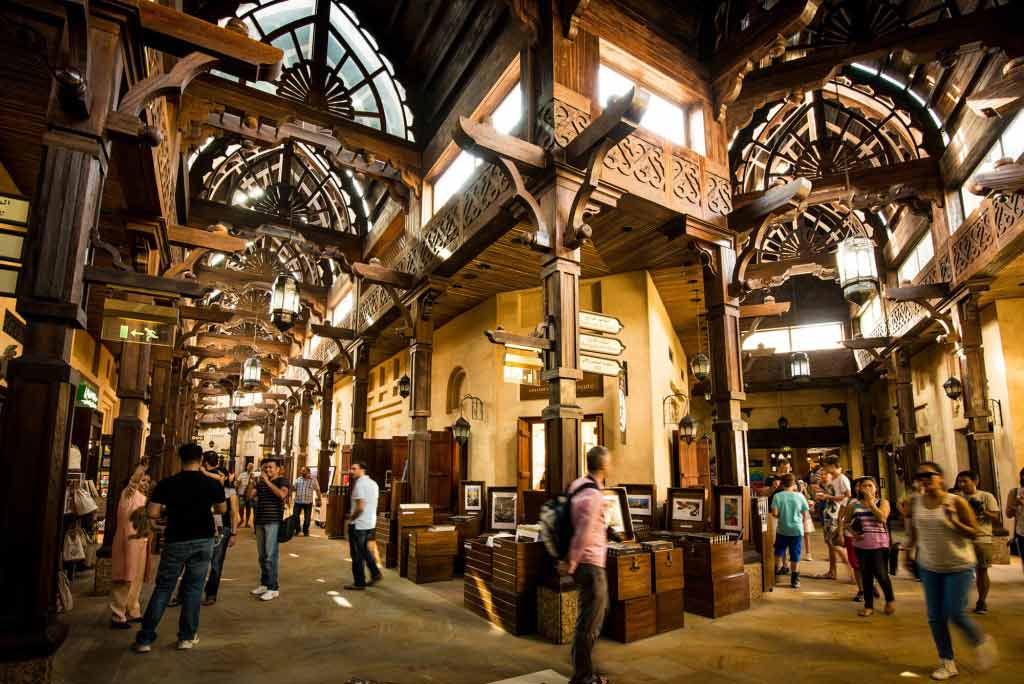 The moment you step into the Gold Souk your eyes get captivated with the dazzle of gold ornaments and you are sure to end up buying some of them. Right from the heavy gold jewellery to the lightweight daily wear gold or diamond ornaments, you get every possible variety at the Gold Souk.
Another hypnotizing place in Deira is the Spice Souk. The aroma of spices from all over the world will make it hard to leave this place without buying some.
20. Play Bubble Soccer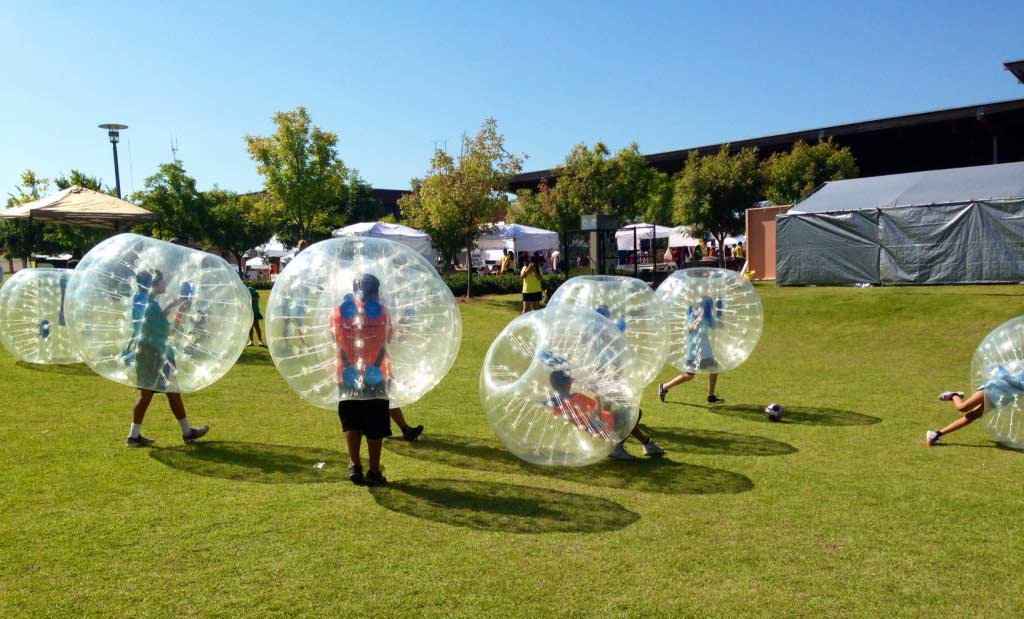 This adventure sport is new in Dubai but it has already gained huge popularity among the locals and the tourists alike. Participants play soccer while they are within an inflatable bubble. Depending on the time of your Dubai visit, you have the option for indoor and outdoor bubble soccer.
21.Visit Safa Park & Mushrif Park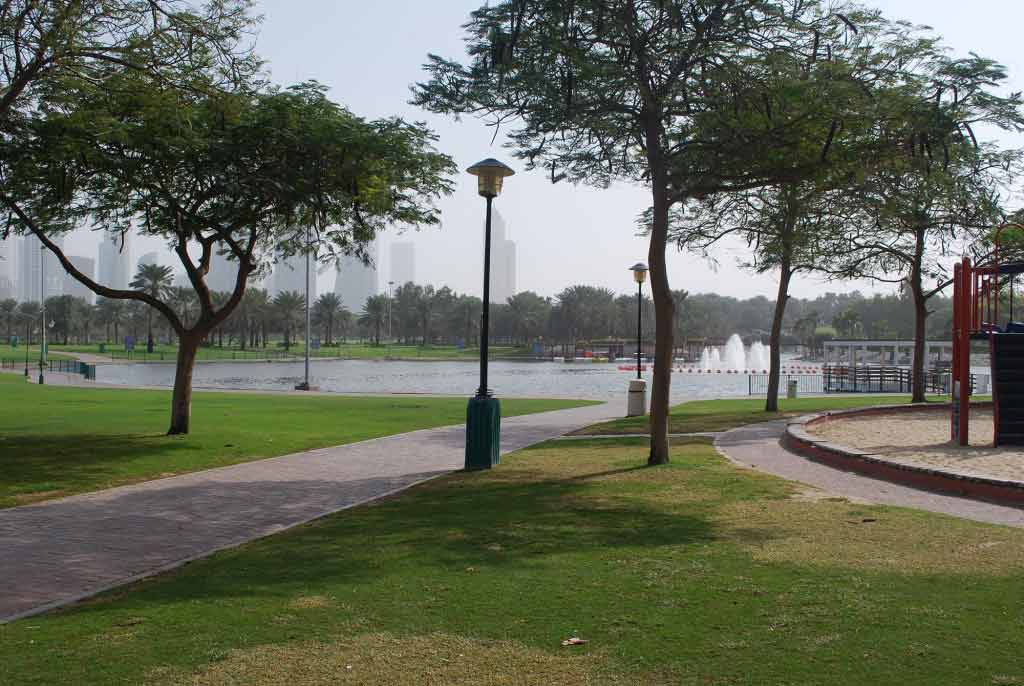 Safa Park is spread in a sprawling area of 64 hectares with three beautiful lakes and over 16900 trees providing their shadow. You can spot over 200species of birds in the park and the grassy lawns covering over 80% of the park attracts you to spend quality time with your family and friends. It also has a little forest, a hill offering beautiful view of the park and a waterfall too.
The Mushrif park and international village is a perfect way to spend a relaxed time in the shade of trees and along with enjoying a host of entertainment and recreational activities such as swimming pool, children play areas, BBQ and trip areas, prayer rooms, and train ride services etc.
22. Motiongate Dubai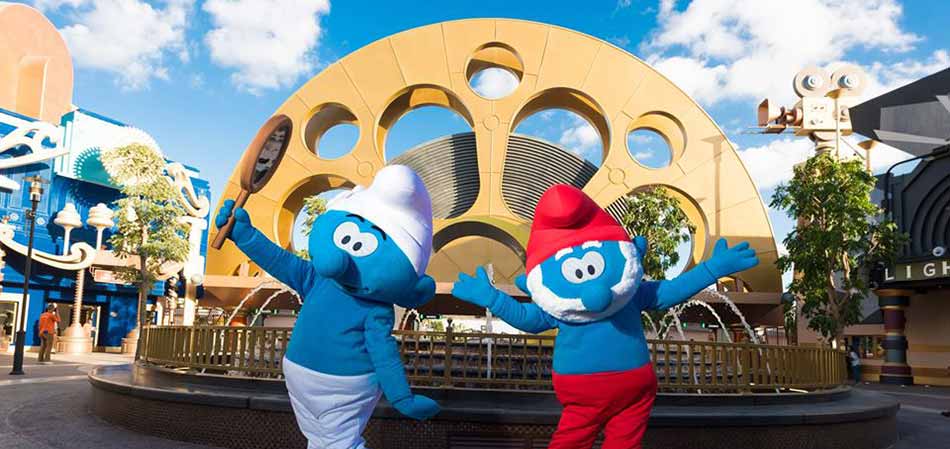 A visit to the Hollywood-studio based Motiongate Dubai is one of the best things to do in Dubai.
DreamWorks: Enjoy 12 immersive rollercoaster rides, interactive play zones and family rides based on DreamWorks movies.
Lionsgate: Enjoy live shows that bring Hunger Games and the Step Up movie franchise to life.
Studio Central: Learn how Studio Central made its movies during Hollywood's Golden Age in New York City.
Smurf Village: Enjoy animated shows, interactive smurf play zones, rides and the smurf theater show.
Columbia Pictures: Enjoy rides and interactive shows based on the Ghostbusters, the Green Hornet, Underworld and other movies.
23. Legoland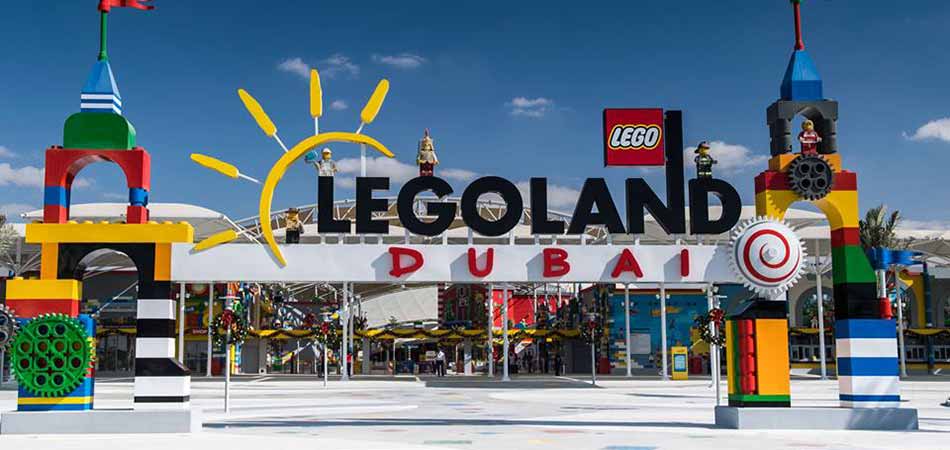 Legoland has five themed zones offering fantastic thrills and rides:
Lego Miniland: Model village displaying lego models of global landmark buildings.
Lego Mindstorms: Kids can build dams and other structures using lego bricks and learn the science behind them.
Duplo Gardens: Small kids can build their own creations using tiny Lego bricks.
Lego City: Children learn to drive, fly, and fight fire and boat through various fun schools.
Legoland Water Park: Kids can enjoy over 20 waterslides, and learn to build rafts and boats using custom LEGO® rafts.
24.Bollywood Parks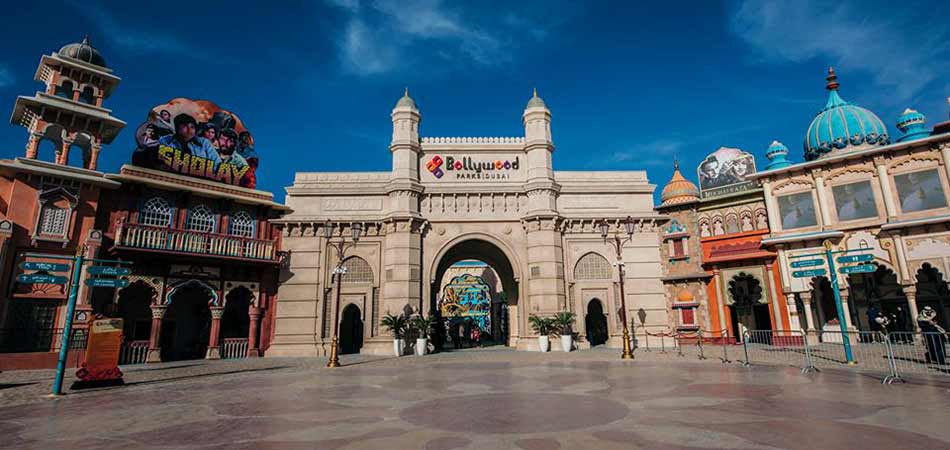 Enjoy tons of amazing rides and 30 live shows on six stages based on classic Bollywood hits. Soak your palate at fabulous themed restaurants and have the time of your life!
Rustic Ravine: Enjoy interactive 3D rides based on Sholay and Lagaan and watch dance performances at Rangmanch.
Royal Plaza: Watch 4D movie spectaculars on a lifting, revolving stage.
Mumbai Chowk: Explore a Mumbai street, eat street food, and chase thugs and dance on top of a moving train.
Bollywood Boulevard: Watch fabulous shows in the Crossroads Bollywood theater.
Bollywood Film Studio Featuring Hall of Heroes: Get behind the scenes and learn how Bollywood movies are made. At the Hall of Heroes, enjoy great rides based on famous movie heroes!
25.River Land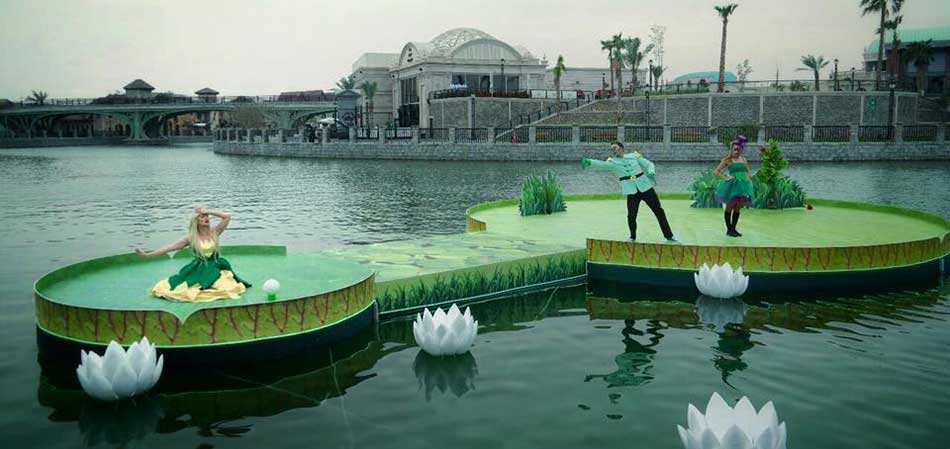 Riverland Dubai is free theme park that takes you back in time.
India Gate: Watch Asian acrobats and musicians person and enjoy Indian street eats in the large piazza.
The Peninsula: Enjoy outdoor festivals and concerts set in the 19th century. Explore the lovely bridges that connect Riverland's districts to each other.
Boardwalk: Relive America in the 1950´s via a street that goes back in time, with the addition of jugglers and live entertainment.
The French Village: Enjoy the feel and ambience of a 1600's French town complete with water wheel, outdoor dining, and meandering alleyways.
26. Legoland Waterpark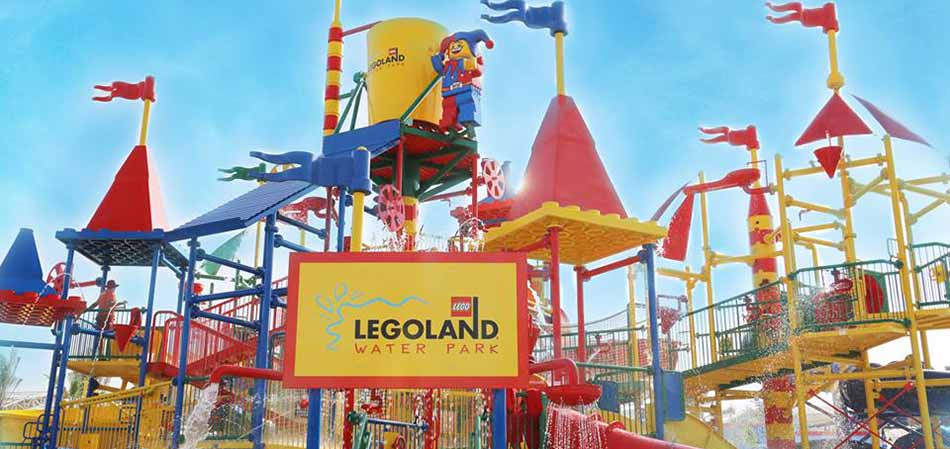 Take your kids to enjoy over 20 water slides, a family raft and body and tube slides all made of Legos. Let them splash about in the huge Lego Wave Pool and build a raft using custom lego bricks. Toddlers will love the slides and rides in the DUPLO® toddler play area. Let your kids enjoy eating at the two lego-themed restaurants and lie around under lego cabanas to rest.
27. Dubai Opera House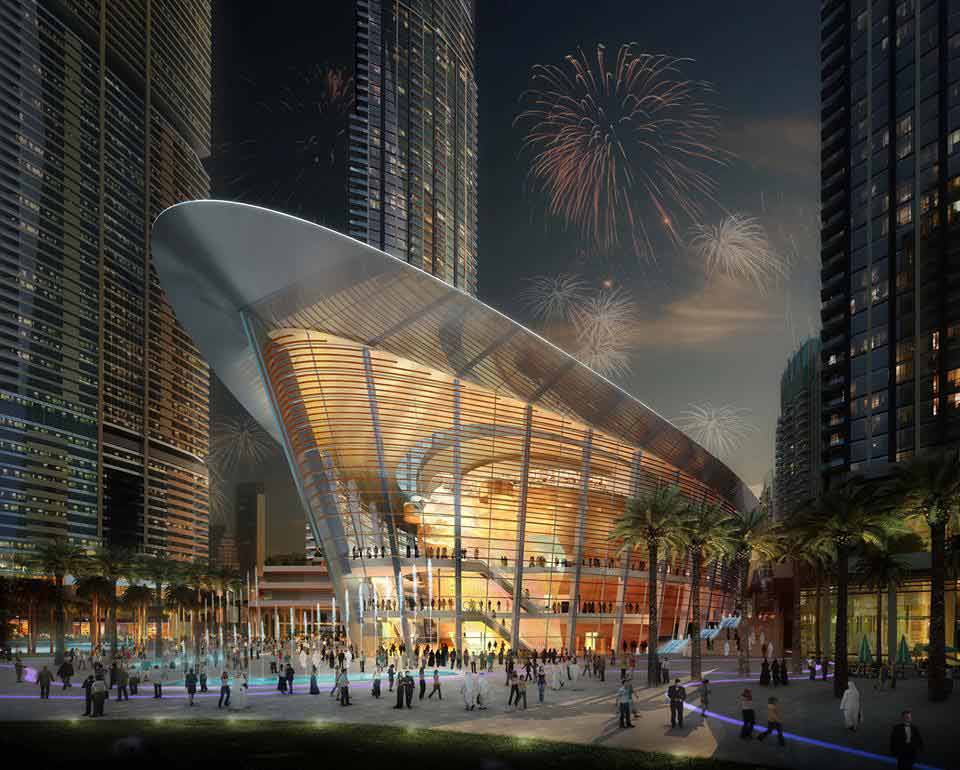 The Dubai Opera House is built to resemble the traditional Arab trading vessel, the dhow. It can operate as a movie theater, a concert hall, and an event hall if needed. The building can be configured differently using sophisticated technology to suit different purposes. Each transformation is distinctly different and visually mind-blowing. There's also a rooftop restaurant and sky garden with views of The Dubai Fountain and the Burj Khalifa.
28. Dubai Zoo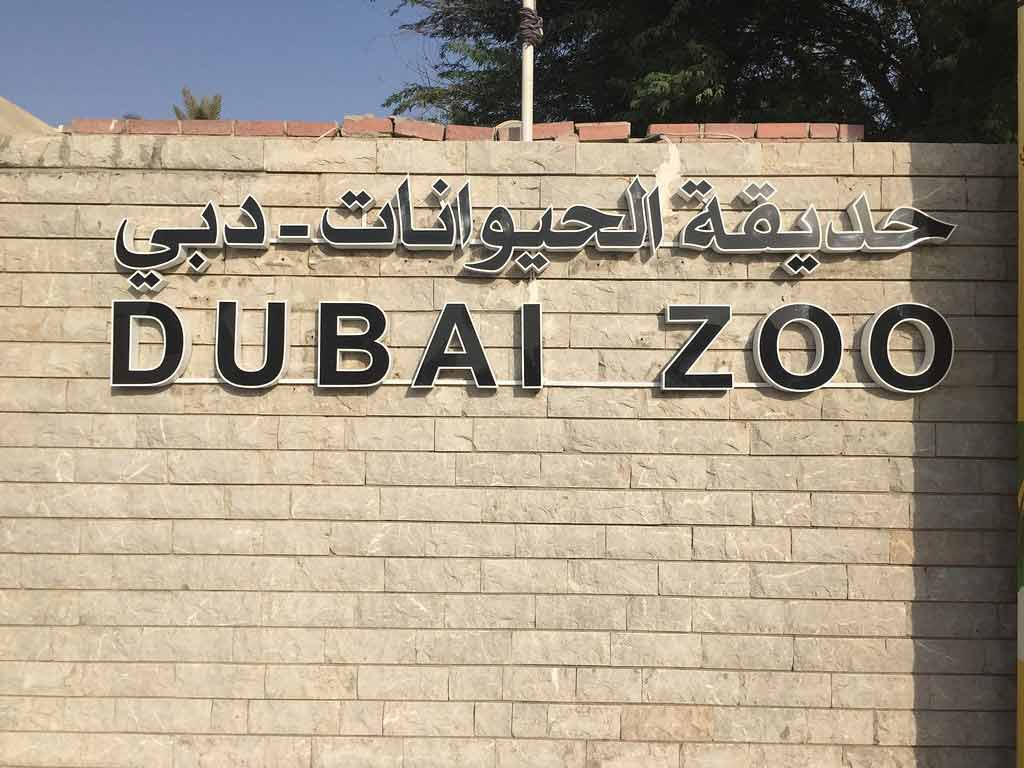 Located in Jumeirah, the Dubai Zoo houses 230 animal species. These include hyenas, pumas, foxes, lions, jaguars, chimpanzees, monkeys, baboons, deer, porcupines, bears, Barbary sheep and giraffes. The zoo cherishes several endangered species such as the Bengal tiger, gorilla, Socotra shag or cormorant, Siberian tiger, subspecies of grey wolf and Arabian wolf, and Gordon's wildcat. They also have a range of birds including ostrich, golden eagle and parrots.
29. Dubai Marina Yacht Club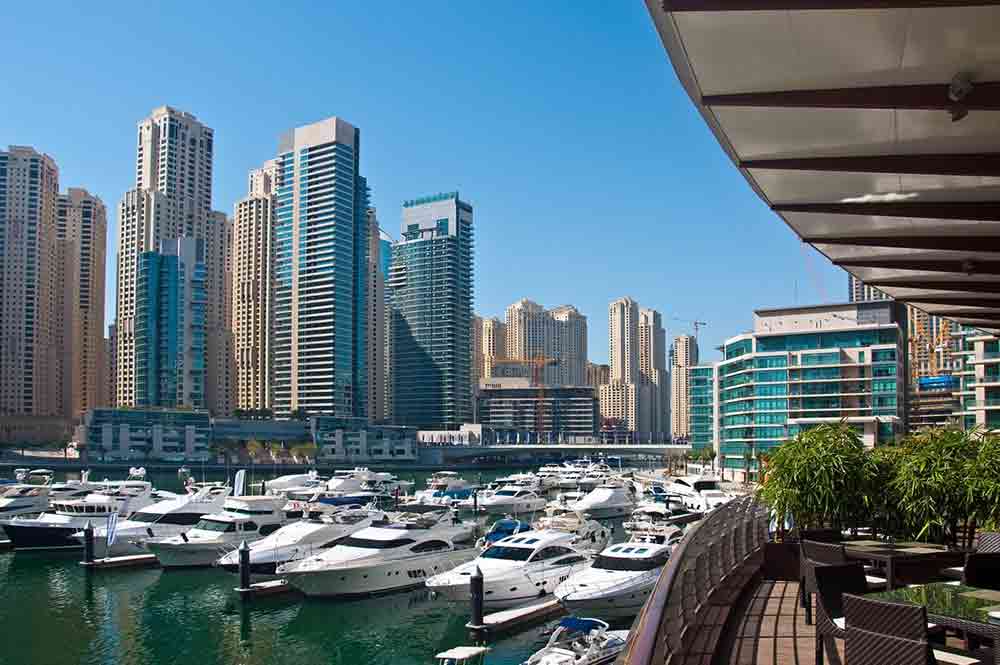 The Dubai Marina Yacht Club comprises of four marinas, each offering plenty of dining, shopping and sailing options. From Club House Marina, you can watch amazing yachts drop anchor. Walk along the East Marina and check out the eateries there. The West Bay Marina offers the best view of the Dubai sunset. The Dubai Marina Mall is the best places to enjoy the sea while shopping for delights. Treat yourself to a coastal lunch at the Aquara Restaurant & Lounge, or at the Yots Sports Lounge. Fabulous views of the Persian Gulf surround you wherever you go.
30. Lapita Hotel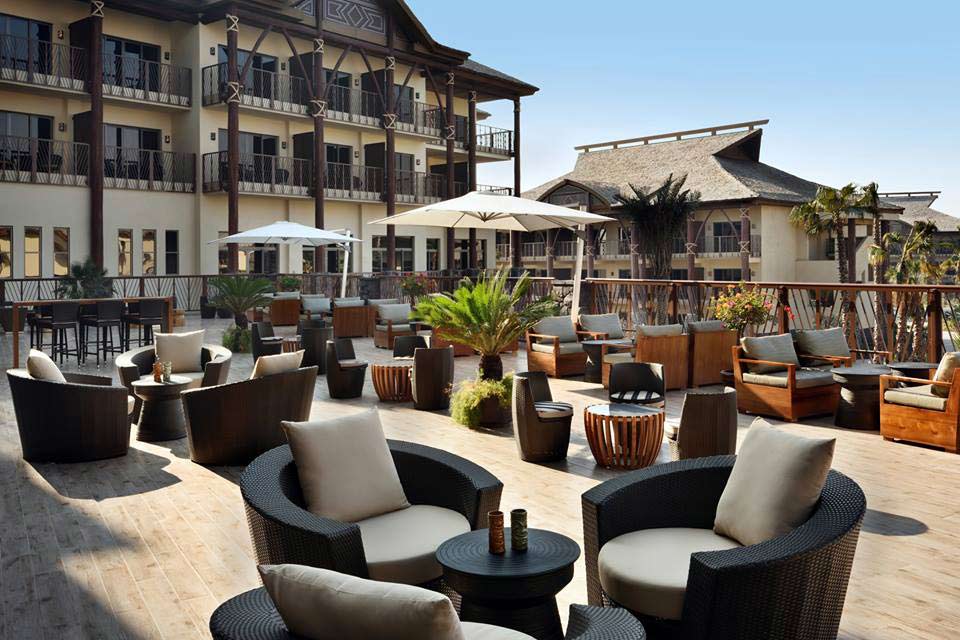 Lapita Hotel is located right within the exciting Dubai Parks and Resorts. This Polynesian-tribal-themed resort hotel offers a chance to learn more about the Polynesian culture and heritage. Stay at the Lapita resort and enjoy free Q-fast at Dubai Parks and Resorts. Lapita Hotel has beautifully appointed rooms with views of swimming pools, river and the Dubai Parks and Resorts area. Three-bedroom villas are also available for family use. A stay at Lapita is unforgettable, as will be your chance to enjoy Dubai Parks and Resorts every day of your stay!
31. IMG Worlds Of Adventure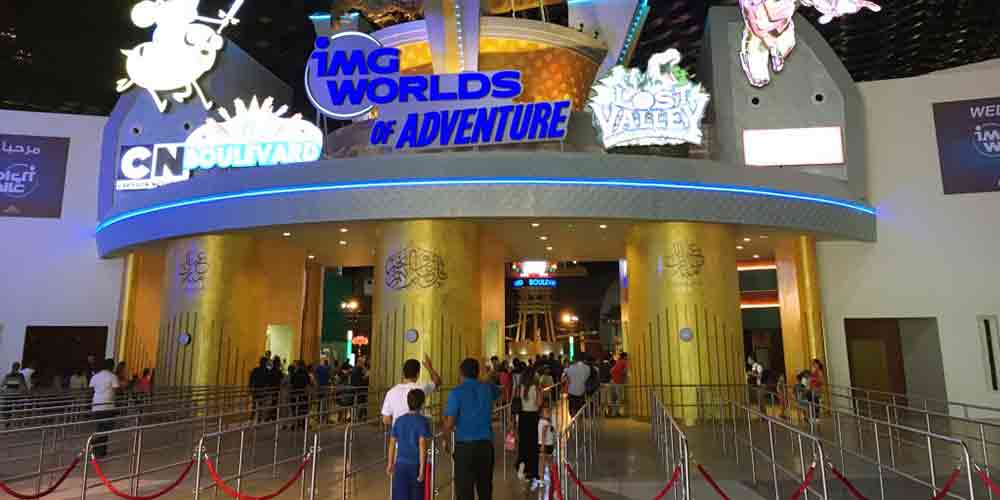 Img Worlds of Adventure offers adrenaline-pumping attractions for all comic book fans out there! There's an interactive ride based on every comic book hero or heroine that you love, whether it's Spider-Man, The Hulk, Iron Man, Thor and The Avengers. IMG Worlds of Adventure is an indoor theme park, covering an area in excess of 1.5 million square feet. Celebrate four epic adventure zones in one location:
Cartoon Network: Every lovable cartoon you ever saw on Cartoon Network is having its place on a show or an interactive ride!
MARVEL: Superheroes come to life and rescue the world each time in our fabulous immersive and interactive thrills and rides.
IMG Boulevard: Explore comic and superhero themed retail stores, eat at exclusive themed dining venues and watch superhero movies at a 12-screen cinema!
Lost Valley – Dinosaur Adventure: Hair-raising adventures with fierce dinosaurs running after you and, breathing fire and damnation – what fun!
These 31 activities you must try while you are in Dubai to get an introduction to the powerhouse entertainment options the city has in store for its tourists. The more you stay in Dubai, the more you discover new surprises and memories to cherish for a lifetime.