Holidays are special moments that are treasured & remembered for years in the hustle of daily-life. This time, why not make them King size? Staying at a Luxurious hotel will not just give you a break, but instead offers you a complete experience, where you can pamper yourself, enjoy superior service, and simply relax. We have a special handpicked list of some of the most luxurious global destinations for your holidays this year.
Trust us, you will not be disappointed!
Burj Al Arab Dubai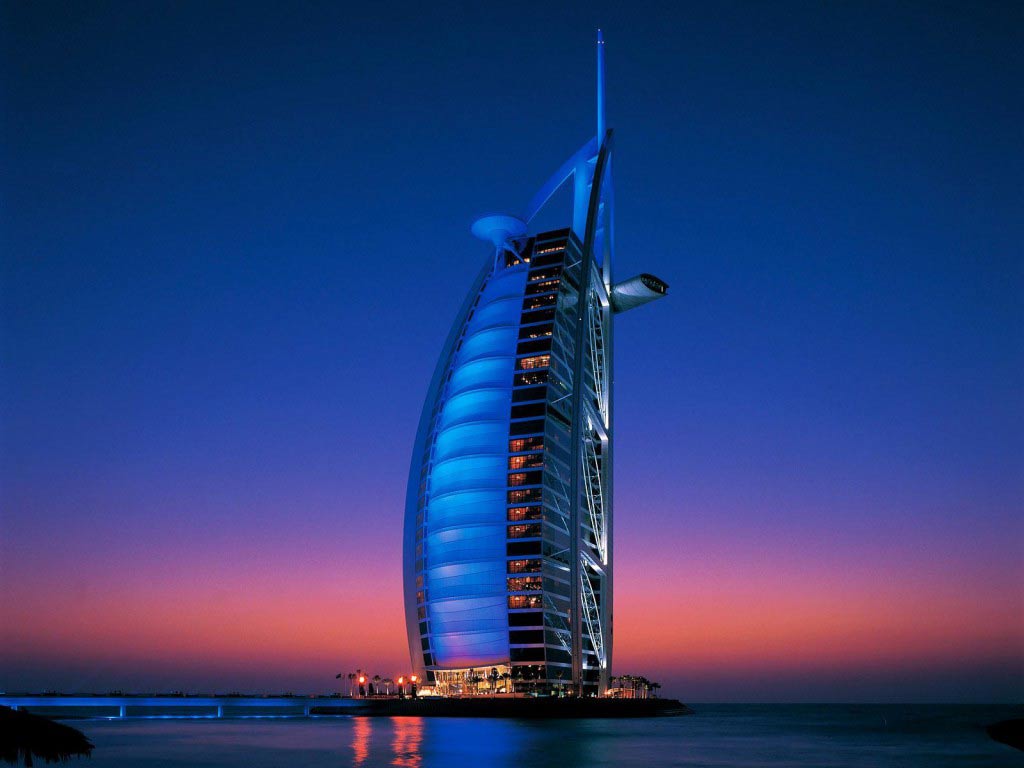 Built to resemble a billowing sail, this hotel in the city of Dubai, the rising emirate is rightly among the most luxurious & photographed in the world. With luxurious suits spanning two floors with incredible views, countless dining & nightlife experiences and top class facilities like hovering tennis courts & attached heliports & chauffer driven rolls Royce offered, this hotel is the lap of luxury literally.
Must Read: Unique Places to Stay Around he World
Oberoi Udaivilas, udaipur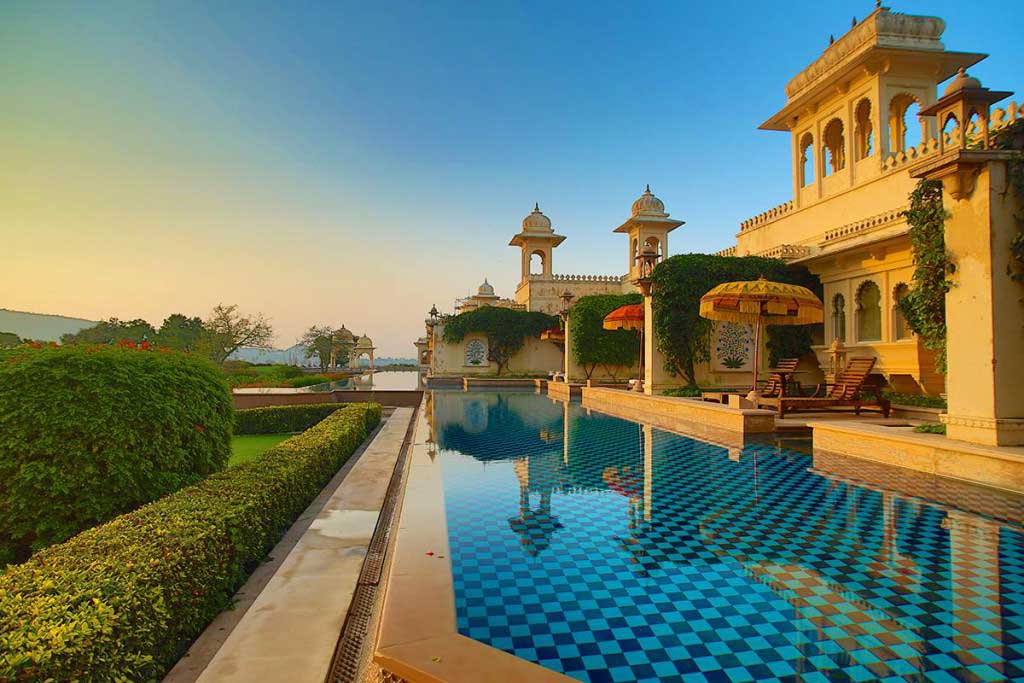 Situated at the Lake city right in the mid of Thar, this place is a must-visit on your list if you are seeking a truly 'royal' experience. After a luxurious welcome in a private boat, you are transported to the gone era of kings with palatial architecture, lush greenery & fountains. The services here are royal as well, with everything from 24*7 butler, private spa and yoga sessions & camel rides for the true imperial experience.
Nayara Hotel Spa & Gardens, La Fortuna, Costa Rica: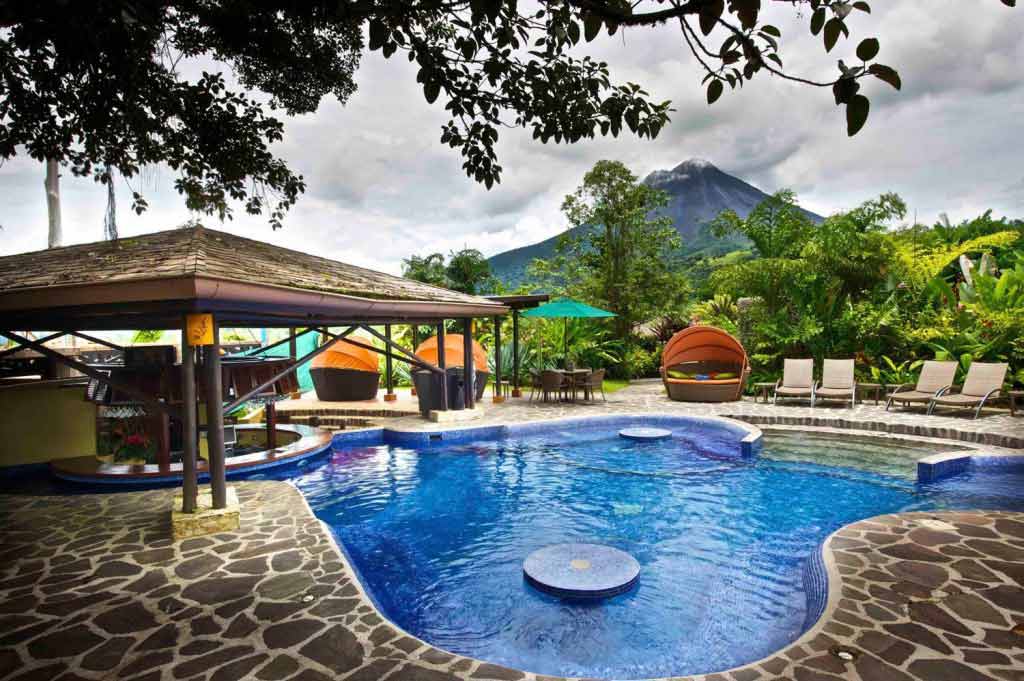 This luxurious paradise is located right in the middle of a rainforest near an extinct volcano. It surprises you with its ultra-modern amenities, luxurious spa facilities, and wide array of dining and wining- all in the lap of nature. Extra popular with honeymooners due to its romantic setting, it offers various recreational activities like rafting, private pools fed with natural hot springs etc.
The Plaza, New York City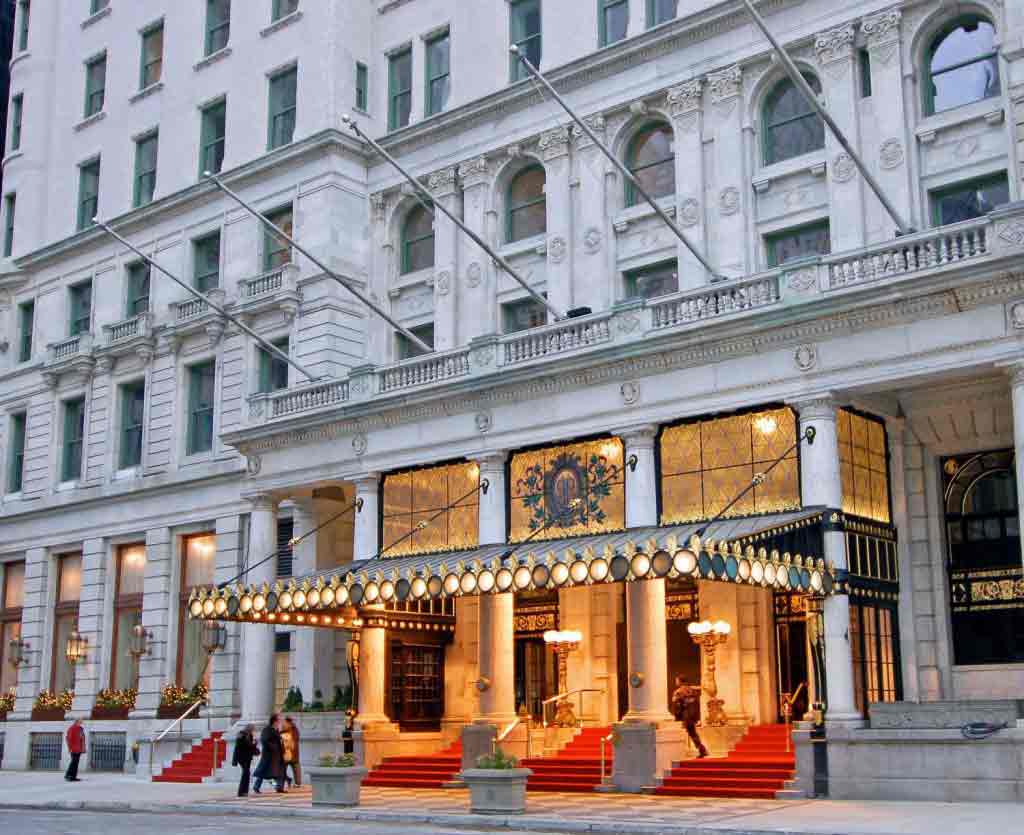 The Plaza stands out among the numerous stunning hotels at the Big Apple, and is considered as a timeless landmark for residents & visitors alike. Over 250 Three Bedroom suites are lavishly styled with a library, gymnasium, a grand piano, formal dining room and a full kitchen and are provided with every amenity like on call butler & in-room iPads for service. The signature wine and dine facilities here need no description at all.
Must Read: 21 Amazing Hotels You Need to Visit Before You Die
The Boulders, Arizona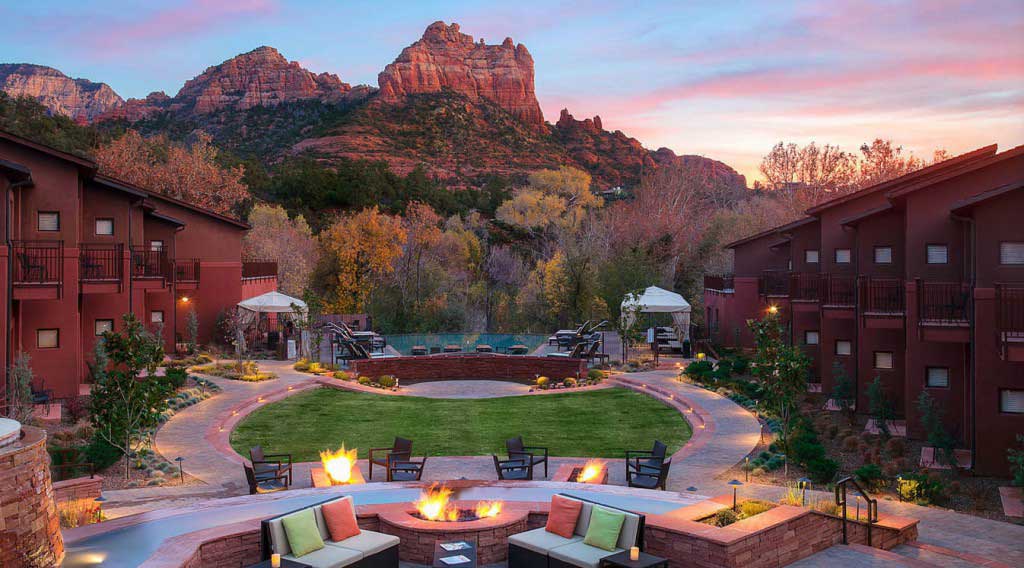 A surreal desert retreat, this place is nestled among the boulders; rock formations dating back to 12 million years from which it derives its name. The world renowned golf and spa is extremely popular among world famous celebrities seeking an anonymous hideaway.
Le Bristol, France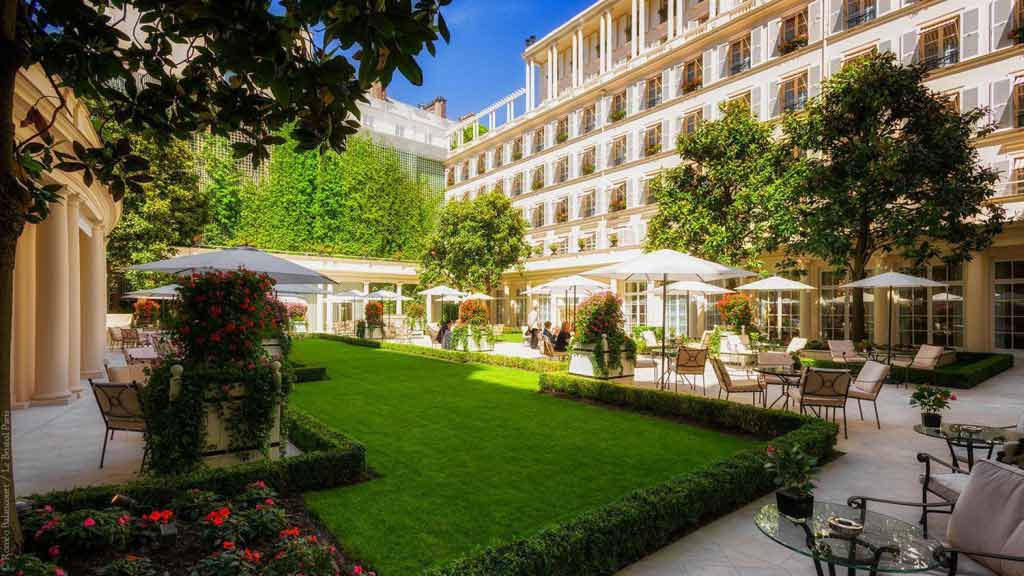 This French paradise has been graded as "Palace", spelling it as the ultimate Luxury location there. Situated in the heart of the fashion capital, its facilities include a sunlit indoor pool (rarely seen in Paris); a lovely spa with three floors featuring a charming Turkish bath and playroom for kids.
Palms, Las Vegas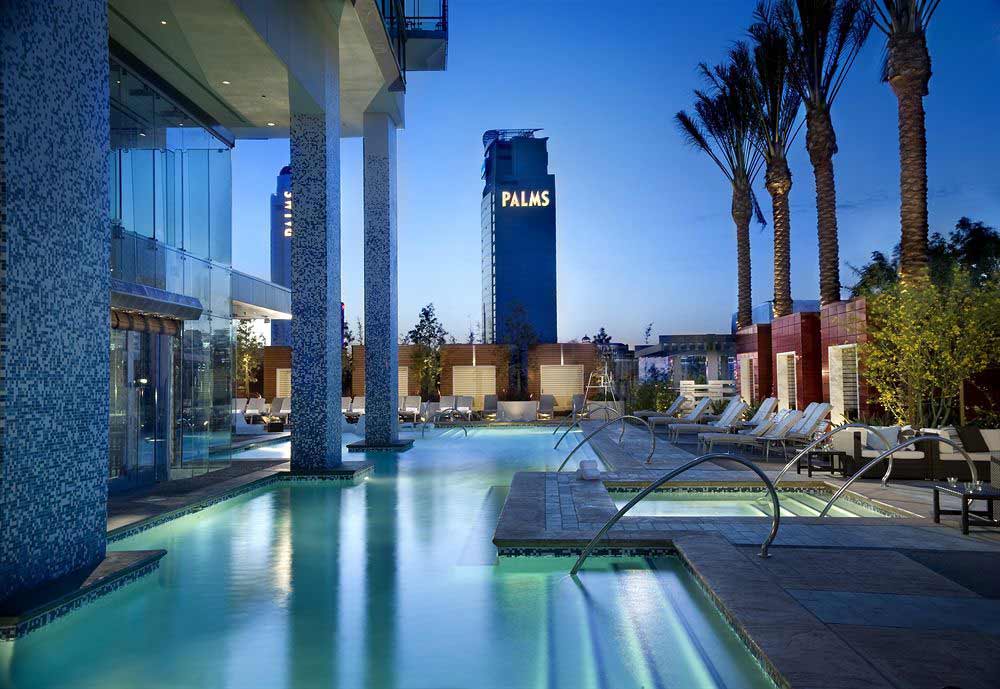 Housed in the party ground of the rich and famous, this is a must visit spot for self-indulgence. Whether it's hosting 250 + guest party or relaxing around the massive rooftop Jacuzzi there is nothing that will disappoint you. Fulfill your fantasies of a holiday of a lifetime with your own private elevator, rotating bed, a state-of-art casino, gym, a sauna, full bar with food of your fantasies from acclaimed restaurants and a rocking nightlife.
Mardan Palace, Turkey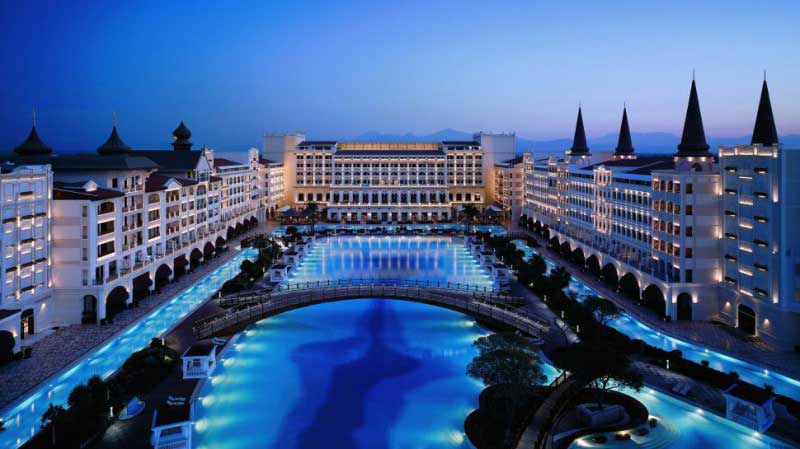 The multi-billion dollar fantasy come true for its Russian multi-millionaire founder, this place is one of the best retreats in the Mediterranean. The gorgeously dazzling suits with their intricate designs of gold leaf, crystal, the ten plus dining spots & bars and a lavish spa only add to the splendor of this. But the highlight is the gigantic pool, said to be one of biggest in world (capacity~1000 guests), with a sunken aquarium full of exotic fish in the middle.
Atlantis the Palm Hotel, Dubai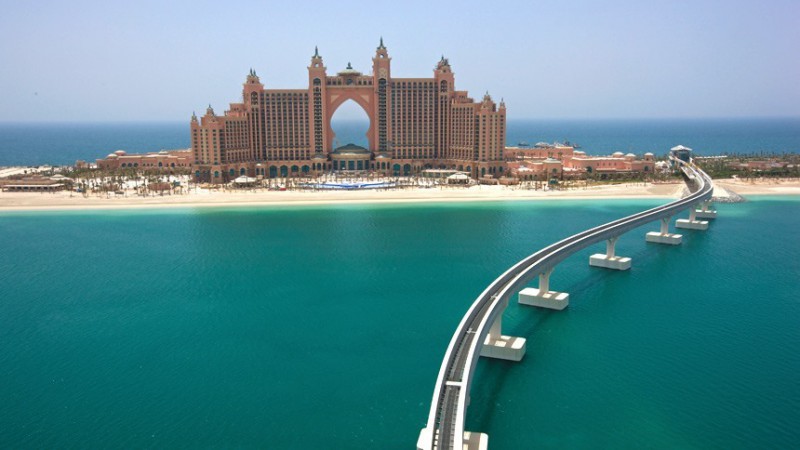 Named after the lost mythological ocean paradise, this hotel is a majestic island paradise that will charm you with its stark beauty & uniqueness. Along with the top class amenities and the marine water park the chief attraction here is a trip to the lost chambers aquarium. This is an experience that you will never forget; not just because of the magnificent collection of 65,000 marine species ranging from color changing cuttlefishes, sea horses, eels, starfish and so much more, but also because of its surreal theme of the lost kingdom of Atlantis, that lends an aura of intrigue with its endless underwater mazes & tunnels.
[Check Out: Best Things to do at Atlantis the Palm Dubai]
Rosewood Mayakoba, Mexico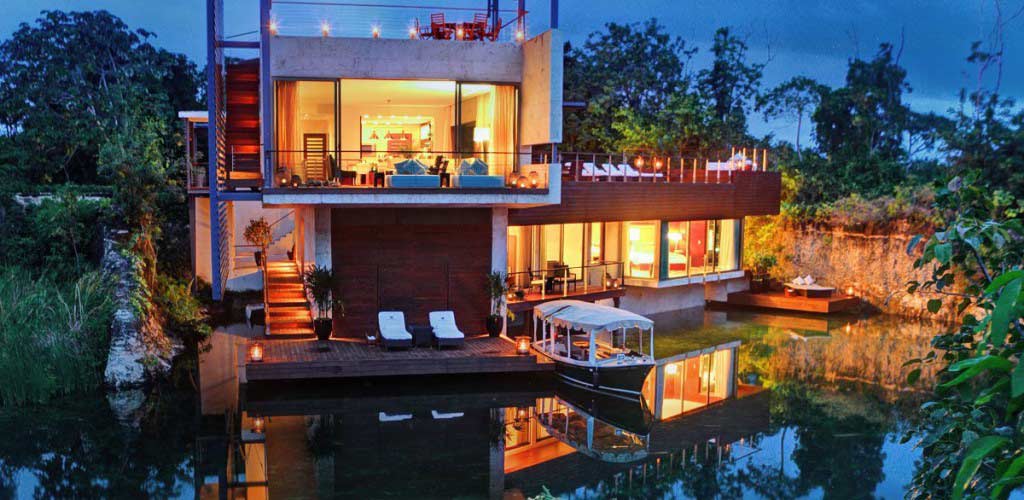 Blessed with beautiful surroundings of Yucatan's sun kissed white beaches, emerald forests & intriguing Mayan ruins, this resort provides the perfect setting for a memorable holiday. The hotel has luxurious suites facing the ocean or a private lagoon and provides comforts like 24 hour butler, a golf course & a luxury spa.
Four Seasons, Bora Bora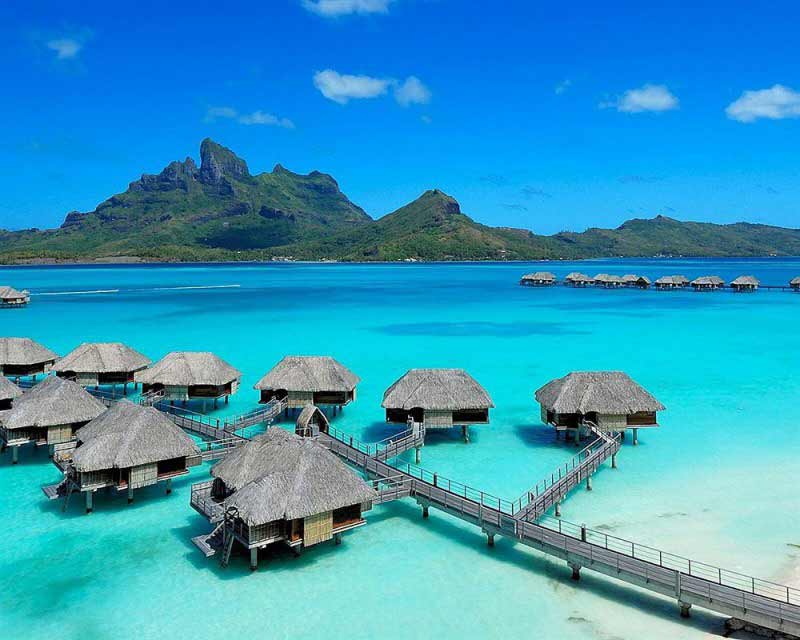 This place breathes romance with its sparkling white beaches with turquoise waters surrounded emerald capped hills. This is further compounded by the luxurious couple spas, sunset cruises; private meals delivered by canoe, pool & tennis courts.
La Residence, South Africa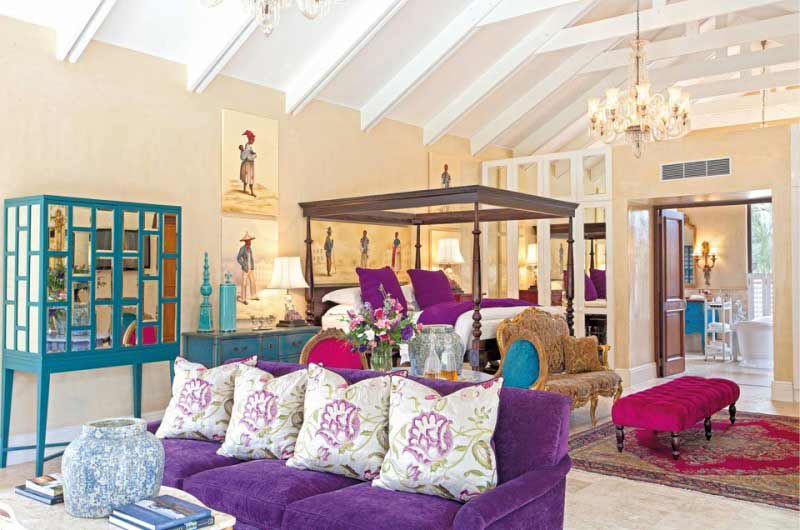 The hotel is spread across over 30 acres of scenic nature that you will love to be lost in. The exquisitely decorated suites and villas and the array of eating & drinking options will wean away all your stress. The resort also provides bike excursions, balloon rides, horseback riding, and more activities to keep you entertained.
Check out: Top 10 luxury hotels in Singapore
Emirates Palace, Abu Dhabi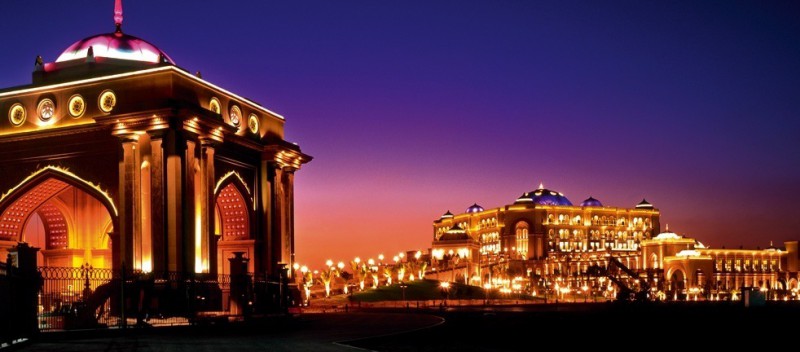 Mimicking a Middle East palace, with all modern day conveniences, emirates palace has almost 400 suites, with a selection of beautiful gardens, pools & fountains, hallways lit with crystal chandeliers that will transport you to world of Arabian night tales. It also provides various world class spa & sports facilities like tennis, football, cricket & water sports.