A paradise for tourists, Thailand is rich in flora-fauna, breath-taking beaches, vibrant markets, stunning temples, and ancient ruins. One thing that's difficult for tourists is narrowing down the places to see on a fixed amount of time. Fret not! We bring you the list of 21 best things to do in Thailand.
1. Visit The Grand Palace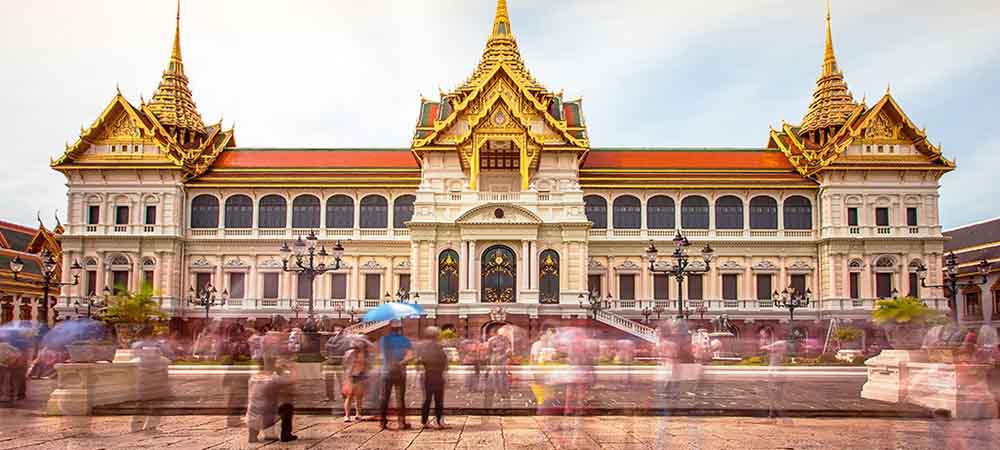 Located right in the heart of Bangkok, the Grand Palace was built in 1782 and had been the home of the kings for 150 years. It was also the premise of the Royal Court and the administrative seat of the government. Spread over an area of 2, 18,400 sq. meters, this palace has beautiful architectural designs that will awe you. The intricate details and skilled craftsmanship of the Thai people is evident in every corner of the premises. There are strict dress codes to visit the palace even today, so ensure you are dressed properly to visit it or your entry will be refused.
2. Hop Islands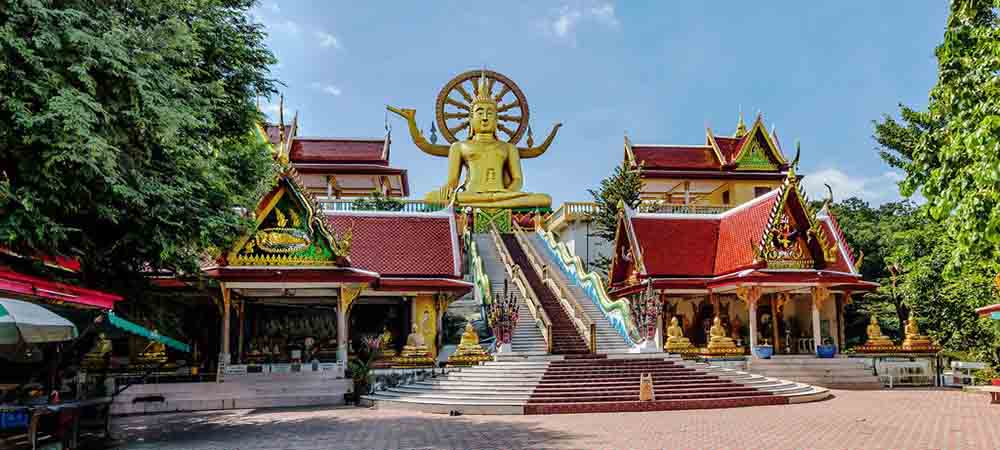 With over 300 jaw-droppingly beautiful islands at your disposal, island hopping is one of the must things to do in Thailand. The beautiful setting of lush greenery with white sand beaches amidst blue waters looks like a scene from some Hollywood flick. The local Thai villages offer delicious local cuisines which you can enjoy while you go Island hopping. While most of the island offers spectacular view, delicious local cuisine, and white sand beaches, some of them even offer diving opportunities.
3. Songkran Festival (Thai New Year)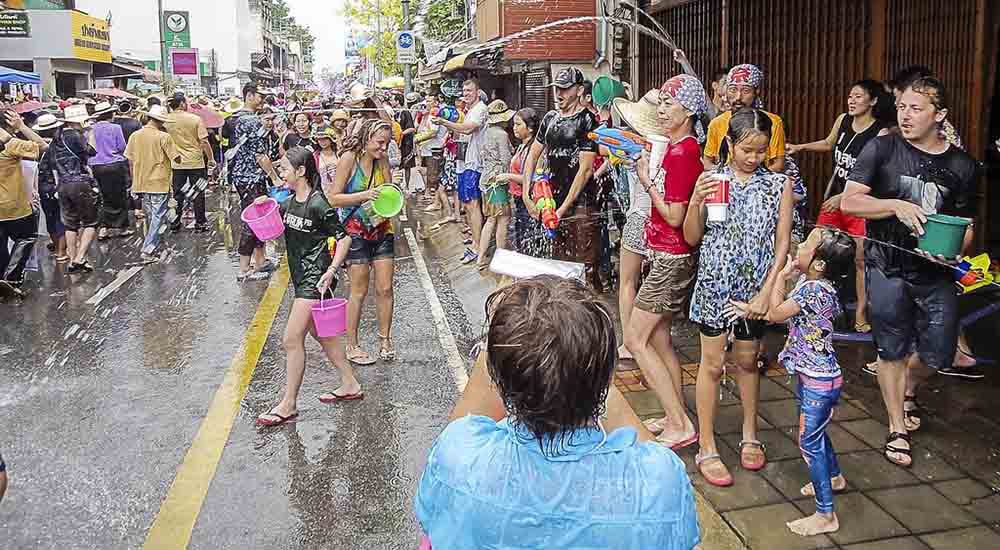 Fight with the locals, not literally. The Songkran festival is the Thai New Year celebrated on April 13th. It is fun to celebrate this festival with the locals where you fight with water using water pistols and buckets of water. Everyone dress up in traditional colourful clothing and visit local temples. Also, during this festival people offer sand to temples for construction and repair work in temples. This is the day when youngsters offer water to the elders and ask their blessings. Being a part of this festival is fun when in Thailand.
4. Visit the Floating Markets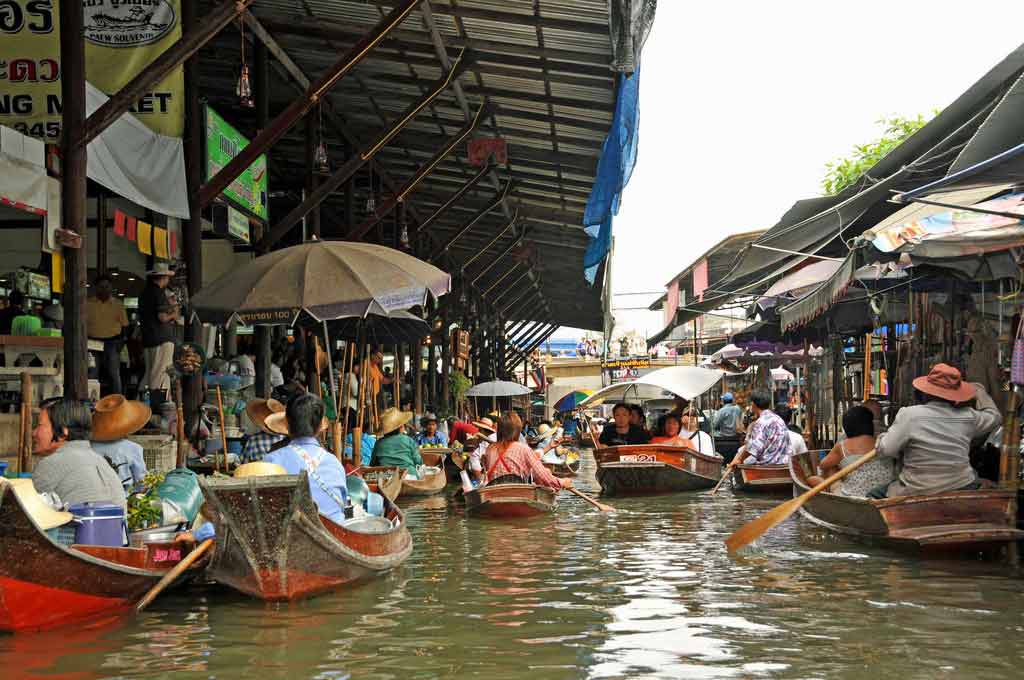 The rickety wooden boats filled with beautiful and colourful produce leave a very beautiful impression on your mind. When visiting this market ensure you carry your camera and click a lot of pics. The Damnoen Saduak market in Ratchaburi is the most famous among floating markets situated 100 km to the south-west of Bangkok. The Taking Chang Weekend Floating Market is frequented by locals and is recently discovered by tourists but it has now become one of the best Thailand attractions. In this market you will find colourful fruits like custard apples, pungent durians and yellow logans.
5. Ancient Ruins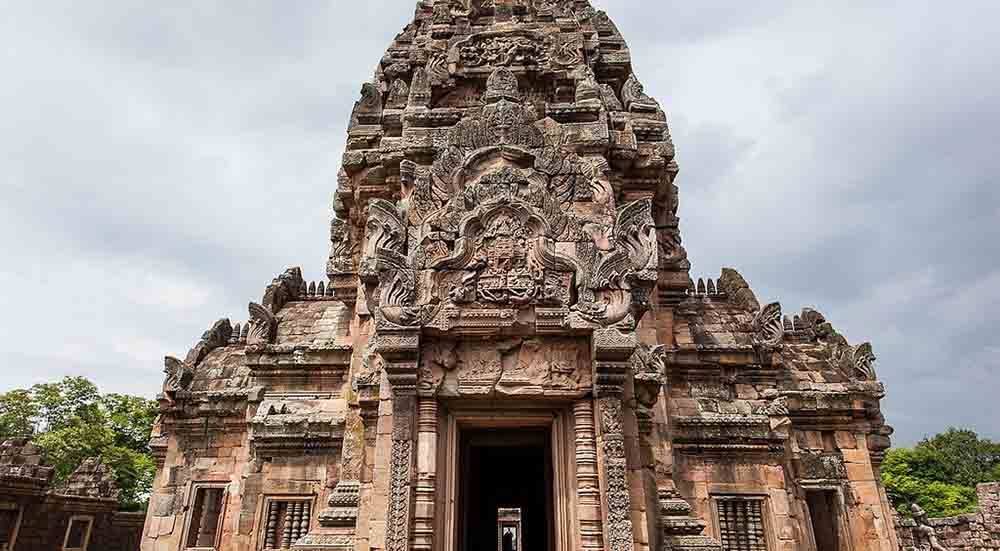 Rich in cultural heritage, Thailand boasts of many UNESCO World Heritage Sites. With loads of ancient ruins to visit, it's a favourite destination for history lovers. Visit the Phanom Rung Historical Park contains ruins dating from 12th Century and is constructed of sandstone. Wat Mahathat in Ayyuthaya contains the ruins of the city that was leftover after the Burmese attack. The entire old city is the archaeological site spread over 5 sq. kms. There are many more such ancient ruins that speak a lot about the ancient cultural richness of the Thai people.
6. Chiang Mai Night Bazaar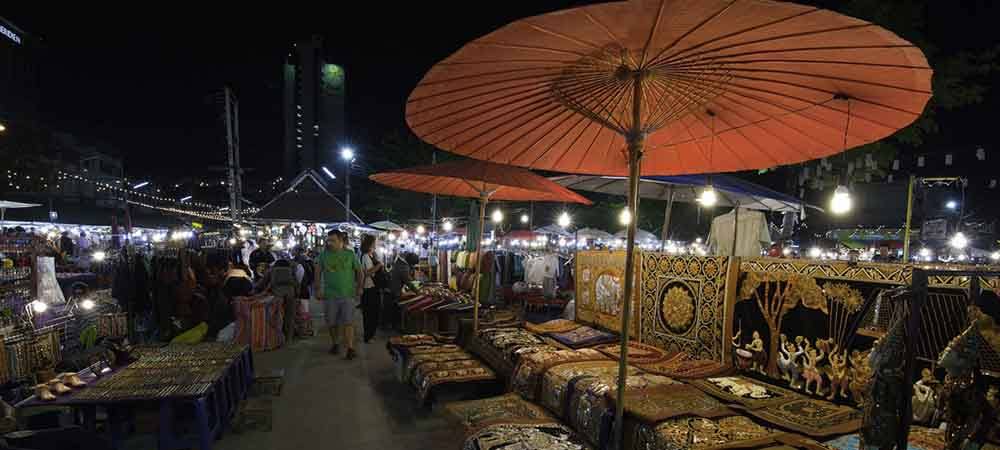 Visit the Chiang Mai night bazaar to have a different shopping experience. Open from 6 p.m till midnight you will find a variety of stuff to buy and explore ranging from handicrafts to silverware to pottery and furniture. While you visit the market, you can also satiate your hunger on the street side shops selling local delicacies.
7. Mahawangchang Elephant Camp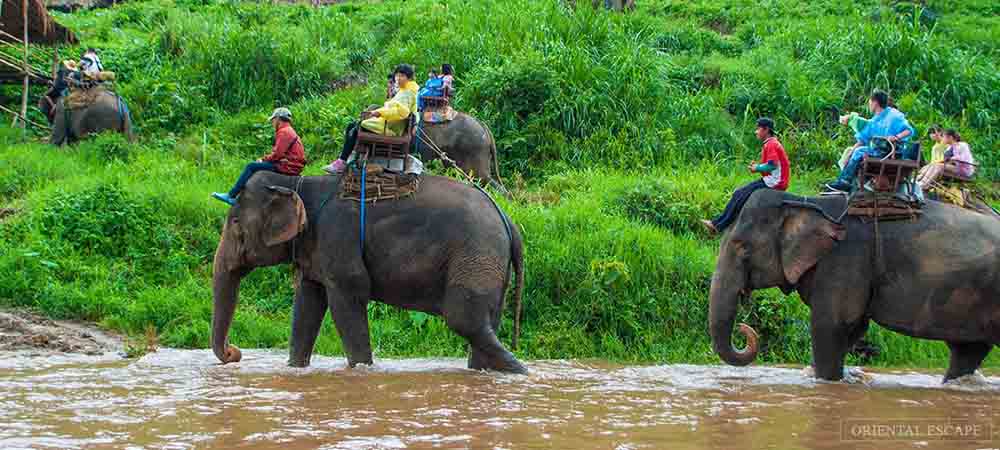 Located inside a forest, the Mahawangchang Elephant Camp is an activity center where elephants are not chained or bound. They roam freely but are trained by the trainers. You will find elephant doing tricks and even dancing to the tune of the trainers. In this camp you can ride on elephants and also you can bathe with the elephants. All the rides and activities are supervised by expert trainers so you are safe. You can also take a bamboo raft ride while you are the camp.
8. Have Thai Massage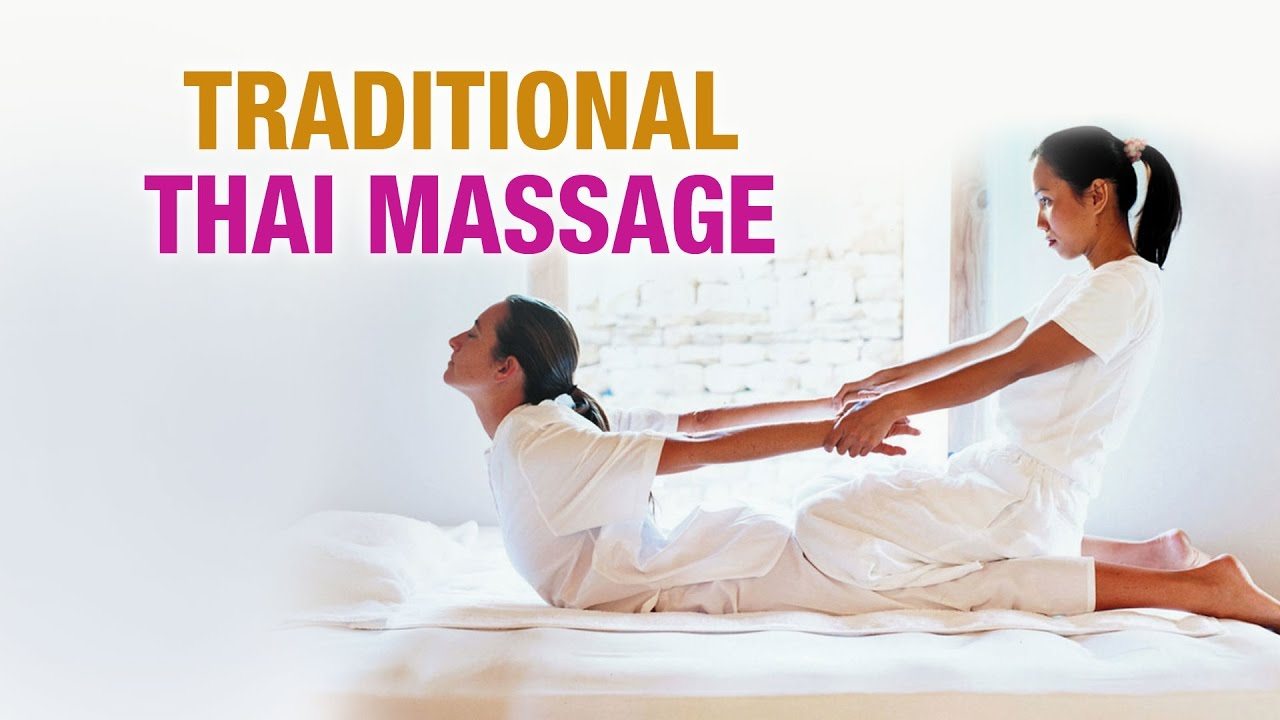 Famous world over for massages, Thai massage helps you relax and rejuvenates you to the core. By pressing and working on different pressure points, you feel your fatigue draining out leaving you recharged. Every small town in Thailand are filled with cheap parlors that provide excellent massages. Do enjoy a spa massage when in Thailand as it is not something that's to be missed.
9. Visit the Koh Phi Phi Island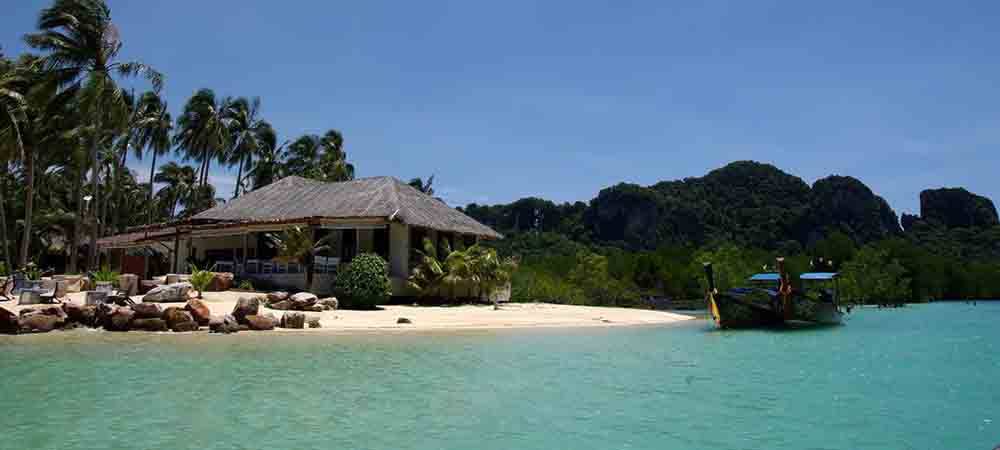 Famously known as the island showed in the Hollywood flick "The Beach", despite being crowded by tourists this island is very beautiful with turquoise water and visible corals underwater. A perfect place to click Instagram worthy pics, ensure you make as many memories as possible. As there are no hotels in this island, you will have to take a guided tour to Maya Bay and spend the night in tent.
10. Try some Street Food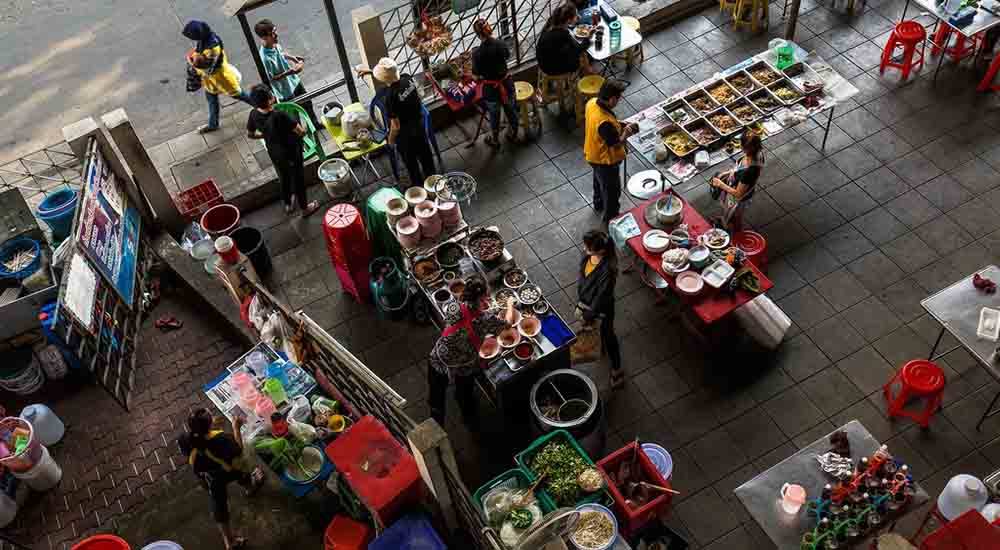 The best way to know the culture and heritage of any place is to hit the streets and try the local cuisine. The street food in Thailand tastes as delicious as it looks colourful. Everything from veggies to seafood tastes yum. And especially for the carnivores it is a heaven to be on the street and try everything. Don't miss the kaao laad kaeng (curry on rice) stalls which are delicious and filling.
11. Visit Khao Yai National Park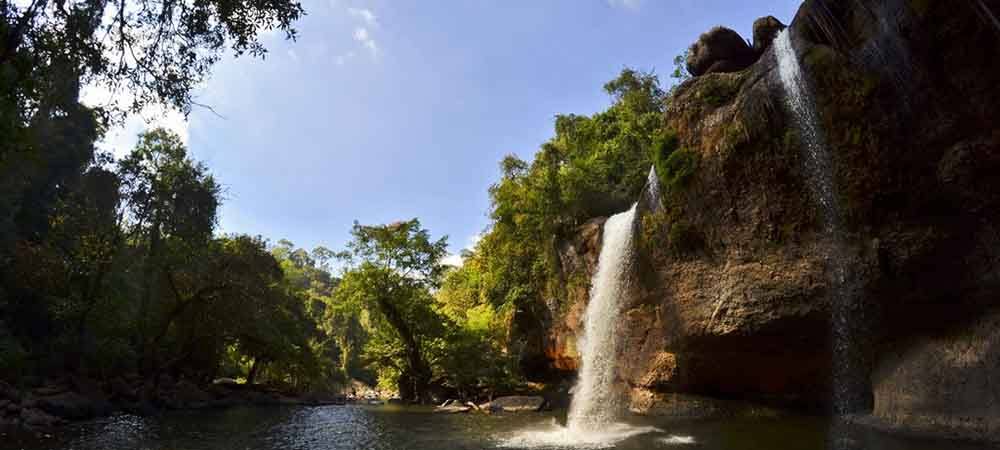 Covering more than 2000 sq. kms of forest and grassland area it shelters diverse wildlife such as gibbons, hornbills, bears, and elephants. You will also find broadbills, mountain-scop owls, woodpeckers, jungle fowls and many ground dwelling birds. There are over 50 kms of biking and hiking trails that also include waterfalls that has a view to die for.
12. Visit Wat Arun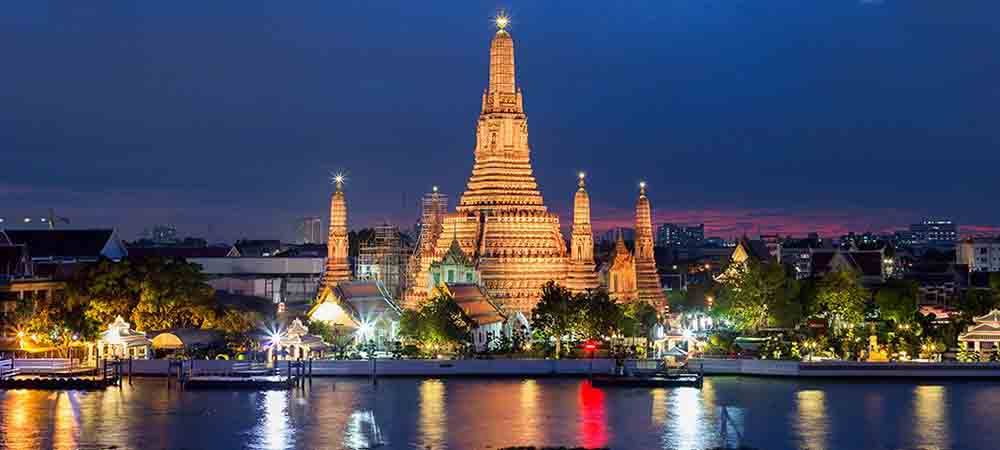 Known as one of the best landmarks of Thailand the first light of morning reflects of the temple's surface giving it a pearly radiance. Built in the seventeenth century this temple underwent multiple restorations. The main attraction in Wat Arun is the central stupa like pagoda which is encrusted with colourful porcelain. Around the base there are many Chinese animals and soldiers and also Hindu god Indra is depicted riding on Erawan. The temple charges an entrance fee of 50 baht for foreigners.
13. Enjoy in a Full Moon Party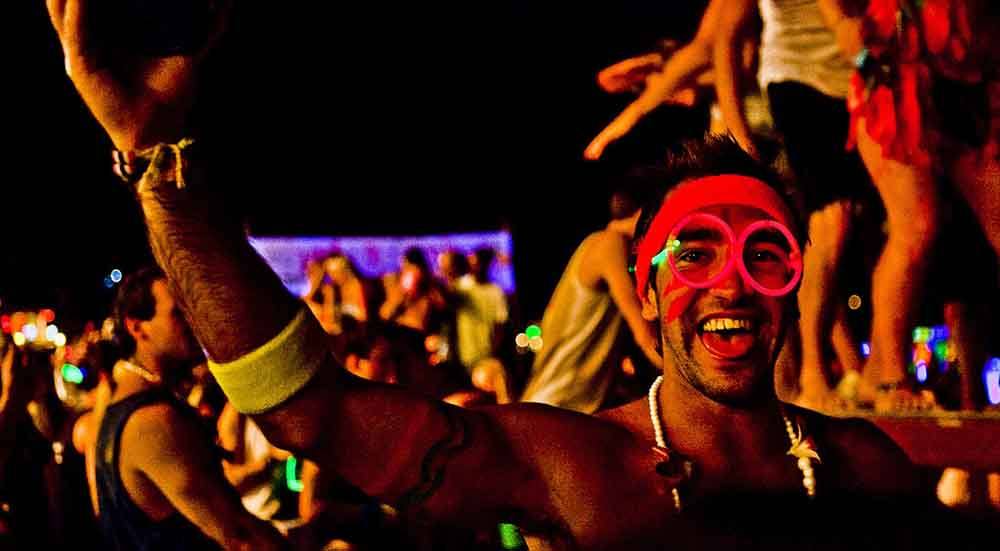 Known as the party island, Koh Phangan is an iconic party destination with crowds reaching over 30,000 on some days. The party begins at dusk and is filled with backpackers and tourists. Booze and party spirits is one thing you can find a lot in this place. Dance, Music and food are in abundance. So sway your way through the night and break a leg and make some friends.
14. Don't Miss Phang Nga Bay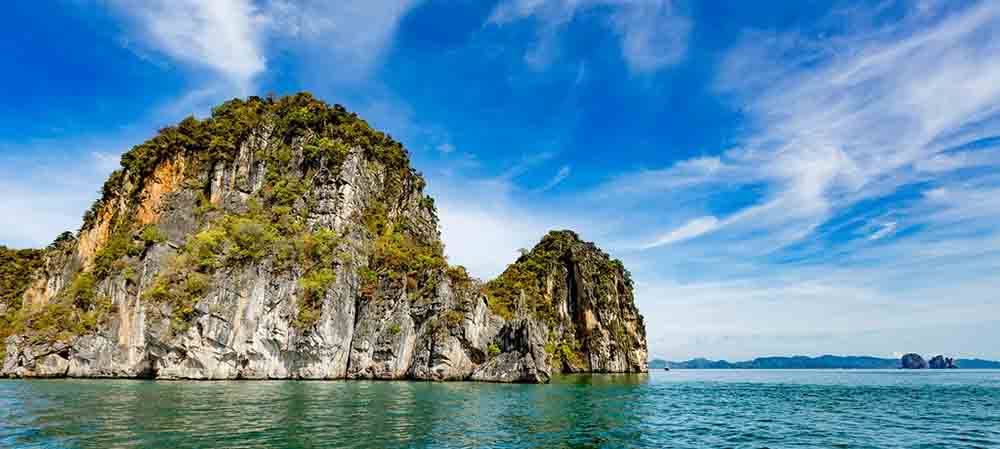 Famously known as the James Bond Bay, it lies between Thailand's mainland and Phuket. It is also known as the Ao Phang Nga National Park and has limestone formations and is covered with mangroves and small islands. Dotted with coral reefs, the island has a scenic view amidst blue waters. Don't forget to click some instagram worthy pics while at this place.
15. Rejuvenate in Railay Beach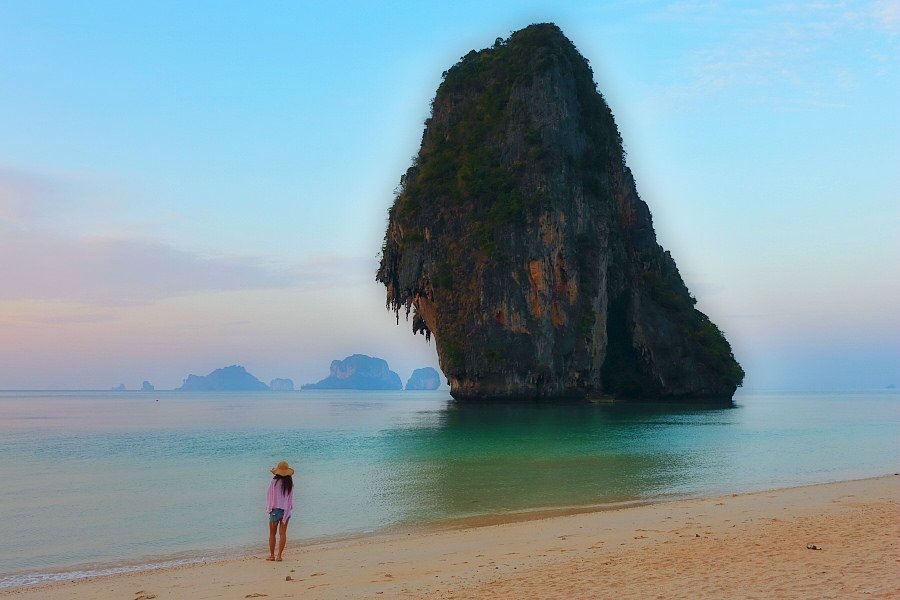 Located between the city of Krabi and Ao Nang in Thailand, this beach is famous for its breathtaking views and blue waters. It also attracts rock climbers from around the world for there are around 700 bolted climbing routes. If you are a climber then you can also climb cliffs without rope over water. Accomodation facilities range from medium priced resorts to bungalows and has a collection of luxury resorts to chose from.
16. Participate in the Loi Krathong Festival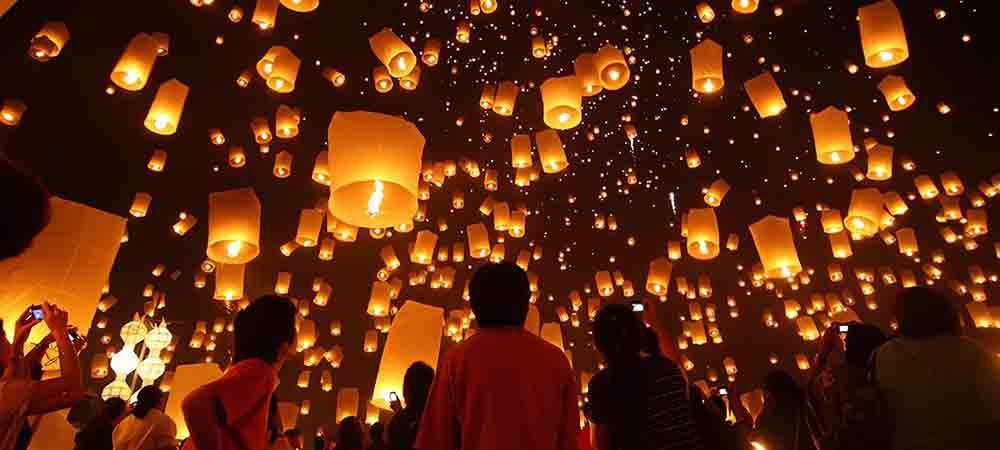 The Loi Krathong festival is a festival of lights that is celebrated annually in Thailand. A Krathong is a small container made with bread that contains some dessert or dish prepared of fish. And it is floated on water. While launching the krathong in the river, the Thais make a wish. The sight of floating lights is mesmerising and is a one off experience.
17. Visit the Beautiful Erawan Waterfall
Located on the east side of the Erawan national park, the falls has emerald green ponds. The Erawan waterfalls are 7 tiered and it spans over 1.5 kms. Each tier has number of ponds that are filled with beautiful fishes. And these ponds are great for swimming. Soak in yourselves in water and rejuvenate yourself with a beautiful view.
18. Mae Nak Phra Khanong Shrine
Mae Nak Phra Khanong shrine is said to be for a legendary spirit of a lady Mae Nak. Devotees who visit the shrine offer lotuses, fruits and incense sticks and colored cloth accompanied by request for child birth or to exempt their husbands from military conscription.
19. Go diving in Similan Islands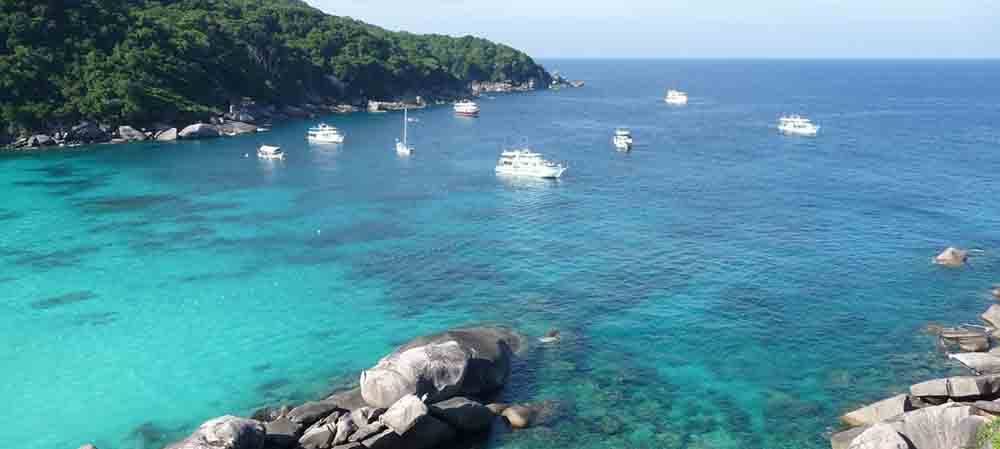 If you are a diving enthusiast, then Similan Islands is the place you have to be at. Rich in underwater aquatic life, the Similan islands are a group of 9 tiny verdant islands with white sand beaches. Divers can explore and see leopard sharks, White and black tip reef sharks, moray eels, barracudas and many more marine life.
20. Watch Muay Thai at MBK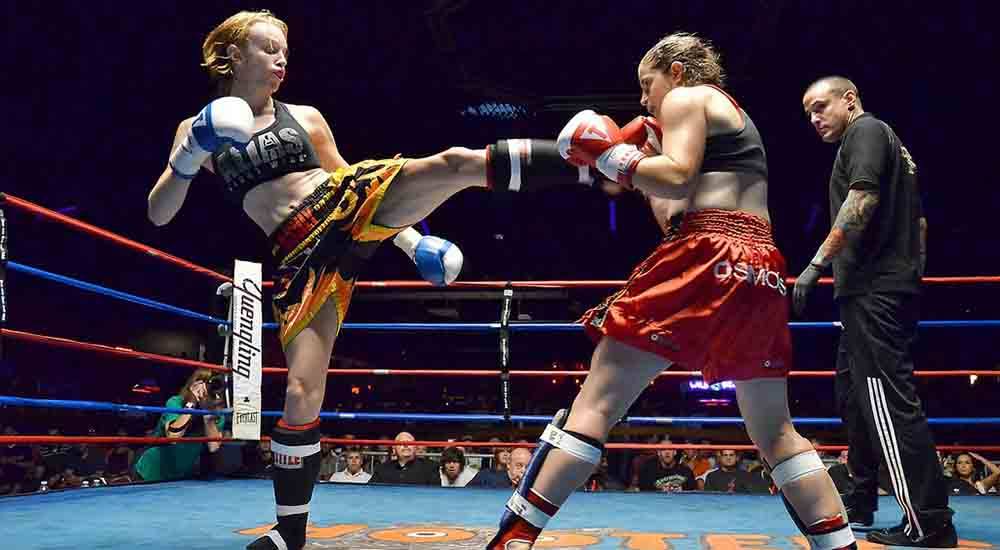 If you are an action fan the Muay Thai kick boxing is a must see. Traditional Thai martial arts fighters fight and win matches while the traditional background music keeps the crowd alive. The fight will surely leave you adrenaline filled and guess what? you can watch these fights for free.
21.Go Fly boarding at Chaweng Beach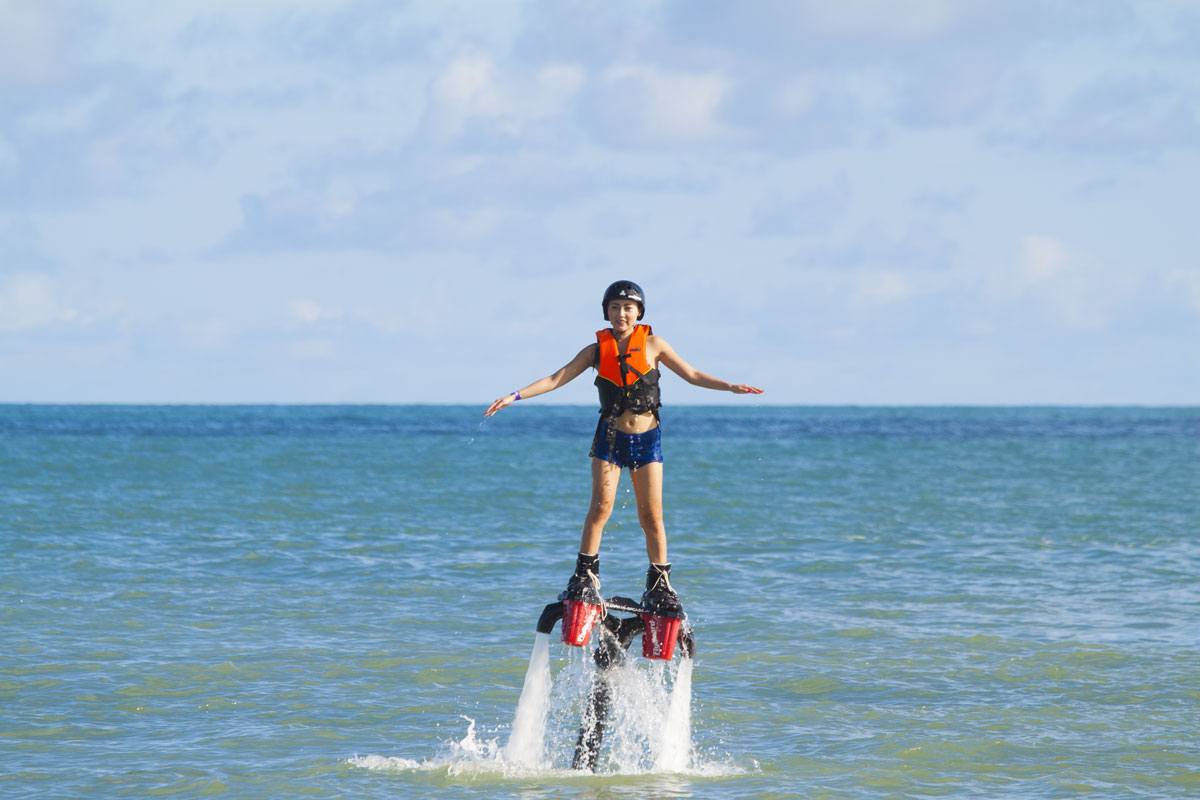 For those who are adrenaline junkie, there's nothing better than Fly boarding at the Chaweng beach. While it's easy to find relaxed tourists at the sandy beach, the fun and excitement on the faces of the tourists doing flyboarding is hard to miss. For the beginners, it may take a few attempts of landing in the sea before having a perfect flight, but with warm and friendly trainers at the beach, it flyboarding ultimately becomes a cherished memory for one and all.
Conclusion
Thailand is home for all kinds of tourists, be it the adventure enthusiasts or the laid-back beach lovers. If you have not yet been to the paradisiacal land of Thailand, the time is now!