Want to throw a party in Dubai or wish to make your special occasions such as wedding receptions, anniversaries, kids' birthday parties or Valentine's Day indeed special and memorable or just want to organize a corporate event or get-together to have fun with your dear ones? Predictably, you'll find no dearth of party venues in the emirate to enjoy occasions of all size, scale and sorts, being Dubai home to a wide assortment of upscale hotels, opulent entertainment centers and finest dining establishments – most of them offering world-class facilities to celebrate your special moments in luxury and elegance.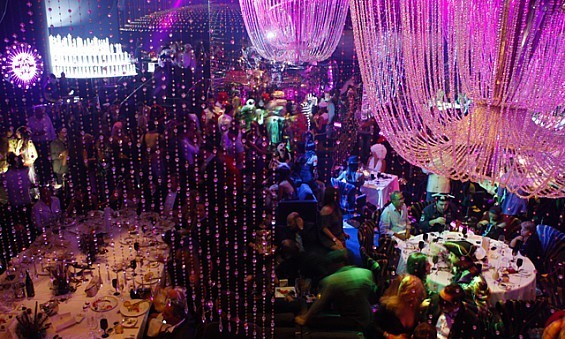 Burj Al Arab
Perhaps no other venues in the UAE could ever beat Burj Al Arab when it comes to partying in style and grandeur. From open-air Marina Garden offering the mind-blowing views of Arabian Gulf and Al Falak Ballroom that takes after an 18th century Viennese Opera House to Assawan Amphitheater – a perfect setting for dinner parties and cocktail receptions, Burj Al Arab – often credited as the world's only seven-star hotel – provides access to unmatched choices, along with superb services, to turn your special occasion memorable.
Also Read: 21 Best Things to do in Dubai
Fun City
One of the best ways to cherish and surprise your little one on his or her big day is to organize a fabulous birthday party at Fun City. With a variety of fun zones and packages to choose from such as Perfect Party, Fab Party, and Ultimate Party covering themed decoration, rides, Pinata with sweets, face painting, party bag and tasty meals, Fun City assures you of a seamless solution that are tailored to perfection in order to allow parents to relax and watch their children making most of the party.
Dubai Dolphinarium
This is yet another amazing venue to hold special events and birthday parties. In addition to its well decorated party room that can accommodate up to 15 to 30 kids at a time, Dubai Dolphinarium makes available the services of expert birthday organizers for an unforgettable event. Highlights also include Greeting from Dolphin mascot, music and a chance to capture photograph with dolphins.
Dhow Cruise Parties
To celebrate your special moments in the backdrop of stunning waters and serene environment, opt for a dhow cruise package. In addition to buffet style dining choices and themed decorations, a variety of entertainment activities will form part of your celebrations, such as music, magic shows and Tanura.
Yacht Charter
Luxurious yachts replete with superb facilities and finest cuisines are available for your party needs, no matter it is for anniversary celebrations, corporate meetings, or birthday parties. But, be sure to pick a company or service provider that will tailor an itinerary to suit your unique party requirements.