Universal studios, Singapore is a world in itself with multiple thrill seeking rides, lots of eatery stalls and plethora of fun things to do. Even though you can go through multiple rides multiple times, here is the list of some unique rides to enjoy at Universal Studios Singapore.
Battlestar Galactica Ride: Human vs Cylon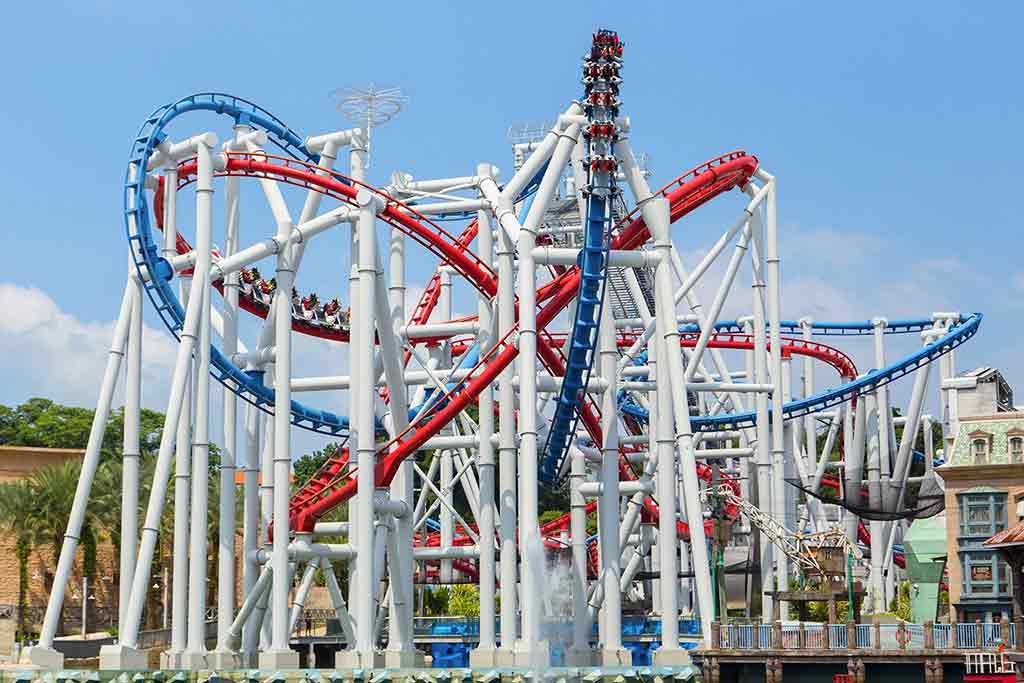 If adrenaline and heart pumping action is what you seek, then this ride is made for you. One of the best attractions at Universal Studios Singapore, it is one of the main roller coaster ride of the park. In this ride a pair of dueling roller coaster rides twist around each other. One track is called Human and the other Cylon. Before going for the ride, you need to empty everything in your wallet in a nearby locker which is free for the first 45 minutes. You can't carry anything and there are guards standing that carry metal detectors to detect wallets and phones. Both the roller coasters Human and Cylon shoot you into fast speeds and turbulent turns. You will enjoy the best if you sit in the front rows. Of the both, Human is smoother than Cylon.
Transformers the Ride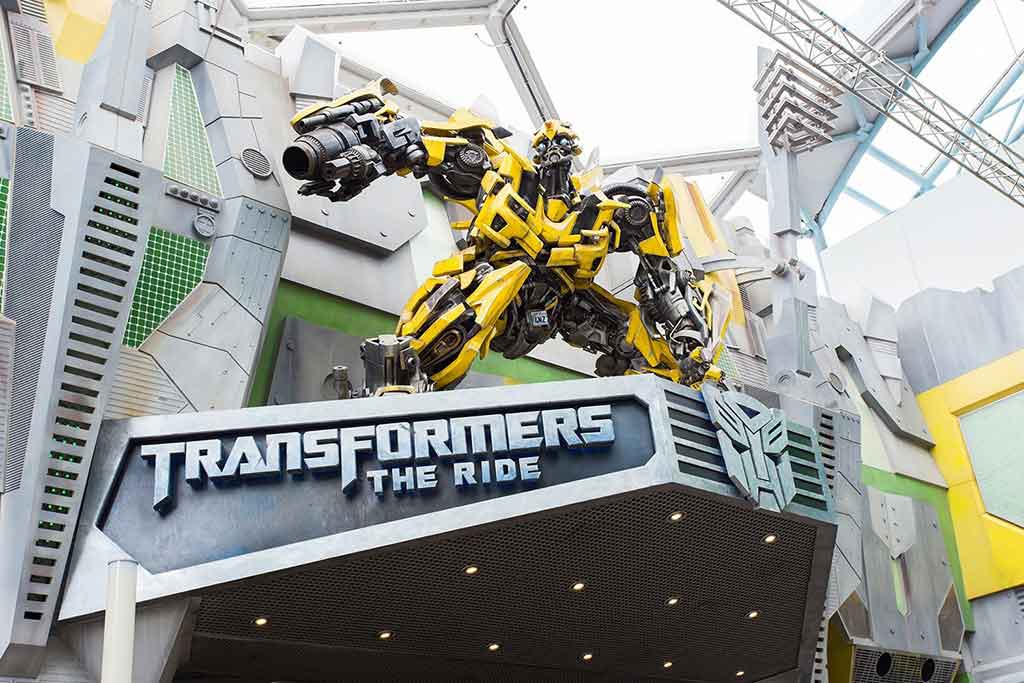 This is a 3D ride where you wear glasses and sit in a cart. You are taken around in time to the mind boggling action on the screens. The special effects are commendable. If you ever wanted to be amongst the transformers in the movie, then this will probably be the closest you can get to that wish and will definitely appreciate this ride. Being chased by various gigantic fighting robots, you find yourself among decepticons and autobots. This ride being the most popular among all the rides, the waiting period for it varies from 10 minutes to 1 hour. So, patience is the key and the ride is worth the wait.
Revenge of the Mummy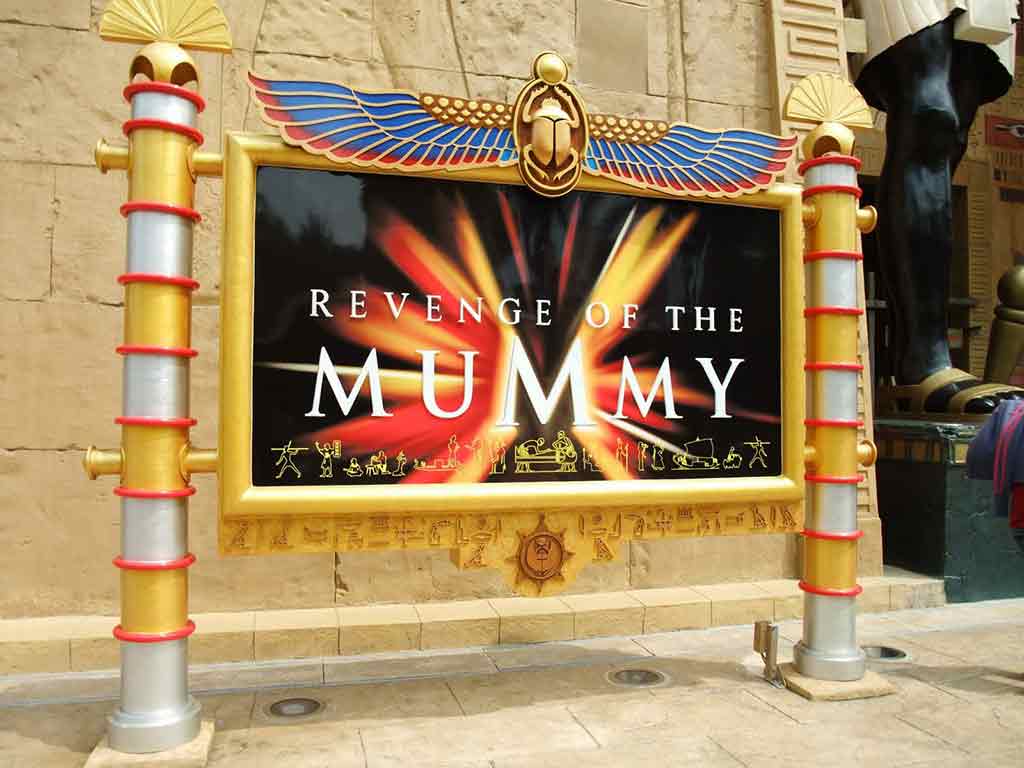 Another thrilling ride that you must experience in Universal Studios, Singapore is the Revenge of the Mummy. The ride starts with you being in a jeep in the search of 'The Book of Living'. Taking you through various scenes of Egyptian tomb, you have to fight the Imhotep, the main villain of the Mummy films. With multiple twists and turns and accelerations we bet you'll be thrilled to experience the roller coaster ride. An eclectic mix of roller coaster ride, haunted house and a multimedia adventure, Revenge of the Mummy is not for the faint hearted. Like Battle star Galactica, this ride also needs you to empty your pockets in a locker that is free for first 45 minutes.
Jurassic Park Rapids Adventure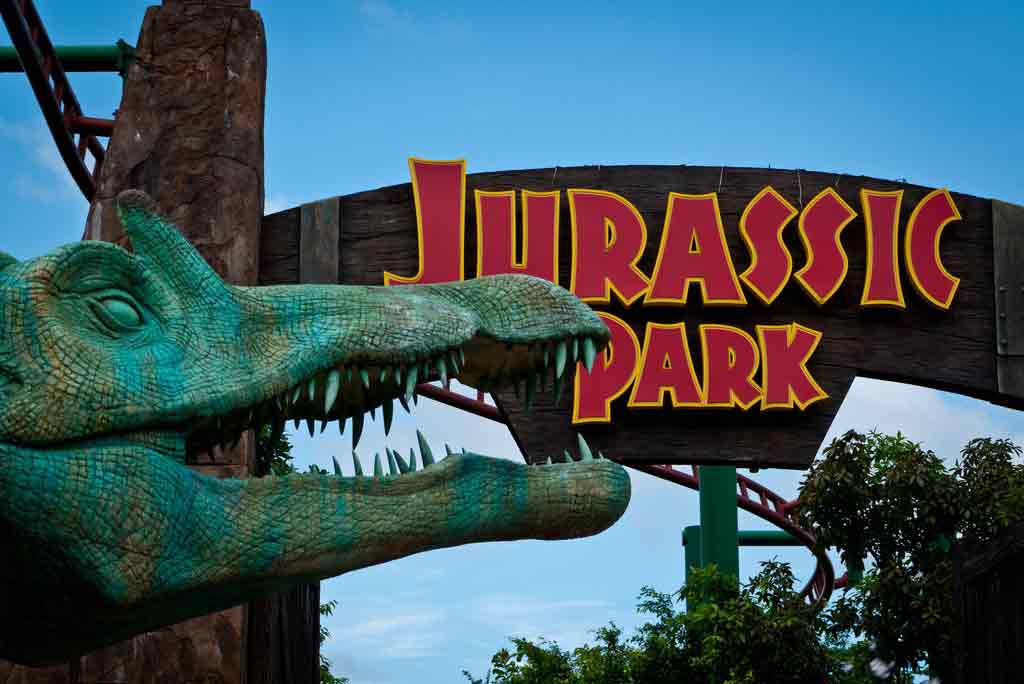 Before you enjoy this ride ensure that you have an extra pair of clothing. That is because this ride is taken in water and based on your position in the craft you might get completely drenched. With some impressive waterfall drop and splashy river rapids, you go through a compound where dinosaurs are grazing. When you enter the building, you hear simulated screams and cries of fellow dinosaur park rangers which adds to the tension and thrill. If unfortunately, you did not read the article and went for this ride without an extra pair of clothing, no problems. There are drying pods that you can use to dry yourself up at the cost of $5.
Canopy Flyer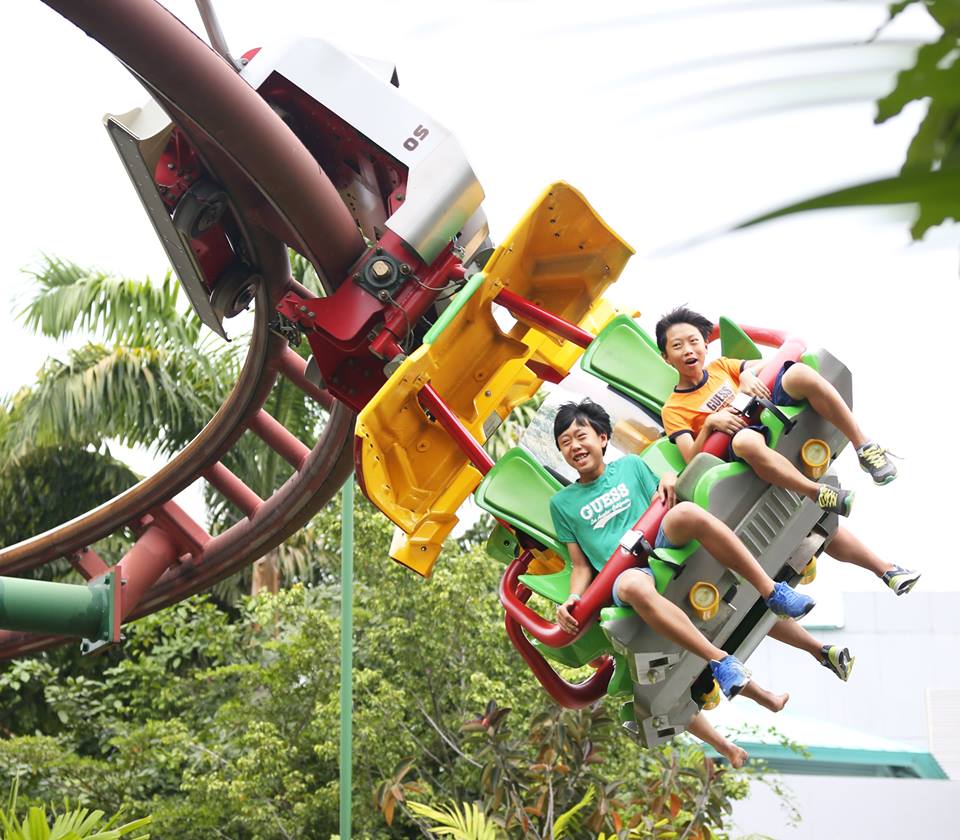 A small ride which is thrilling and both fun if you sit backwards more so, Canopy flyer is a small open chair car that is suspended from a track. This ride gives you a bird's eye view of the Jurassic Park. Remember, this ride can be pretty scary especially if you are afraid of heights.
Waterworld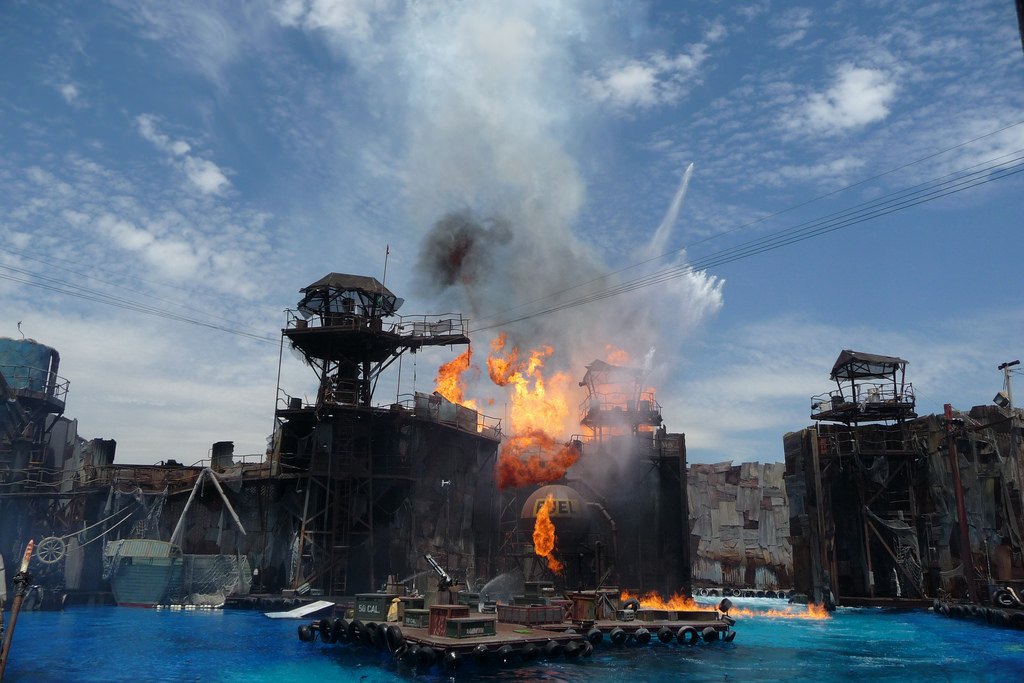 Based on the blockbuster movie starring Kevin Kostner, you can view death-defying stunts of the performers who are so committed to their roles. You witness some humorous performance before the show begins and then throughout the show you see breathtaking stunts by the performers. Jet-ski chases, explosions, and multiple three story drops are amazing and will surely blow your mind away. This one is a must-see attraction in Universal Studios, Singapore.
[Check Out: 25 Best things to do in Singapore anytime of the year ]
Tips to enjoy the best in Universal Studios, Singapore
• Avoid Peak days: Peak days considered by the Studios are Blackout dates that are Christmas, New Year, Chinese New Year or any public holidays. Avoid these days and the queues you will witness will be much lesser. So, more time in hand means more the number of rides.
• Read the ride instructions: Some rides in Universal Studios have height restrictions. Most of the rides requires the children's height to be at least 122 cm or should be accompanied by adults.
• Pack some extra clothes: Some rides such as the Jurassic Park Rapids and Waterworld can completely drench you. Keeping an extra pair is always a better to be dry. But if you forget to pack no problem, there are dry pods which you can use to dry up at a cost of $5.
• Waiting time: Some rides can keep you as little as 5 minutes in waiting while for some the waiting time can reach up to an hour. Go for the popular rides such as Transformers, Revenge of the Mummy, or Battle star Galactica as soon as possible. This way you can beat queues.
Some facts about Universal Studios Singapore, you might want to know before you visit
• The Hollywood Walk of Fame in Universal Studios Singapore has only 59 out of the total 2500 stars in the actual Hollywood Walk of fame.
• In case you plan to visit the Universal Studios Singapore on your birthday, simply head to the Guest Services lobby and you can redeem a special birthday gift for yourself.
• It is only in Universal Studios Singapore that the New York Library façade is made in 3D, everywhere else it is only in 2D.
• With a height of 42.5 meters, the Battlestar Galactica is the tallest dueling roller coaster in the world.