[Total: 61 Average: 2.4/5]
Abu Dhabi, one of the seven Emirates in the United Arab Emirates (UAE), is also the largest Emirate. Though being the capital of UAE, it is not as popular as Dubai. However, not many know that it is richer than Dubai not only economically but also culturally. There are a huge number of things that you can see and do in Abu Dhabi. Abu Dhabi offers several attractions and activities, from which you can pick those that match your tastes and interests. From culture to luxury to adventure, Abu Dhabi is a place that will leave you awestruck. With this note, let us take a look at the top 21 things to do in Abu Dhabi.
Top things to do in Abu Dhabi
Sheikh Zayed Grand Mosque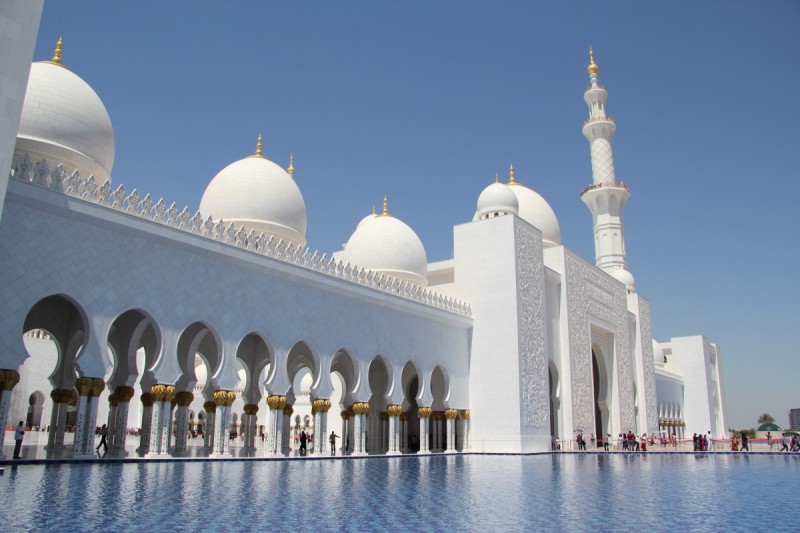 The Sheikh Zayed Grand Mosque Center, initiated by the late President of UAE (Sheikh Zayed bin Sultan Al Nahyan), is also his resting place. The mosque, which took 11 years to be completed, covers an area of 30 acres of land and is the largest mosque in the UAE and the eighth largest in the world. The mosque is built in marble but also consists of elements made of gold, crystals, semi-precious stones, ceramic, etc.
Though this mosque possesses several marvels, one of the most important is the carpet in the prayer hall which is the largest carpet in the world. It measures 60, 570 sq ft and weighs 35 ton. Apart from this, do not forget to check out the marvelous chandeliers that are made of Swarovski crystals. The intricate architecture, the beautiful pools, the lighting system, etc. make this mosque a sight to behold. An important thing that you have to make sure that you dress modestly while visiting the mosque.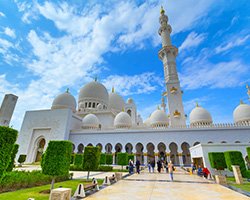 Emirates Palace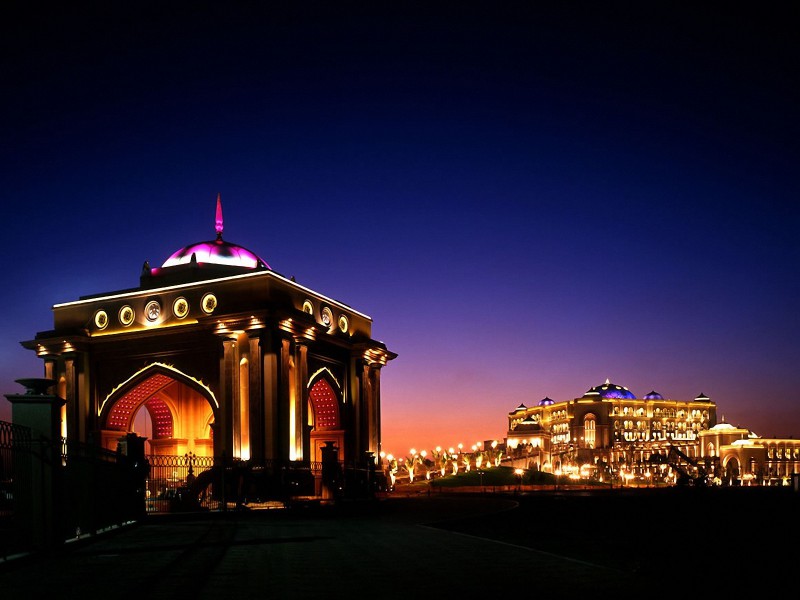 Another site that you should not miss is the Emirates Palace, which is a reflection of Arabic architecture. The hotel breathes opulence with its intricate domes, crystal chandeliers and gold plating as well as pearls. It is located on 1.3 km of private beach and is surrounded by 85 hectares of gardens. The hotel has 302 rooms as well as 92 palatial suites. Although this seven star hotel is not open for sight-seeing, you can always visit its coffee shop or restaurants to treat yourself with amazing coffee or other such delicacies.
Ferrari World Theme Park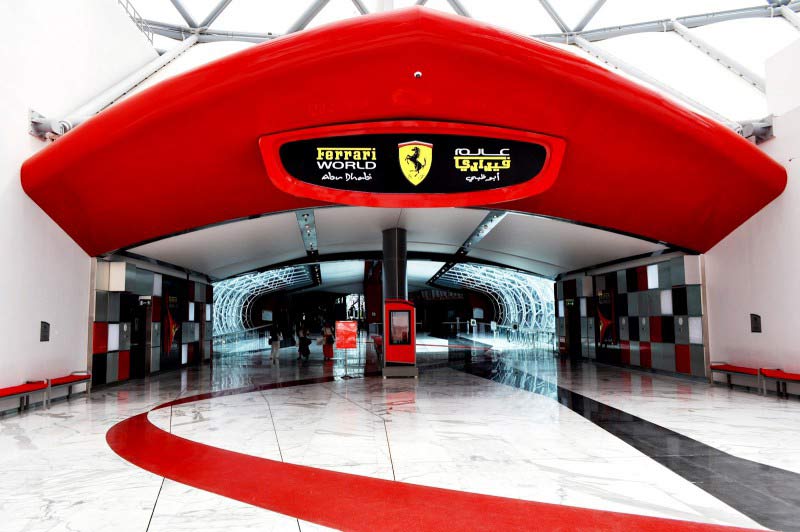 If you are a fan of speed and adventure, Ferrari World is something that you should not miss. This adventure park spans 200,000 square meters and has the largest Ferrari logo. Located in Yas Island, the main attraction of the Abu Dhabi Ferrari World is the Formula Rossa, which is the fastest roller coaster in the world. It runs at the speed of 240 km per hour. Apart from this, there are 20 more rides as well as attractions that you can enjoy at the Ferrari World.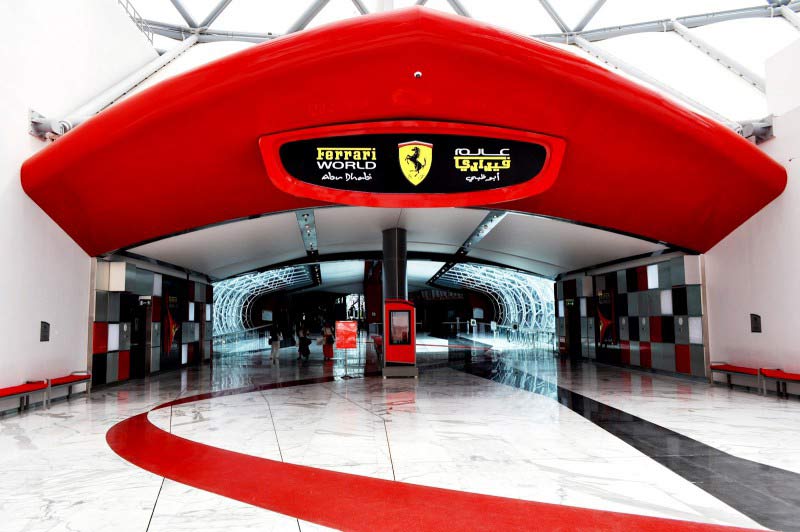 Abu Dhabi Corniche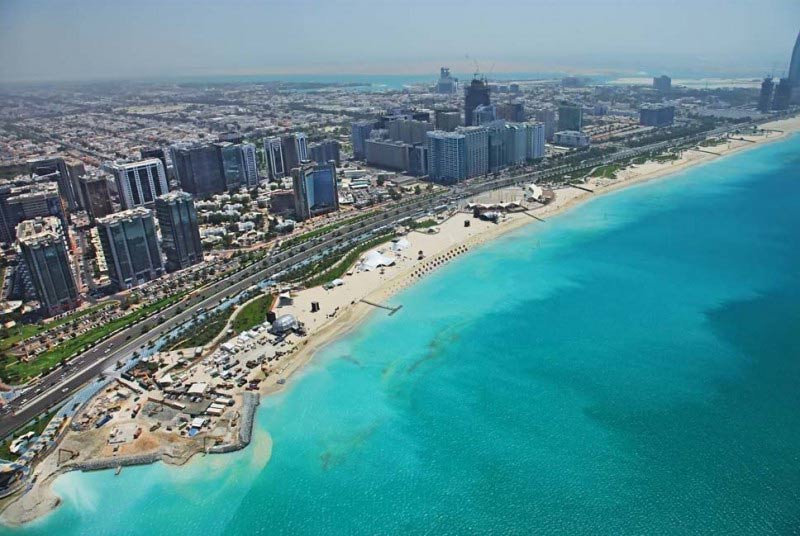 If you are looking for a place where you want to relax and spend your time with family and friends, the Abu Dhabi Corniche is the perfect place for you. You can choose to take a walk or cycle along the 8 kms long Corniche road. Apart from this, you can also opt to have a picnic or take a swim on the beach. There are also several cafeterias and restaurants where you can try out some delicious treats while enjoying the beach and the sea.
Heritage Village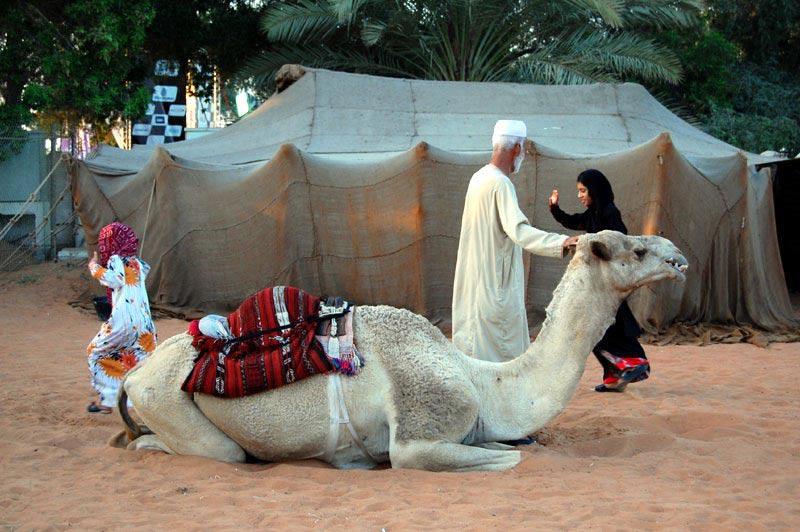 The Heritage Village in Abu Dhabi is the best place to visit if you want to know about the culture of this city. Here a Bedouin village has been recreated and consists of a goat-hair tents, a small mosque and a souk too. You can observe some of the features of the traditional culture like goat rearing, falaj (irrigation system, etc). However, it is not just a museum; rather it also allows the visitors to participate in different types of activities. You can indulge in activities like pottery, weaving, spinning, etc.
Also Read: 21 things to do in Dubai
Emirates National Auto Museum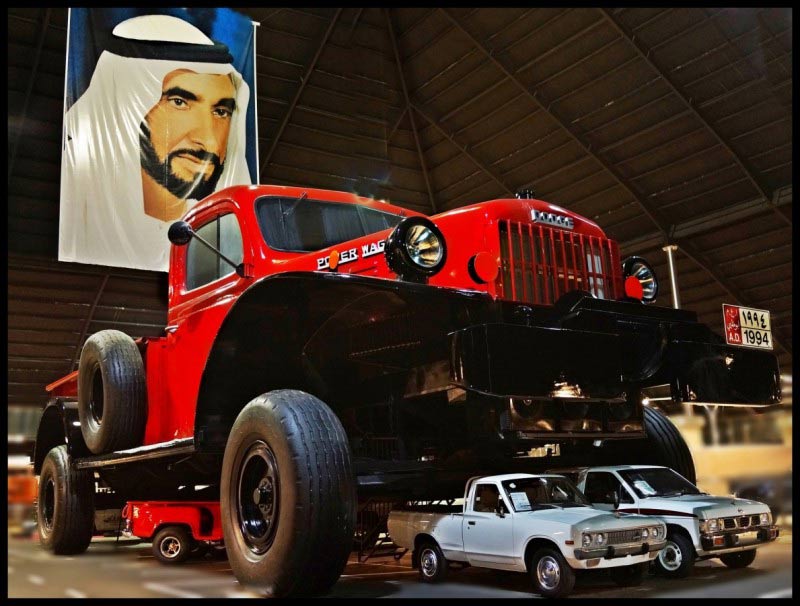 The Emirates National Auto Museum is located at South of Abu Dhabi and possesses almost 250 types of cars. This museum houses the private collection of cars of Sheikh Hamad bin Hamdan Al Nahyan. While some of the vehicles have been bought, many have been gifted to the Sheikh from around the world. You can also view seven Mercedes which the Sheikh got painted in colors of the rainbow; one color for each day of the week.
Women's Handicraft Center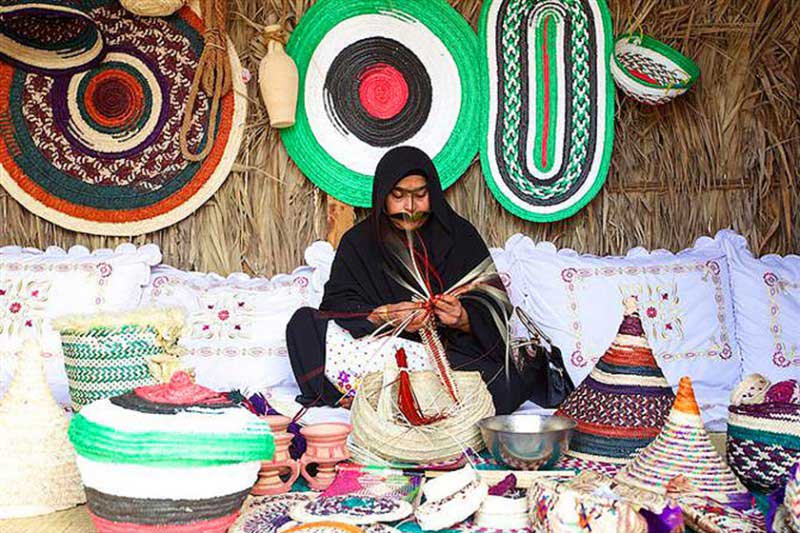 The Women's Handicraft Center is a place you can view the traditional Emirati handicrafts. Here the local Arab women can be seen engaging in activities like embroidery, weaving, silver-threading, basket-making, etc. You can also buy these products from the souvenir shop. Other than this, you can also get a henna tattoo from here.
Abu Dhabi Falcon Hospital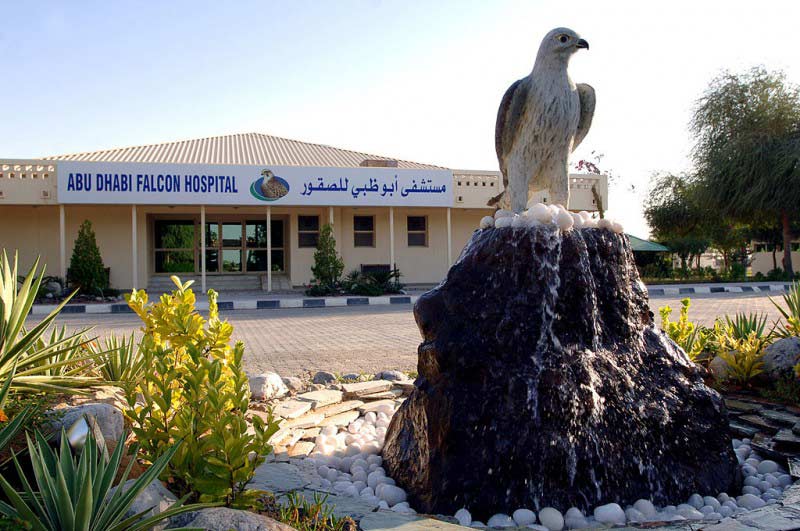 The Abu Dhabi Falcon Hospital is one of a kind as it is the first and only hospital that houses and cares for falcons. It is fully air conditioned and can house almost 200 falcons at a time in individual rooms. The staff at this hospital can diagnose and treat all kinds of ailments that falcons face. Its uniqueness has made this hospital a popular tourist destination. Click here to book now
Yas Island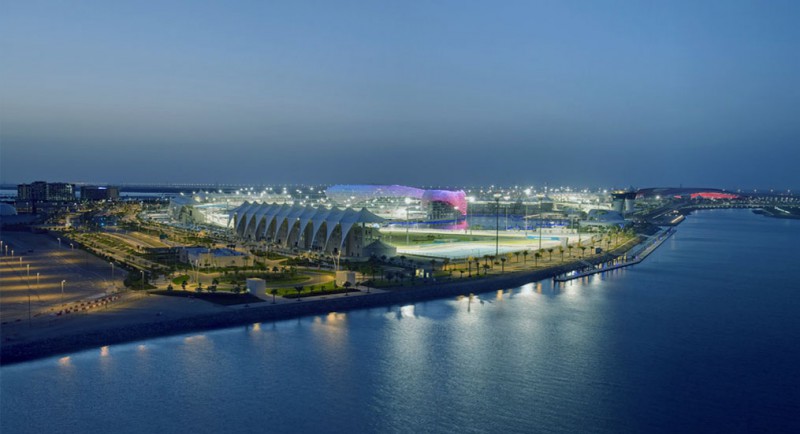 Apart from the Ferrari World, Yas Island is a great place to visit for other reasons too. This manmade island has a world-class golf course as well as a gateway park where you can relax and have a good time. The Yas Marina is also a place where you can indulge in sailing while enjoying the view of the island.
Al Hosn Palace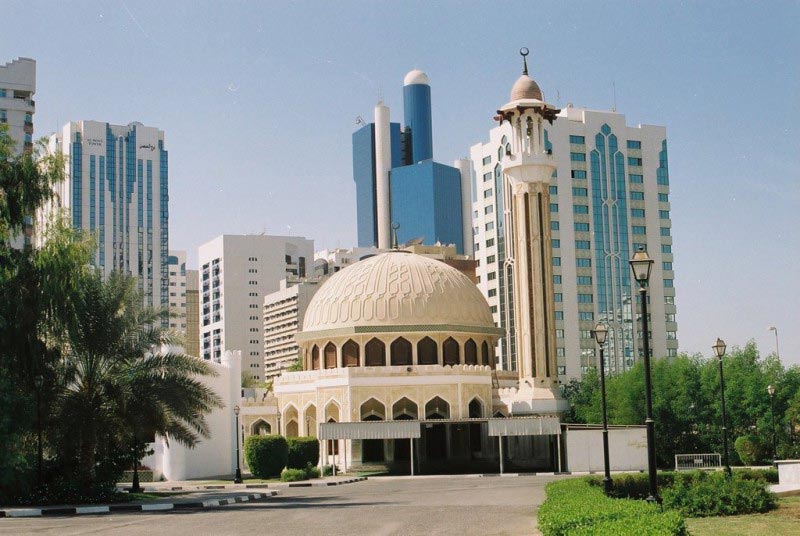 The Al Hosn Palace is considered to be the oldest stone building in Abu Dhabi. It was the home of the royal family till 1996 and is now open to the public for viewing. This building is the perfect monument that reflects as well as preserves the historic and cultural heritage of the city.
Apart from these 10 most important things of Abu Dhabi, here are some more places and activities that you should not miss if you are visiting this city.
The Hili Fun City is where you can enjoy with your family and friends on rollercoaster as well as thrilling rides and also have fun picnics.
You cannot return from Abu Dhabi without shopping. Marina Mall, Khalidiyah Mall, Abu Dhabi Mall, etc. possess stores of almost all international brands. You can shop for the latest collections here.
The Etihad Modern Art Gallery is where you can find the artistic works of emerging talents. It is a great place to visit if you are an art lover.
Another manmade island, Lulu Island is a great place to spend an enjoyable time. You can spend your time by riding on camels, taking a train around the island, taking a ferry or by swimming.
Dune bashing is something you should not miss if you are visiting this desert city. The dune bashing is followed by traditional dinner in the middle of the desert in Bedouin tents.
Do not just restrict yourself to the malls when it comes to shopping. The souks in Abu Dhabi are a great place to buy gold, carpets, spices and such other things.
Al Ain Oasis is another place to visit in Abu Dhabi if you want to enjoy some tranquility. This is a place where palm trees are grown.
Masdar City is an upcoming city, where everything works using the sun's energy. This is a zero-carbon development area and hence you cannot use cars here.
Both children and adults will enjoy the Emirates Park Zoo. This zoo is open all days in the year, even during summers.
Do not forget to try the local cuisine while in Abu Dhabi. There are several restaurants that dish out delicious local dishes.
The Arabian Wildlife Park on Sir Bani Yas Island houses more than 10,000 wild animals. The best thing about this place is that these animals are not caged but roam around freely.
There are just the top 21 things to do in Abu Dhabi. There are still several other things that you can do and places to visit in this Emirate. Abu Dhabi is a perfect mix of opulence, grandeur, culture, tradition and beauty. It is the perfect place to spend your holidays with your family as well as friends.
[Total: 61 Average: 2.4/5]