Opened in February 2013 on Valentine's Day, the Miracle Garden is a real oasis in the desert that has been developed as an answer to the world, which always looks upon Dubai as a city of majestic skyscrapers and glitzy attractions. As you step into this mind blowing recreational spot, you'll soon discover that no other name could be as apt as 'Miracle' for this botanical tour de force.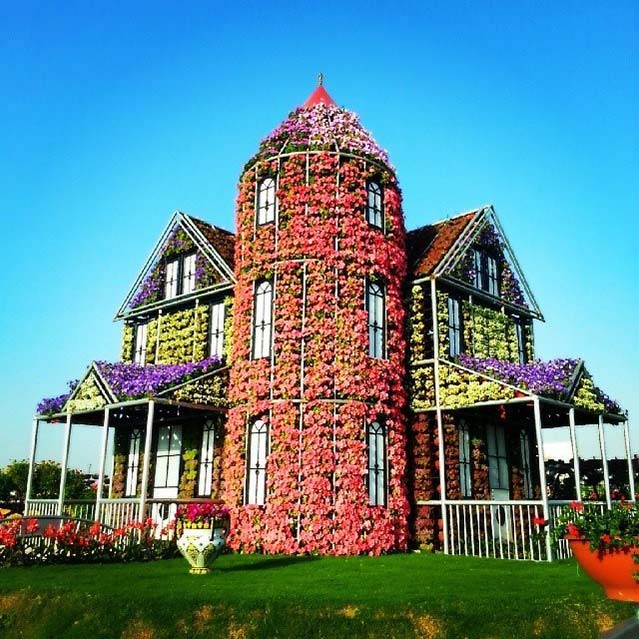 The World's Biggest Natural Flower Garden
Sprawling over an area of about 72,000 square meters of land, Miracle Garden is the world's largest natural flower garden, decked with an awe-inspiring assortment of flowers – most of which are rare and seen for first time in the Middle East, such as petunias and geraniums. Designed and developed by the Al-Ain based Akar Landscaping and Agriculture Company, this is a natural splendor nestled close to Arabian Ranches, in Dubailand.
[Must Read: 21 Best Things to do in Dubai]
Celebration of Colors
With over 45 million flowers grown and bloomed in a spectrum of colors, styles and shapes resembling stars, hearts, circles, sculptures, vintage-style vehicles, igloos, and pyramids, the garden is truly a sight for sore eyes amid city's hustles and bustles. In fact, an endless list of floral varieties including seasonal specialties has been used to create a garden paradise in the heart of the desert city. What that makes this attraction more intriguing is its unique sub-surface irrigation system that recycles waste water via drip irrigation while avoiding evaporation and saving up to 75% of water and energy.
Largest Flower Wall
One of the many of its attractions is a stupendous flower wall of 1 kilometer circumference that has made the garden into the list of candidates competing for a Guinness Record for the longest flower wall in the world. Also, a marvelous segment of the garden is its 4 kilometers long pathway adorned with a vivid range of floral selections.
Upcoming Projects
The garden's second development phase to incorporate a number of outlets, dining choices, and plant nurseries to the present setting is underway.
Opening Hours
It is open from 9am to 9pm. However, with the summer getting hotter in the emirate, it was recently announced that the garden will be closed from late May till October when climate becomes salubrious. A nominal fee of AED 20 for adults and kids aged above three years will be required to gain entry here.