Hold on to your hats, we've got news for you! Are you ready?! Get ready for the most fun you've ever had! The 20th Dubai Summer Surprises (DSS) is starting from the 1st of July. Summer is here, friends, and kids are home for their summer holidays. Where do all the GCC residents head to for a summer holiday? Dubai, where else? DSS turns the hot city into the coolest haunt this summer with theme parks, malls, entertainment venues, and hotels dropping their prices and pulling out promotions. So are you ready yet?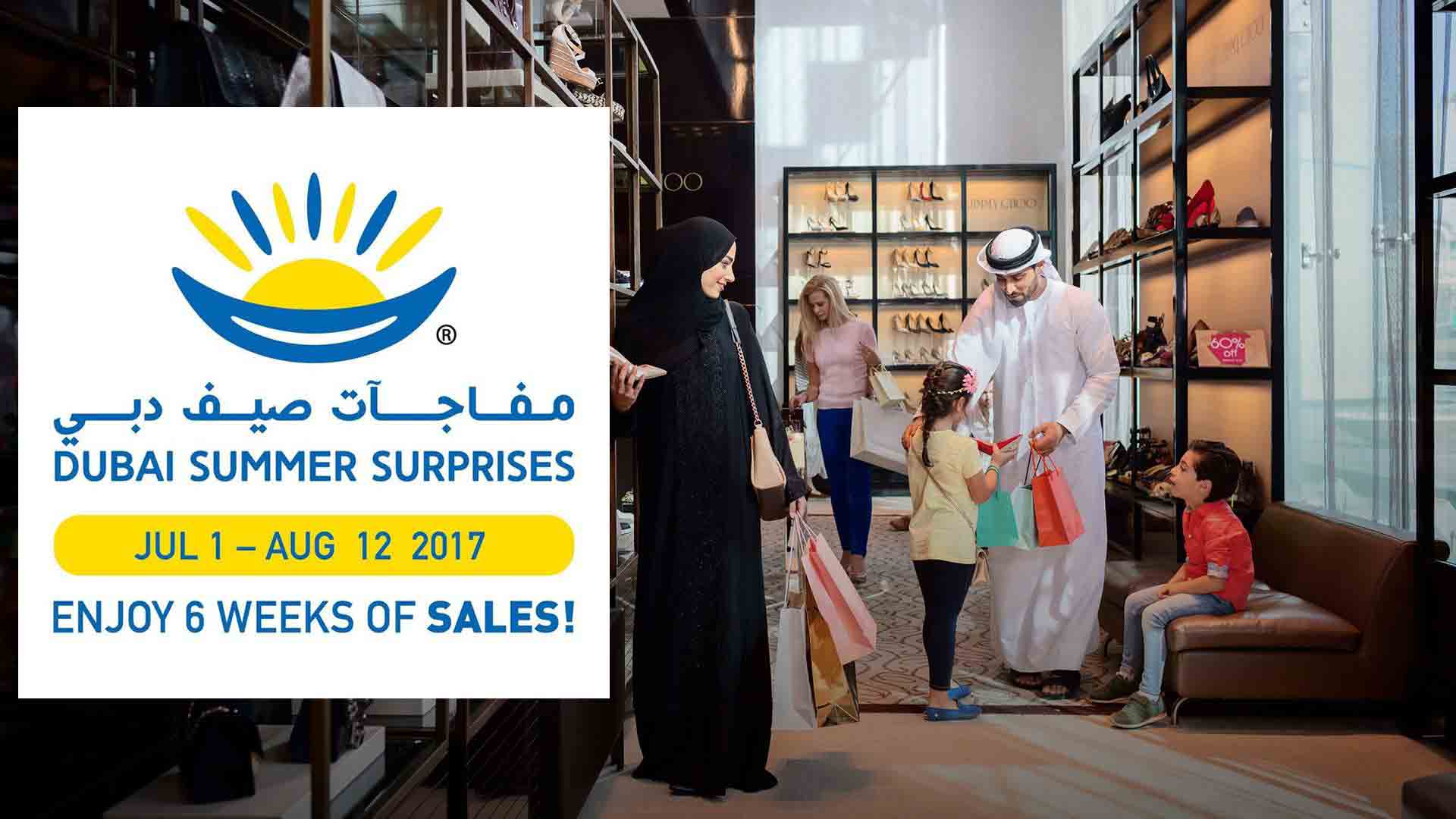 So What Is DSS?
Since you felt the need to ask, we'll explain. DSS is the summer mega event organized by the Dubai Festivals and Retail Establishment (DFRE), an agency of the Department of Tourism and Commerce Marketing (Dubai Tourism). Every commercial entity like theme parks, malls, hotels and more cut their prices and bring out multiple deals, lots of groovy family fun, and tons of freebies! DSS 2017 is all lined up to transform Dubai into a summer oasis of endless delights. So what does DSS 2017 have for the people of Dubai this year?
Dubai Summer Surprise 2017 Details
Aren't you curious now? Here are the details you want to know about the upcoming DSS:
• When is it? 01 July – 12 August 2017
• What is the venue? The entire city of Dubai
• Whom to contact for more information? Just click this link: Information Courtesy: visitdubai
So What's Afoot During DSS 2017?
Almost every retail entity in Dubai is fabulous prizes. One (and we shall not name it here) is actually offering you the chance to win 12 Infiniti Q50 cars! Who knows, you just might be one of the lucky ones! If that weren't enough, you get to enjoy stunning discounts, all the way up to 75 %, plus unbelievable deals on an array of merchandise in malls around the city.
This year there'll be performances by international stars, plenty of stage shows, roaming acts, and events within malls packed with freebies and surprises. Life-size cartoon characters will walk around entertaining kids, while interactive workshops will keep the young adults happy. There will be plenty of retail and dining promotions to keep all adults in the pink throughout the period. With compelling deals and discounts strewn across participating malls, hotels and restaurants, you'll find yourself rushing to be in line for the best of them. It'll be a busy, fun-filled high of a time; of that we can guarantee you!
• The Gruffalo Adventure: Let your kids enjoy setting off on an interactive journey into the Gruffalo Forest to tackle the lovable and very ugly monster at the Souk Atrium and Star Atrium, The Dubai Mall from July 11-17.
• Alvin & The Chipmunks Live on Stage: The world famous animated music group's live theatrical musical between July 19-25 July at the City Centre Mirdif; between July 27-August 2 at the Mall of the Emirates and between August 4th to 10th at the City Centre Deira.
• Mercato Circus Fiesta: A whole bunch of funny family-oriented events that includes Circo Latino, Beijing Chinese Circus, Roaming Acts and Kids Circus Workshop at the Mercato Mall, July 9 to August 20.
• Barbie, The Athlete: A Barbie interactive stand with tons of incredible games plus a show of the latest Barbie products, at the Dragon Mart 2, August 11th to 20th.
• Misfortune Circus: A unique circus filled with laughter, put together by a set of hilarious misfits banding together, at the Ibn Battuta Mall from August 11th to 20th.
• Lego Friends Workshops: Teach your kids to learn, build and play using Lego bricks at Ibn Battuta from July 6th to August 28th.
• Fashion Forward Summer Pop-Up: Enjoy checking out designs by regional fashion designers, at the Mall of the Emirates from July 19th to 25th, and at the City Centre Mirdif from August 3rd to the 9th
• Angry Birds: Splat That!: Your kids will love meeting Angry Bird characters, and take selfies with them at Interactive Activity Corners in Festival Square, Dubai Festival City Mall from July 10th to 19th.
• Hasbro Games: Interested in playing life-size board games? Head out to the Dragon Mart 2 twice a week and challenge everyone for some real-life board game action, from July 14th to 20th.
• Save Our Summer: Get ready for a number of exciting, interactive events activities and experience what being on holiday means even without leaving the city, at the Star Atrium, The Dubai Mall from August 5th to 20th.
• Bricks at Boxpark: Take your kids to enjoy a themed Legoland workshop, with a chance to buy discounted tickets to the real Legoland in Dubai Parks and Resorts. Event is at BOXPARK from July 6th to August 20th.
• The Jungle Book: Get ready for a world-class live show that takes you right into the heart of the jungle, at the City Walk, from August 14th to the 20th.
• Shop & Win Promotion: Eat at the malls where the promotion is on and earn the chance to win one of the 12 InfinitI Q50 cars on offer!
• Eat & Play Promotion: Now here's a promotion designed just for foodies; earn instant gift vouchers to dine for free in participating restaurants.
This is only a partial list of the fabulous deals, promotions, events and fun galore that awaits you this during DSS 2017. Don't forget to check out the promotions by Paris Gallery, Dubai Duty Free, EPPCO & ENOC, Emirates Airlines, and numerous malls around the city.
Conclusion
An entire summer of fun! Bring your guests along, and let them enjoy as well. Tell everyone you know outside of Dubai so that they can make their travel arrangements on time. This is the best time to be in Dubai, so don't miss it whatever you do. Can you imagine it? Your kids happy, safe and totally occupied in their own age-appropriate fun, while you are free to shop, eat, watch shows and just enjoy your own summer? Sounds like heaven, doesn't it?