Georgia is that magnificent combination of nature and history nestled right between the Black Sea and Caucasus Mountains. Georgia has many lovely churches, quaint towns, ancient monasteries (one built into a natural cave system), majestic mountains, incredible food and wines. There's always a best time to visit every travel destination you have in mind, but as far as we're concerned, any time is perfect for a visit to this country. Want to know more?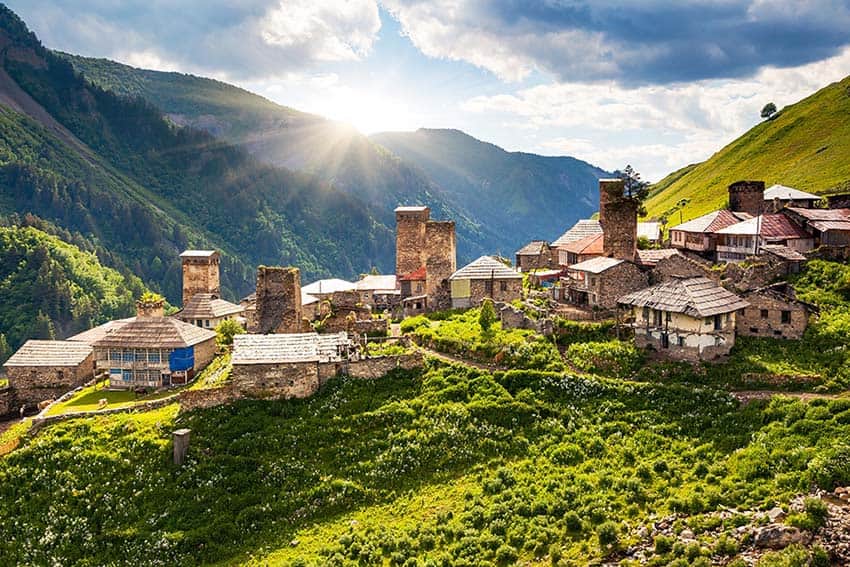 Climatic Conditions In Georgia
Georgia is separated from the rest of Europe by the Caucasus Mountains and the Black Sea. As a result, it does not suffer very cold winters, unlike its neighbor Russia. While the summers here are hot and humid, winters are mild and quite bearable with a sweater or two. It'll be colder close to the northern mountain peaks (they are permanently snowbound), but the west coast (by the Black Sea) enjoy a nice balmy weather year round. So the best time to visit Georgia is any time of the year. Take a look at Georgia's climate during each season, so you can plan your trip accordingly:

• Spring In Georgia (March to May): The spring months are quite pleasant, especially during the evenings. The heat won't have built up by this time, so it'll be neither too hot nor too cold. Georgia experiences frequent rainfall during the latter months of spring. If you're heading to Georgia during spring, you may need to pack an extra raincoat or so. The trees just begin to flower during this season, as the snow melts on its way out and the air smells freshly washed everywhere.
[Fantastic Things To Do In Georgia]
• Summer In Georgia (June to August): Georgian summer temperatures range from 20 to 30 degree Celsius, which makes the weather pleasant and not too warm. Georgia experiences a lot of travel during summer, and the tourist resorts are generally packed during this season. However, the coastal areas are likely to be quite humid, so unless you're used to tropical climates, you might want to avoid traveling to the coast. Summer is ideal for trekking the mountains, river rafting, swimming, exploring Georgia's cities and all other active pursuits.
• Autumn In Georgia (September to November): The autumn season is truly spectacular in Georgia. The rainfall is frequent, which keeps the humidity down. The trees are multicolored and the grounds are covered with frost. This is the time when the autumn harvest takes place, especially around the vineyards of Kakheti. Recommended clothing for travel will be clothes that dry quickly, and some rain gear owing to the wet season. You may not be able to do much sightseeing during the wet season, but if you don't mind a little rain, it's still a good time to travel to Georgia.
• Winter In Georgia (December to February): If you're from the rest of Europe where it's even colder, you might find Georgian winters offer a cold bite. Winter temperatures range from 2 to 6 degree Celsius, with the nights seeing sub-zero temperatures. Snowfall is common, especially in areas close to the mountains. If you're a winter sports enthusiast, this is the best time to get some skiing, tobogganing and snowboarding done.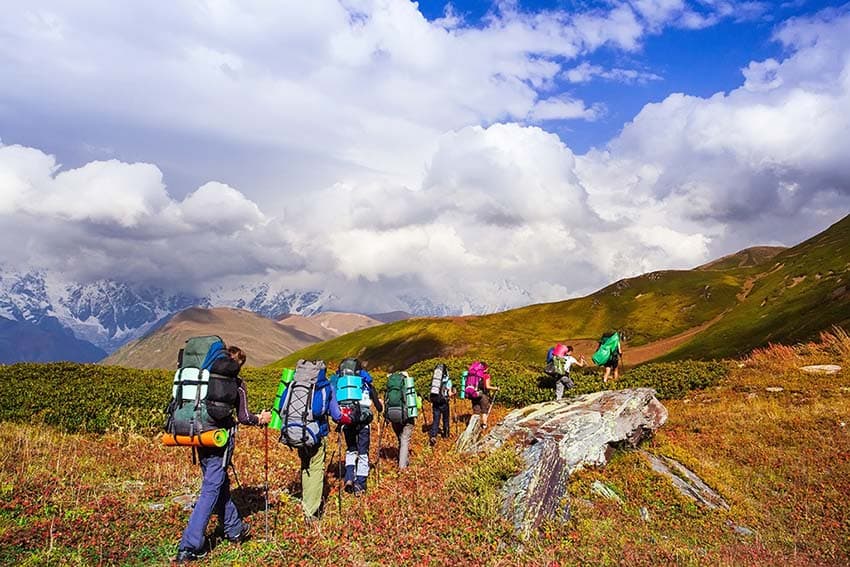 Best Time To Visit Georgia
May, June and September are actually the three very best months to visit Georgia; you can manage to avoid both the sizzling summer and the freezing winter while you travel. Midsummer is particularly hot and humid especially in the lowlands, though the mountain ranges will be much cooler and drier. Be sure to bring a sturdy pair of boots to go trekking in the mountains and around the towns. Trekking is the best way to appreciate Georgia's many charms at your own pace. The months of May, June and September allow for easy exploration in a pair of shorts, tee and boots.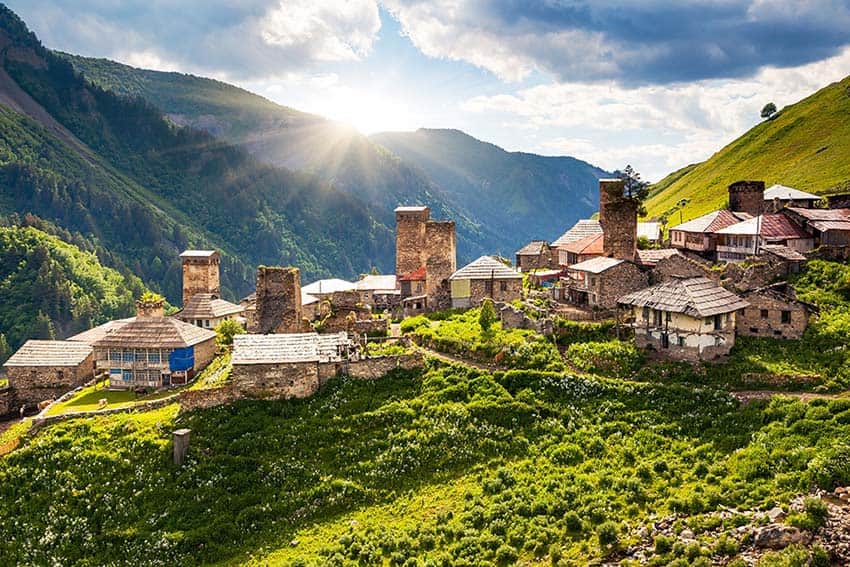 Things To Do In Georgia
• Ask a Georgian resident to tell you some of the country's incredible Slavic folklore and myth that make the rounds during Georgia holidays.
• Take the time to explore the Alaverdi Church, Davit Gareja Monastery and caves and the New Shuamta Nunnery and learn about their fascinating stories.
• Want to know what life was like when Georgia was part of the USSR? Visit Stalin's birthplace and museum in Gori and you'll see.
• Visit the Kakheti vineyards and explore the ancient methods of winemaking practiced here. Try the various wines – the sweet Kvevri, the semi-sweet Saperavi and the dry deep red Mukuzani.
• Take off on a cultural tour of the cities in the High Caucasus – Tbilisi, Kutaisi and Kazbegi. Fascinating stone watchtowers and ancient monasteries in natural cave systems wait for you to discover the relation between religion and the mountains of Georgia.
• Enjoy various outdoor activities in Kazbegi in the far north of Georgia. This region is recommended for mountain biking, horse riding and walking. There's plenty of white water rafting to be had around the foothills of Georgia's third highest mountain, Mount Kazbegi.
Dos And Don'ts When You're In Georgia
• When you're in Georgia, be careful never to discuss politics, Georgia's past, the government or the bloodbaths of a couple of decades ago. These are sensitive topics and Georgians don't appreciate outsiders getting too familiar with their issues.
• If you're invited to dine in a family home, you will need to drink quite heavily. If this is a problem for you, decline the invitation and do it politely. Georgians love to drink and every feast is preceded by at least three or maybe countless toasts before the meal begins.
Conclusion
Georgia is a country where the richness is not just in the culture and history but in the very air. Explore as much of Georgia as you can on foot; in this way, you'll get to see and experience a great deal more than if you were to drive to attractions. Grab a few maps from any local tourism center, pull on your hiking boots, grab some raingear and go exploring. It's fun to make friends with local people and get to know their culture and customs firsthand while on foot, don't you think?