India is home to some of the best and most preserved wildlife sanctuaries. It is home to many endangered species like Bengal tigers, Asiatic lions, resident and migratory birds, deer and many more. If you are a wildlife enthusiast, here's a list of both the national park and the most famous wildlife sanctuaries in India you must pay a visit to.
Chinnar Wildlife Sanctuary: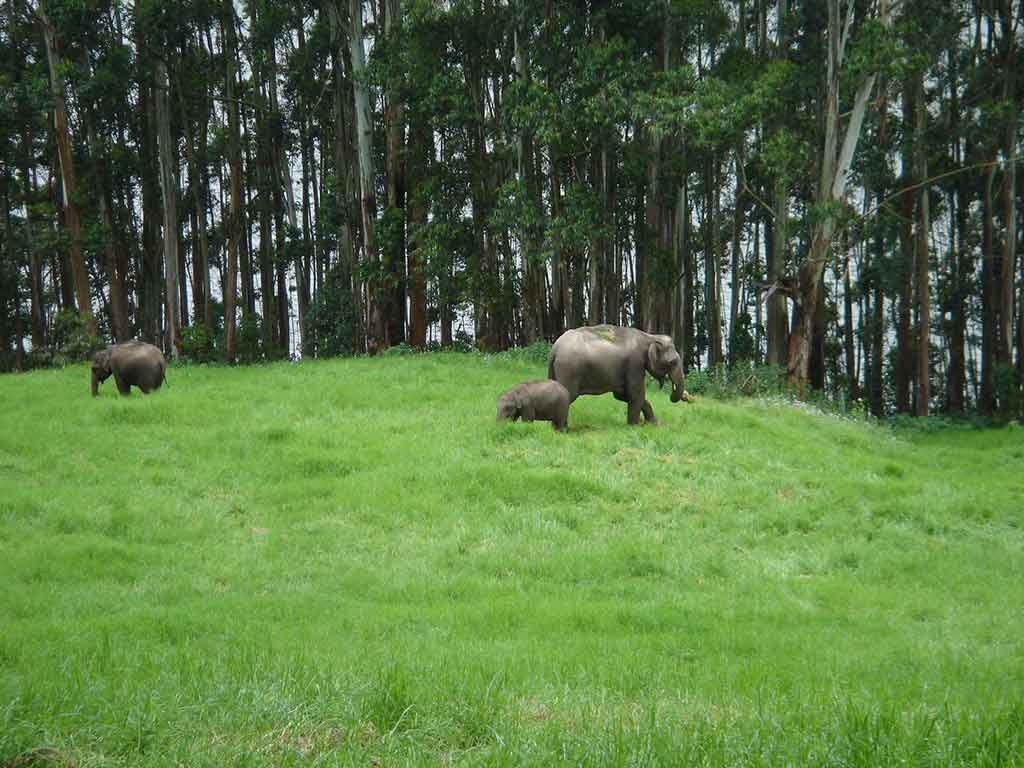 One of the largest sanctuaries of Kerala, the Chinnar wildlife sanctuary shares its borders with Tamilnadu while being beautifully located in the western ghats. There are in total 34 mammals found in the sanctuary which includes spotted deer, panthers, Elephants, Nilgai tahr, and Tigers. It is also home to more than 2000 species of spectacular birds and mugger crocodiles. Spot grey langues, slender loris, leopard, and many other reptiles living happily in the diverse eco system of this sanctuary. Enjoy a guided tour to trekking across mountains, rivers and waterfalls, watching butterflies and birds encouraging you along side. There are exclusive night stay facilities available in huts, dormitories, tree top houses, and amazing log houses. It is one of the most sought after destinations for adventure sport enthusiasts. Declared as a sanctuary in 1984 and is the only habitat which is home to star tortoise and giant squirrel.
Best time to visit: October to February
Dandeli Wildlife Sanctuary: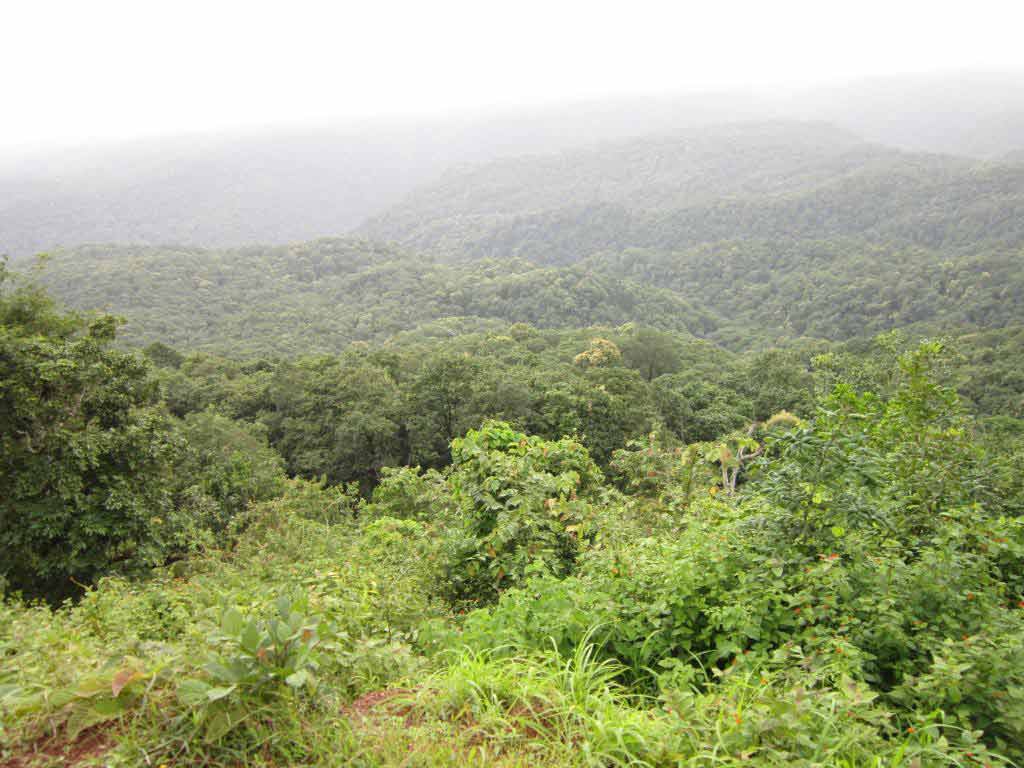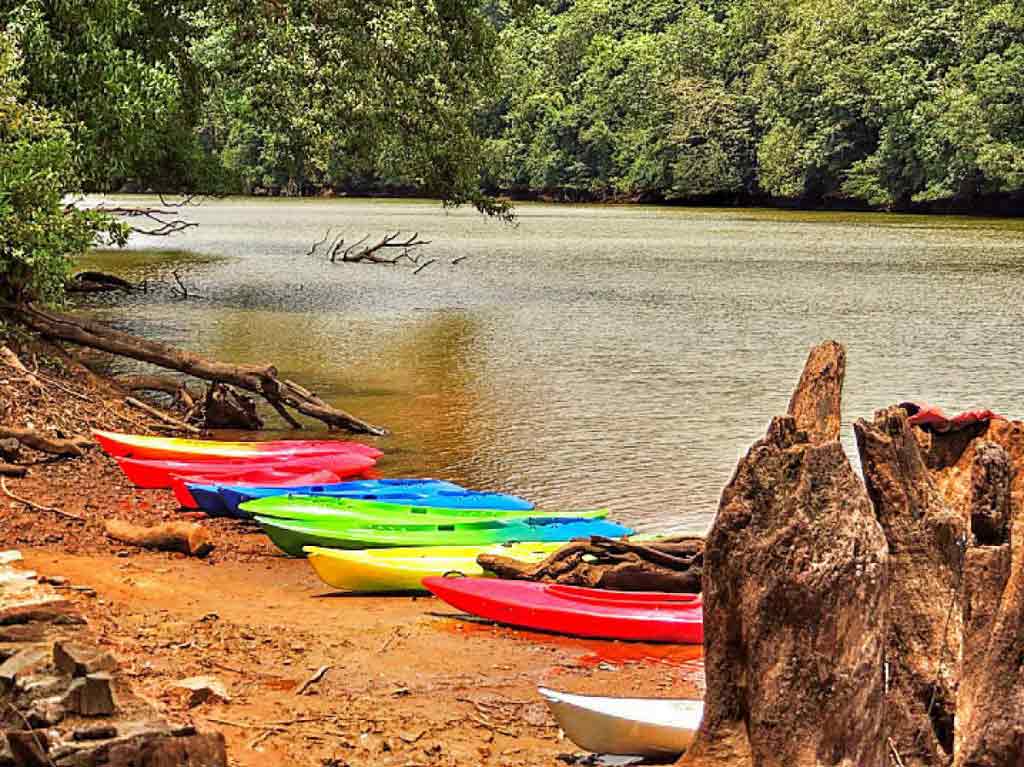 Look out for sloth bears, barking deer, Indian Pangolim and Malabar giant squirrel while roaming in the picutreseque Dandeli wildlife sanctuary. Known as a bird spotter's paradise, the sanctuary has a perfect mix of greens (bamboos, trees, and teak plantations) and colorful birds proudly owning them with their nests. You can spotover 200 species of birds in the sanctuary including the great pied hornbill, peregrine falcon, blue-throated barbet along with scarlet minivet, common iora, blue capped rock thrush, asian brown flycatcher, great egret emerald dove, and more. With an area of 834 sqkms, it is one of the largest sanctuaries in Karnataka. A natural home to reptiles, leopards, black panthers and many more endangered species.
Best time to visit: March to October
Periyar Wildlife Sanctuary: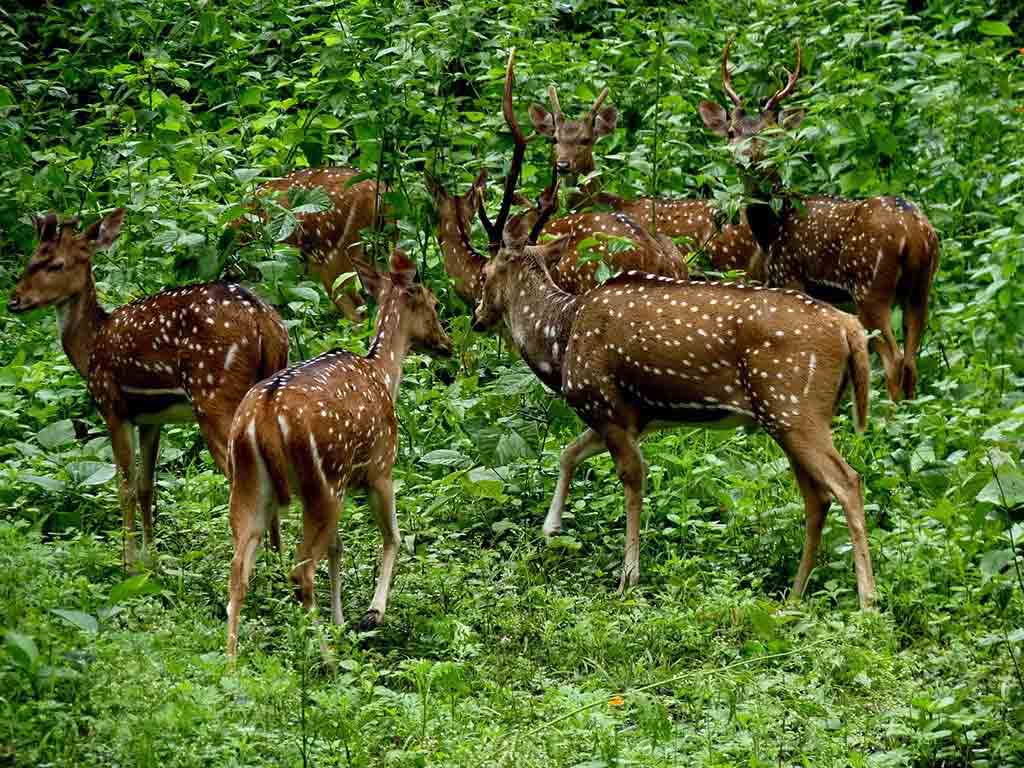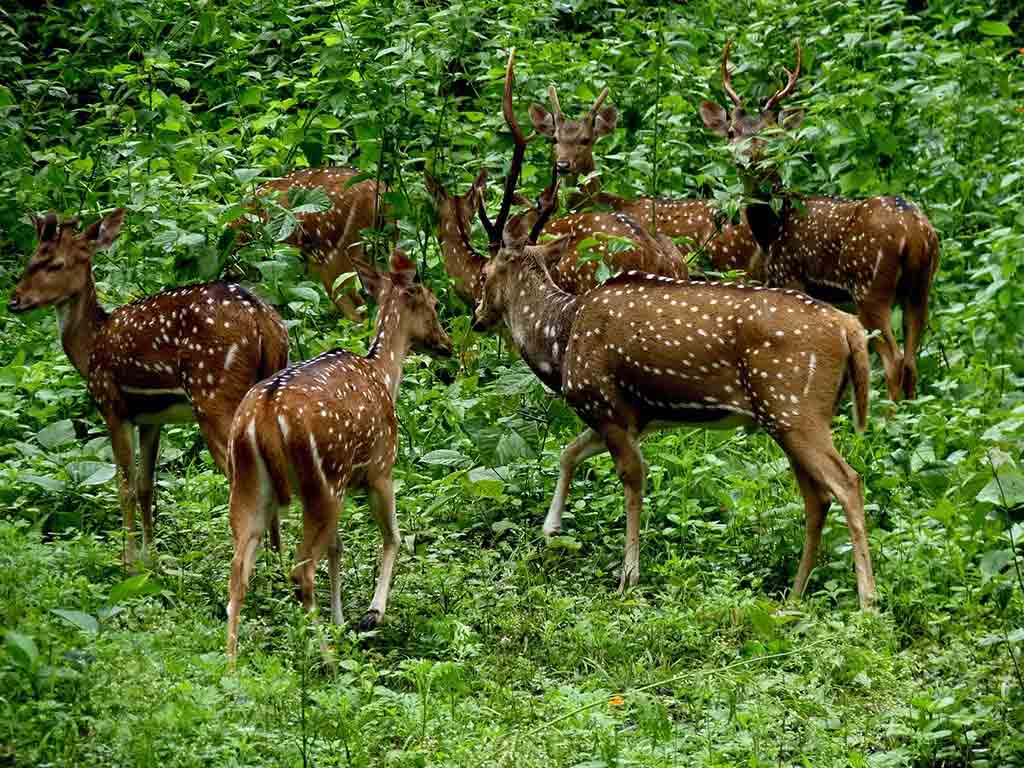 The only national park in southern India, the Periyar national park has a beautiful artificial lake that flows through the forest. One of the few tiger reserve forests in India, this beautiful sanctuary is located in the Western Ghats. While visiting the park, book for the morning boating ride as this is the time when you are likely to find the wild rare animal species quenching their thirst on the lake sides. Home to numerous elephants, Langurs, tigers, deer, and Nilgiri Tahrs, Periyar national park is a must visit while on a trip to Kerala. It is regarded as the most protected area for tigers and elephants in the country.
Best time to visit: November to February
Kaziranga National Park: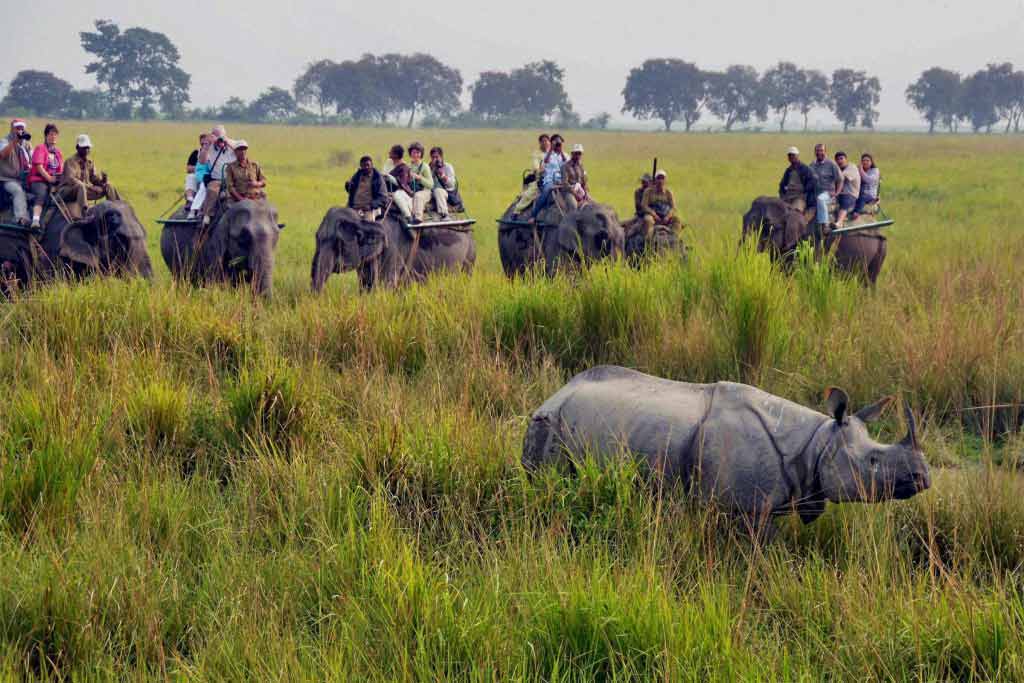 A world heritage site, Kaziranga national park is house to two thirds of the great one-horned rhinos. Spread across 430 sq. kms; Kaziranga was also declared tiger reserve with high number of tigers. This national park has vast expanse of fertile lands, exposed sand bars, flood formed lakes knows as beels, and raised up regions that provide shelter to animals at the time of floods. Spotting tigers in this national park is not that easy owing to the tall grass that provides an ultimate tool for deception for this beast, yet you can feel its presence in the form of pug marks, territorial markings, and obviously the kills. Popularly known as the house of the big five, Kaziranga houses large breeding population of elephants, swamp deer, wild water buffaloes, tigers, and rhinos. Kaziranga also houses reptiles such as reticulated python, rock python, cobras including the king cobra, russel's viper, monitor lizards, and fifteen species of turtles. Apart from the beautiful flora and fauna in Kaziranga, the rivers in Kaziranga are home to the endangered species of Ganges dolphin.
Best time to visit: October to March
Distance from major cities:
Guwahati (217 kms): Guhawati> Nellie >Nagaon>Kaziranga National Park
Jorhat (97 kms): Jorhat>Dergaon>Bokakhat>Kaziranga National Park
Jim Corbett National Park: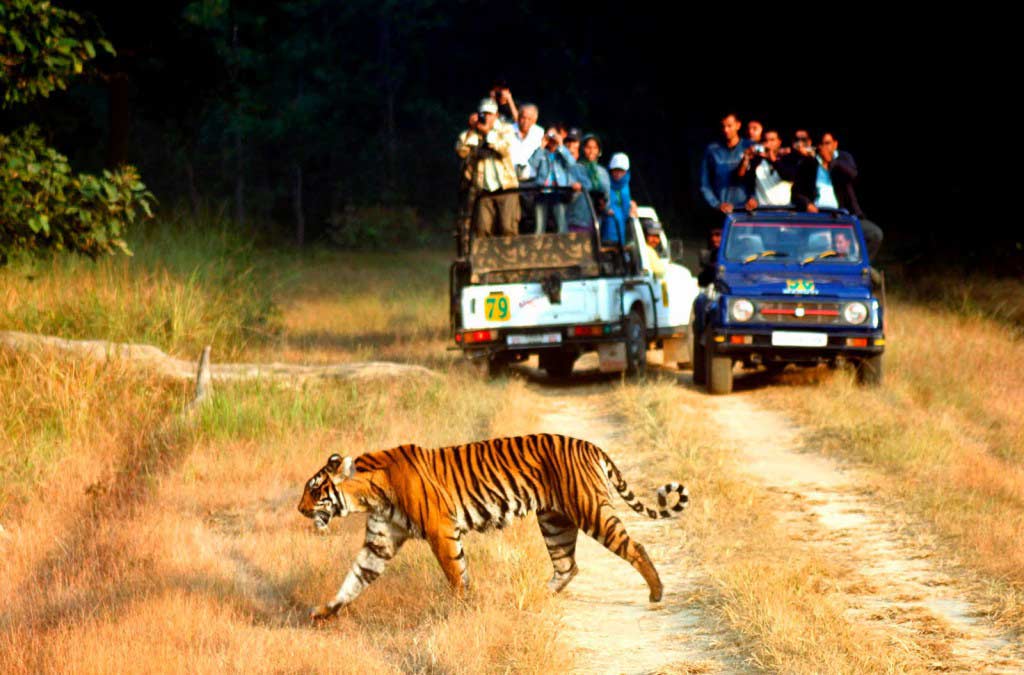 Considered as the oldest national park in India, it was established in the year 1936. Located in Uttarakhand this national park is famous for its Tiger richness. It is also the place which is honored for being the place where Project Tiger was first launched in 1973. This national park spans in an area of 520 sq. kms and comprises of hills, marsh lands, riverine belts, grasslands and large lakes. You can stay in Jim Corbett national park overnight to witness the wilderness in dark. The mode of transportation to explore this national park is either on jeep or on elephant back. Sheltering rare species of Otters, fish eating crocodiles, and a healthy population of tigers, this national park is one of the most sought after national parks. Also, a home for more than 650 species of resident and migratory birds Jim Corbett is a haven for bird watching tourists.
Best time to visit: April to June
Distance from major cities:
Nainital (62kms): Via Kaladhungi to Ramnagar
Lucknow (436 kms): Lucknow> Bareilly >Kicha>Rudrapur>Kashipur>Ramnagar
Dehradun(232 km): Dehradun >Ramnagar
Delhi(260 Kms): Delhi > Moradabad >Kashipur>Ramnagar
Bandhavgarh National Park: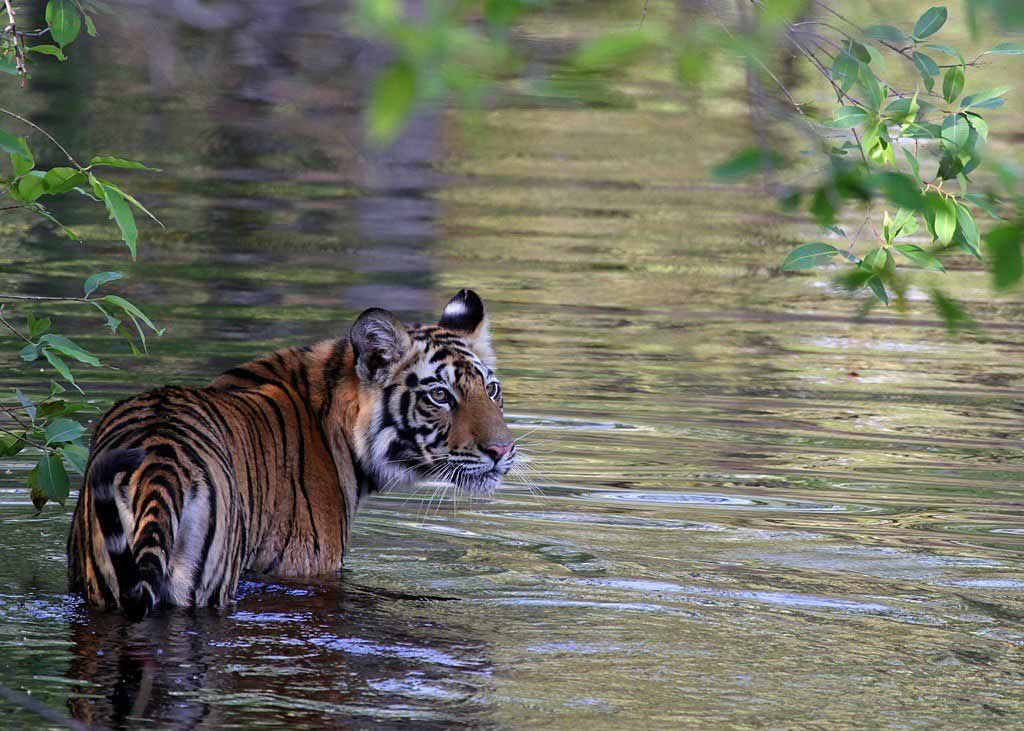 Located in Madhya Pradesh, Bandhavgarh is spread across 505 sqkms in Vindhya hills. Located between steep ridges, and this forests this national park is known for the highest number of tigers in India. As a beautiful as they look, white tigers are a famous attraction in zoos world over. Bandhavgarh national park is a famous natural hub for white tigers. Divided into three major zones as Tala, Magdi, and Bamera, the Tala zone and Magdi zones attract major tourists for tiger spotting and elephant shows. Apart from elegant elephants, majestic tigers, leopards, and sloth bears, this national park also houses beautiful birds and mixed vegetations.
Best time to visit: April to June
Distance from major cities:
Jabalpur (200 kms): Jabalpur >Kundam>Shahpura>Umaria>Bandhavgarh National Park
Katni (129 kms): Katni>Umaria>Tala>Bandhavgarh National Park
Khajuraho (292kms): Khajuraho>Panna>Pawai>Chandia>Umaria>Bandhavgarh National Park
Umaria (35 kms): Umaria>Tala> Mala >Bandhavgarh National Park
Bandipur National Park: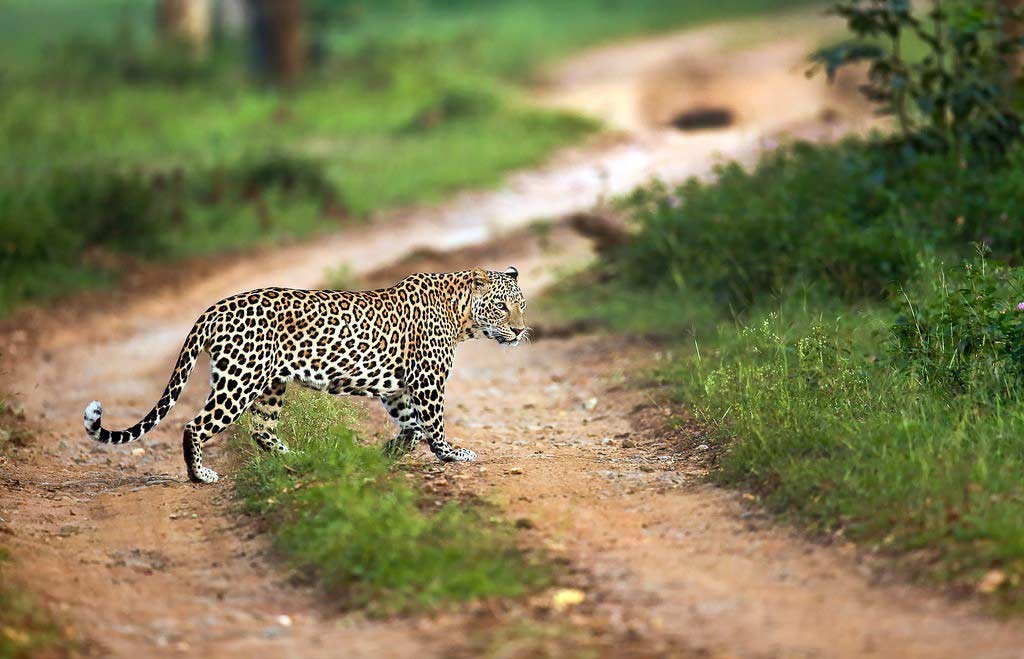 Located amongst the beautiful Western Ghats on the mysore-ooty highway, Bandipur national park is famous for its picturesque surroundings. Housing herds of elephants this national park is a part of the Nilgiri Biosphere Reserve. The natural inhabitants in this national park include sizable number of tigers, gaurs-a type of bull, sambhars- a type of deer, chital, mouse deers, the four-horned antelopes, wild dogs, jackals, panthers, wild boars, malabar squirrels, porcupines, sloth bears, and black-knapped hares. Eautiful birds like green pigeons, and jungle fowl can also be found in this national park.
Best time to visit: August to November
Distance from major cities:
Mysore (80 kms): Mysore >Marase>Nanjanagudu>Begue>Bandipur National Park
Bangalore (220 kms): Bangalore >Sathanuru>Malavalli>Kollegal>Chamarajanagar>Bandipur National Park
Ooty (70 kms): Ooty>Masinagudi>Theppakadu>Bandipur National Park
Sasan Gir Sanctuary and Gir National Park: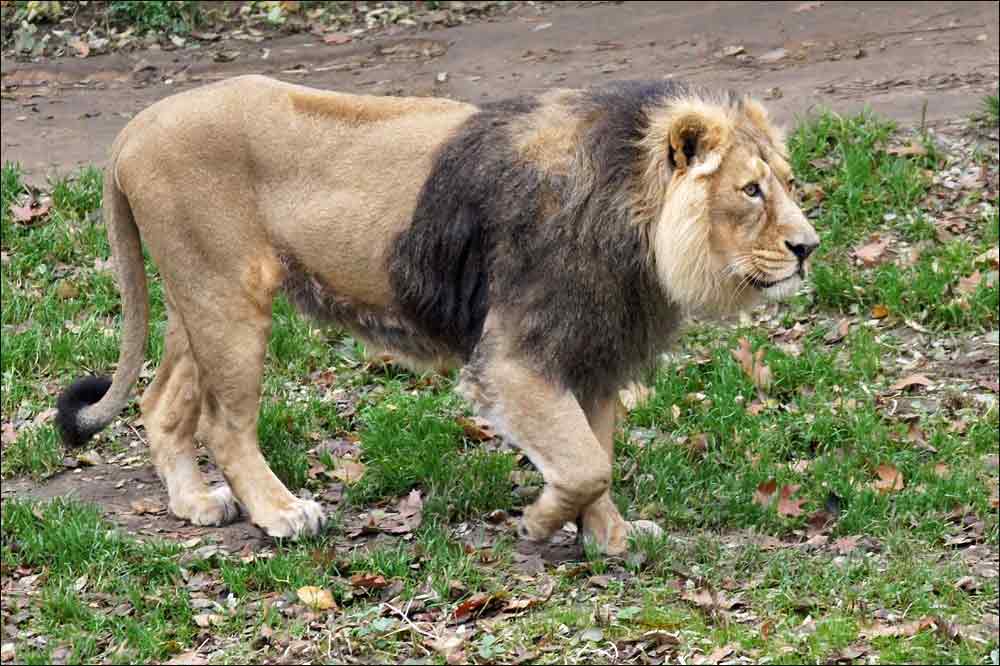 The only house for Asiatic lions in India, the Sasan Gir sanctuary and Gir national park came into existence in the year 1965 and efforts are continuosly made to make it the most comfortable and elegantly preserved home for these lions. The park has rivers and streams that are regular stops for these brave animals and a perfect time to watch them while they are roaming in their marked territories. Enjoy the open jeep safari and witness rare animals living in their safe haven. Other rare animals found here are Nilgai, Chital, along with over 300 species of birds where maximum of them are not migratory.
Best time to visit: December to April
List of 12 animals that belong to India & their status in the wild
Indian Elephant or Asian Elephant- Endangered
Asiatic Lion- Endangered
Lion Tailed Macaque- Endangered
Great Indian Rhinoceros- Endangered
Leopard- Near Threatened
Neelgai- Secure
Royal Bengal Tiger- Endangered
Wild Ass- Endangered
Pangolin or Scaly Anteater- Near threatened
Chinkara- Least concern
Nilgiri Tahr- Endangered
Indian Flying Fox- Least concern
Some Facts about Indian Wildlife
India has the largest population of wild tigers in the world.
Gir forest in India has the only surviving population of Asiatic lions in the world.
Nearing the age of extinction and India's top predator in the year 2010, Dhole is at the edge of extinction.
Snow leopard found in the Himalayan region is one of the endangered speicies of leopards in the world.
India boasts of the largest population of Indian elephants in the world.
Aprroximately 7species of grey langurs are present in india out of which 5 are endemic.
About 2/3rd of the total population of the one- horned Rhinocerous is found in India
Why have we included National Parks along with Sanctuaries?
Although there is a difference between a wild life sanctuary and a wildlife national park, this difference has not much to do with the travelers who are looking to peep in to the lives of rare animal species. Here's the difference between a wildlife sanctuary and a National park:
While National park is meant for protection and preservation of both flora and fauna, sanctuary protects only fauna.
National park does not allow grazing where as in a sanctuary grazing is allowed.
National park has boundary demarcation whereas sanctuary boundary is not well demarcated.
While sanctuary permits cultivation of land, national park does not.
A sanctuary harvests forests products where as a national park does not harvest.
A sanctuary can be upgraded and given the status of a national park but a national park cannot be downgraded to a sanctuary.