Every time one visits Dubai, one finds another brand new marvel which astonishes and gratifies the senses. The massive picture frame, Dubai Frame, is Dubai's latest eye-popping attraction, which will soon be complete and ready to stun visitors. What's the idea behind building a giant picture within a city? It's simple, really. Dubai is picturesque, with its magnificent skyline and amazing landmarks. So why not frame all this magnificence within a grand picture frame? What's really great is that you can climb to the top of Dubai Frame and enjoy awe-inspiring views of the entire city's sights – both old and new – from a single frame. It'll be your moment in time, framed for life, on the very special Dubai Frame tour.
The Dubai Frame Concept
The incredible Dubai Frame is coming up next to Star Gate in Zabeel Park. It's a rectangular structure that's constructed using two monumental towers that 150 meters high and 93 meters wide. These two towers are linked by a 100-square-meter bridge, which forms the top portion of the frame. The space between the towers literally 'frames' the city from a high altitude, forming an unbelievably rich picture that will stay in your memory for ever. To the north are great views of Old Dubai with Dubai Creek, Bur Dubai and Deira, Karama, and Umm Hurair areas.  To the south, there's New Dubai with all its incredible landmarks. The Dubai Frame is meant to be a bridge between the past and the present – in this sense, Old Dubai and New Dubai.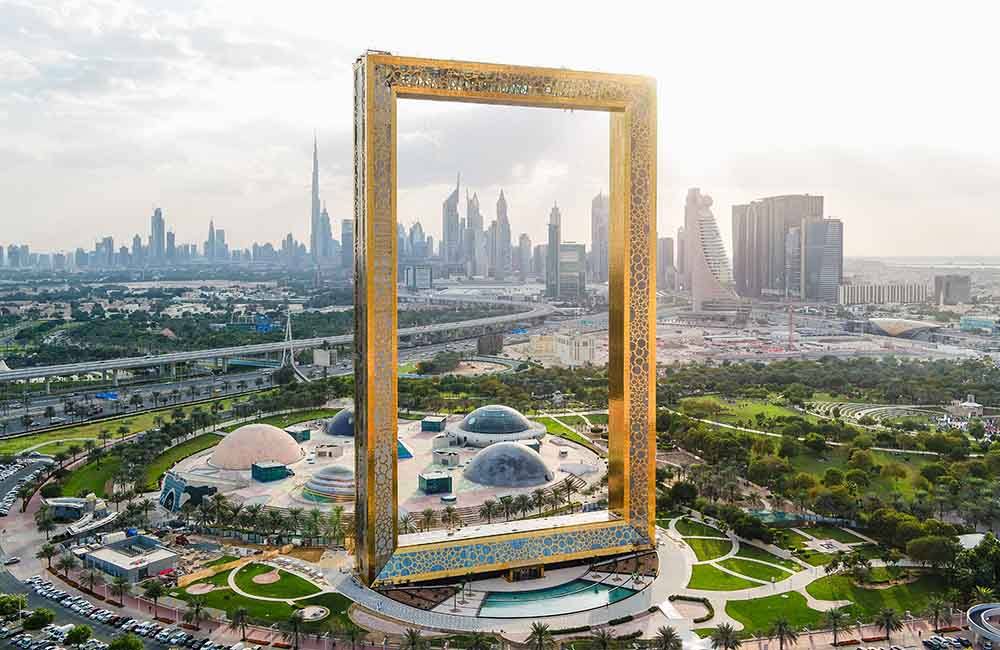 Experiencing The Journey From The Past To The Future
Stage 1: Your journey through time begins at the mezzanine level museum and gallery. Here you'll enjoy an immersive experience of fascinating exhibits that bring to light Dubai's astonishing transformation from fishing village to global city. Various special effects are used to create a visually and emotionally-compelling and retentive immersive experience. Mist effects, smells, projections, motion that triggers memories of the ocean and much more are used to set the mood.
Stage 2: You'll then be taken to the Sky Deck level, where you'll experience uninterrupted views of present-day Dubai from all the walls, via Augmented Reality-activated screens. Enjoy watching amazing 3D views of Dubai's incredible landmarks, while learning interesting facts about them.
Stage 3: Now you'll enter an elevator and pass through a vortex tunnel that's been enhanced with special lights and sound effects. What's happening is that you're actually traveling through time through a warp vortex and landing in Dubai, 50 years from now. At the Future of Dubai level, an incredible immersive experience literally takes you into a virtual metropolis.  Augmented and virtual reality technologies have been used to create the projections that depict Dubai's future evolution, new projects, and future travel and so on.
Stage 4: Your journey continues to the topmost floor of Dubai Frame. Stand on the glass walkway and experience outstanding views of old and modern Dubai all around – even below your feet through the glass! You can rest at the café on top of the glass walkway with a cup of coffee and cake, marveling at this once-in-a-lifetime experience.
When Is Dubai Frame To Be Launched?

Dubai Frame is almost in completion stage and the launch date will be announced shortly. This amazingly aesthetic architectural marvel cost all of costing $43.5 million (that's Dhs160 million) to build. When it is completed, the Dubai Frame will become perhaps the most famous tourist destination in the city. It'll be that incredible landmark that tourists simply must see, just like the Burj Khalifa and the Burj Al Arab.
 The Dubai Frame is so tall, you can compare its height to that of a 50-storey building. The pending launch of the Dubai Frame has created a great deal of anticipation worldwide. Standing on a glass walkway 50 storeys high and experiencing a vertigo-inducing view of old and new Dubai may not be everyone's cup of tea, but the concept is marvelous. The entire construction takes up 7145 square meters of prime real estate next to Zabeel Park, which was chosen because it is one of Dubai's main and most attractive parks. The park was built using sophisticated technology with top-of-the-line facilities and services that set it apart from any other park in Dubai.