Nature has the power to heal, spread joy, boosts your adrenaline and bring harmony in the life of humans. The warmth, thrill and pleasure of picturesque terrains along with its flora and fauna is what we take back with us to form memories that live a lifetime; memories to share and cherish with our loved ones.
Witnessing extravagant landscapes and monuments of any geography is indeed bliss. India with its rich heritage and culture is bestowed with beautiful valleys, hills, mountain ranges and falls to offer a host of destinations for people who love to be in the grip of nature and bask in its breathtaking splendour.
Here are a few spectacular places to visit in India for travel lovers:
Havelock Island, Andaman:
One of the biggest islands of Andaman and Nicobar is the Havelock Island – It is spread across 11,393 square kilometres. A trip to these islands is worth the visit because of its lush greenery and clear water. With a few remarkable snorkelling and diving sites, the place is incredibly happening for enthusiastic divers.
Himalayas:
Experience the bliss of serenity with a trek in the Himalayas. Nature with its all en-compassing beauty in the form of ice, snow, untouched forests, gushing streams, and delightful meadows will make it a memorable experience for life!
Khajjiar, Himachal Pradesh:
khajjiar bears an exceptionally striking resemblance to the famous romanticizing location of Switzerland. Khajjiar is located in the Himalayas at the foot of Dhauladkar. It is 2000 meters above sea level.
Tsomgo Lake, Sikkim:
Tsomgo lake is a paradise on earth because of the fantastic view the place offers. Located at a high altitude that measures more than 12,000 feet above sea level, the place is not an easy find for one and all; one has to undergo a rigorous trek to reach the lake. However, the impressive view of the lake makes up for your toil!
Manali, Himachal Pradesh:
Solang Valley is an eye candy for nature lovers. It offers a splendour that can make spectators spell bound with its beauty. Paragliding is one of the best things to get indulged into in order to get disconnected from your routine and rejuvenate your senses.
Living Root Bridges, Meghalaya:
A sheet glimpse of the living root bridges can take viewers into a fantasy world for its unique existence. Some roots of the tree are over a hundred feet long and it can easily accommodate the weight of around 50 people at one time. It has also become a part of the UNESCO world heritage.
Rann of Kutch, Gujarat:
Rann of Kutch is the largest salt desert in the world. The place comes to life during October, when there is less moisture and a dry weather. Try trekking the Kala Dungar (Black Hill) and witness and extravagant panoramic view of the desert from 458 meters above sea level.
Sandakphu, Darjeeling:
Sandakphu is a dream location and is named among the 5 highest peaks in the world. The place is well known for its beauty, brilliant view and vegetation. Around 600 varieties of myriad orchids is found here, which is nowhere in the world.
Caves of Meghalaya:
A trip to explore the many caves of Meghalaya can be exhilarating and adventurous. Apart from the numerous magnificent caves such as Krem Phyllut, Krem Mawmluh, Krem Liat Prah, Mawsmai, Mawsynram and Siju, there are a lot of hidden marvels to offer to the spectators. Scenic hills, natural formation and interesting flora and fauna make this valley an appealing place to explore.
Dune Bashing, Rajasthan:
Get set for a desert safari in the quintessential and rustic desert region of Rajasthan. The best places for a distinctive safari include Osian, Jaisalmer and Bikaner. Exploring attractive ruins and travelling to remote places during the safari are interesting things. There are even many folk tales and captivating stories associated with these ruins.
Yumthang Valley, Sikkim: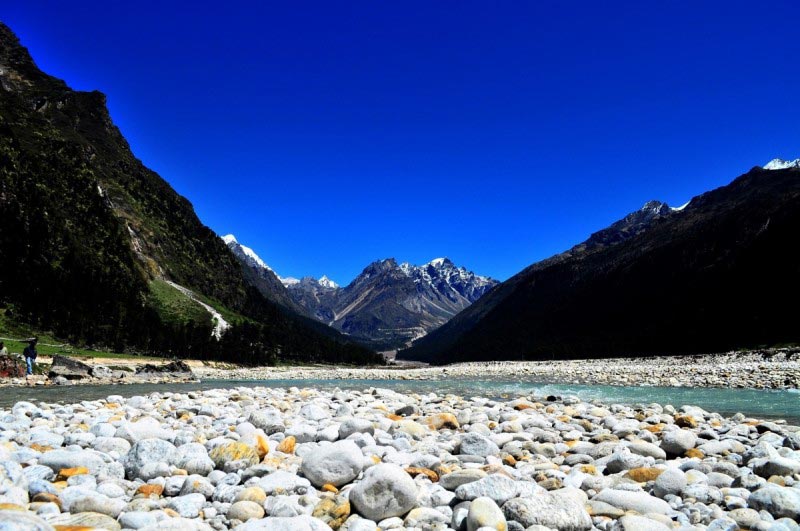 This gazing pasture located in North Sikkim is bounded by the Himalayan Mountains. It is a popular tourist attraction which is 3,564 meters above sea level. The basin is also known as the "Valley of Flowers".
Tea Garden Hills, Munnar:
The beautiful town of Munnar is located in the Southwest region of Kerala. The place is fully covered with tea plantations. Some of its areas are 700 feet above sea level.
Stok Range, Ladakh:
Stock Range is well known for its high mountains and is a favourite spot among mountaineers. One of its mountains, Stok Kangri is 11,845 feet high. People who wish to climb Mount Everest take this expedition to Stock range as a practise run.
Nohkalikai falls, Cherrapunji:
Cherrapunji receives the highest rainfall on earth and thereby it is considered as one of wettest places. Near Cherrapunji is a beautiful and astonishing fall call Nohkalikai falls, and it is considered to be one of the tallest waterfalls in India. A must visit indeed to witness nature at its best!
Matheran:
Matheran is the smallest hill stations of India, which is about 90 Kms from Mumbai, Maharashtra. The place provides an exotic vies of the sunrise and the sunset.
Key Monastery:
One of the places well known for its amazing landscape, serenity and natural goodness is the Tibetan Buddhist Monastery Key Gompa, which is situated on a hill at 13,668 feet high altitude above the sea level. The place is close to the spiti river in Himachal Pradesh. It was reportedly stared in 1855 by 100 monks.
As unique and splendid these places sound, they are more magnificent when witnessed in person. It has all the ingredients to enchant you and take you into an altogether new world. Try visiting these spectacular places once in a lifetime…. its only one life!