The holy month of Ramadan is observed with full religious vigor in Dubai. Strict rules and regulations are followed in the emirate and even the tourists and non-residents are expected to adhere to the rules of the city.
However, not many tourists are comfortable with religious regulations (no eating, smoking or drinking in public places) and therefore, Dubai observes a drop in the tourist footfalls during the month of Ramadan. But the interesting bit is that many tourists of Islamic faith come to Dubai and celebrate the holy month of Ramadan in Dubai style with the famous night market. The flooded Ramadan night market in Dubai is an interesting example for full-on enjoyment in the month of Ramadan.
The Ramadan Night Market of Dubai:
The market comes to life every year during the month of Ramadan. This is the sixth year running of this 10-day festival and it has been a crowd drawer ever since its start. Tourists from neighboring emirates and other Islamic countries come to enjoy the vibrancy of the Ramadan Night Market. Starting post 'Iftar' at 8:00pm onwards, it goes until 2:00am in the morning.
It is held at Hall 7 & 8 of the iconic Dubai World Trade Centre. This year, the event will start from June 1st and will go on till 10th June 2017. Given the immense popularity of the market, the event is one of the most sought after during the month of Ramadan.
[Also check: 21 Best Things to do in Dubai]
The biggest reason for the popularity of the market is the fact that it is one of the very few avenues of exceptional entertainment during the month of Ramadan. People of Dubai who are used to the glitter and glamour all throughout the year, find the market an ideal way to enjoy the month while following the strict rituals of the month.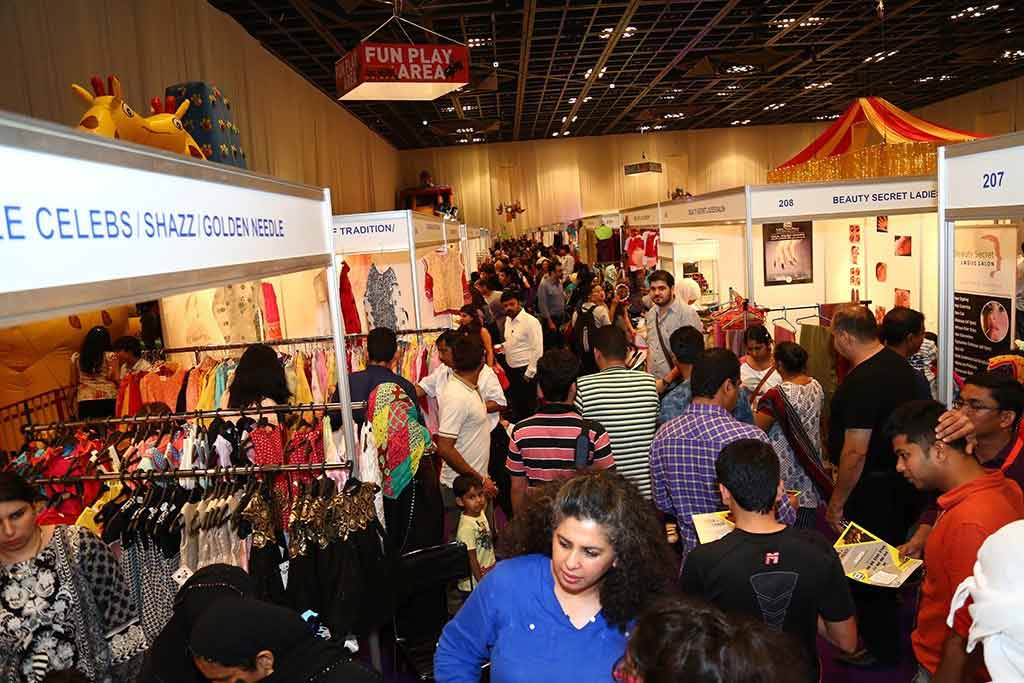 Highlights of the Market:
The night market of Ramadan is the most celebrated place during the holy month and offers a wholesome experience and visitors from all over UAE and neighboring countries visit the fair to enjoy the celebration of market.
The uniqueness of the fair lies in its feel of an authentic shopping experience in a 'bazaar' like setup.
The market has just about everything to make the visitors shopping experience worth remembering. Shoppers can select from a wide array of products such as electronics, toys, health and beauty offerings, jewelry, accessories, perfumes, personal care, handicrafts, collectibles, baby items, and clothing.
One of the biggest highlights of the market is the sumptuous array of food. After the whole day of a difficult fast, delicious food is one thing that is on the mind of almost everyone, and Ramadan night market of Dubai makes for a perfect place to enjoy lip- smacking meal for the whole family across various cuisines to celebrate the cosmopolitan diversity.
The market is home to amazing deals, offers and even bargains. If you like a product, there are a lot of ways to buy it. You can either look for the best deals and offers on the product or simply, show your interest and use the age- old method of bargaining.
The market is especially popular amongst children. With a whole lot of children specific activities, the market makes for a perfect place for a family outing in the holy month.
The market has a special kids play area wherein the parents can leave the children and enjoy shopping without any hassle. The kids play area is a fantastic place to allow the kids enjoy their time, specially after a tiring day. All in all, the market also helps people to enjoy and have fun as a family.
The main highlights of the kids play area includes the famous art of face painting and nail art, beautiful sand art, bouncy castles, mini basketball court, wall climbing activity, kiddie train for a fun ride, merry-go-round, play station, clowns, balloon twisting and more. The kids play area also includes the Arts & Crafts Area and Soft Play area as well.
Every year something new takes place at the Ramadan market that keeps the internet alive in the visitors. This year's fresh attractions include many themed activities that focus on all age groups.
Apart from a huge food court, an Arabian-inspired Majlis, and an exclusive henna section for ladies, this amazing night souk also features a dedicated 'Play and Win' section, ensuring unlimited fun and entertainment.
Some of the famous kid friendly activities making a grand comeback this year would be aero plane and train rides, trampoline for the excitement of kids, and rodeo bull to name a few.
One of the highlights of the market is a special exhibition hosted exclusively for the medical institutions, tourism and travel retailers as well. A lot of reputed names take part in the exhibition.
The Ramadan night market is the favorite hangout place of almost every resident of Dubai for a lot many reasons, one of the biggest reason being its extremely pocket friendly entry fee. While the entrants have to pay a small fee of just Dhs5, it is absolutely free for kids below 5 years.So if you're in Dubai right now and missing the glitz and glamour of the city, visit the Ramadan Night market of Dubai tonight!Images Credit: ramadannightmarket