So, what's on your calendar for February and March 2017? Made any plans yet? If you haven't, book your tickets to Dubai immediately. Why? We'll tell you why. The fabulous, spectacularly tongue-tingling Dubai Food Festival (DFF) 2017 extravaganza is to take place from 23 February – 11 March 2017.  If you and your family and friends simply love food, then you cannot let yourself miss this food festival! The coming event is a foodie's dream. Make your dreams come true this year.
Dubai Food Festival is that mega event that brings the entire food market together – the foodie on his haunt, the gourmet chefs, the traditional eateries and the celebrities. In one adrenalin-fueled month, the DFF puts forth a fabulous offering of activities related to food, from entertainment to learning.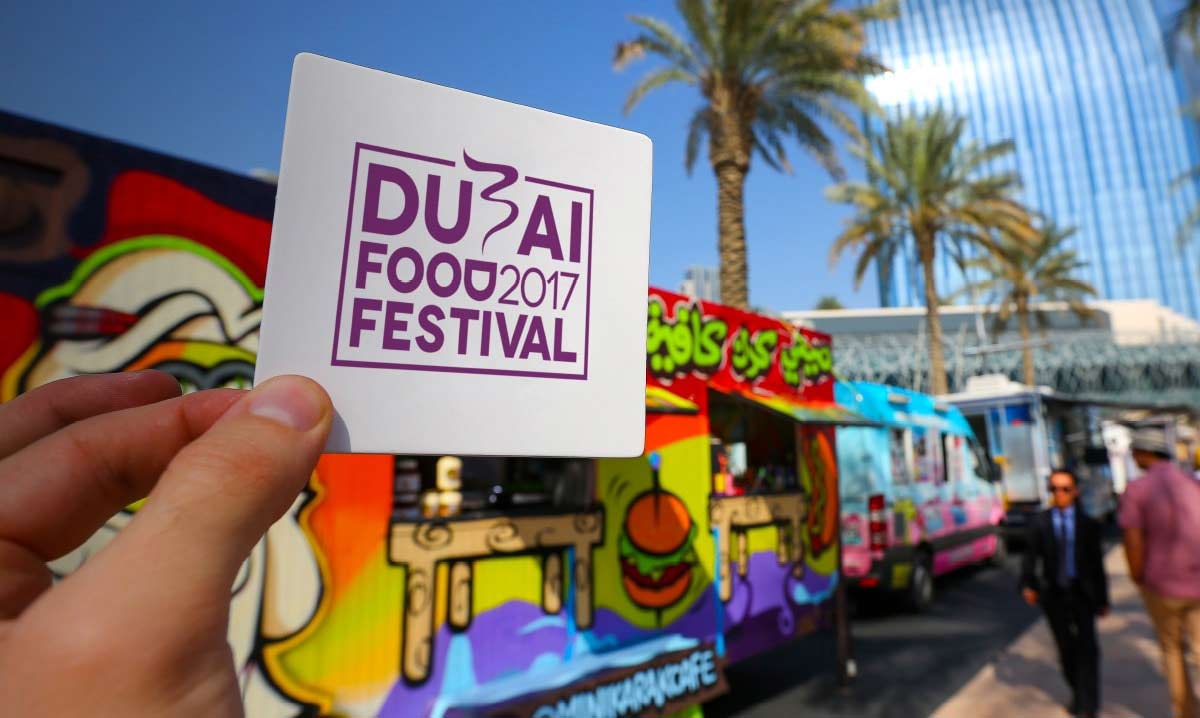 What's This Food Festival All About?
The Dubai Food Festival is a citywide, month-long celebration of all things culinary. Dubai is emerging as the gastronomic capital of the Middle East; the DFF showcases this fact via a series of food-related events and competitions, People of over 200 nationalities live in Dubai, with more people visiting every year. The Dubai Food Festival is a unique opportunity to celebrate this cultural diversity. It's also a great way to exhibit the city's culinary creativity and superiority. Dubai's food scene encapsulates everything from gourmet and avant-garde to tiny food stalls that offer mind-blowing dishes.
The food festival will be enriched by celebrity appearances, promotions and multiple entertainment options. All of this is organized by Dubai Festivals and Retail Establishment (DFRE), which belongs to Dubai's Department of Tourism and Commerce Marketing (DTCM). Dubai has much to offer – Michelin-starred celebrity chefs, a very unique food scene and world-class dining experiences. The Dubai Food Festival is the ideal opportunity to get to know everything that Dubai has to offer in the gastronomic sense.
What's On This Year At The Dubai Food Festival 2017?
Beginning from dawn on Thursday, February Thursday 23rd, Dubai will play the genial host to a fabulous 17-day fest. 1000s of restaurants and eateries are participating in the food festival, offering food events and entertainment on the side. There'll be plenty of music performances by world-famous bands and singers, and celebrity chefs making appearances at their stalls. Restaurants will set up pop-up stands on beaches and parks, offering quick bites, plenty of dining deals and food competitions.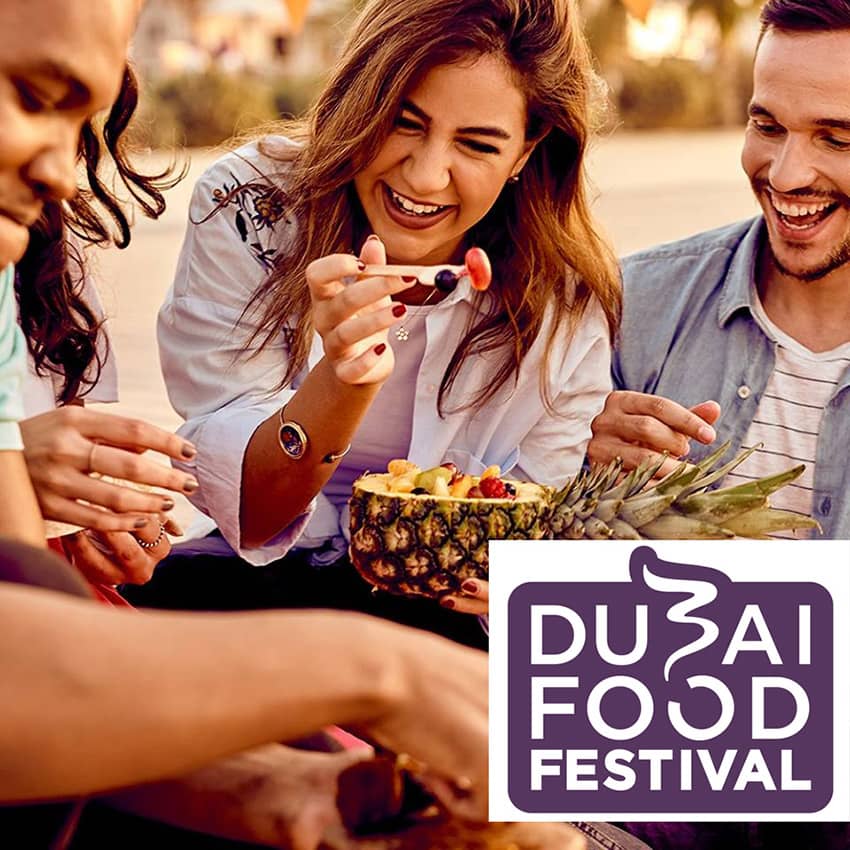 Exciting Events to look forward to
Miele Dubai Restaurant Week:  This event takes place from Friday, the 24th February to Saturday, March 4th. At this event, you get the chance to enjoy a full three-course meal at 15 of Dubai' top food venues for as Dhs199 per person. This event is on at Social by Heinz Beck and Rhodes W1 and Marina Social.
Dine & Win: Dine & Win is a competition which takes place in over 1,000 restaurants across the city. Anyone who spends more than 30 Dhs on food gets to enter the completion. Entrants are entered into a draw where the lucky winner gets a new apartment. There also several on-the-spot prizes to be won in this competition.
Dubai FoodScape: Beautiful little replicas of Dubai's famous buildings and skyline will be made entirely out of food! We cannot imagine anything that could make a foodie happier than this, can you? This exhibit comes to you from UK-based food artist Paul Baker. Soon you'll see a fragrant and eminently edible Burj Khalifa, a very tasty Burj Al Arab, a crunchy Palm Jumeirah and very sweet Dubai Creek. How about that?
Food Competitions Galore: So, can you eat 10 chicken shawarmas in one sitting? Or can you munch your way through an entire bucket of crisps? We're just letting our imagination run wild here. There will be competitions galore, and plenty of dining deals as prizes to the winners! So, get ready to compete, and have a blast with your friends!
Sunset Beach Extravaganza: Etisalat Beach Canteen is setting up a shop at Sunset Beach, off Jumeirah Beach Road. Apart from its landmark dishes, Etisalat will be serving side orders of fitness sessions, live entertainment, and fun activities. You can obtain the full schedule of the food festival at Etisalat Beach Canteen.
Kids Club: Etisalat Beach Canteen also has a fully hands-on club for kids; your little ones can even sign up for fun cooking lessons! That'll keep them out of your hair while you try some more dishes. Check with the Al Islami Kids Club at Kite Beach (behind Sunset Mall) for details.
Food Tasting: That's not all from the very popular Etisalat Beach Canteen. This year, Sunset Mall will put up a top range of Middle Eastern cuisine for you to taste. You will get to eat fabulous Iranian, Lebanese, Syrian and North African dishes.
Cookery Lessons: You will also have the chance to pick up some cool culinary tips from international celebrity chefs at the Al Islami Masterclasses. You can also meet Dubai's best local chefs, local food bloggers and notable people at this event behind Sunset Beach.
General Entertainment:
All in all, the beach behind Sunset Mall will be transformed into a magnificent, glittering hot spot for entertainment, dining and jollying. You're in for some amazing food, experiences, entertainment, beach sports, farmer's markets and open mike nights! A beach cinema under the starry sky during the night while delicious smells waft around you is just the ticket this summer.
Hidden Gems:
This event is nominated by Zomato and Round Menu. It celebrates all the affordable restaurants in Dubai that are tucked far from the city. The Dubai Food Festival offers the perfect opportunity to check out all the hidden gems in the city's backstreets. Many curbside eateries offer great culturally diverse foods at excellent prices. You can explore them to your heart's delight without denting your wallet too much. Food portions are generous too!
The Hidden Gems event is a boon for people who're looking to explore the traditional cuisines of the Far East, Middle East and North Africa.  You can taste everything from Indian and Pakistani dishes to famous pastries from Iranian bakeries, African cafes bring the fragrant cuisine of North Africa alive, while Lebanese shawarma spots offer huge portions of everything. Enjoy sweet lokaymat, Emirati chicken makhboos and flavorful rice with your curries. Most of these traditional eateries use age-old recipes inherited from mothers and grandmothers. Some eateries experiment with those old recipes to create contemporary Emirati dishes. Explore and enjoy all the flavors of Emirati cuisine, especially those incorporating fish fresh from the sea and camel meat. 
From five-start gourmet offerings to Dubai`s street food; from budget cafes to food from famous restaurants; it's all on offer, at good prices. The DFF showcases how the Middle East has evolved in its food concepts, embracing cuisines from all over the world. The event celebrates and encourages the emergence of independent restaurants and startling new food concepts. It also creates a fan following for authentic flavors and builds communities across the city using food as a unifying factor. Don't miss the Dubai Food Festival in 2017.
Image Credit: 1