Whoever said travelling is not everyone's cup of tea. Wanderlust exists in all of us, while some realise and nurture it further, many cover it up with the illusions of society limitations. For the ones who've suppressed it, here are some of the best motivational travel quotes to help them realise how it feels like to be free like a bird.
1] "You can never cross the ocean unless you have the courage to lose sight of the shore." – Christopher Columbus
2] "Once a year, go some place you've never been before." – Dalai Lama
3] "Traveling – it leaves you speechless, then turns you into a storyteller." – Ibn Battuta
4] "One's destination is never a place, but a new way of seeing things." – Henry Miller
5] "The world is a book and those who do not travel read only one page." – St. Augustine
6] "Don't tell me how educated you are, tell me how much you have traveled." – Mohammed
7] "Travel doesn't become adventure until you leave yourself behind."- Marty Rubin
8] "Travel makes one modest. You see what a tiny place you occupy in the world." – Gustave Flaubert
9] "A journey of a thousand miles begins with a single step." – Confucius
10] "Travel as much as you can, as far as you can, as long as you can." – Lauren Metzler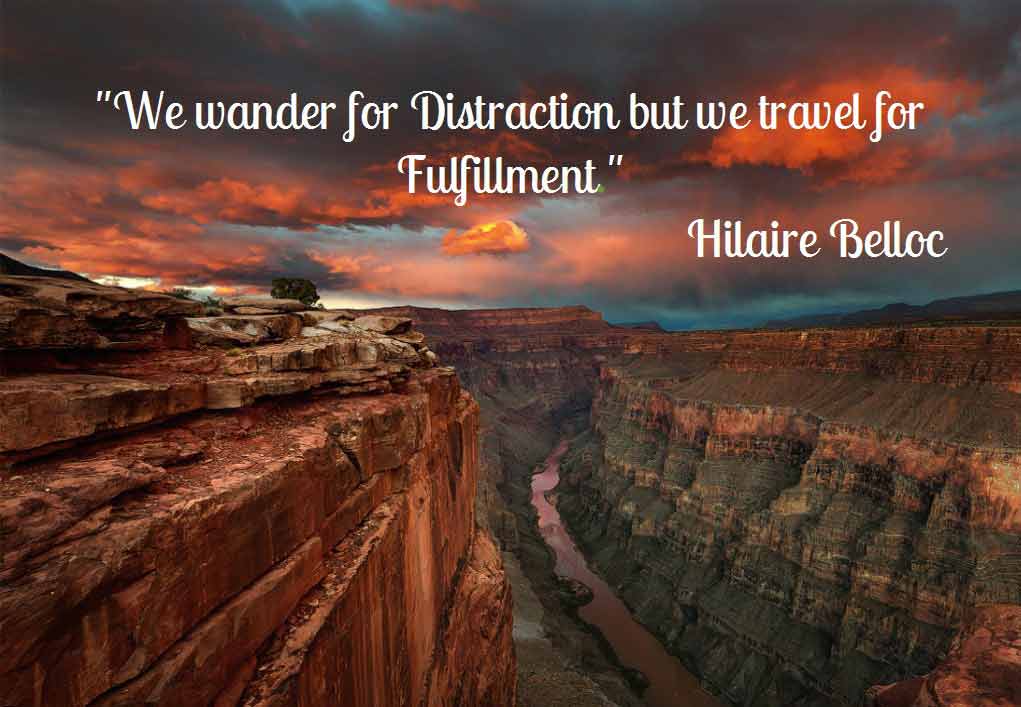 11] "We wander for Distraction but we travel for Fulfillment." – Hilaire Belloc
12] "All journeys have secret destinations of which the traveler is unaware." – Martin Buber
13] "Happiness is not a state to arrive at, but a manner of travelling." – Margaret lee
14] "We travel, some of us forever, to seek other places, other lives, other souls." – Anais Nin
15] "The real voyage of discovery consists not in seeking new landscapes but in having new eyes." – Marcel Proust
16] "A good traveler has no fixed plans, and is not intent on arriving." – Lao Tzu
17] "Take only memories, leave only footprints." – Chief Seattle
18] "Trips do not end when you return home – usually this is the time when in a sense they really begin." – Adele Franklin
19] "Travel is ninety percent anticipation and ten percent recollection." – Edward Streeter
20] "Bizarre travel plans are dancing lessons from God." – Kurt Vonnegut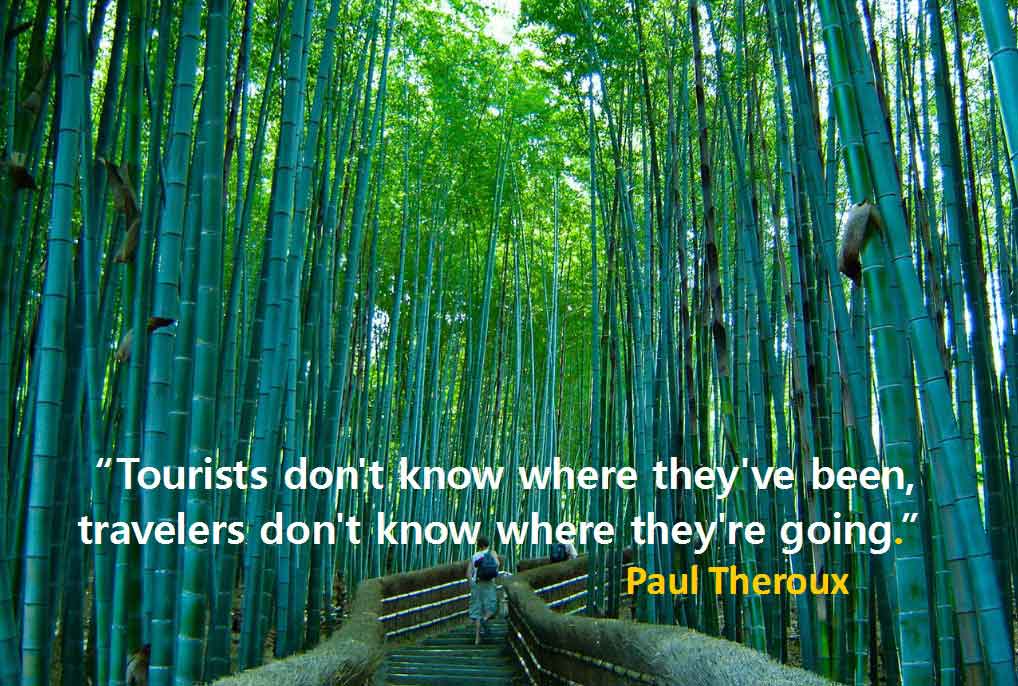 21] "Tourists don't know where they've been, travelers don't know where they're going." – Paul Theroux
22] "It is better to travel well than to arrive." – Buddha
23] "Live, Travel, adventure, bless, and don't be sorry." – Jack kerouac
24] "I haven't been everywhere but it's on my list." – Susan Sontag
25] "Travel is the only thing you buy that makes you richer." – Unknown
26] "To awaken quite alone in a strange town is one of the pleasantest sensations in the world." – Freya Stark
27] "We live in a wonderful world that is full of beauty, charm and adventure. There is no end to the adventures we can have if only we seek them with our eyes open." – Jawaharial Nehru
28] "A journey is best measured in friends, rather than miles." – Tim Cahill
29] "Not all those who wander are lost." – J. R. R. Tolkien
30] "Travel and change of place impart new vigor to the mind." – Seneca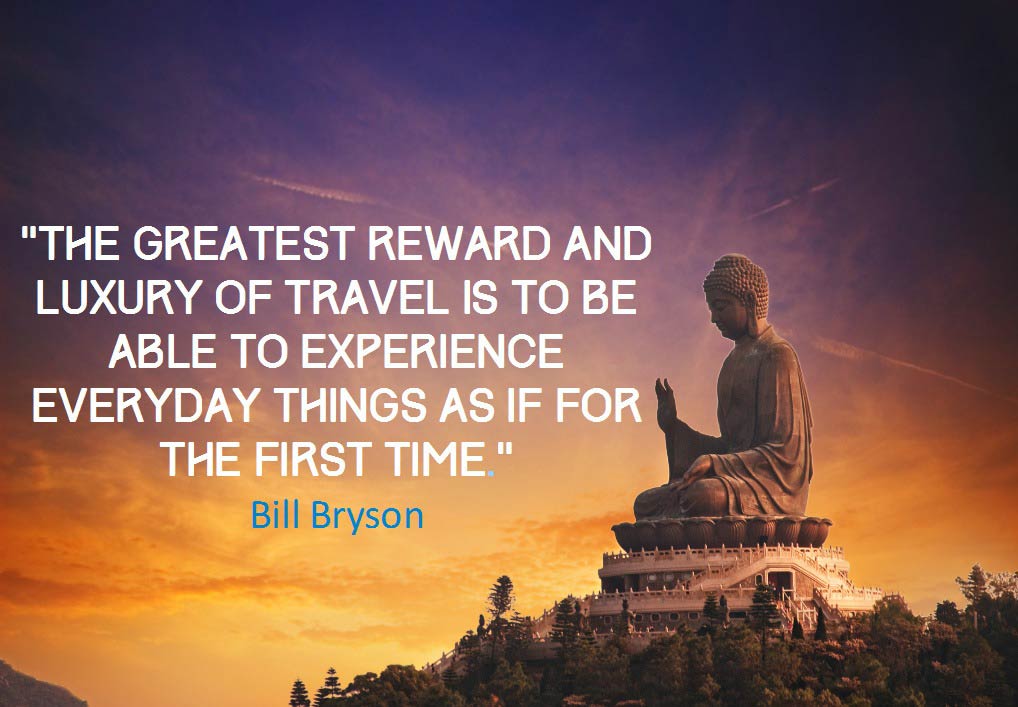 31] "The greatest reward and luxury of travel is to be able to experience everyday things as if for the first time." – Bill Bryson
32] "To travel is to discover that everyone is wrong about other countries." – Aldous Huxley
33] "Once the travel bug bites there is no known antidote, and I know that I shall be happly infected until the end of my Life." – Michael palin
34] "Life is either a daring adventure or nothing at all." – Helen Keller
35] "The real home of man is not his house but the road. Life itself is a travel that has to be done by foot." – Bruce Chatwin
36] "The Impulse to travel is one of the hopeful symptoms of Life." – Agnes Repplier
37] "Like all great travellers, I have seen more than I remember, and remember more than I have seen." – Benjamin Disraeli
38] "You do not travel if you are afraid of the unknown, you travel for the unknown, that reveals you with yourself." – Ella Maillart
39] "A wise traveler never despises his own country." – Pamela Goldoni
40] "Life begins at the end of your comfort zone "- Neale Donald Walsch
When you open your arms to embrace your wanderlust, the whole world becomes a garden with god's chociest flowers waiting to be plucked and adorned in your life's basket. So don't hold yourself back, set yourself free, and live the one life you've got to the fullest.