We see you frowning there – what on earth is Ain Dubai? Is it some delicious bit of fun you missed out while making your travel plans? The good news, no, you didn't miss out on anything. Ain Dubai, scheduled to open to the public later this year, will be the world's largest Ferris wheel. The 210-meter tall Ain Dubai will offer scintillating 360-degree views of Dubai's magnificent skyline. You'll get an eyeful of the famous Burj Al Arab, Palm Jumeirah, Burj Khalifa and Dubai Marina in their entire glittering splendor. By the way, in case you didn't know, 'Ayn' is the sixteenth letter of the Arabic alphabet, and it literally translates to 'eye'. The Eye of Dubai, with a view that will be far superior to the one you'll get from the Burj Khalifa's observation deck, and that's saying something!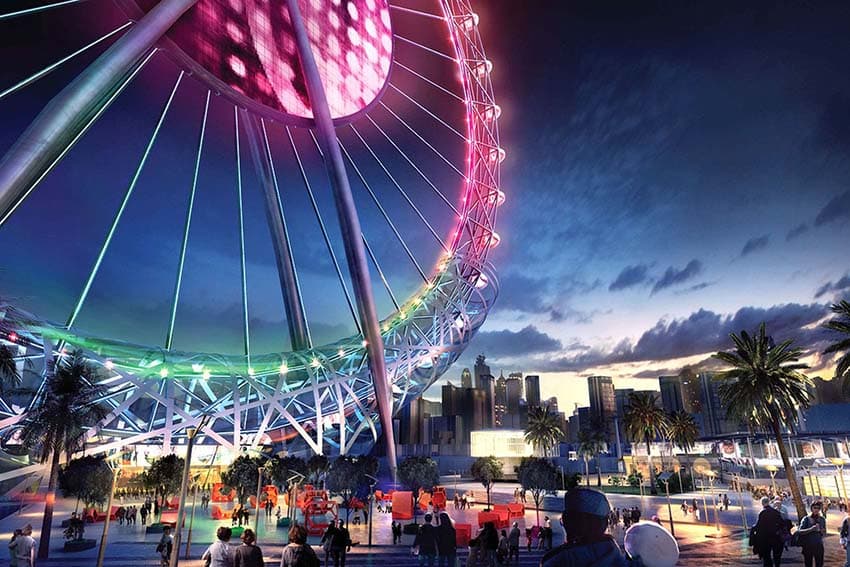 What Will Dominate The Dubai Skyline By Year-end?
You guessed it – Ain Dubai! Ain Dubai stands proud on the Bluewaters Island, which is located off the coast of Jumeirah Beach. It sits alongside two hotels, a few high-end restaurants, residential apartments, and a retail Souk, all in the final stages of construction.
A bridge connects Bluewaters Island from Sheikh Zayed Road; you can take a taxi or grab the Monorail to get to the island. And once you're there – the fabulous facilities on Bluewaters Island await you and the giant Ferris Wheel in Dubai is ready to take you to the skies.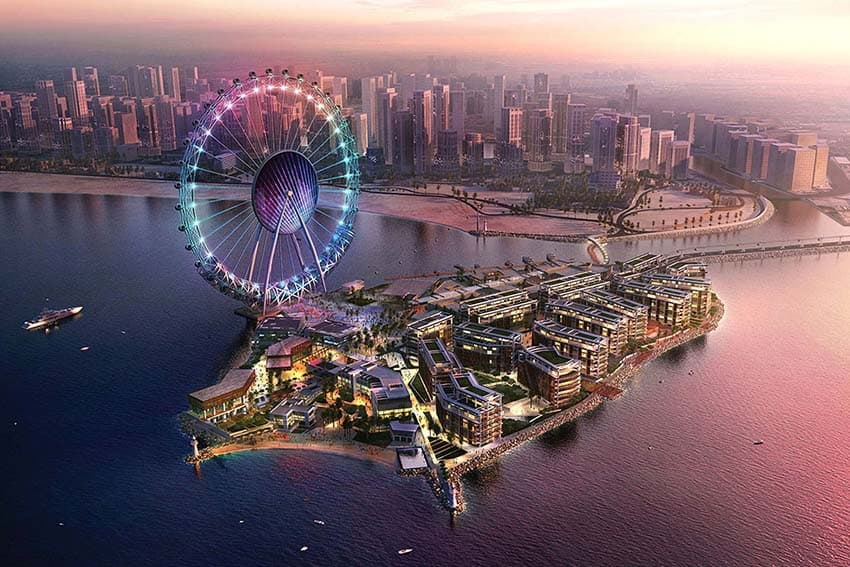 How This Marvel Was Put Together
Ain Dubai weighs more tons that one could imagine. The hub and spindle of the giant Ferris wheel were manufactured externally and put together in the UAE. Both sit firmly on the Ain Dubai's 126-metre-high legs, forming a stretch of 40 meters, with a height of 20 meters. 192 spoke cables were used to connect the wheel's hub to the rim.
To this marvelous structure, 48 seat capsules have been added, to hold up to 1,400 visitors at a time. Two of the world's largest cranes have been deputized to put Ain Dubai together. Each crane is equipped with a 180-metre-long boom, and can lift an unbelievable 3,000 tons! That's like lifting 11 Airbus A380s at a single time! It took four weeks to weld the spindle frames to the four legs of the structure, and it was the two cranes that held up the weight of the entire unit during this time!
The 6.25-meter-wide spindle is made of the kind of steel they use at nuclear plants, rolled and welded so skillfully that you'll be safe as up there while converse with the stars! Rigorously supervised by independent third party engineers, Ain Dubai's structural soundness and safety are beyond reproach. A million complex calculations lie behind every aspect of load balancing, even if the Ferris wheel is not fully loaded with people.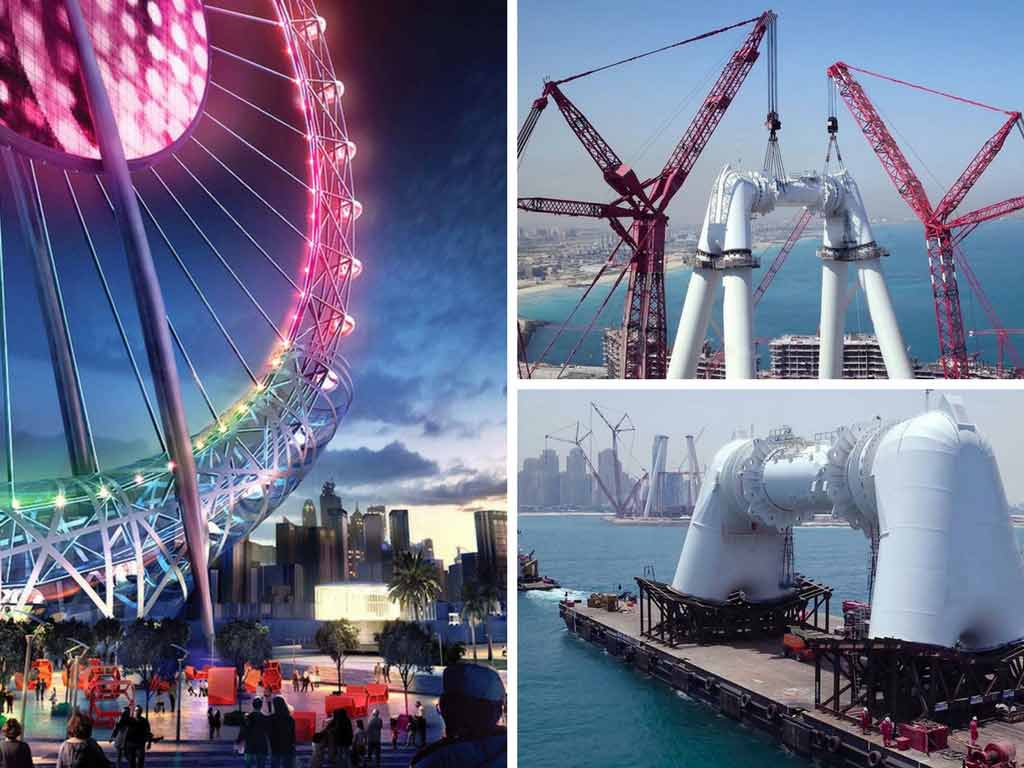 What will it feel like?
Ferris wheels have always fascinated people, ever since they were first seen several hundred years ago. Ain Dubai is a class apart – it's a Ferris Wheel, but also the most advanced piece of architecture you'll ever see or experience. When you get into a seat capsule and belt yourself securely, Ain Dubai will start up with a gentle whirr.
You'll then experience the gentle thrill of being lifting up in smooth strong arms, the weight of the structure delicately balanced on the nuclear-steel hub, legs and spindle. Ain Dubai takes all of 48 Minutes to make a full rotation – 48 minutes of utter heart-pounding excitement that await you.
How Did It All Come About?
Ain Dubai is inspired by The London Eye, built in year 2000, standing at 135 meters. It was the largest Ferris wheel in the world, until superseded by the Nanchang Star in 2006, standing at 160 meters. Both the London Eye and the Nanchang Star were superseded by the Singapore Flyer, built in 2008, standing at 165 meters. Now all three Ferris wheels have been safely placed into lists of has-beens by the magnificent Ain Dubai, standing at 210 meters.
Dubai, as we can all agree, is an extravagant city, always coming up with staggering surprises to mute the world. It started with a 7-star hotel, the Burj Al Arab. Then it was the manmade island, 'The Palm', and a manmade world map archipelago. That wasn't enough for Dubai, and the world's tallest building, the Burj Khalifa was born. A long list of magnificent marvels continued, and now the mega marvel of Ain Dubai is born. Ain Dubai towers high above Dubai's skyline, with dimensions that far exceed other tall structures. The observation wheel opens up 360-degree views of the stunning city of Dubai and its famous landmarks and skyline. All the more reason to head to Dubai right away, we think!