This week, the whole of UAE is set for a long pleasant weekend, thanks to Eid Al Adha holidays. Of course, there are plenty of things to do in UAE during Eid and we welcome you to take a look at our perfect guide of celebrating Eid Al Adha. Be it family-friendly activities or leisure / cultural events or even suggestions to get sporty, our critical picks will help you to make the most of your extended weekend while not an inch skimping on fun and entertainment elements.
1. Immerse in the Brilliant Eid Al Adha Festivities
With many astounding experiences to squeeze into your holiday plan, it's really mind-boggling to watch some of the UAE's iconic delights lit up at night. Yes, we refer to the spectacular Eid firework display held across Dubai, Abu Dhabi, and Sharjah, and the best part is that you can marvel at it free of cost. Not alone these, you'll be able to soak up all leisure, fun and entertainment surrounding the Eid celebrations. Here are some of the most recommended locations to take in this phenomenal sight.
Dubai
• Dubai Festival City (on the day of Eid from 21:00 hrs to 23:00 hrs)
• The Beach, JBR (August 31st to September 1st from 20:45)
Abu Dhabi
• 15-minute long fireworks show at Yas Marina (on the day of Eid from 21:00 hrs onwards)
Sharjah
• Al Qasba (on September 1 from 22:00 hrs onwards)
2. See Yas Water World Resplendently Illumed with Neon lights
One of the UAE's best water theme parks, Yas Water World on Abu Dhabi's Yas Island, has introduced a brand new theme to jazz up this festive occasion. Besides a whole repertoire of rides and slides, the park hosts Neon Nights wherein visitors can enjoy extra hours every Friday (10:00 hrs to 22:00 hrs), starting from 25th August to 29th September. Main highlights include awe-inspiring park illumination enhanced by special DJ Performances at Amwaj Wave Pool and an incredible Hydrojet Show. This is obvious to enthrall water lovers and fun seekers alike.
3. Make your Eid Holidays a Fabulous Time to Shop & Win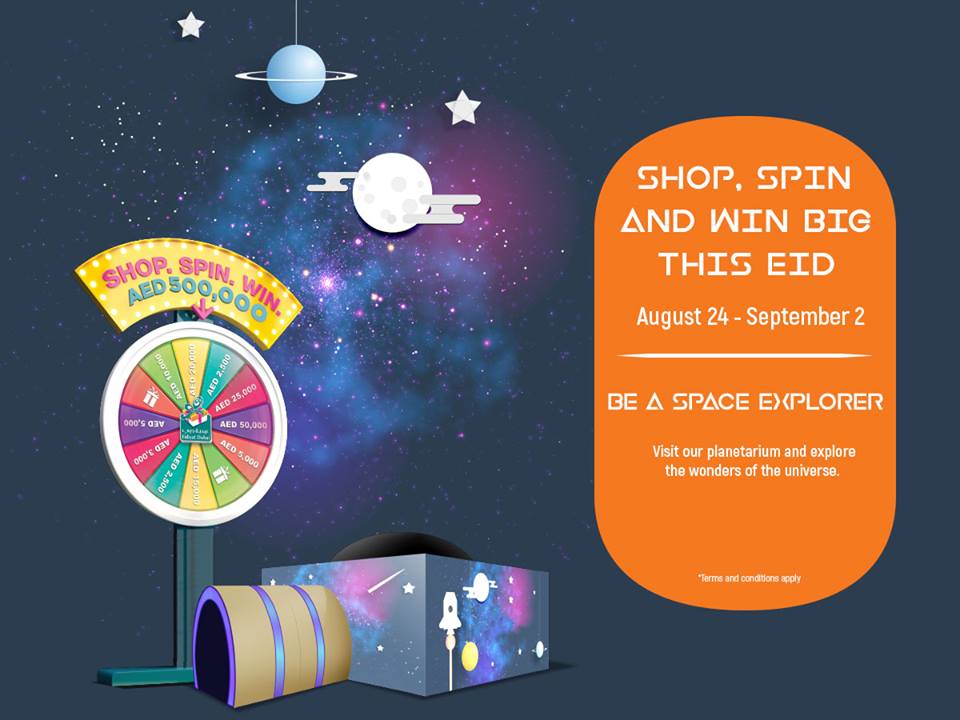 Those of you who enjoy retail therapy would be delighted to know about the exciting Eid Al Adha promotions and raffle draws.
Shop for a minimum of AED 200 from one of the *malls participating in 'Eid in Dubai' – the mega promotional event organized by DSMG (Dubai Shopping Malls Group). This gives you the chance to enter your name for a raffle draw and try your luck in Spin the Wheel game, permitting you to win extravagantly luxurious gifts worth AED 500,000. This amazing game is held during Eid holidays in Oasis Mall, Al Ghurair Centre, and Bin Sougat Centre.
Apart from Dubai, you can enjoy unbelievable shopping deals in other emirates like Abu Dhabi and Sharjah, where up to 80% off has been announced on branded stuffs as part of the unique discount campaign by SCCI (Sharjah Chamber of Commerce and Industry) during three days of Eid.
*Participating malls include Al Bustan Centre, Burjuman Centre, City Centre Al Barsha, City Centre Shindagha, Al Barsha Mall, Etihad Mall, Al Ghurair Centre, Century Mall, City Centre Me'aisem, Karama Centre, Dubai Outlet Mall, Times Square Center, The Mall, Oasis Mall, and Reef Mall.
4. Save Smart on Dubai's Most Popular Theme Park Attractions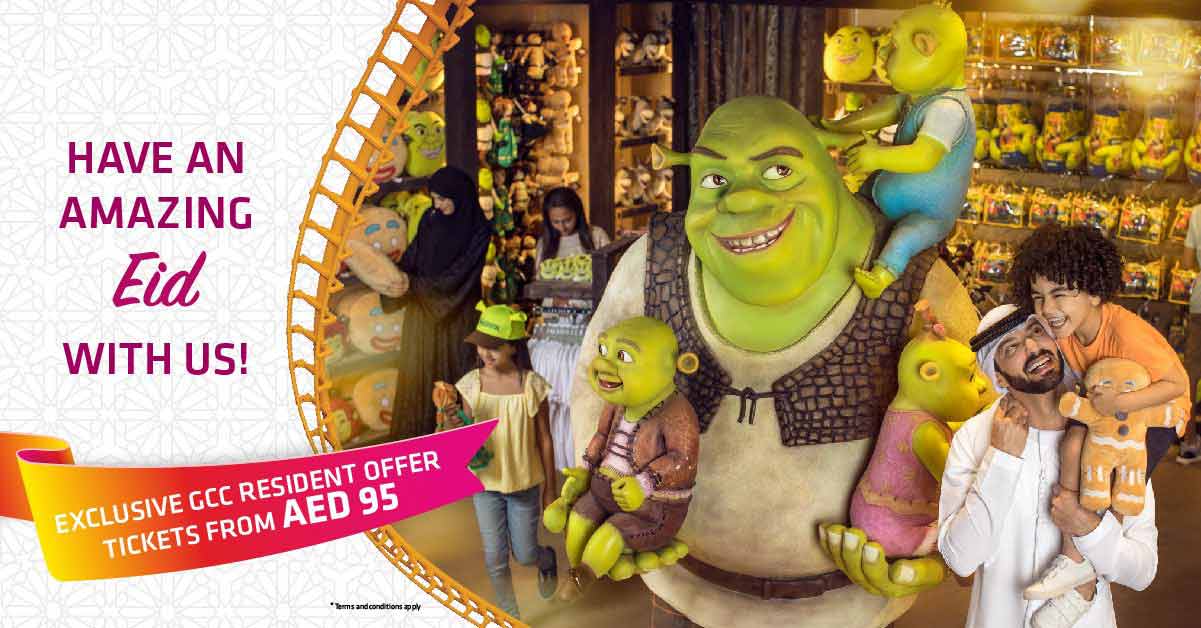 This is your chance to indulge in absolute amusement and entertainment at some of Dubai's best theme park attractions. Enjoy a free entry to IMG Worlds of Adventure on August 31st which is applicable to first 365 visitors arriving at the park. That's not all, an exciting gift awaits for every 365th visitor who can take home an annual pass offering limitless access to the park over a full year. Another enticing promotion is from the massive Dubai Parks and Resorts, with which all UAE residents can benefit from a special winter rate from September 1, 2017. This includes AED 165 to enter Motiongate Dubai and Legoland Dubai, and AED 95 for Bollywood Parks Dubai admission.
5. Enjoy a Bounty of Finest Food with a Dose of Culture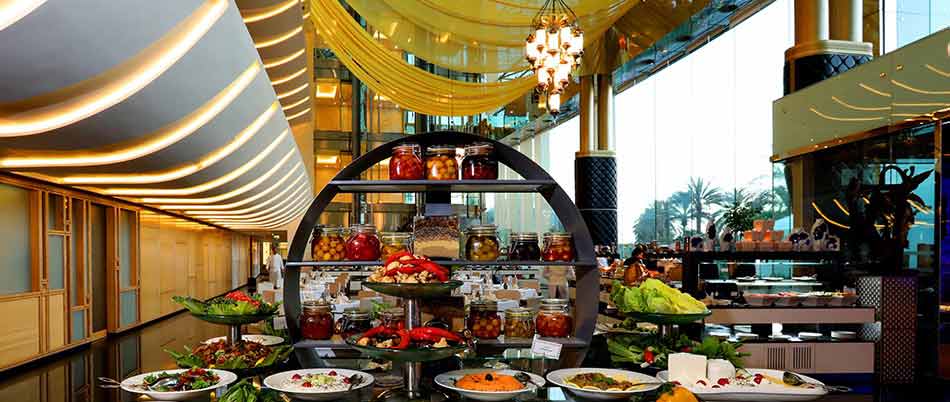 Gear up for a lavish feast as part of your Eid Al Adha celebrations! Join in for a special Farriers Eid brunch at Meydan Hotel, which is accompanied by live performances, or make your way to one of the dining venues in Bab Al Shams to relish authentic Arabian specialties in a quaint and soulful ambience with the added bonus of several cultural entertainment and traditional activities. In addition to slashed rates, kids under four years can dine for free and others aged between five and 12 years can enjoy up to 50% discount.
Alternatively, if you wish to try something new and trendy during Eid Al Adha, Dubai has some excellent choices. With the breathtaking views of Dubai Canal, sample the finest Korean and Japanese specialties at Namu Restaurant & Lounge. For seafood lovers, we recommend 3 Fils in Jumeirah, which feasts your senses with creative flavors such as spicy Tuna Sushi, duck waffles, Fremantle octopus etc. Can't resist your craving for desserts? Be sure to taste the special Cookie Ice Cream Sandwich available for less than AED 40 in Business Bay's Unicorn Vibes.
6. La Perle, Concerts & Stand-up Comedy – Gear Up for Live Entertainment that You Won't forget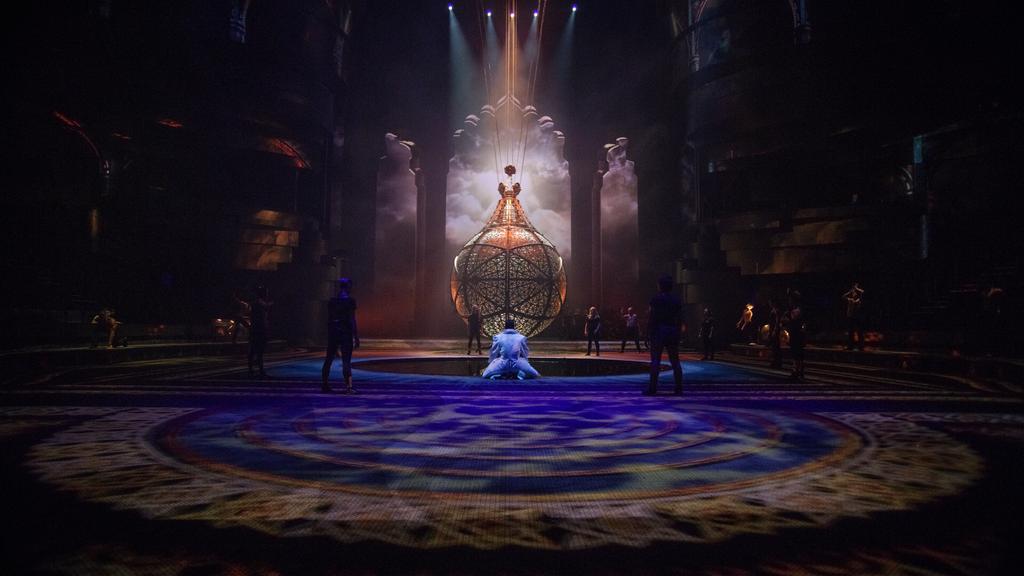 Things to do in UAE during Eid holidays also include an excellent array of events and live performances, mainly in Dubai.
With the debut show of the much-awaited La Perle coinciding with Eid Al Adha, the entertainment buffs can't find a better way to add to their long weekend. The super stunning Vegas-style theatrical show comprising unbeatable aerial acts by over 65 international artists is performed on an aquatic stage and is sure to take your breath away.
Music lovers, get ready to be enthralled by concerts including Shamma Hamdan in Concert and The Bohemians: Queen Tribute Band Live. If music is not your thing but still want to keep your mind refreshed with some alternative options, watch stand-up comedy by Axel Blake and find yourself in splits.
Date, Timing & Venue
• La Perle (August 31 to December 31 2017): From 19:00 hrs to 21:30 hrs (Tuesday to Friday) & 16:00 hrs to 19:00 hrs on Saturdays @ Al Habtoor, Dubai
• Shamma Hamdan in Concert (September 2): From 18:30 hrs to 20:00 hrs @ the Ground Floor of Dragon Mart, Dubai
• The Bohemians: Queen Tribute Band Live (September 2): From 20:00 hrs @ Hard Rock Café, Dubai
• Axel Blake at Stand-Up Dubai (September 2): From 19:00 hrs through midnight @ Tribeca at Ocean View Hotel JBR, Dubai
7. Family Fun with Fun Fair, Angry Birds & More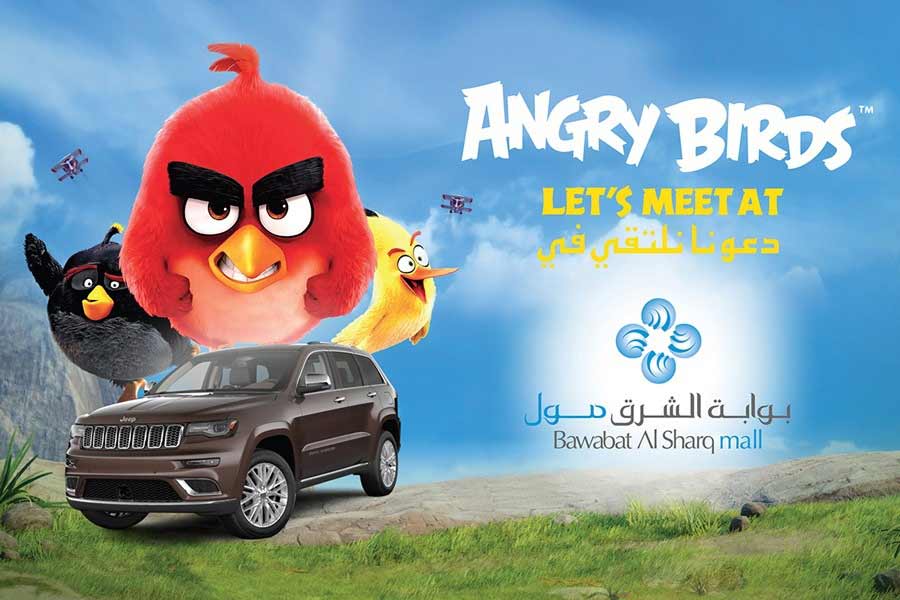 Let your little ones get themselves away from iPad and PlayStation as you try something different during Eid holidays in Abu Dhabi, which comes with the added benefit of some quality family time. Enjoy special attractions, live shows and activities based on the popular game, Angry Birds, at Bawabat Al Sharq Mall, or head over to the exclusive Eid Fun Fair put up by Abu Dhabi Mall. Kids and adults alike will be enthralled to be a part of diverse array of cultural and leisure activities like henna tattooing, face painting, acrobatic performances, magic show, and bubble show. Moreover, watch out for some distinct art and craft experience at The Galleria whose main highlights cover instagrammable 3D floor, spectacular calligraphy etc. There are many family-based events held across Dubai as well, such as Math Alive Exhibition (Children's City) and Literaturhaus at Nadi (Al Quoz).
Date, Timing & Venue
Angry Birds Live Show ( September 1 to September 3) @ Bawabat Al Sharq Mall
Eid Al Adha Celebrations at The Galleria (August 28 to September 3): From 15:00 hrs to 21:00 hrs
Funfair at Abu Dhabi Mall (August 31 to September 3): From 16:00 hrs to 22:00 hrs
Math Alive Exhibition (June 26 to October 7): 9:00 hrs to 19:00 hrs from Sunday to Thursday and 14:00 hrs to 20:00 hrs on Fridays and Saturdays @ Children's City, Dubai
Literaturhaus at Nadi (July 1 to September 30): From 16:00 hrs onwards every Saturday
8. Energize Yourself with Some Sporty Goodness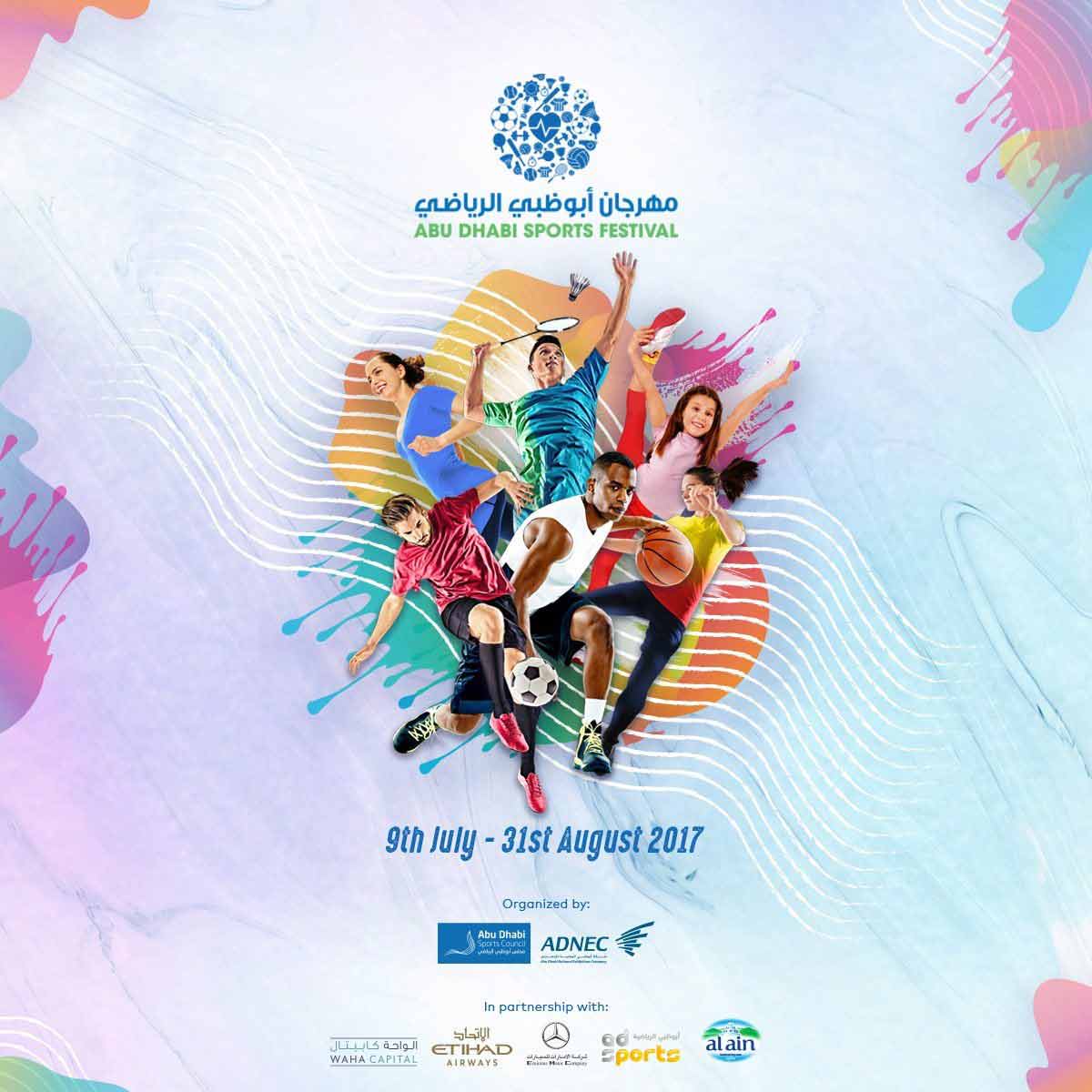 If you wish to add some sporty fun and leisure to your holidays, don't miss Abu Dhabi Sports Festival which is in its closing phase and will continue till August 31 at Abu Dhabi National Exhibition Centre. Perfect for all ages and abilities, it offers superb options for multiple sports including football, cricket, yoga, basketball, volleyball, and running tracks. You can further join in for similar event in Dubai, namely Dubai Sports World, which is held at Sheikh Saeed Halls and Trade Centre Arena, DWTC, until September 2.
9. Go a Little Further Afield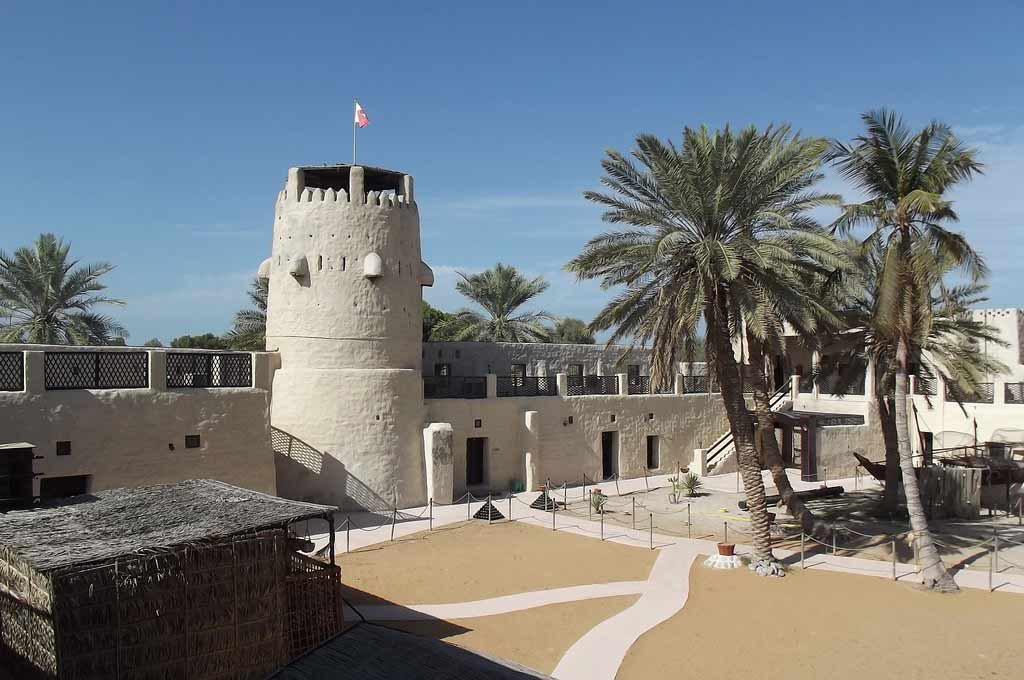 Set out to discover a bit more than ordinary on your Eid holidays, especially if you're bored of all usual sights and sounds around. Consider going on a day trip in and around UAE such as Liwa Oasis, Ras Al Khaimah, Umm Al Quwain, Fujairah, Musandam etc – all of which allow for a host of nature based fun and adventure experiences. Take for instance, Ras Al Khaimah which lines up for you excellent options by way of horse and camel ride, desert safari and camping, mountain excursions to Jebel Jais, golfing amid picturesque background, and thrilling karting experience at RAK Track. Dependent on your budget and preferences, you can further venture out to your dream holiday spot or even choose a surprisingly remarkable location that is often slid under the radar, maybe Malaysia's Langkawi or Georgia's Kakheti wine region to name a few.
10. Celebrate Eid Holidays with an Emirati Flavor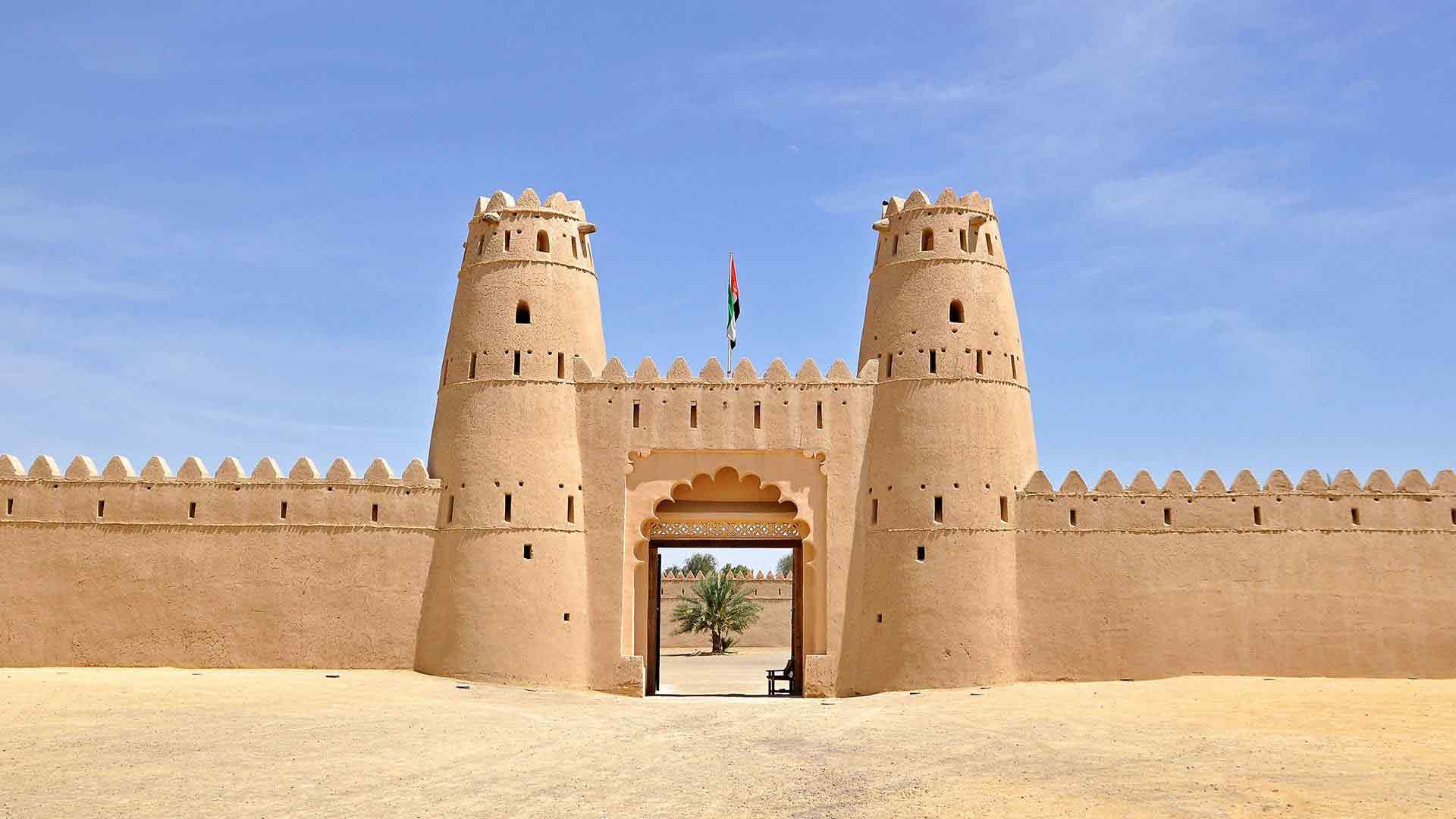 From special exhibitions like Qasr Al Hosn Exhibition: The Story of Abu Dhabi and its people to special workshops and programs such as Palm Weaving Workshop (Al Jahili Fort) which is focused on the region's culture and traditions, there are many ways to give a traditional touch to your Eid celebration in the UAE. If you're looking for more options, visit museums, go on a desert safari, or take a dinner dhow cruise along Dubai Creek, Dubai Marina or Dubai Canal – all are definite to offer a timeless Arabian experience.
With this special list, we hope you could easily incorporate some of these amazing activities on your Eid Adha holidays. Have a blessed and joyous Eid Al Adha wherein all your sacrifices are accepted and prayers answered!