The National Museum of Dubai, or Dubai Museum as it is commonly referred to, is one of the attractions that top the list of things to see in Dubai. When one thinks about Dubai, the first thing that comes into the mind is its breathtaking buildings and skylines, along with unmatched shopping and entertainment facilities. But a trip to city's major historical monument – Dubai Museum will leave you spellbound, as you know how Dubai has come a long way from an ordinary fishing village to mark its presence on the world map as an internationally recognized trade and tourism destination.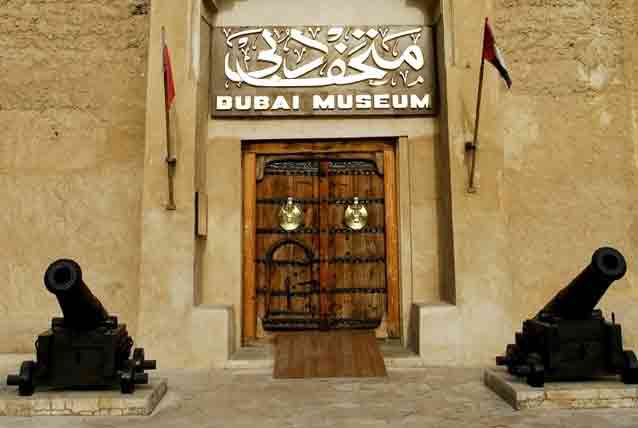 A Brief History
Al Fahidi Fort, within which the Dubai Museum is housed, is one of the finest illustrations of ancient desert forts in the Middle East. The oldest of its kind in the emirate, this fort was built in 1787 as a barricade to protect the region from the attacks of sea pirates and neighboring tribes. Later on, it became the administrative seat as well as the residence of the ruling family, and then served as a garrison and a prison, before it was converted into a museum in 1971 by Sheikh Rashid bin Saeed Al Makthoum.
Popular Displays
As you step into Dubai's flagship museum, you feel as if you have landed to another world that is incredibly traditional and extraordinarily charm, with its marvelous exhibits that throw light on this small city-states' multifaceted history and cultural richness. The museum's main gate is guarded by two cannons that were once used to defend the fort as well as the harbor. Found in the centre of the museum's large courtyard is a long traditional dhow.
A number of small wooden boats, in addition to barasti houses by way of Al Areesh (Summerhouse) with air-conditioning system that provided cooling before pre-electricity times, can be seen in the central courtyard bounding the galleries. Another highlight of the museum is archeological ruins revealed from Al-Qusais, Hatta, Al Soffoh and Al Jumeirah – most of which trace back to 2500 BC.
Equally fascinating is exhibits that depict the pre-oil era and a once-flourished pearl farming industry of the place. Other popular exhibits on display here are a collection of weapons graced with silver khanjars as well as camel-bone decoration, beautiful paintings, stone and pottery items, stone inscriptions, bridal ware and jewelry, musical instruments and objects related to traditional Emirati dances.
Life-Size Dioramas
One of the museum's most intriguing sections is its galleries that provide a comprehensive intro to the traditional lifestyle of Dubai through its series of life-size dioramas elucidating ancient Arab houses, mosque, date farms, souks and desert life, among many others.
[31 Best Things to do in Dubai]
Multimedia Presentation
Shown in the museum's basement area is an interesting multimedia display based on well-researched presentation. This, in turn, chronicles the several important phases that depict the transformation of the city from a small modest town and then a prominent pearl farming centre to what we see now Dubai – a highly sophisticated global city.
Location
Dubai Museum is located in one of the city's oldest heritage sites, Al Fahidi Historical District, in Bur Dubai. This charming locale is especially favored for its traditional buildings that have been restored to retain its original Arabic zeal, with its rugged walls, shady courtyards and wind towers topping the walls to provide an air-conditioning effect without the help of electricity. Adjacent to Al Fahidi is the scenic Dubai Creek and Old Dubai's traditional souks.