The Umm Al Emarat Park was originally meant to be a park for women and kids, but has now evolved into a fun and educational destination for families in Abu Dhabi. It is one of Abu Dhabi's oldest and largest parks, located in the heart of the city between Airport Road and Karamah Street. The park was built in 1982 and was known as Mushrif Park; it was only recently renamed as Umm Al Emarat Park, after undergoing a good deal of renovation. Today the park is poised as the beating heart of Abu Dhabi, where people can bring their children and participate in community projects.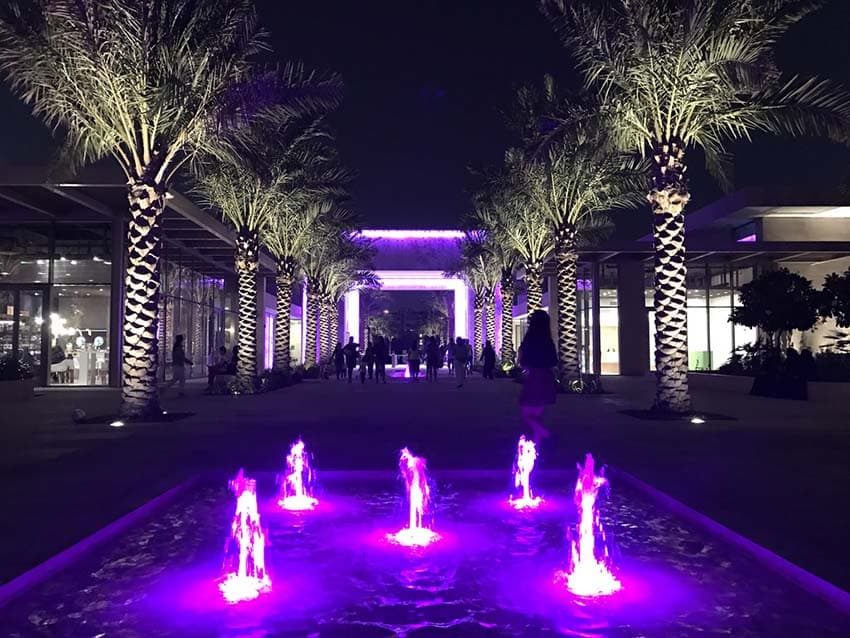 The History Of Umm Al Emarat Park
The late Sheikh Zayed bin Sultan Al Nahyan was well known for his love of the outdoors, especially the desert. His desire to preserve nature's gifts for future generations led him to support environmental conservation in Abu Dhabi. He invested in go-green programs and succeeding in spreading greenery in and around Abu Dhabi, especially date palms. The Umm Al Emarat Park Abu Dhabi is a continuation of Sheikh Zayed bin Sultan Al Nahyan's legacy of greenery to Abu Dhabi.
The New Face of Abu Dhabi's Oldest Park
To honor Sheikh Zayed bin Sultan Al Nahyan and to preserve the park's history and heritage, 200 of the original trees from the old park have been repositioned within the newly renovated park. Apart from lush greenery and plenty of playing space for children, the park now has many fun and educational activities for the whole family. There's an Animal Barn, Shade House, Amphitheatre, Botanic Garden, Children's Garden, Great Lawn and Evening Garden.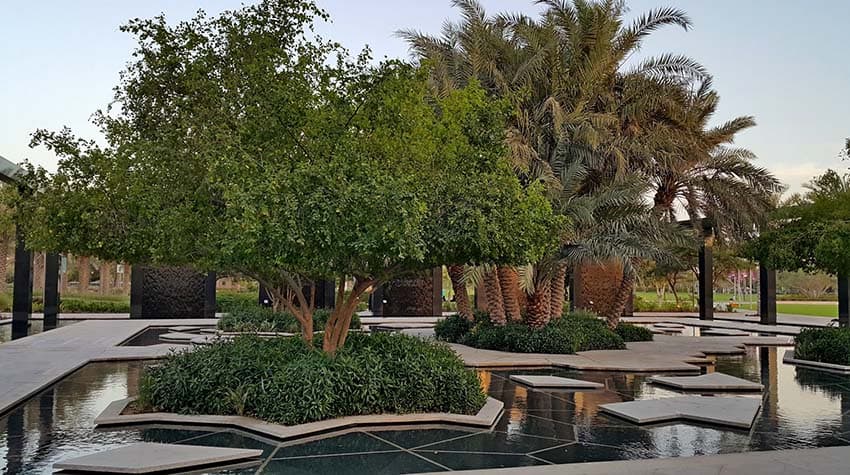 Features of Umm Al Emarat Park
• Animal Barn: The Animal Barn and Petting Zoo is part of the Children's Garden. It is managed by the Emirates Park Zoo and includes ponies, donkeys, goats, cows and camels. The animals are rotated seasonally. Kids are helped to understand the roles these animals play in our lives, and how to take care of them.
• The Amphitheatre: The large outdoor performing arts amphitheater can easily hold 1,000 plus people. It is being used to host plays and traditional performances by Abu Dhabi artists and schools.
• The Shade House: This is a tall, enormous green house that is an iconic landmark within the park. The building has two upper-level decks that offer perfect views of the entire park and its surrounding landscape. The special moisture-controlled environment within is richly-suited to the growth of various delicate plant species from all around the world.
• Botanic Garden: The Botanic Garden is a botanist's delight, with hundreds of plant species from Africa, Australia, Latin America, and the United States. More than 200 of these plant species are entirely regional to the UAE; many of these plants have a cultural and historical significance as well. There's also a tranquil natural pond where kids can feed fish and ducks. Several natural-looking pools that draw water from small local rivers have been constructed to provide a habitat for exotic plants. Water cascades from pool to pool, which makes for a picturesque sight.
Fun and Educational Events At The Park
During its first year, the Umm Al Emarat Park hosted 35 education and fun events which drew over 800,000 visitors. There's a series of child-oriented events scheduled around the year such as Creative Robotics for Kids. Music performances, plays, community gatherings and other events are regularly conducted here, to benefit the entire community.
The park also has its own mascot, Mushrif, a cute blue toon character that kids love. Kids get to meet their mascot on special days and play with it. There's also a sweet little train on which families can take a tour of the entire park, which makes it the best highlight of their visit. The outdoor cinema screen is used to show the latest flicks and educational videos that benefit the whole community. A weekly Farmer's Ripe Market is held at the park where organic farmers from nearby areas gather to peddle their wares. It's a vibrant, fun event, with whole families gathering to load up fresh fruits and veggies for the coming week.
Awards and Recognition
Umm Al Emarat Park was formally opened with its new name and renovated premises on March 19, 2015. After a successful year, the park was awarded the prestigious Green Flag, which is an international award for successful reclaiming of green spaces and parks as community centers. The Green Flag Award scheme is a standard-bearer for green spaces globally; this is the body that distinguishes a green space as a family and tourist destination in a region. We are extremely proud of the fact that Umm Al Emarat Park met all the criteria for the award including community involvement, cleanliness, an extensive criteria, sustainability, safety, heritage and conservation, averaging at an 80+ score.
Plans For The Future Of Umm Al Emarat Park
The city of Abu Dhabi plans on expanding the park and adding regular events to the calendar. There'll be events aimed to empower woman power, to educate parents, and offer career guidance. There are plans to expand the plant selection in the Shade House and the Botanic Garden as well. More child and teen-oriented activities and events are in the offing as well.
Conclusion
Umm Al Emarat Park is meant to serve as a community park, a meeting place, and a place for wholesome family enjoyment. It's open to all Abu Dhabi residents, tourists, expats and guests. The idea behind establishing this central park is to connect various communities into a synchronous and cooperative tapestry. The park provides a 100% safe and secure environment for kids and youngsters. No drugs, alcohol, pornographical opportunities or any other negative influences will be allowed inside the park. Young parents can relax, leaving their kids to enjoy the park's many ponds, fountains, train, mascot and other jollies. It's the perfect place to spend a weekend or holiday in for the whole family.