One of the most famous tourist attractions of Thailand Koh Samui beckons you for its serene beaches, full moon parties, budget accommodations and sumptuous food. The white sandy beaches of Koh Samui and the warm hospitable locals who are forever working hard to please the tourists, the island is every bit an ideal place to spend your vacation.
What makes Koh Samui incredible?
Here are the 15 must things to do in Samui that makes the island a memorable place.
Namuang waterfall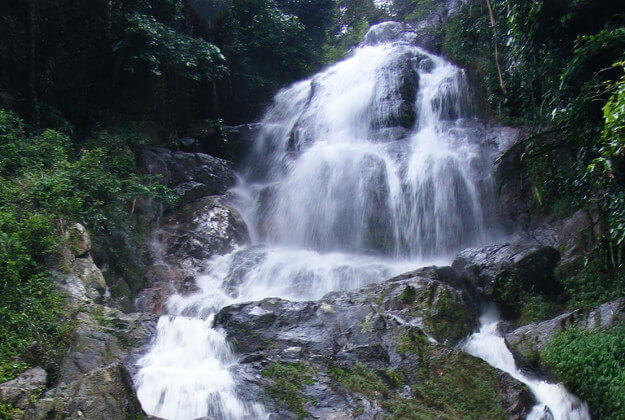 The Namuang waterfall that is set in a beautiful jungle surrounding has two waterfalls, namely, Namuang 1 and Namuang 2. Namuang 1 flows and gets collected in a small pool where you can swim and get rejuvenated. The second waterfall is further uphill about 30 minutes apart with mesmerizing scenery. This park that features the waterfalls is free of charge and is a heaven of beautiful corners and spots. This park along the way has small souvenir huts and food stalls where you can shop. Less crowded as compared to other destinations, this place is perfect to go for a swim and relax.
Secret Buddha Garden
The Secret Buddha garden is a private park with sculptures atop the Pom mountain, one of the highest peaks in Koh Samui. A retired farmer began building a park with beautiful statues. This park has beautiful statues of Buddha, snakes, birds, his parents, and a lovely statue of him holding the hands of his parents. This stupendous peaceful garden has a beautiful stream and waterfall. Be careful as the road leadin to the place is very steep. From the topmost point of this garden you can have panoramic view of Koh Samui.
Big Buddha 
The most famous landmark in Koh Samui is the Big Buddha temple. The 12-meter-tall Buddha statue in sitting position is located on one of the corner of Koh Samui. Known locally as Wat Phra Yai, this temple of Buddha is connected by a causeway to the mainland. The beautiful gold statue is special, in a way that it shows Buddha in a position that rejects all the temptations forced upon him.
Snake farm
With a lot of dangerous snakes, the snake farm in Koh Samui is one of the popular attraction. Trained professionals here put on shows daily with some of the deadliest snakes such as King Cobras and Pythons to woo customers. The crowd is usually excited to see the snake handlers show their fighting moves. The snake farm also houses many reptiles and you can see and touch the less dangerous reptiles if you want to under the professional guidance of its handlers.
Gulf of Thailand
Get tours from certified instructors in the Gulf of Thailand, a living paradise for people interested in diving. Take a 60 kilometers' boat trip from Koh Samui along with other divers and participate in two dive courses. The duration of each diving course is between 40 to 50 minutes and even beginners can experience this paradise. Before you go for diving ensure that you verify the safety measures and check if the school certificates are current.
Chaweng Beach
The hub of Koh Samui, Chaweng beach is the largest and busiest beach. This is where Koh Samui becomes alive at night. The main center of the night life in Koh Samui, this place has many restaurants and plenty of bars to keep high the spirits. Here you can enjoy the cheap drinks while swinging to the loud music. Enjoy the sip of drinks to the beautiful beach air while lazing around in the beach front bars.
Thai Experience (Dinner)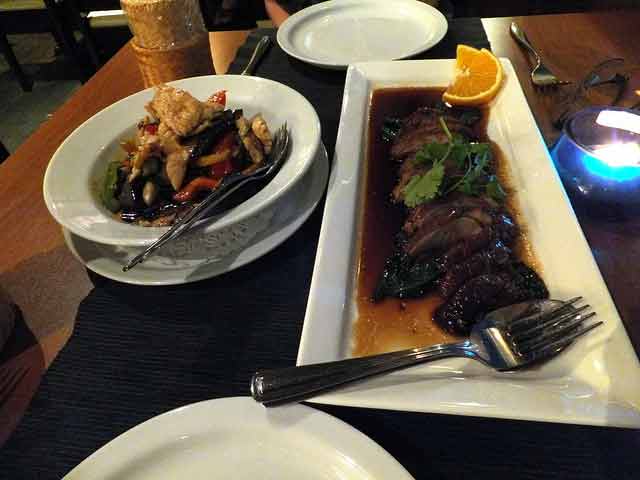 Want to have a great dinner with an experience that you don't want to forget? Try the Thai experience (dinner). This restaurant is the place to be social right from the start. Greeted with cocktail and with an introduction to other guests, this restaurant seats you at a large communal table in traditional Thai style. You get to have more cocktails before you can start making them yourselves. The food is different and you get to taste many different types of Thai food that is brought for you to sample. If you are a lone explorer, then this place is just for you as you can get to know and make many local friends over dinner in Koh Samui.
Canopy Adventures
Be a superman and fly through the green jungle at 50 miles per hour on a zip line in Koh Samui. The 2000 meters of cable lines in Canopy Adventures helps you soak in the beautiful bird's eye view of the entire scenery of Koh Samui. There is a beautiful waterfall where you can stop and take a dive for a refreshing swim. This zip line course connects 22 platforms with cables which gives you the feeling of flying when you move from one platform to the next.
Laem Sor Pagoda
Koh Samui's one of the lesser known attractions, the Laem Sor Pagoda is located on the South West corner of the island. The golden color Laem Sor Pagoda makes for a beautiful appearance especially on the blue backdrop of the waters of the ocean. Though the building looks golden in color, it is actually made of yellow colored tiles. Inside the Pagoda, there exists a mesmerizing golden colored image of Buddha.
Elephant Rock
Though this rock looks nothing like an elephant, the sheer size of the rock as big as a Thai elephant is from where the name is. This rock is located between Chaweng and the Lamai beach. Located in a peaceful location, you can let loose the hiker in you. With plenty of spots for hiking, the view from the top of this rock is a scenery to die for. You can click as much pics of the Gulf of Thailand from this rock.
Khao Hua Jook Chedi
Located close to the Chaweng lake, this beautiful temple or Stupa sits atop a hilly terrain. The awe-inspiring Khao Hua Jook Chedi overlooks the scintillating valleys of Koh Samui and the gorgeous coastline. Do you have a camera or a mobile phone with a panoramic click option, then go blazing click click click. The location of this temple is what makes it so special. This stupa has some very intricate designs and many awe-inspiring golden sculptures of Buddha.
Mummified Monk in Wat Khurnam
A Buddhist monk by the name Luong Pordaeng died in the year 1973 while sitting in a meditative position. It was decided that his body will be preserved and is on display in a glass case ever since. Even after more than 40 years, the body is still in superb condition without even the slightest signs of degradation. That Buddhists are not afraid of death as they believe that death one step closer to enlightenment. The locals on this island visit this temple daily to pray and the visitors are free to visit the temple.
Ang Thong National Marine Park
You can visit this marine park by taking a boat trip from Koh Samui. This archipelago of 42 islands is located in the Gulf of Thailand. Covering more than 100 kilometers, this park consists of white sandy beaches, coves, mountains, waterfalls, and lush green jungles. Home to a wide variety of exotic flora and fauna, you can choose to stay behind and camp at night.
Wat Plai Laem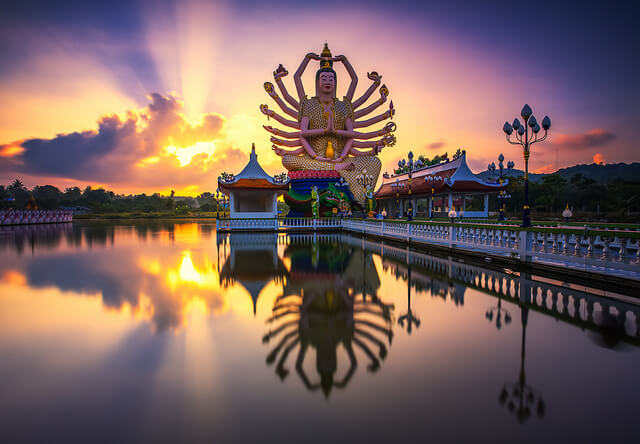 This newly constructed temple is located near the Big Buddha temple in the north of the island. This temple has a very ornate art and décor. The image of Guanyin or the god of mercy is beautiful with 18 arms. The lake also has a huge white statue of Buddha. There are lot of fishes in the lake and you can feed them the food given to you when you donate some money for the upkeep of the temple.
Samui Aquarium
The Samui aquarium mostly has marine life native to the Gulf of Thailand, but it also has some beautiful beasts like leopards and Bengal Tigers. In a series of a large tanks are a range of marine life such as manta rays, catfish, sharks and many tropical fishes. Also in the visitor's area you can feed the turtles. Though the main attractions are the Bengal tigers with which you can take a photographs up close and personal for an extra charge.
The island of Koh Samui has everything to make your trip worthwhile. So wait no more, pack your bags and head to the serene island of Koh Samui today!