Georgia is a beyond-lovely country in Europe that lies in between the spectacular Caucasus Mountains and the Black Sea. This incredible country is fast becoming a traveler's delight for its incredible natural landscapes, network of caves, amazing architecture, fascinating culture and more. Honeymooners, backpackers and family groups will do well to consider the attractions of Georgia while planning their next trip.
Georgia has something for each kind of traveler – shopping, nightlife, incredible natural beauty, charming towns, yummy cuisine, globally renowned wines and magnificent historical landmarks. We've scanned and filtered and finally put together the best 18 amazing things to do in Georgia. Now we want you to do them, and soon – Georgia's fabulousness is not to be left alone for long!
1. Check Out The Historical Monuments of Telavi

This fantastically atmospheric city has been in inhabitation since the early Bronze Age years. Telavi was a key city for the entire Caucasian region. Today it is the capital of Eastern Kakheti. This lovely city has so many beautifully preserved historical monuments from different ages that you'll simply stand in rapture. Telavi was once home to the politically and culturally successful King Erekle who set up most of the city's historical monuments. Add a tour of this incredible city into your list of things to do in Georgia.
2.Explore Old Georgian Architecture In Mtskheta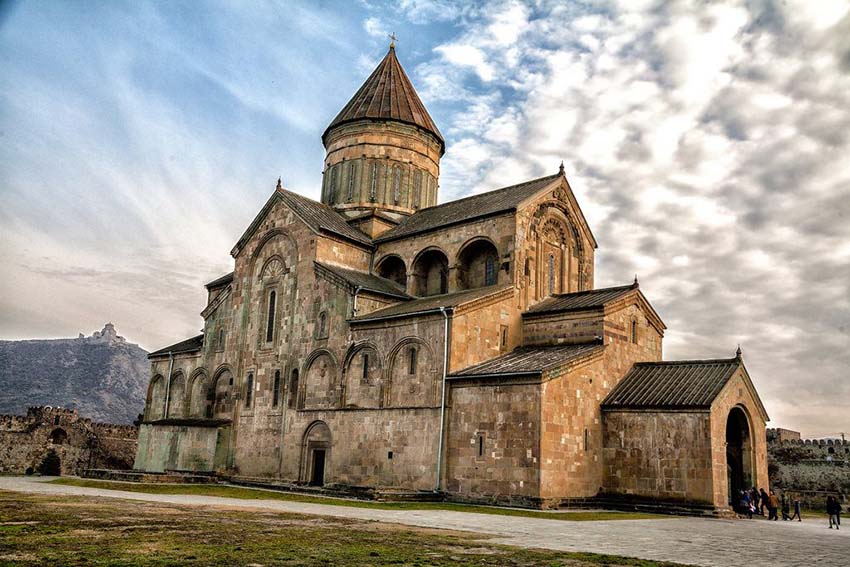 Of all the places to visit in Georgia, Mtskheta is the most prolific in terms of art and architecture. Mtskheta sits cozily at the meeting point of two rivers. People have continually inhabited this stunning city since 1000 BC, never leaving it. Georgia accepted Christianity much before other countries did, and Mtskheta became the center of the Georgian Orthodox Church. This church is an excellent example of the old Georgian architecture, as is the Svetitskoveli Church.
3.Taste Some Glorious Wine In Sighnaghi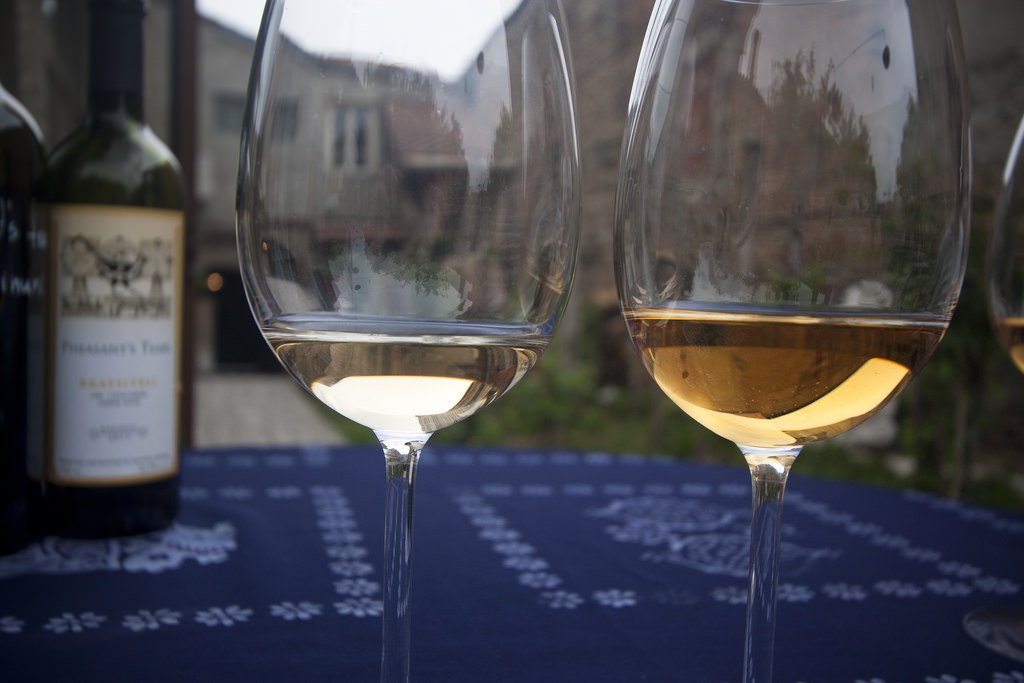 Sighnaghi is one of Georgia's oldest cities, inhabited for several thousand years. Seat yourself in the architecturally awesome city center and taste the original Sighnaghi wines. This city is right in the middle of the best wine country in all of Georgia. Buy a few bottles of a new vintage to put away to age in your cellar. If you want to, you can sign up for a wine tasting tour of Sighnaghi wineries with the Georgia tourism bureau.
4. Enjoy The Beaches Of Batumi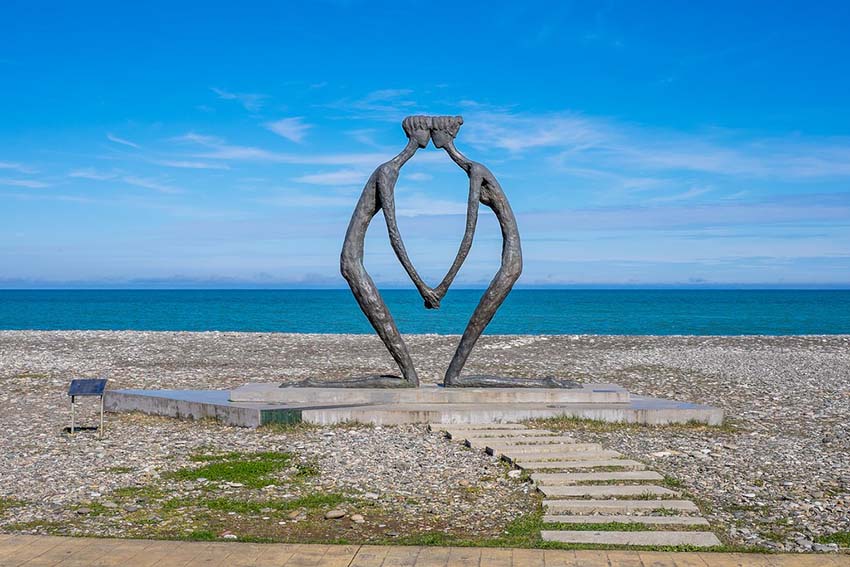 If you're looking for some beach time under the warm sunshine of Georgia's summer, hit the beaches of Batumi. The newly-built boardwalk along the Black Sea's Stoney beaches is lined with a number of lovely sculptures. Enjoy looking at the palm trees that grace the beaches, and the lovely old colorful buildings. This seaside town has several luxury resorts. Sign up for a Black Sea sand scrub to end up with smooth-as-silk skin.
5. Take A Look At Napoleon's Death Mask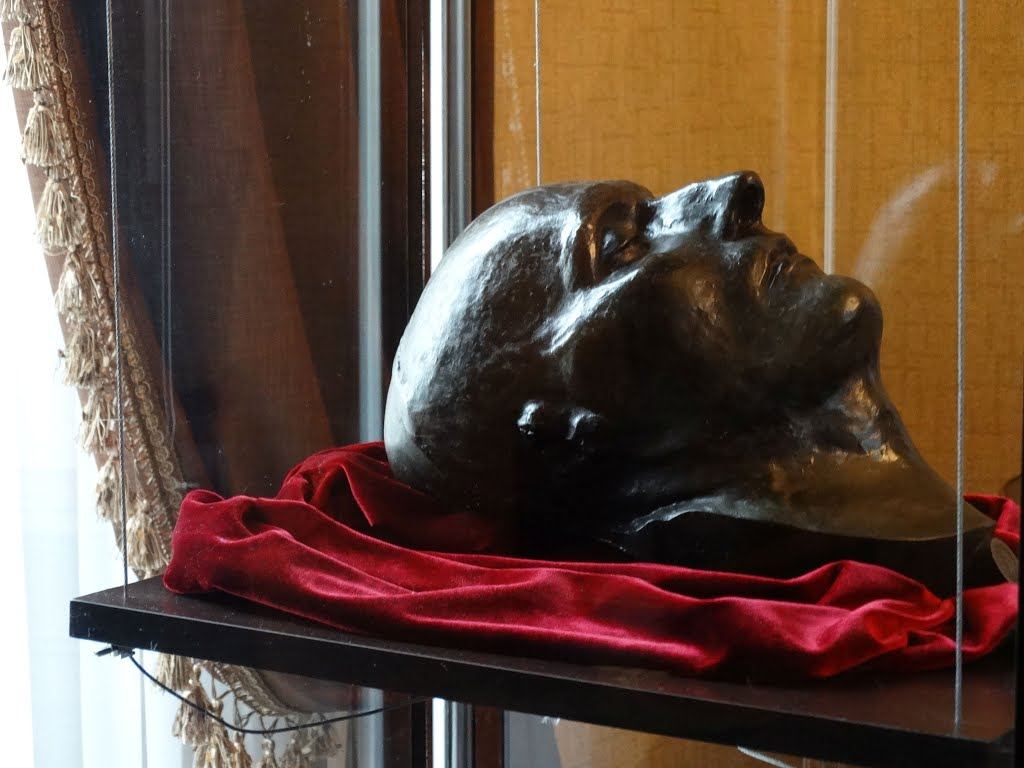 Zugdidi in the north-west is the historical center of the Georgian royal Mingrelian family. History has it that Napoleon gave one of his sisters in marriage to a Dadiani prince. Apparently one of Napoleon's three death masks ended up in the Dadiani palace. It's a unique death mask, laid with gold and precious gems. It is highly coveted by museums worldwide since it is one of an acclaimed set of three. Napoleon had these death masks made in the style of old Egyptian pharaohs who estimated that their dynasty's rule would be permanent in Egypt. Napoleon too, had such delusions of grandeur and the invincibility of his bloodline.
6. Exclaim Over The Views From Ushguli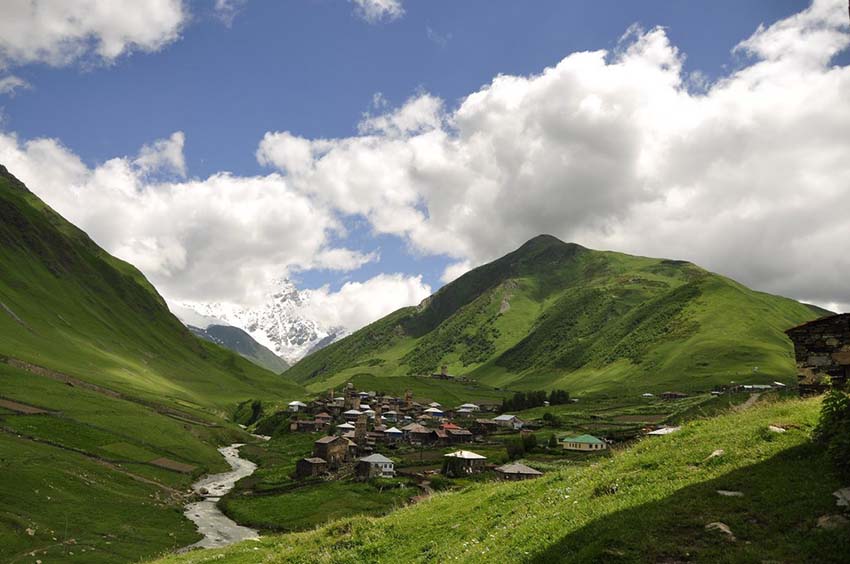 Ushguli is a bunch of villages that hold great cultural significance to Georgia. The total population of this hard-to-reach place is about 200. Ushguli has some of the best-preserved Svan towers in the whole of Georgia. These towers are tall and square topped by a battery. They were built by the Svan people who were the designated caretakers of the high passes in the Caucasus Mountain Ranges. They were a blood-thirsty people who swore blood revenge on invading armies. If you can, climb the surrounding mountains and enjoy the stunning views.
7. Check Out The Oldest Christian Landmarks In Georgia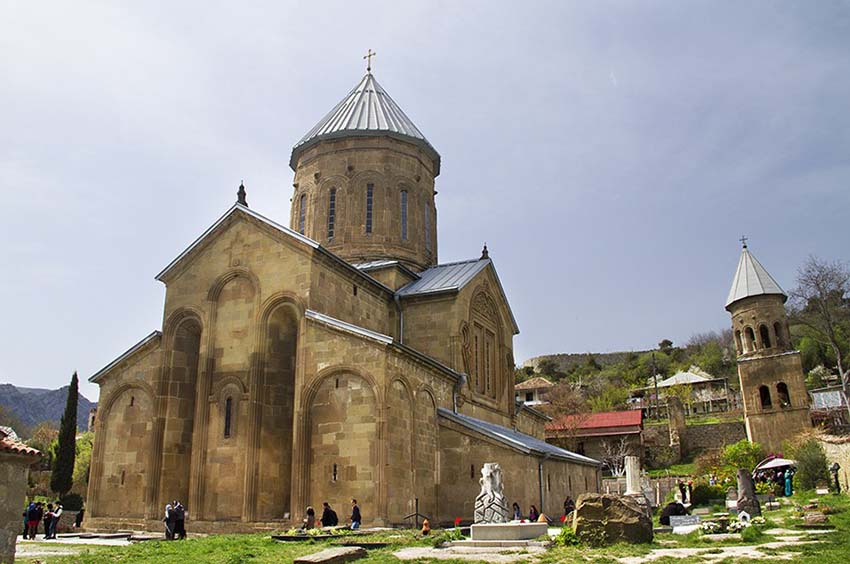 Mtskheta is often called Georgia's spiritual heart and with good reason. There are several extraordinary Christian landmarks in Mtskheta. Spend an entire day checking out the beautiful Jvari Monastery, the magnificent Armazi Fortress and St Nino Monastery, dedicated to St. Nino, Georgia's beloved Orthodox saint. Looking all the churches in Mtskheta will take you several days!
8. Drink Some Mineral Water In Borjomi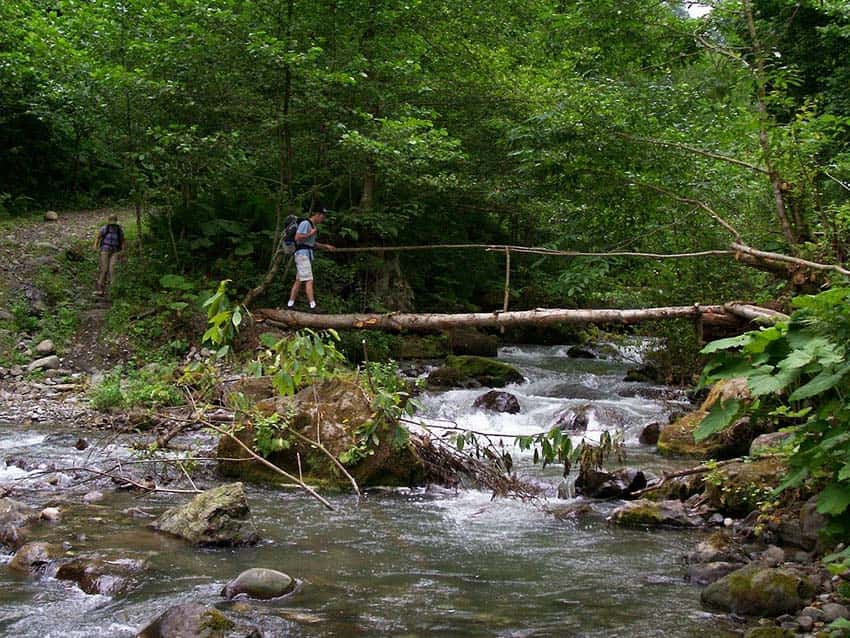 Borjomi, located towards the west of the capital city, Tbilisi, is known for the healing powers of its famous mineral water. A small resort has come up around the mineral water spring where you can stay and collect water at the source. The mineral water tastes sulfuric, salty and sour. The area of the spring is lovely, with lush forests, hills and rushing creeks
9. Check Out The Architectural Marvels Of Zugdidi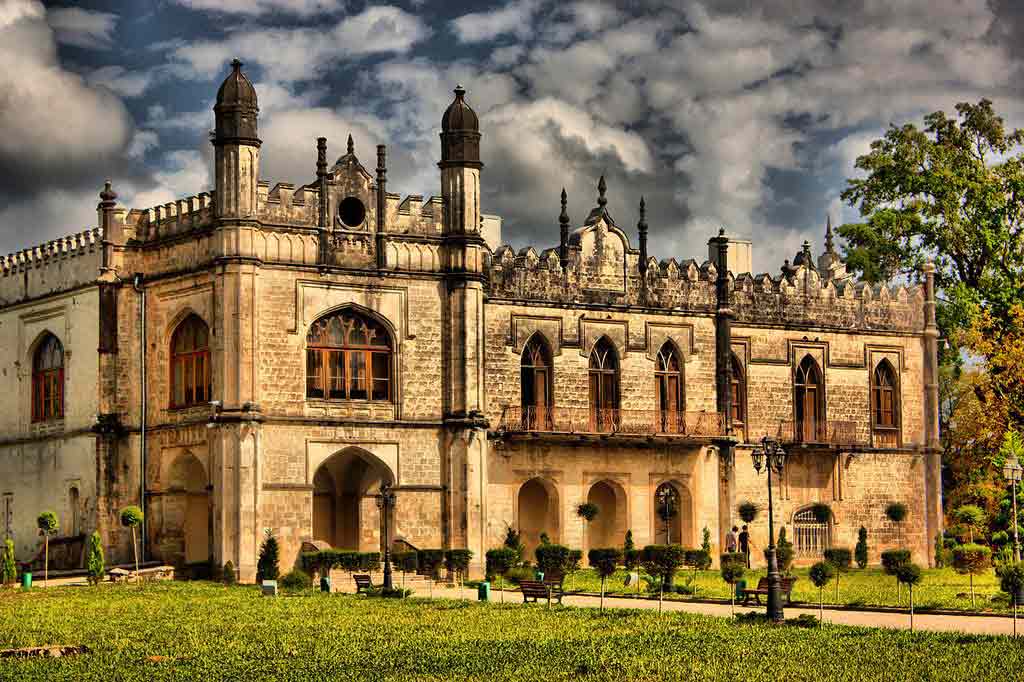 Zugdidi, the capital of the Samegrelo-Zemo Svaneti region has the most amazing architecture in all of Georgia. It's a bustling little town that offers many splendid buildings and structures that will pleasure the history buff's eye. There's the Niko's Palace, Queen's Palace, the Mantskhvar-kari and Blachernae St. Virgin churches amongst others. The royal Dadiani family's palace and other royal buildings are worth a look-see as well.
10. Visit The Narikala Fortress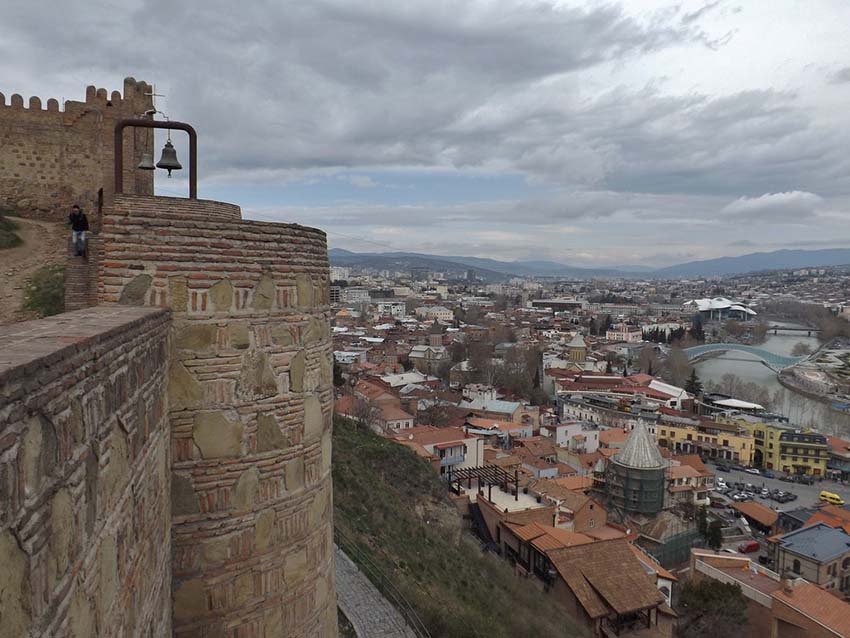 Narikala Fortress is a 4th century fortress located in Tbilisi, the capital city of Georgia. It is mostly made of mud and stone, and parts of it are crumbling but it's still a magnificent example of ancient construction. The Narikala Fortress was built by the ancient Persians, who had invaded and occupied Georgia in the 4th and 5th centuries. Stand on top of a safe part of the fortress and look out at the incredible views of the incandescent Mtkvari River and old Tbilisi.
11. Climb Mount Kazbek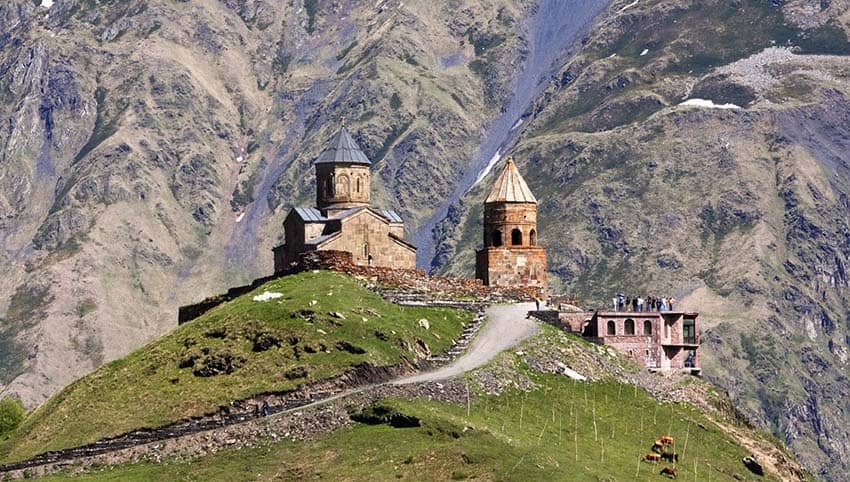 Mount Kazbek is a gorgeous draw to any mountain climbing or hiking enthusiast. A dormant stratovolcano, Kazbek is one of the major mountains in the Caucasus Ranges. This mountain lies on the borders of Georgia's Kazbeki district and Russia's Republic of North Ossetia-Alania. The mountain is rampant with incredible mountainous scenery, all lush forests, waterfalls and incredible rocky landscape. Try and hike up to the top and take in the prize views that'll beguile an entire lifetime of memories.
12. Explore The Cave City Of Uplistsikhe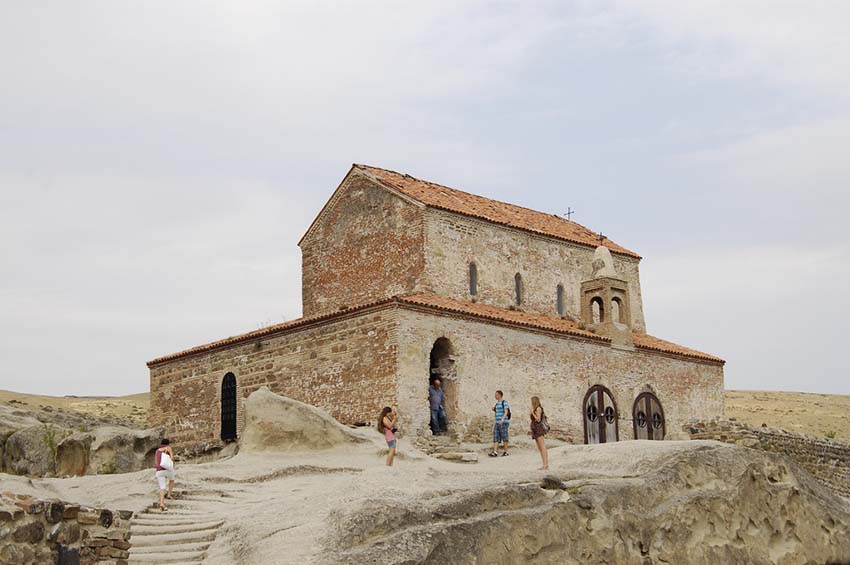 If caving is your thing, then do pay a visit to Uplistsikhe in Georgia. It's known to be an extraordinary cave city, with many complexes of natural caves everywhere. This region was widely inhabited during the early ages of man. Explore natural rock-hewn cellars and tunnels where the ancient cava men lived, loved, worshipped, conducted ritual sacrifices and raised their young.
13. Visit the Gergeti Trinity Church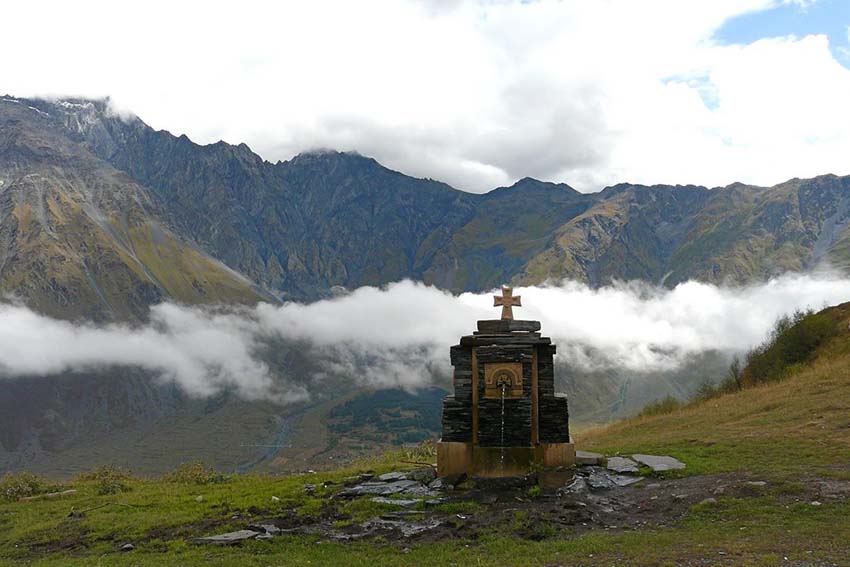 The Gergeti Trinity Church is breathtaking in its conception, execution and beauty. The lovely old church is perched dramatically on a hilltop just below Mount Kazbek, one of the highest mountains in the Caucasus Mountains. When you look at it, you'll marvel at the effort it must have taken to build a church at the height of 2160 meters above sea level. This 14th century has the entire Caucasus Mountain Ranges as its backdrop, which makes for a remarkable picture. Needless to say, the Gergeti Trinity Church is one of the main tourist attractions in Georgia.
14. Explore The Charming Ambience Of Tbilisi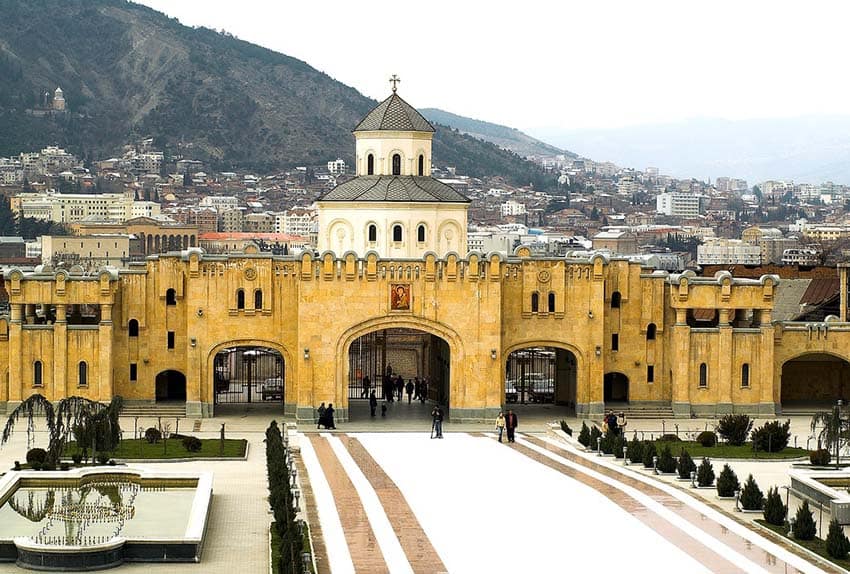 Tbilisi is one of the best cities to visit in Georgia. Here you can get an excellent glimpse of Georgia's culture, architecture, history, art, music and cuisine. Tbilisi is the modern capital city of Georgia, bustling with energy and movement. Somehow the modern-day energy does not clash with the laid-back, idyllic charm of the old rustic houses, traditional markets, quaint cobblestone alleys, old gardens and charming courtyards. There are ancient fortresses in Tbilisi, along with quaintly lovely churches, exotic markets and an energy that's old and new at the same time.
15. Check Out The Amazing Vardzia Monastery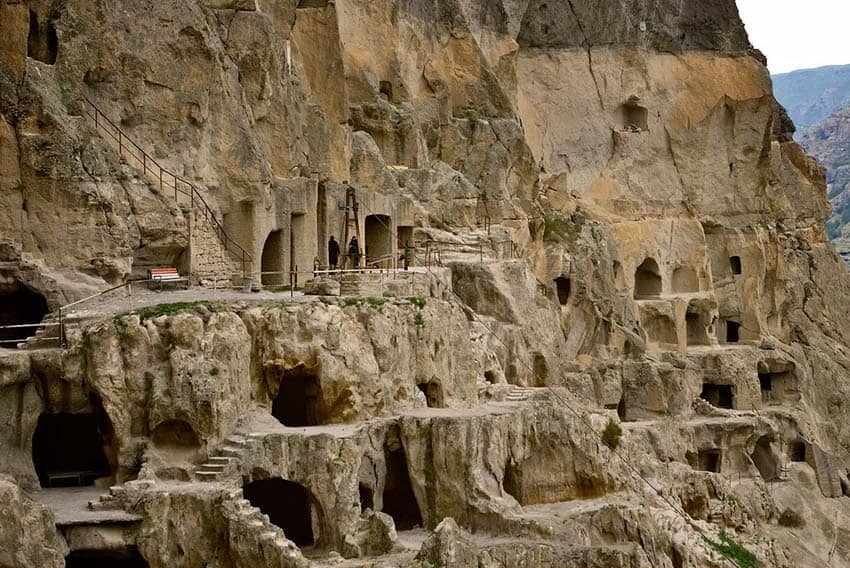 Vardzia is a truly mesmeric 12th century cave monastery that's tucked away deep into the Erusheli Mountain of the Caucasus Mountain Ranges. You will need to climb up a steep gradient for about 30 minutes to access the entrance to this monastery. A network of mysterious tunnels takes you into inner sanctums that were once used to hide the monastery's wealth from marauding barbarians. It's a wonderful place to visit if you're a lover of history and don't mind a bit of adventure on the way.
16. Visit the Bodbe Monastery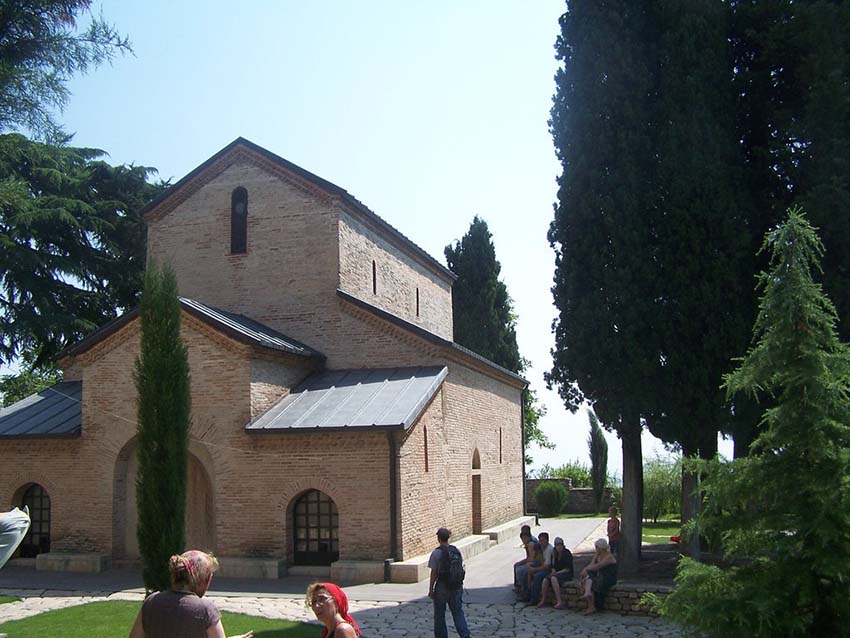 Check out some ancient Georgian architecture in the wine country of Sighnaghi. The Bodbe Monastery contains the mortal remains of St. Nino, one of the oldest and most important saints of the Georgian Orthodox Church. The word 'nino' has since been used to refer to a child, and is often used as girl's name in Georgia.
17. Visit The Mingrelian Royal Capital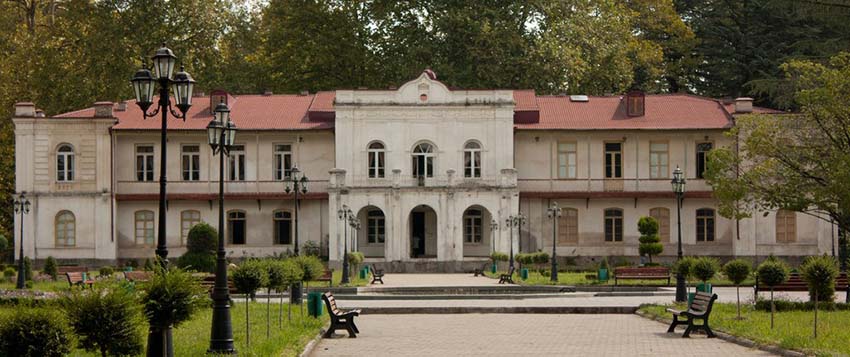 The Mingrelian royal family, called the Dadiani dynasty, made the city of Zugdidi their capital for centuries. This is a lovely city that's nestled cozily at the foot of the Caucasus. The royal family built two royal palaces, which are splendid sights surrounded by wooded forests and landscaped lawns. The Mingrelian royal family had connections with Napoleon's court, and soldiers belonging to this region even fought with Napoleon's army against Russia.
18. The Borjomi National Park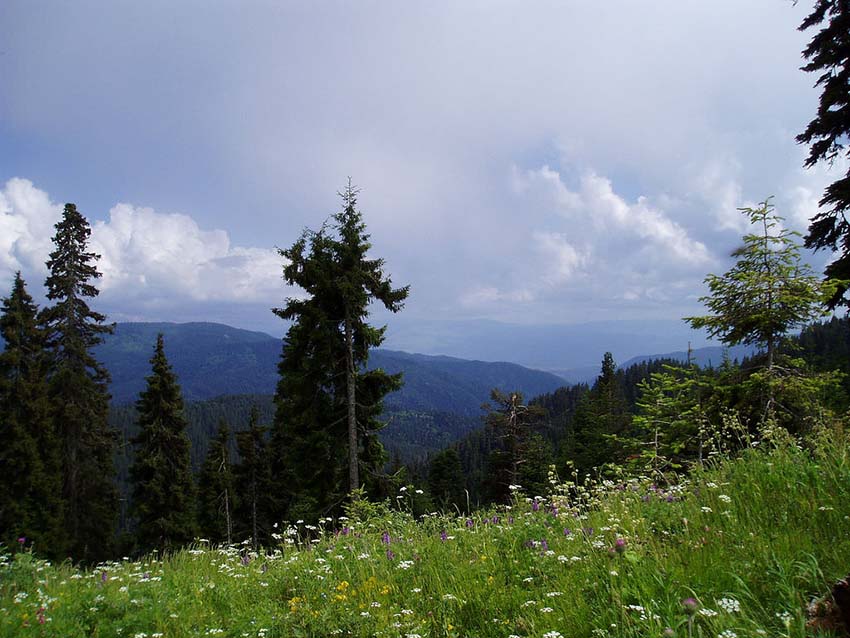 The Borjomi National Park is the highlight of a trip to Borjomi, apart from their most excellent mineral spring water. The hills that surround the park offer stunning natural landscape. There are lush forests, small springs, flowering shrubs and vast expanses of green grass. It is a lovely place to linger and appreciate some local flora and fauna.
Conclusion
Georgia is fresh as dew and as untried as new grapes when it comes to travel destinations. This hidden gem of place in the vast continent of Europe has been getting a lot of coverage in the tourism annals since the political riots that took place in 2008. People who have traveled to Georgia navigating to distant towns feel that they've discovered a country that won't pale after a few visits. Georgia's winters can be harsh, but the summers are usually mild and very pleasant. Visit this incredible country soon and add it to your list of travel accomplishments.