Chiang Mai is a refreshing and utterly different destination from Thailand's buzzing metropolitans and famous beaches – this serene township set on mountainous landscapes in north of Thailand is a humble abode of verdant mountains and green scenic countryside offering varied choices in nature explorations. Much smaller and relaxed as compared to other towns in Thailand, it retains its glorious past and is culturally and spiritually enriched which is reflected in its ancient structures and many grand temples. A visit to Chiang Mai lets you admire the distinct beauty Thailand has to offer to its visitors. On your trip to Chiang Mai, check out these places ideal to be included for a great time.
Doi Suthep-Pui National Park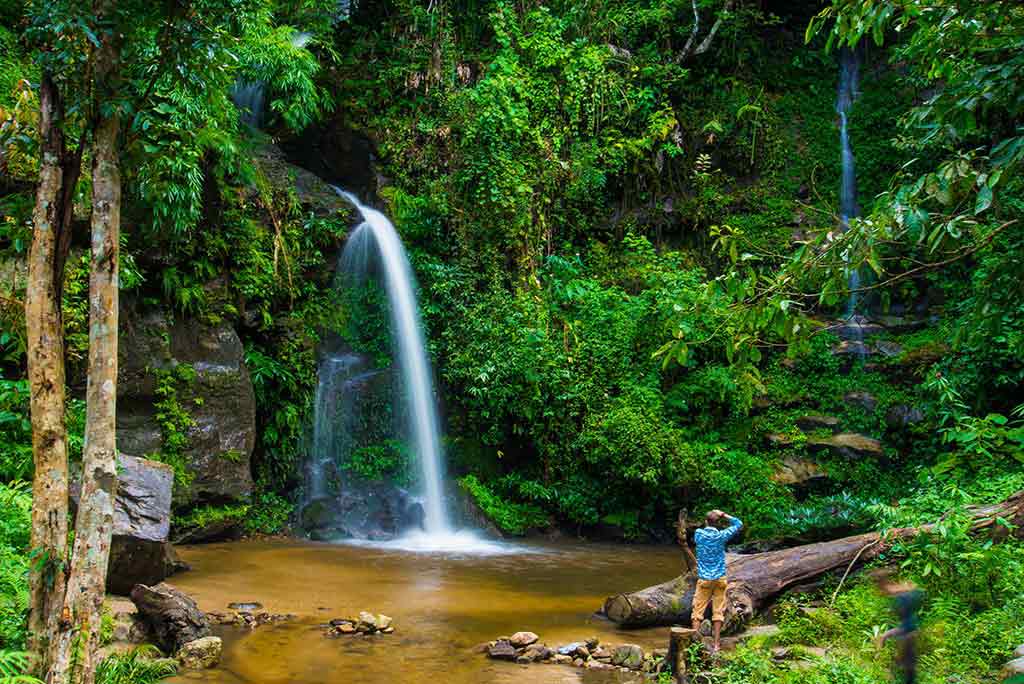 A domineering landscape in Chiang Mai is the Doi Suthep, the majestic mountain peak that represent the Doi Suthep – Pui National Park. Overlooking the town, this national park is a must visit if you are on a trip to Chiang Mai. Providing commanding panoramas of the city, Doi Suthep –Pui National Park is a nature sanctuary shrouded in thick evergreen forests and mountains, and is home to one of Chiang Mai's famous shrine – Wat Phra That Doi Suthep. Other popular attractions are the Mae Sa Falls, Huay Kaew Falls and Monthathan Falls. Visitors can explore the variety of wildlife inhabited here like the rare Crocodile Salamander and partake in activities such as walking tours, cycling, hiking, camping and star gazing.
13 Reasons to Pack Your Bags for Thailand
Wat Phra That Doi Suthep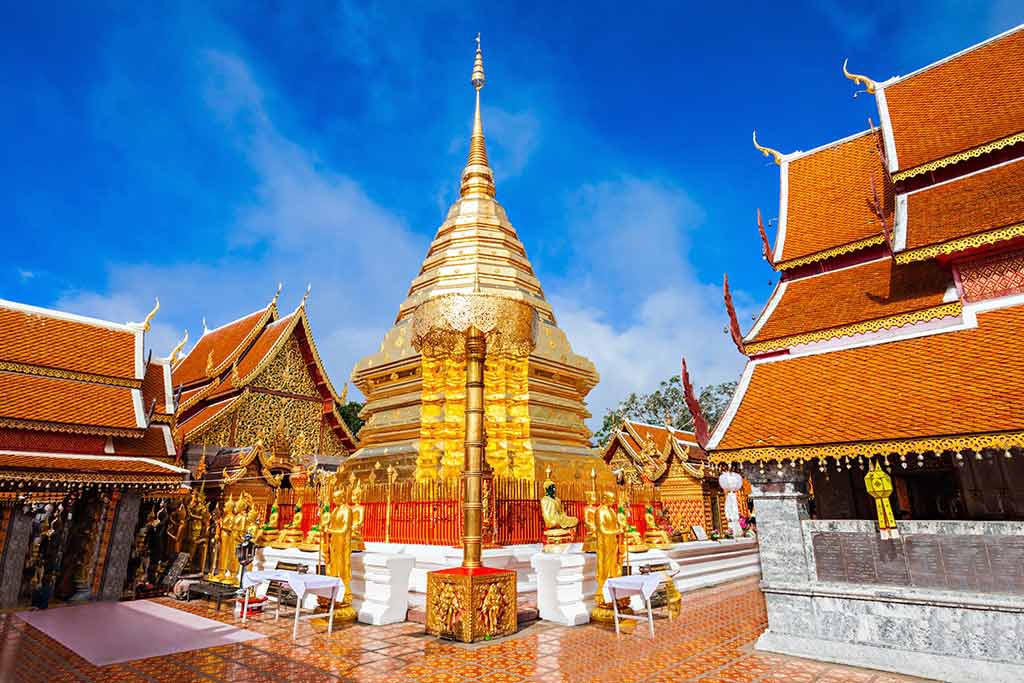 Though the verdant natural beauty mesmerizes visitors, another main reason for the Doi Suthep mountains to be popular among tourists is the Wat Phra That Doi Suthep. This esteemed temple is one among Thailand's holiest Buddhist sites and a major pilgrimage destination especially during Buddhist holidays. This awe inspiring temple is an impressive example of beautiful Thai architecture with the grandeur of the gleaming golden Chedi that dominates the scenery. A walking tour around the temple area lets you discover various temples within the complex and impressive murals significant in Thai culture. The long temple promenade is an apt place to capture the city's spectacular vista.
Chiang Mai Night Safari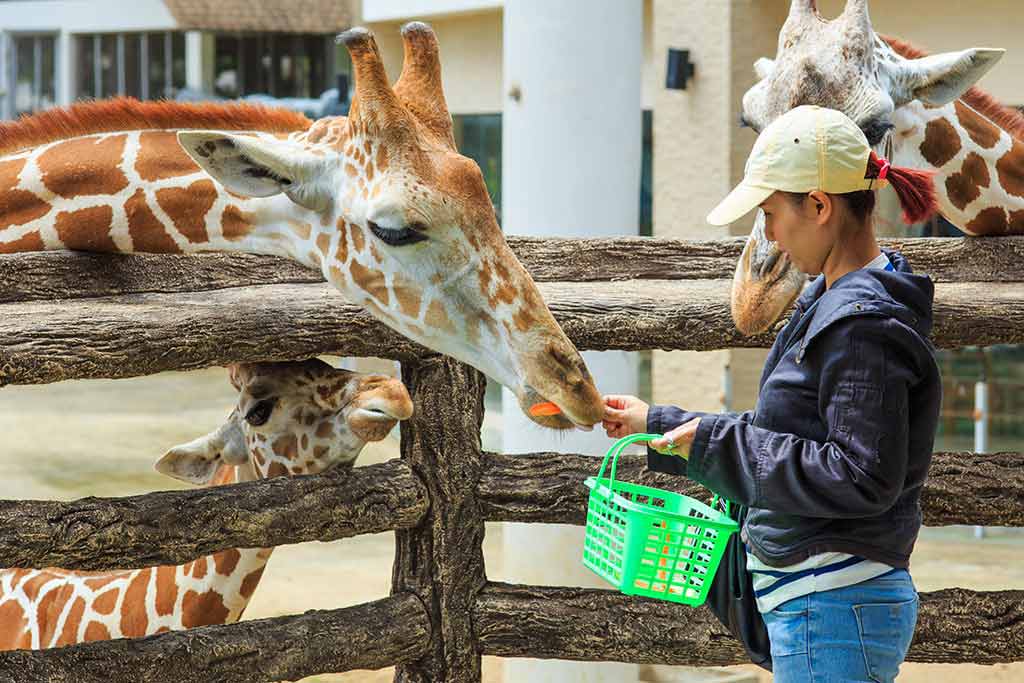 Inspired by the Singapore Night Safari, Chiang Mai has its own version of the famous attraction. Divided into three zones, Chiang Mai Night Safari provides its visitors the thrill of experiencing the wildlife at night. The Savanna Safari sets the experience of exploring African Savannas-a lake stretch occupied by herbivores animals like antelopes, deers, zebras, giraffes, elephants. The Predator Prowl is where the beasts and some of the world's fiercest predators like the Bengal tiger, pumas, lions, and hyenas can be encountered on a tram ride. Jaguar Trail is a nature trail through lush jungles that lets you come across exotic wilderness such as flamingos, tortoises, emus, white-striped tigers and jaguars. After the safaris, get a chance to cuddle and pet a tiger cub, and hand feed wild animals. Later, refresh yourself and splash around in a dancing giant circular fountain at Fun Plaza and enjoy a stunning musical performance and laser light show.
Elephant Nature Park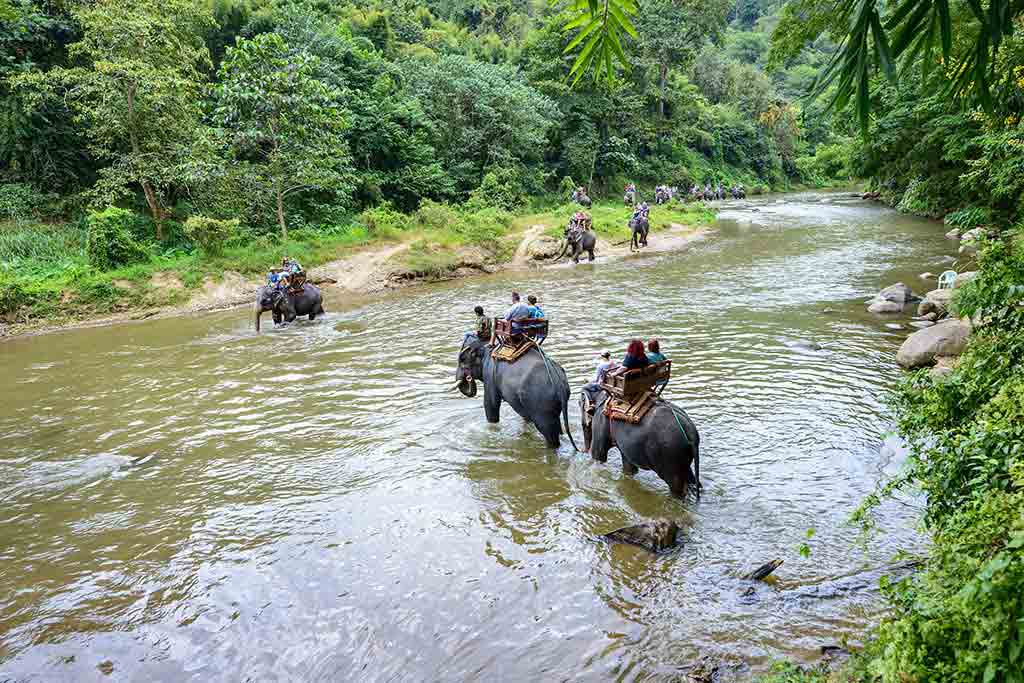 Thailand is the land of Elephants and a major concentration can be found in Chiang Mai. Many of these elephants are put up in Elephant camps which are popular among tourists, though they are not fairly treated and are overworked. The Elephant Nature Park is an institution that pledges to conserve and treat elephants well, and is home mostly to rescued elephants. Visitors can spend time exploring the park, walk around these gentle giants and volunteer at the nature park involving themselves in feeding and bathing them in the river.
Wat Chedi Luang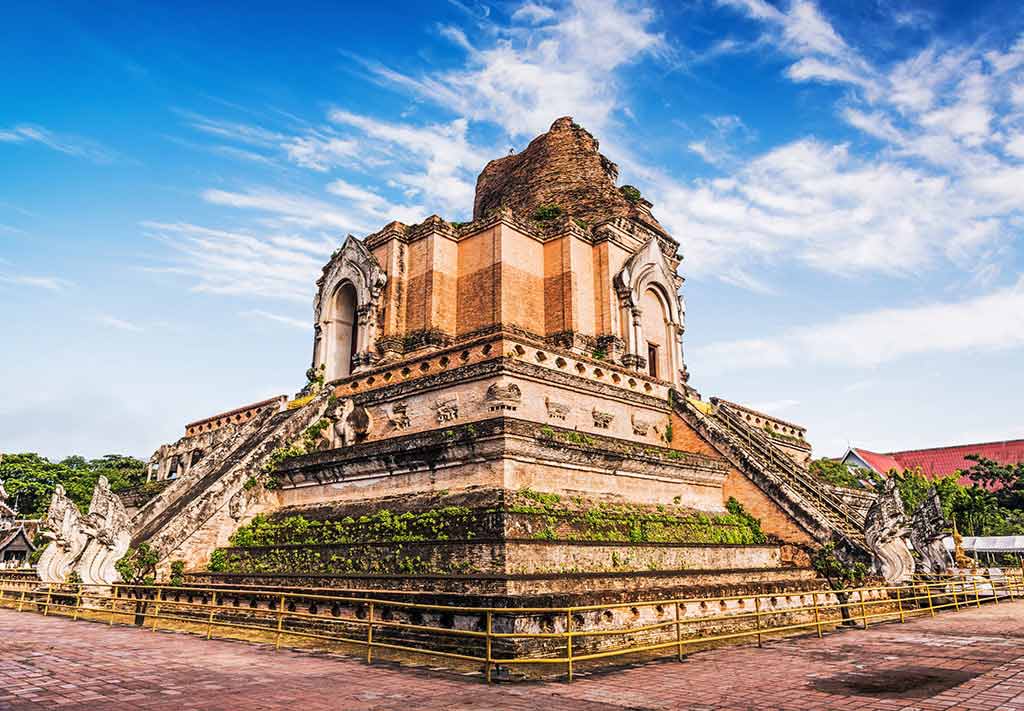 Another example of grand oriental architecture, the Wat Chedi Luang is a restored ancient relic temple that consists of a massive Chedi and several impressive structures of great cultural significance. Known as one of the oldest temples in Thailand, Wat Chedi Luang is located close to the centre of the old walled part of Chiang Mai.
Wiang Kum Kam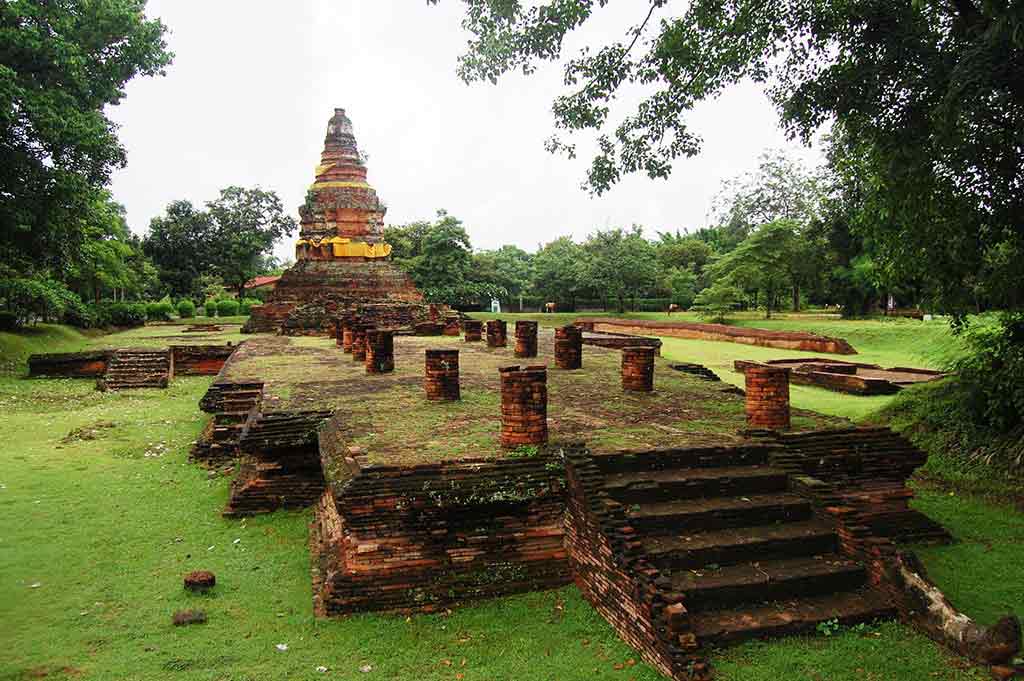 A historic settlement and archaeological site set in south of Chiang Mai along the Ping River, Wiang Kum Kam is an ancient town from the Lanna period discovered and restored for visitors to get a glimpse of ancient Chiang Mai. Explore the antique treasures of bygone eras in the ruins such as stone tablets with inscriptions, sculptures and earthenware. Other popular attractions are Wat Chedi Liam – a Burmese styled temple, Wat Chang Kham and Cultural and Local Wisdom Learning Centre.
Chiang Mai Gate Market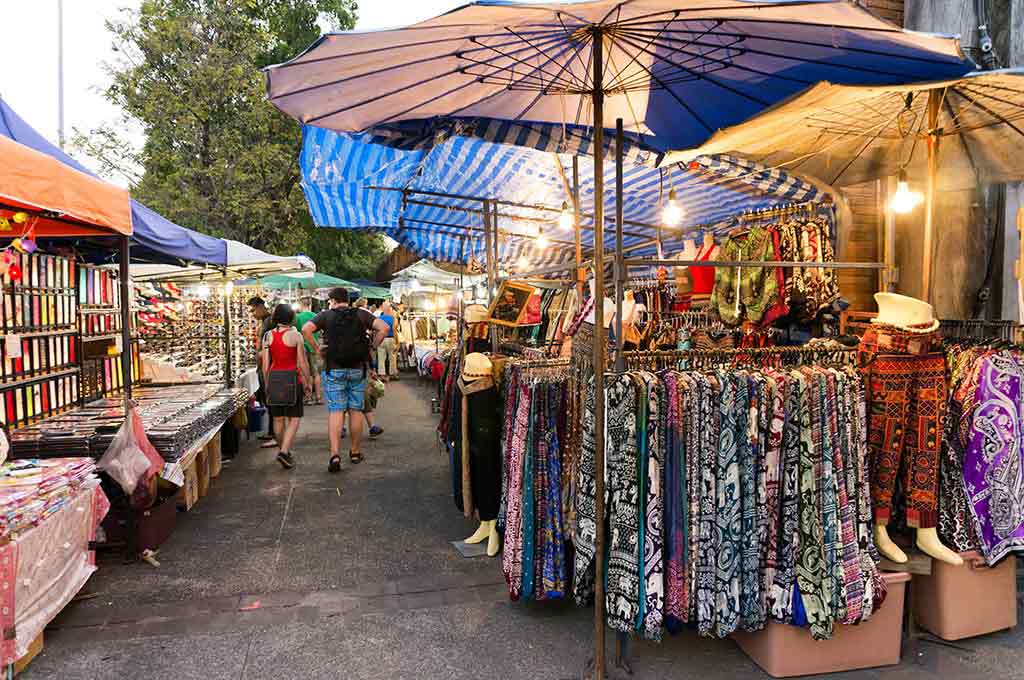 Chiang Mai is not only famous for its nature and historic places; it also offers its guests great shopping experiences in its varied and colorful markets. Chiang Mai has hundreds of markets scattered around, perhaps more than any other city in Thailand. Out of these, one of the most famous markets is the Chiang Mai Gate Market – perfect place to be for food lovers to enjoy the best street food in Chiang Mai. Right from spicy grilled meats to the famous mango and sticky rice, a ravishing range of food delights will make your taste buds tingle.
Saturday and Sunday Walking Street Markets


Wondering where to go street shopping and get the best stuff at cheap prices. The weekend walking street markets are your best choice. The Sunday Walking Street is through the Rachadamnoen Road where vendors sell handmade lamps, collectibles, jewelry, clothes, local handicrafts and food stalls offering a fusion of Asian food – from Pad Thai to luscious Japanese sushi. The Saturday Walking Street Market is slightly calmer and less busy than the Sunday market. Located at Wulai Street just behind the Chiang Mai main gate, the place bursts with vivacity and colors as you stroll through stalls selling handcrafted textiles, handicrafts and art at cheap prices. Offering a diverse range of merchandises and delicious food, these markets are a great way to wander, shop, and eat.
Chiang Mai Zoo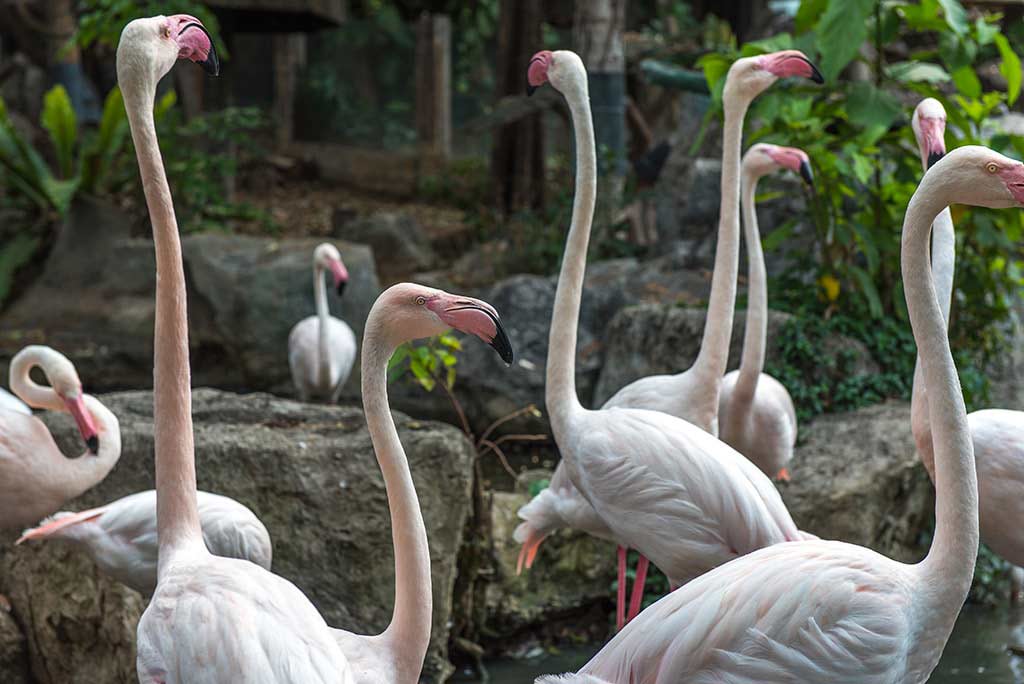 A verdant landscaped city with equally rich wildlife, Chiang Mai Zoo vows to conserve and maintain its diverse wilderness. Started as a small rescue center which soon emerged into a wildlife welfare shelter and gradually into one of Chiang Mai's most visited recreation attraction, the Chiang Mai Zoo provides shelter to hundreds of animals and aquatic species. Sprawled across acres of land filled with indigenous and diverse wildlife, visitors can come close to exotic animals, and even learn about them. Stroll around the different zones in the zoo, marvel at the enigmatic aquatic life at the aquarium and have some chilling fun at the snow dome.
This fantastic mountainous town in northern Thailand exults nature's opulent beauty and retains its historic heritage admirably. Dotted with ancient ruins, hundreds of ornate temples and fascinating hilly landscapes, its sober local life, spirituality and verve of many flourishing markets takes you through an experience much calmer and milder than the prominent hotspots in Thailand. A natural and cultural destination offering unlimited possibilities to explore, visitors will have tough time choosing the best things to do in Chiang Mai. Chiang Mai attractions – be it temple visits, sampling street food or trekking adventures, the activities are way more relaxed to visit and allures all types of travelers for an idyllic slow paced vacation in Thailand.