Dubai has some of the most splendid hotels; the locales are stunning, and the interiors are beyond description. The furnishings are plush and it's all bespoke luxury everywhere. If all that weren't enough, many of the top hotels in Dubai have suites complete with private swimming pools and jacuzzis. It's luxury that's written in gold. Come with us as we take you on a journey of discovery, into the land of hedonistic sensualism and the kingdom of bespoke luxury, in the land of glittering gold, Dubai.
1. Jumeirah Malakiya Villas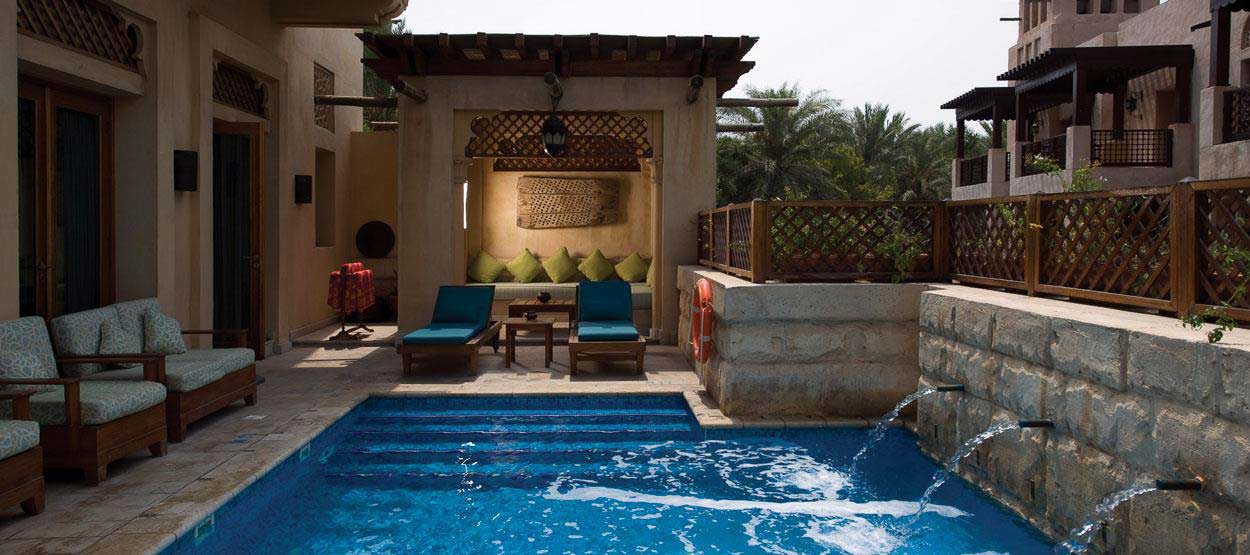 This luxury hotel is located within Madinat Jumeirah, and offers one of the most luxurious accommodations in all of Dubai. The Jumeirah Malakiya Villas offers spacious and comfortable private villas instead of guest suites. You have the choice of two and three bedroom villas with complimentary breakfast, private swimming pool, 24-hour private butler service, private access to the Madinat Souk and beach and abras and so much more. Each guest villa includes spacious bedrooms, living spaces, plushy bathrooms, full kitchen, and private terraces with private swimming pool and parking facilities. The guests who stay here are routinely treated like royalty. The lovely azure blue private pool in your suite and the incredible resort spa are more than sufficient to make your stay memorable. This is one of the top Dubai hotels with private pools.
Super Romantic Restaurants in Dubai
2. Sofitel Dubai The Palm Resort & Spa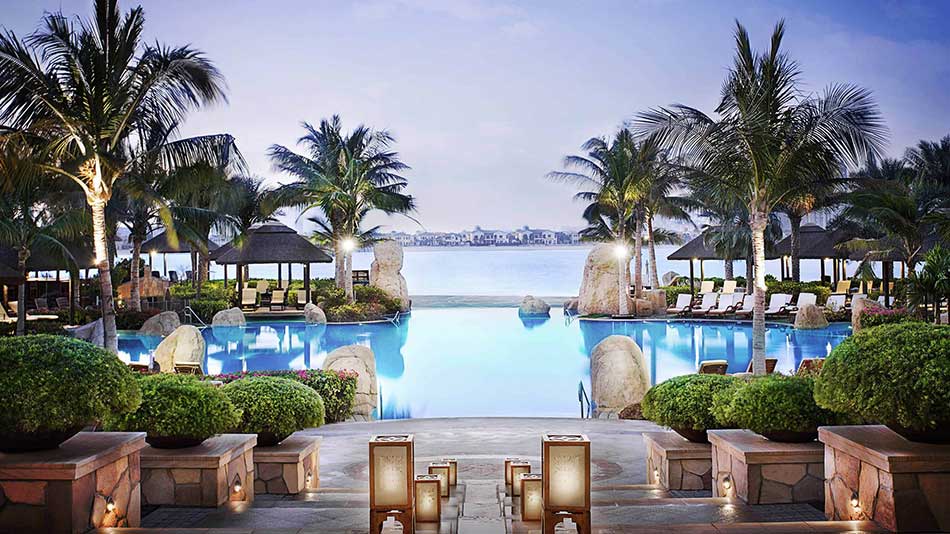 This luxurious 5-Star resort is done in such a way that it looks like it's standing on a natural island. It's a serene seaside resort, designed in the Polynesian style with sandstone walls with natural light pouring in. The resort's famous spa is just the place to rejuvenate your spirits. The top-tier rooms have private pools, and there also a pool overlooking the ocean. If that weren't enough, there are seven world-class restaurants within the campus. If you want Chinese cuisine with an interesting twist, head to Hong Loong. If succulent steak is your preference, head to Porterhouse Steaks. If you hanker after seafood, head to Moana and for international cuisine, head to Manava and Bottega World Café. Fresh salads aplenty are available at Maui Beach restaurant, and Lebanese cuisine is available at Lua.
3. Anantara The Palm Dubai Resort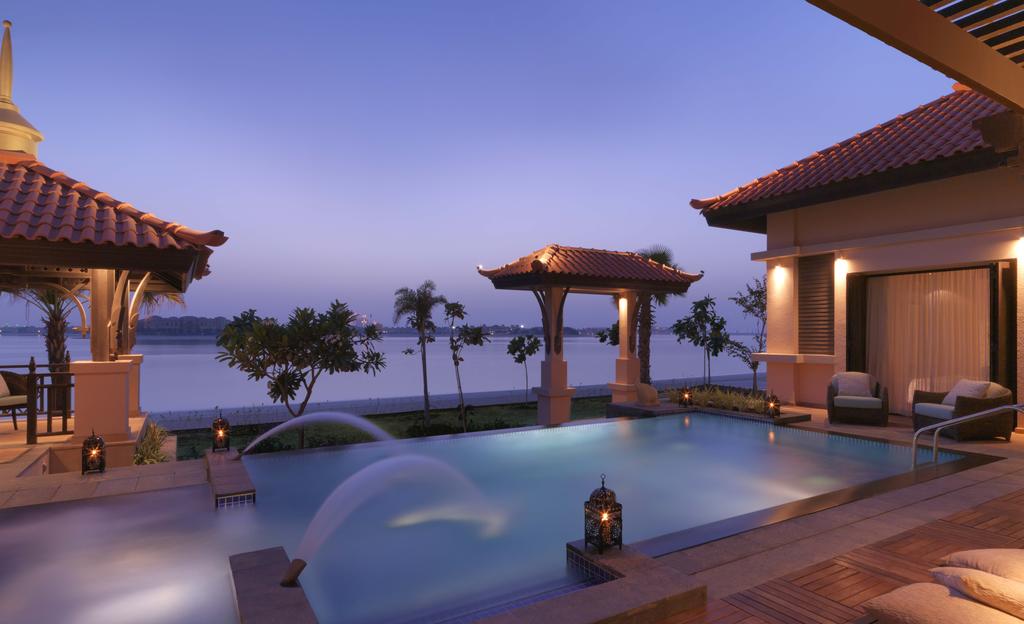 The word Anantara means 'uninterrupted' or 'everlasting'. This ocean side resort spa does complete justice to its name. Anantara is nestled cozily on the east crescent of the iconic Palm Jumeirah. Each guest villa is beautifully designed with a pristine private pool. Here you can enjoy water sports, a great spa, kids and teen clubs and food at four world-class restaurants offering multiple international cuisines such as Arabic, Thai, Chinese, Australian, Vietnamese and Mediterranean. The restaurants have great names – Crescendo, Mekong, Bushman's, and The Beach House. There are two bars as well, offering premium drinks and cocktails – the Mai bar and The Lotus Lounge. Anantara is one of the most luxurious hotels with private pools in Dubai.
4. One & Only The Palm Dubai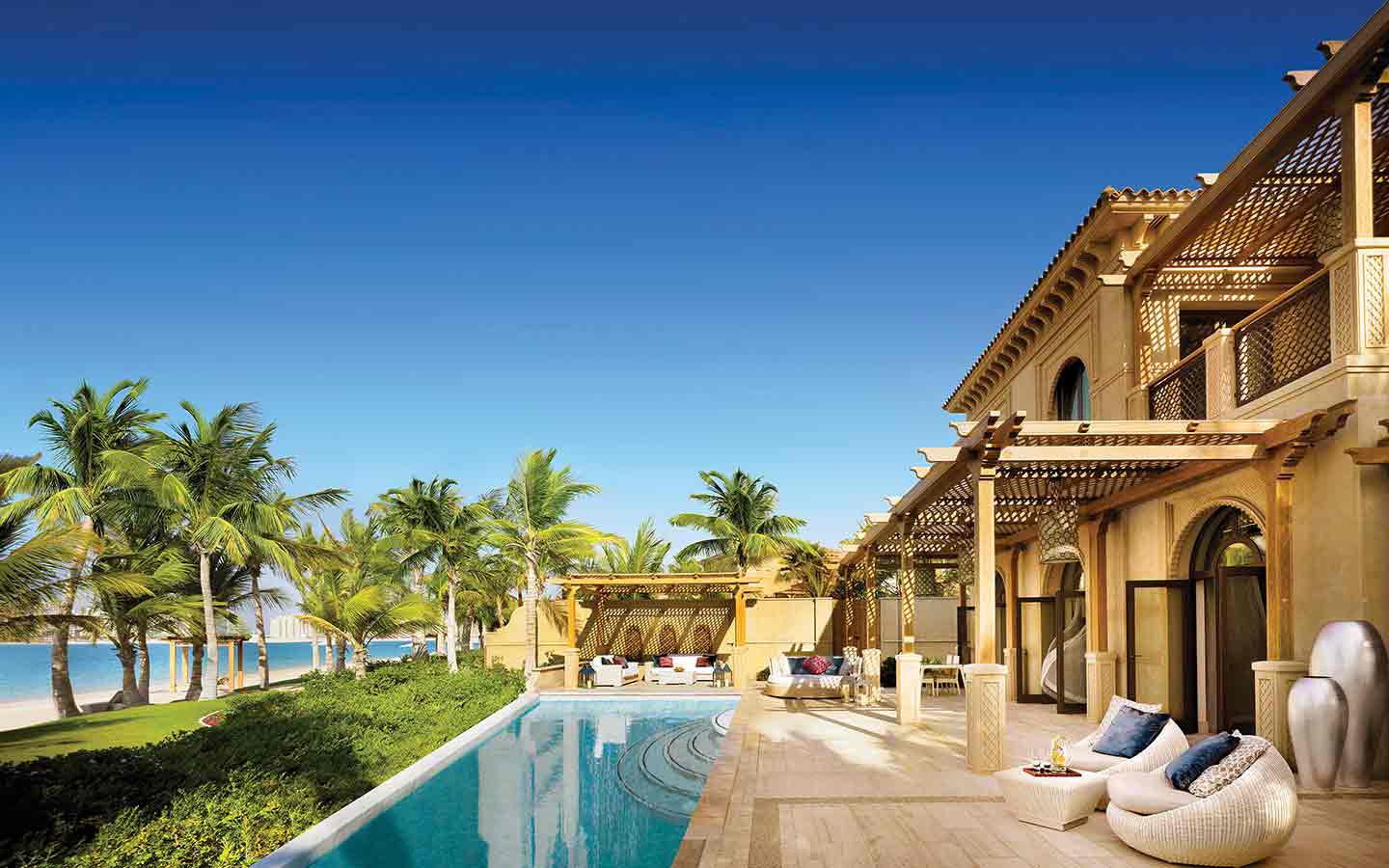 This top hotel is also located on the Palm Jumeirah Islands. It's an unbelievably-luxurious resort that offers myriad activities for its guests such as kayaking, golf, deep sea fishing, sailing, wind surfing, sand skiing, water-skiing, camel riding, overnight desert safaris and dhow dinner cruises. It also offers a fabulous night at the world's richest horse race – the Dubai World Cup. There are seven in-house restaurants where you can indulge your taste buds as much as you want, including the award-winning STAY and ZEST restaurants by Michelin chef Yannick Alleno. Each suite comes with a private beach-side pool. Apart from that, there's access to a private secluded beach, tennis court, private spa, and much more.
5. Al Maha Desert Resort & Spa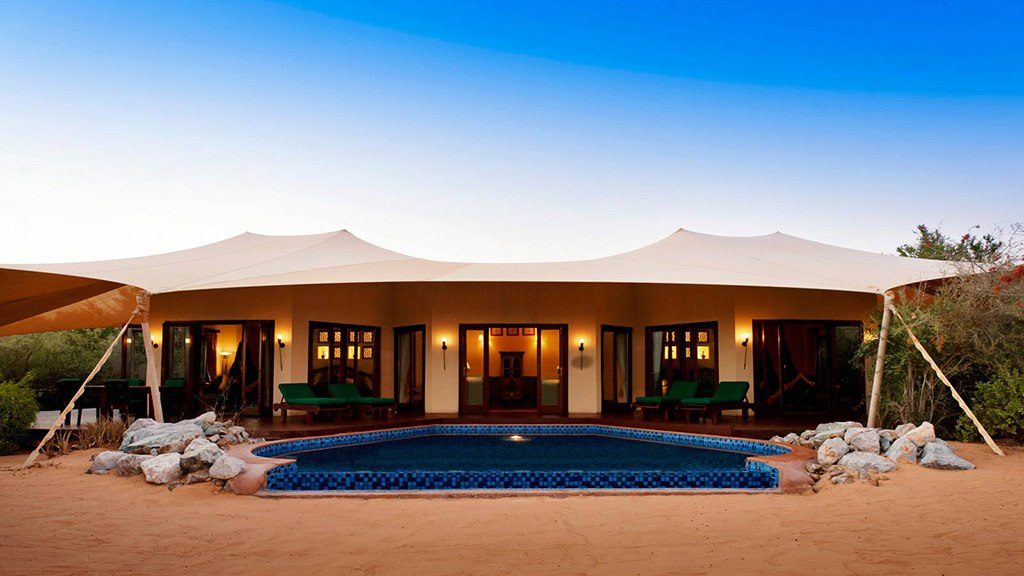 At Al Maha, you can experience the true roots of the Emirati culture. This resort spa is located on the Dubai desert conservation reserve. If you want a stay where you can truly experience the local desert environment with its flora and fauna, you must stay at Al Maha.
Here you can enjoy camel treks, falconry, horse riding, archery and the Ghaf tree walk. A private chef cooks your meals as you relax by your private swimming pool. Al Maha gives you the authentic Dubai experience laced with just the right degree of luxury. Enjoy a desert safari and dining on the dunes at night under the desert skies, and a myriad other desert activities. The Timeless Spa at Al Maha is par excellence; the Al Diwaan fine dining restaurant offers top-tier international dishes that you're going to love.
6. Desert Palm Per Aquum Dubai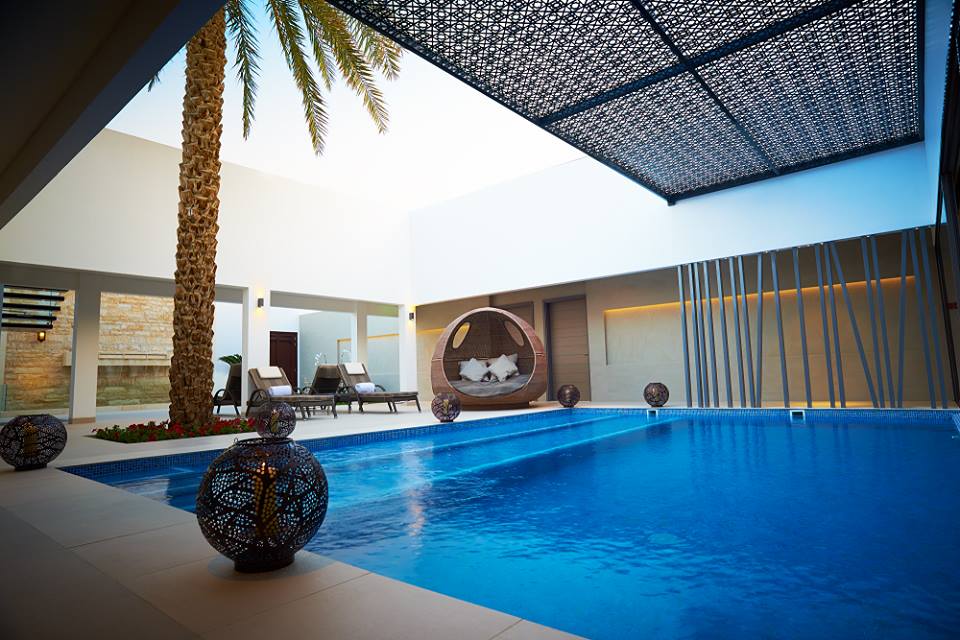 The Desert Palm Per Aquum is built on the 150-acre campus of the Dubai Polo & Equestrian Club. If you're into polo, you need to book this hotel, given that there's a polo ground on the premises. The hotel's design is brilliant, bold and edgy. For example, each suite comes with its own private pool which can be lit according how you're feeling. There are only 38 guest suites here on this vast property which assures you the best views of the vast landscaped grounds and the Dubai skyline. You can enjoy great food at the two award-winning restaurants Rare and Epicure. There's also the LIME Spa, regular horse riding and wine tasting tours, rain showers, plus a wonderful estate exploration and much more.
7. Kempinski Hotel & Residences Palm Jumeirah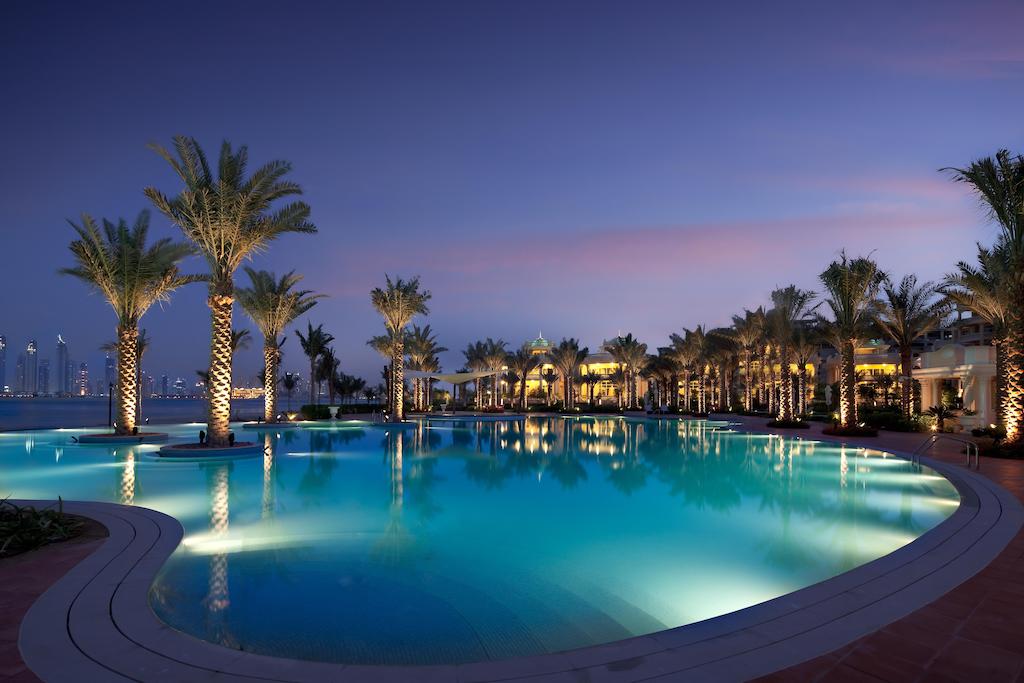 If you want your own private two-bedroom suite with personal butler service and your own private pool, go ahead and book your next at Kempinski Hotel and Residences Palm Jumeirah.
The two bedrooms can be transformed into twin or king rooms. There are two bathrooms to each suite and a guest toilet, plus a fully-equipped kitchen. If there's anything else you need, you have your personal butler to help you out.
The suites are decorated in elegant European style; furnishings are top, both in-suite and outside. All the rooms are on the ground floor so you can walk around on the grounds whenever you feel like it. On your private terrace, you can enjoy the sun in the afternoons and relax in your own private 3×5 meter pool. True luxury.
Conclusion
If you want to experience the height of bespoke luxury minus guilt or apology, you must head to Dubai, where guests are treated like royalty and ordinary luxury is passé. It is one of the most fascinating cities in the world, hailed by the world press as the 'city of the future'.