Before venturing out on your first solo backpacking trip, research your destinations and make lists of everything you might need. Traveling solo is not easy – it can be lonesome, so you must be extremely savvy in order to succeed. We have an essential travel checklist for you, culled from seasoned backpackers and travelers. We hope you find it useful.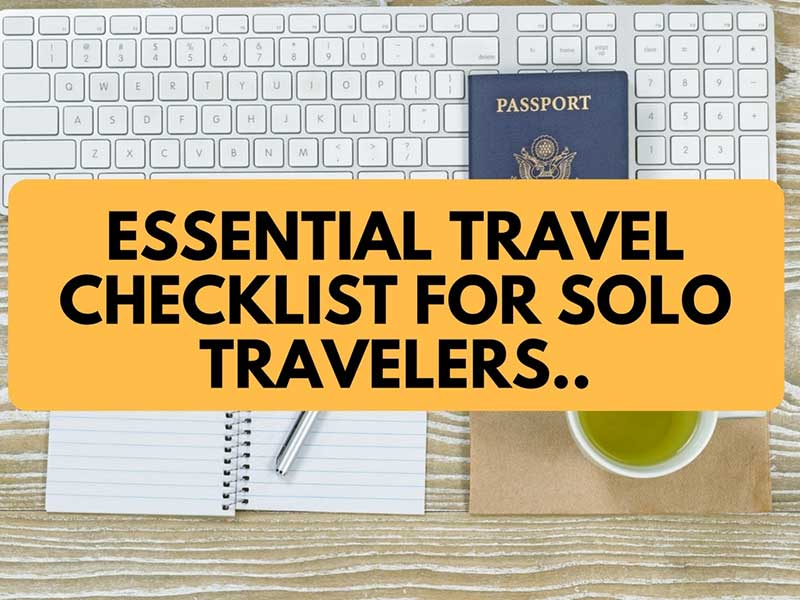 Research Destination(s) Thoroughly
Create a research travel checklist for solo trip with the destination names, planned itinerary, destination customs and mores. Put together a tentative budget and keep some money or credit available, just in case. Embark on a fitness scheme and get yourself in fighting fit condition. Best of luck on your solo backpacking adventure!
Checklist for Destination Research
List local travel norms, health facilities, medical conditions, local customs, do's and don'ts
List mobile networks and Wi-Fi access at destination
Compare near airport hotel fares on TripAdvisor.com, Hostels.com, HostelBookers.com
Look up airport transfer and local transport facilities
Note down tourist centers, organized tours and tour guide info
Check out what essentials can be locally bought
Research custom laws regarding prescription medication
Look up special seasonal discounts or freebies offered at hotels / hostels
Look up affordable eateries near hostels
Find out if you need a local phone connection
What To Do Before You Leave
Make a travel checklist and tick each item off as you complete it before you leave.
Preparing To Leave
Set up an email autoresponder
Pay bills in advance
Empty refrigerator, unplug appliances and turn off taps and heaters
Lock all doors and windows and set up timed light system
Store valuables safely
Make a list of personal essentials
Obtain necessary vaccines and treatments
Arrange for care of pets or kids
Go over bank statements and credit reports
Book two nights' accommodation in advance
Download good apps for budget planning and accounting, world map and compass
Documents And Cards
Check expiry of passport and drivers' license
Travel organizer – passport, visas, tickets, boarding passes, personal ID, travel insurance, health
insurance, hotel or tour info
Wallet or purse – Frequent flyer card(s), hostel membership cards, cash and credit card(s)
Doctor's prescriptions – in carry-on and checked luggage.
Small book with emergency contact information
Pic of Driver's License, Passport and Flight Details on smartphone, printout in luggage
Note contact numbers of hotels / hostels
All documents and cards in carry-on
Pic of hostels on map
Visiting cards with your name and number
Refresh your prescriptions for travel duration
Give itinerary and hostel info to family and friends
What To Pack
Here's a list of what to pack for your travel. Since you'll be traveling solo, take only what you need – leave valuables behind. You can buy most necessary items at your destination.
Clothing And Accessories
Clothing according to local climate and customs
Walking shoes for hiking
Waterproof warm jacket
Sunglasses
Sewing kit/clothing care kit
The Toiletry Bag Basics
TSA-compliant 100ml quantities of necessary toiletries
Hand sanitizer or wet wipes
Toothbrush, toothpaste, floss, mouthwash
Hair brush and hair accessories
Deodorant, Shampoo and conditioner
Sunscreen, Make up, Face wash, Lotion
Lip balm, Personal hygiene items
Mirror, Hair products
Shaving kit and extra razors
Scissors nail clippers, and tweezers (in checked luggage)
First Aid
Bandages, burn ointment, gauze, adhesives
Personal prescriptions
Pain and fever relievers
Thermometer
Cold medicines and throat lozenges
Diarrhea/laxative medicines
Allergy medicines
Antibacterial cream
Multivitamins
Sunburn relief
Insect repellent
Motion sickness pills
Eye drops
Technological Items
Mobile device and charger (the kind that works at destination)
iPad or e-reader
Headphones
Camera, memory card
Electrical converters, adapters and chargers for all devices
Travel journal and pen
Cheap sturdy mobile phone as backup
Travel Packing Guidelines
Get a light backpack built to hold more and weigh less
If hiking, pack a butane lighter, map and compass, candle, ground insulation, extra clothing, extra water, first aid kit, whistle, knife, tarp for shelter, headlamp or flashlight
Keep necessary toiletries in carry-on and in checkin luggage
Pack duct tape to repair backpack if needed
What To Do When You Arrive
When you arrive, maximize every minute you have to experience your destination.
Write down hostel information and contact info of other travelers in book
Make daily itineraries of sights and things to do
Draw up a daily spending budget so you won't go overboard
Get to know hotel staff
Confirm amenities and check for freebies
Check for organized tours and tour guides
Look up charging points for tech devices.
Safety Precautions
Solo travel can be dicey, whether you're male or female. For women, the dangers are more apparent. It's best to make a list of necessary safety precautions before leaving. Make this list after studying blogs by other travelers – you'll soon find out how safe your planned destinations are and what precautions to take.
Checklist for Safety Precautions
Don't tell strangers where you're staying
Don't leave drinks unattended
Obtain a local guidebook
See if you can join up other travelers for sightseeing
Appear confident in public; don't let locals know you're confused
Learn some form of martial art if possible to defend yourself
Write down the numbers for all local emergency services
Don't wander off alone away from crowded places
Always check if you're being followed when alone
Be wary of pickpockets in outdoor markets
Keep your money in your front pockets, not back
Talk to someone next to you when you're out so you don't seem alone
Keep your cash, cards and passport in a money belt under your clothing
Conclusion
Travel is exciting, especially when you decide to go solo! Make all the checklists in the world and follow them, but don't forget to be spontaneous at times and enjoy yourself. Always keep spare cash hidden in your luggage, just in case. Keep valuables close to your body, so they don't get lost.