The Els Club is one of the most prestigious developments set within Dubai Sports City, sprawling on the 50 million square feet of Dubailand Development. A noteworthy aspect of this club is its desert style golf facility, which holds the distinction of being the first golf course designed by the world renowned golfer, Ernie Els in the Middle East.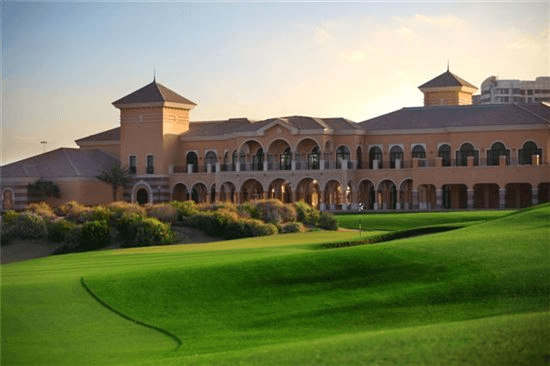 Golf Course
Opened in 2008, the Els Golf Course has now set a new yardstick for playing golf in the emirate, with its unique layout delivering ultimate in golf experience. In fact, it's not a wonder that Links Magazine ranked it as the Best New International Course in 2009. Perched on about two acres of stunning desert slopes, it comprises flawless fairways and greens, along with four sets of tees that are tough even for the world's best golfers. With that being said, it also caters to novice golfers. Adjacent to the club is Butch Harmon School of Golf that provides most advanced facilities to enhance your golf skills.
Clubhouse
Spread over an area of 60,000 square feet, Els Club is especially noted for its Mediterranean style clubhouse replete with a host of facilities, such as a private lounge and up to date meeting and conference facilities. Equally worth mentioning is its dining choices like The Big Easy that is famed for its steak delicacies.
Etiquettes
To gain entry to the club, guests can check in through the professional shop. There are golf butlers to help you find the club's facilities including lounge, restaurant, and locker rooms. Speaking of dress code, golfers are required to wear golf shirts, along with trousers or Bermuda style trousers. Another requisite while playing golf is to use soft spike instead of metal spike. This, in turn, will aid to keep up the quality of greens as well as golf environment.
Events
With beautiful natural vistas at its backdrop, Els Club is not just for golfers, and also serves as an amazing spot to hold parties, corporate events, meetings, conferences, and product launches. Aside from comprehensive event management services, the club also bespoke packages to suit your unique requirements.
Membership
Els Club offers different types of membership programs to make most of the club facilities, such as the Els Club Membership, the Els Club Corporate Membership, and the Els Club International Membership. Depending on your preferred program, the annual fee ranges from AED 10,000 to AED 34,000. From the use of golf cart comprising GPS, tees and towels to enjoying discounts by way of one complimentary tuition session at the Butch Harmon School of Golf, 20% discount on food and beverages and 10% discount on golf shop, availing of club membership will provide you with a number of benefits.