If you love the spectacular drama, thrilling actions, exciting music, and entertaining dance moves woven around the legendary Hindi blockbusters, the recently opened Bollywood Parks Dubai should be definitely on your bucketlist of newest Dubai attractions. Located in Jebel Ali, Bollywood Parks Dubai is one of the key attractions that form part of the massive 25 million square feet Dubai Parks and Resorts, which also includes two other theme parks: the Hollywood inspired Motiongate Dubai and Legoland Dubai plus a Legoland Waterpark, Riverland Dubai, and the Polynesian-Themed Lapita Resort.
Creatively blending the quintessential Bollywood movie watching experience with the super effect theme park attractions, each of the five zones of this mega entertainment project is totally extraordinary, as it's the only authentic theme park in the world, exclusively dedicated to Bollywood, and of course, the greatest fans of Bollywood movies. So come and see the magic of your favorite Hindi movies coming to life in Bollywood Parks Dubai! Here, we round up some of the astonishing facts as well as the can't-miss attractions and experiences in the varied sections of this one-of-a-kind park.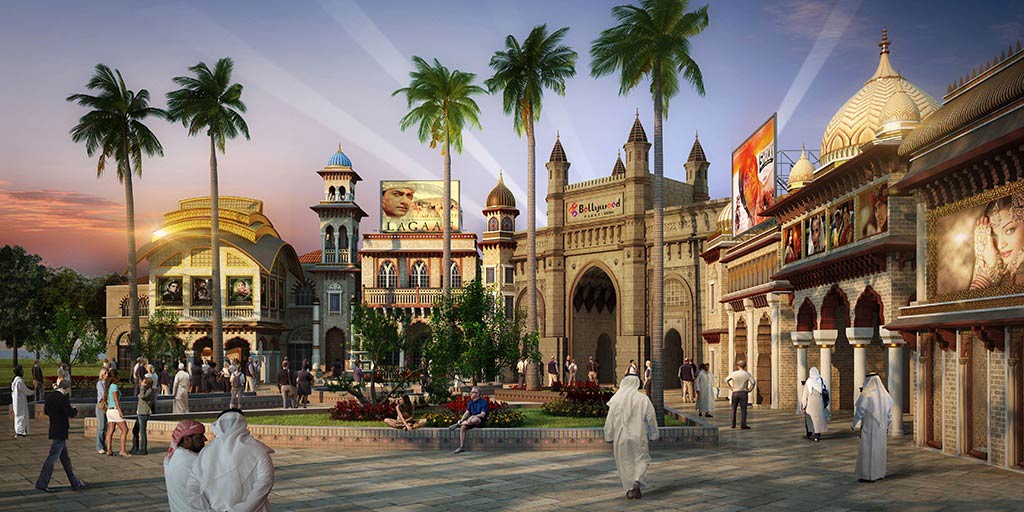 Amazing Quick Facts
Bollywood, based in India's entertainment capital Mumbai, represents Hindi movie industry.
Bollywood movies have billions of fans from not only India but also from all over the globe.
Bollywood Parks Dubai is the world's first park completely themed around Bollywood movies.
Bollywood Parks has attractions based on some of the most popular movies as well as the greatest stars in the industry, such as Aamir Khan, Shahrukh Khan, Salman Khan, Hrithik Roshan etc.
Actions, shows and colorful entertainment displayed in the park are mainly on the basis of nine Bollywood blockbusters: Dabangg, Don, Lagaan, Mughal-e-Azam, Krrish, Ra.One, Sholay, Zindagi Na Milegi Dobara, and Rock On!!
Bollywood Park is a 1.7 million square facility, with five zones.
30 live shows will be presented in its six lavish stages: Crossroads, Rangmanch, Rajmahal Theater, Stars on Steps, Mumbai Express, and Rock On!!
Beyond Bollywood-inspired attractions and entertainment, the park provides some incredible retail and dining venues, including Mughal-e-Azam Shahi Dining, Rock On, Victoria Station, Spicy Dhaba, Jumbo Café, Studio Canteen, and Juhu Juice Bus.
Five Zones & Main Attractions to look out for in Each Zone
1.Bollywood Boulevard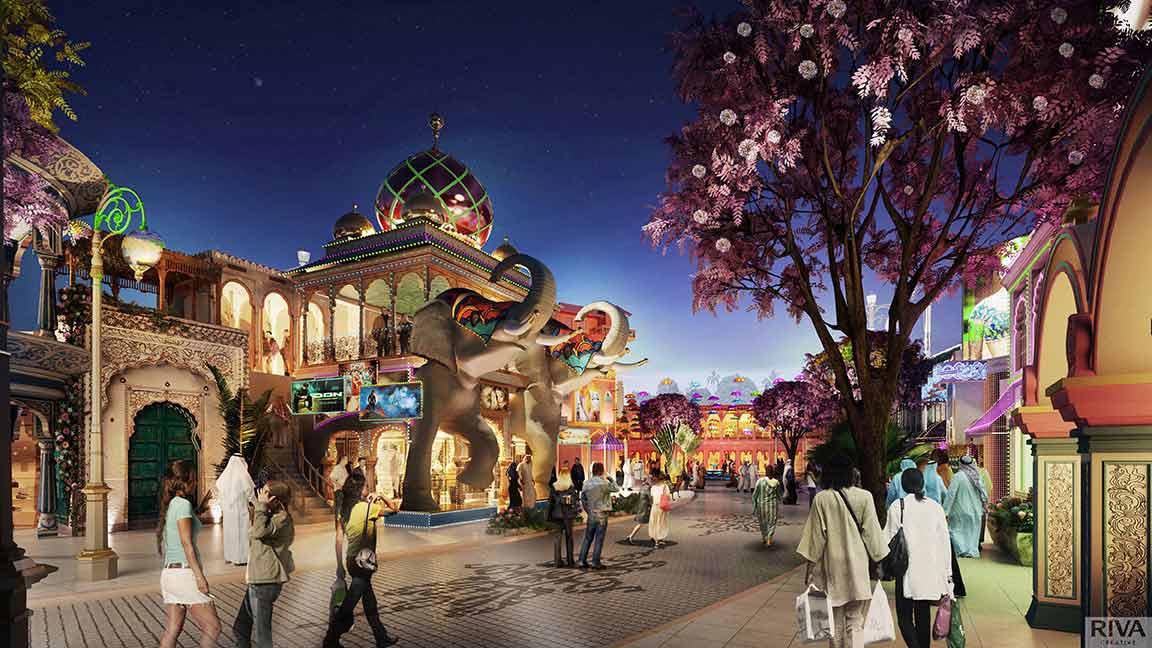 Bollywood Boulevard serves as the gateway to Bollywood Parks Dubai and provides access to all other four zones. What makes this zone special is its inventive entertainment element complemented by marvelous Bollywood themed attractions as well as unique street-like dining venues.
Must-Experiences
Crossroads: The enchanting music and dance performances conducted here will take you past the Bollywood movies of even golden era.
Cinemagic: If you've ever wished to know about the fascinating processes that go behind the conceptualization and production of a Bollywood movie, Cinemagic provides you this unique chance. Another highlight is a live performance centered on the movie, Zindagi Na Milegi Dobara.
Cinema Circle: Rain has been an indispensable segment of most sensational Hindi songs. With Cinema Circle, get ready to be swept away into a captivating rain experience. And the bonus is that you can enjoy it without getting wet 
Rock On: Craving for some quick bite? Then why not spice it up with pure Bollywood entertainment. Yes, the name of this restaurant is not accidental; it absolutely lives up to its name, as it enthralls you with a live band that immaculately replicates the smash hit movie, Rock On!
Desi Emporium: It is where you can shop some unique and inimitable souvenirs and movie themed merchandises.
2. Royal Plaza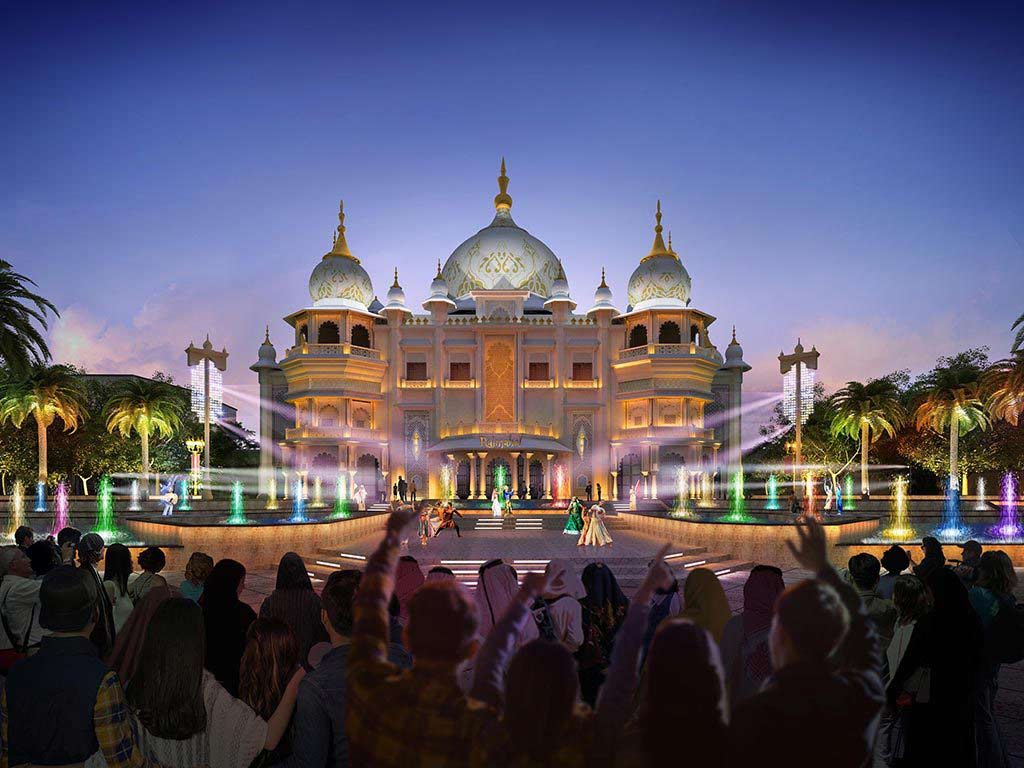 This zone welcomes you to feel the extravagance of Bollywood movies in high definition, thanks to its delightful sections like Stars on Steps wherein you'll be entertained with striking performances in accompaniment to classic Bollywood music.
Must Experiences
Rajmahal Theater: As one of the most significant attractions of the park itself, the 800-seater Rajmahal Theater will leave you spellbound, with its unique opera style music show, Jaan-e-Jigar.
Mughal E Azam: Inspired by the classical Hindi movie, Mughal E Azam, this epic dining venue serving Awadhi specialties is sure to create a culinary experience like no other, boasting a setting that dates back to the opulent Mughal era.
3. Mumbai Chowk

True to its name, this dynamic section throws you into the authentic spirit of visiting Mumbai's original hub of dining and leisure, Mumbai Chowk.
Must Experiences
Don: The Chase: Based on one of Bollywood's all-time favorite movies – Don, this signature tunnel ride is presented in hyper realistic 3D effect, promising an immersive experience with exhilarating twists and turns as you chase the mafia boss, Don.
Mumbai Express: This train rooftop stage well recreates the music and dance sequences mesmerizingly picturized on moving trains, which have always been one of the most iconic images of Bollywood movies.
Victoria Station: It's a restaurant that resembles Mumbai's popular Chhatrapati Shivaji Terminus, previously known as Victoria Terminus. Savor authentic Maharashtrian delicacies within a distinct décor evocative of a train compartment.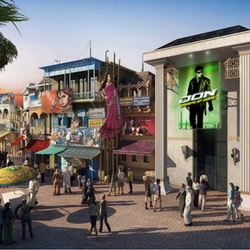 4. Rustic Ravine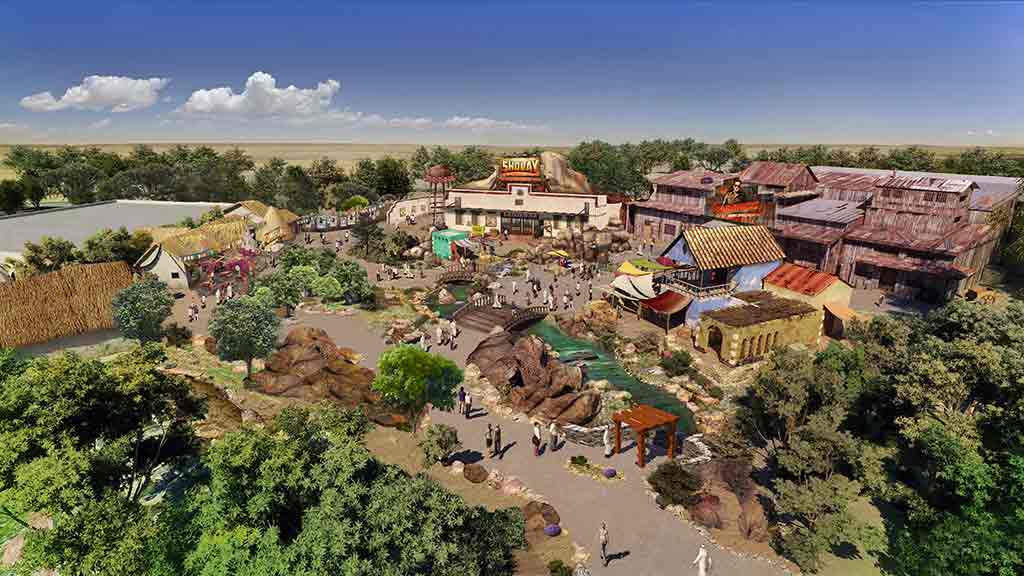 Reminiscing vibrant Indian village scene, Rustic Ravine will take you on a fascinating journey through the country's typical rural sections.
Must Experiences
Dabangg: Stunt Spectacular: Recreated on the basis of the blockbuster movie Dabangg with Salman Khan as its hero, this live stunt show will put you in the middle of exhilarating fun, action and drama.
Lagaan: Taking inspiration from Aamir Khan-starrer movie, Lagaan, the replica of Champaner village forms the backdrop of this section, with attractions like Lagaan: Champaner Cricket Carnival comprising Gauri's Carousel, Champaner Chickens, and Tipu's Tub Toss. It is equally notable for Lagaan Thrill of Victory ride which offers rollercoaster-like simulator experience.
Sholay, The Hunt for Gabbar Singh: This exciting track‐bound ride enhanced with special 4D effects would effectively catapult you into imposing scenes of Bollywood classic, Sholay.
5. Bollywood Film Studios featuring Hall of Heroes
Mind-boggling entertainment, along with attractions like Ra.One Unleashed and Krrish: Hero's Flight, makes this section noteworthy.
Must Experiences
Rangmanch: Entering this open air theater will make you feel that you've stepped into a colorful Indian Village. It entertains you with spectacular dance forms representing different parts of the country.
Extraordinary Rides: Be sure to enjoy exciting 4D virtual ride wherein G.One defeats Ra.One, besides the 4D flying ride experience based on the fictional superhero movie Krissh starred by Hrithik Roshan.
So take your Dubai holidays to whole new level with a visit to this wonderful Bollywood theme park offering hours of limitless fun, entertainment and actions! With a variety of value added passes to choose from including annual passes, the best thing is that you can incredibly save on the entry to the park.