If you're planning a trip to Singapore, do visit the Sentosa Island. It's a fun-filled place where the adrenalin always runs high, and fun fills the air with vibrancy. It's the perfect holiday place for your entire family. Getting to Sentosa Island is part of the fun too – an exciting ride by cable car, zipping over the dense green jungle and surrounding waters below. Sentosa is more than just fabulous rides and fun – it's also about sinking your feet into the most perfect manmade beaches in the world! And that's not all – Sentosa is an exquisite resort island, with luxury hotels, restaurants and a luxury spa, all thrown in to making your stay as exclusive as possible. You'll never tire of Sentosa Beach, or of Sentosa tours, no matter how many you take.
The Fabulous Beaches Of Sentosa Island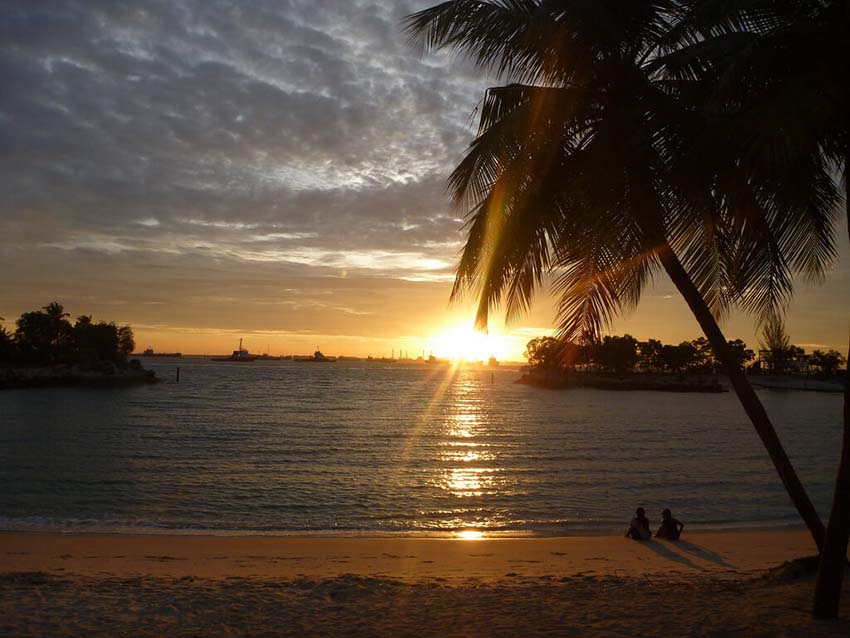 The fabulous, manmade Palawan Beach is meant for wholesome family fun with picnic areas, play areas and parks. Then there's Siloso, the action beach, offering kayaking, skim-boarding, rollerblading, cycling and other fun activities. Tanjong Beach is for romantic couples, with sugar-white sands, blue waters and endless sunshine. For a little added interest, walk the swinging suspension beach to what's considered the Southern Most Point of Continental Asia, enjoying fabulous views all around.
[For Tickets click here – Half day Sentosa Tour]
Animal Watching at Sentosa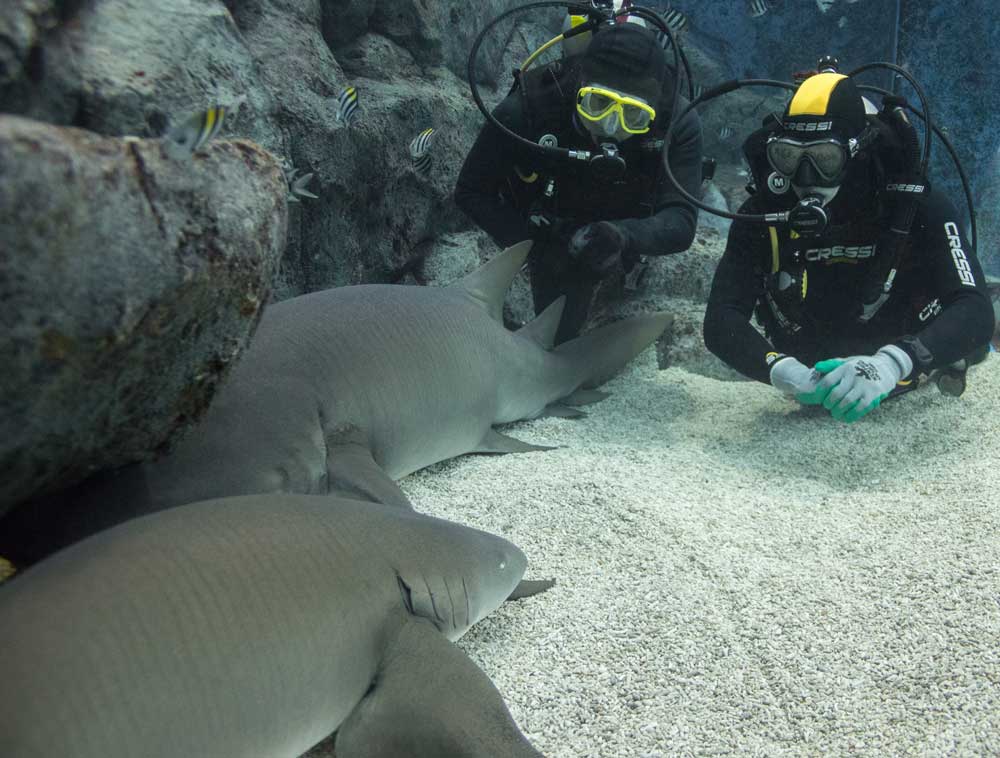 Watching varied forms of wildlife in their natural habitat is extremely exciting, especially when you suddenly encounter a rarely-seen creature! 70% of Sentosa Island comprises of secondary rainforest; in this dense forestry, many beautiful birds such as peacocks and parrots make their home. The Sentosa Island administrators organize bird feeding programs at the bird aviary along with live commentary on resident birds and their habits. There are also animal meet-and-greet programs that kids will enjoy. The butterfly park is full of colorful butterflies and the dolphins, seals and exotic fish in the Underwater World are always ready for some company. There's a crane show as well, where the tall graceful cranes lift their spindly legs and move about in time to music
Digital Adventures at Sentosa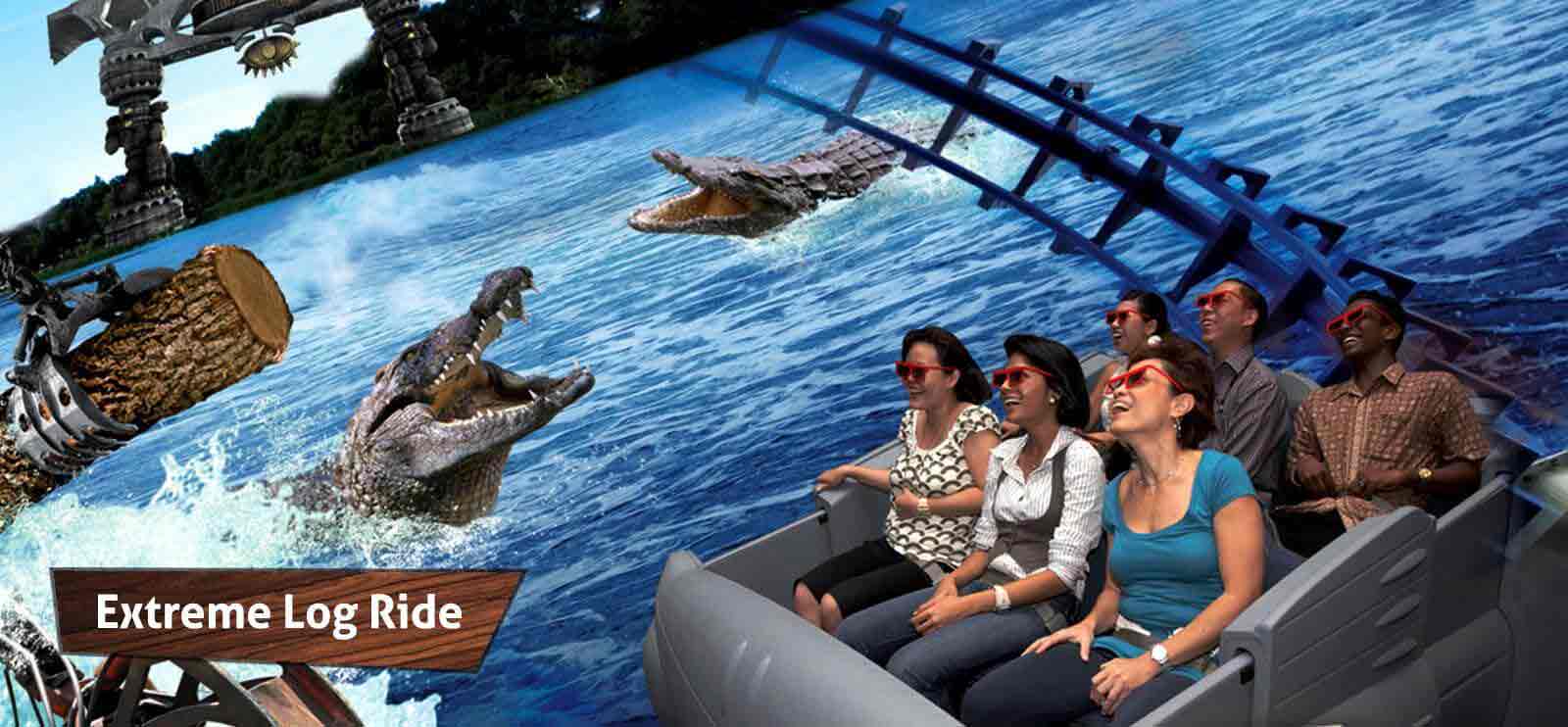 Sentosa's 4D Adventureland shows all your 3D adventure movies in immersive 4-D that just brings the scenes leaping out of the screen at you. Your kids will love the 'Fort Siloso Combat Skirmish', where they can train to be marines under Sergeant Major Cooper. Fight an army of bandits in 'Desperados, using motion-sensor pistols. Scream as loud as you want while plunging into deep waters in "Extreme Log Ride", the 4D virtual rollercoaster game.  Battle with enemies and fight aliens with your kids and make it a fun event for your entire family. It's 4D fun for the entire family that you'll all enjoy immensely.
S.E.A Aquarium
The S.E.A Aquarium is the best place to enjoy marine life. Visitors walk through an acrylic tunnel that's been built underwater, through which one can watch more than 100,000 marine creatures from over 800 different species. It's a real oceanic wonderland. There are several interactive displays in the aquarium like shark jaws that move and much more. The S.E.A. Aquarium is a fabulous way to really get away from it all and immense yourself in a different world – the world of brilliant sea creatures.
[For Tickets Click Here – S.E.A. Aquarium]
KidZania Singapore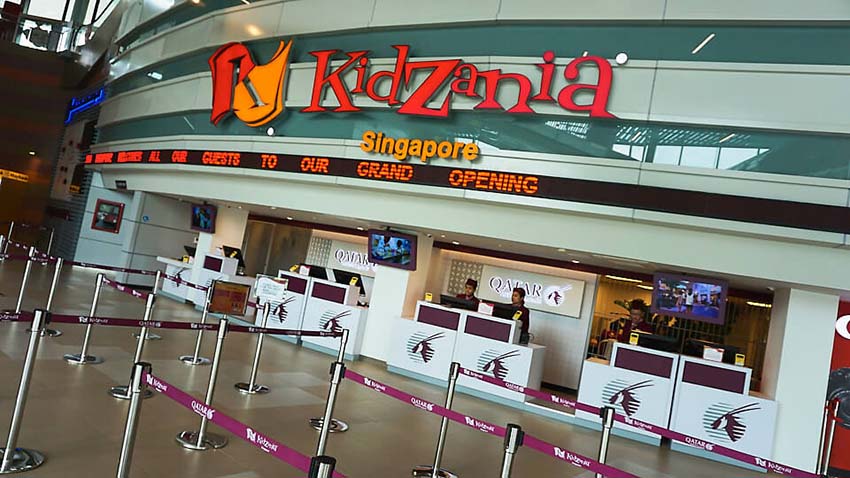 If you've got kids along with you, nothing will please them more than a trip to the never-ending-fun paradise of KidZania. This indoor theme park is actually a kid-sized city, with kid-sized buildings, vehicles and roads. Kids can 'drive to work' or play professionals here, just as grownups do. They can take on any grownup role here – doctor, engineer, pilot, banker, fire fighter – the list goes on!
iFly Sentosa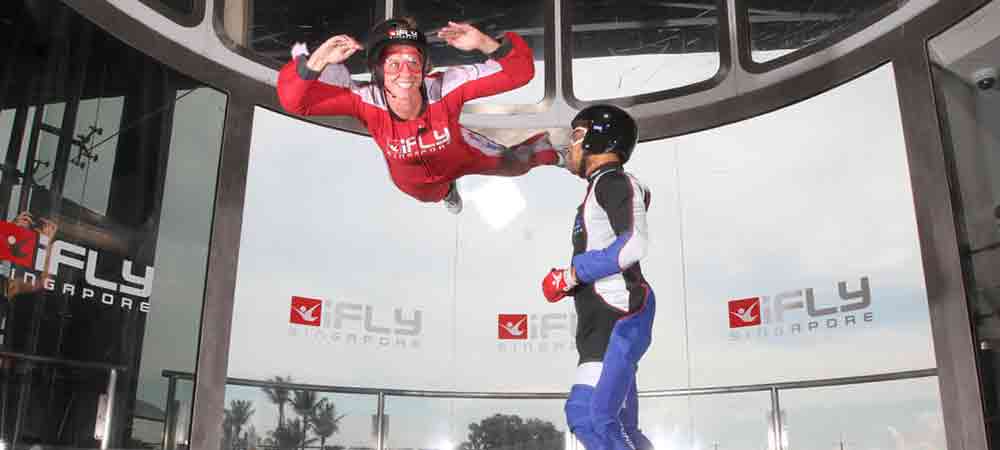 iFly Sentosa is the largest themed wind tunnel in the world. You'll be highly impressed with the impressive technology behind this amazing indoor skydiving wind tunnel. Flying is fun, and all the more so, when you're spinning in a tunnel that's 16.5 feet wide and 56.5 feet tall. As you spin through the transparent tunnel, you can watch an amazing view of Siloso Beach and the South China Sea.  You'll be guided by certified instructors who'll help you gear up to attempt skydiving. The cost is surprisingly low, if you compare them to an actual tandem jump.
MegaZip Zipline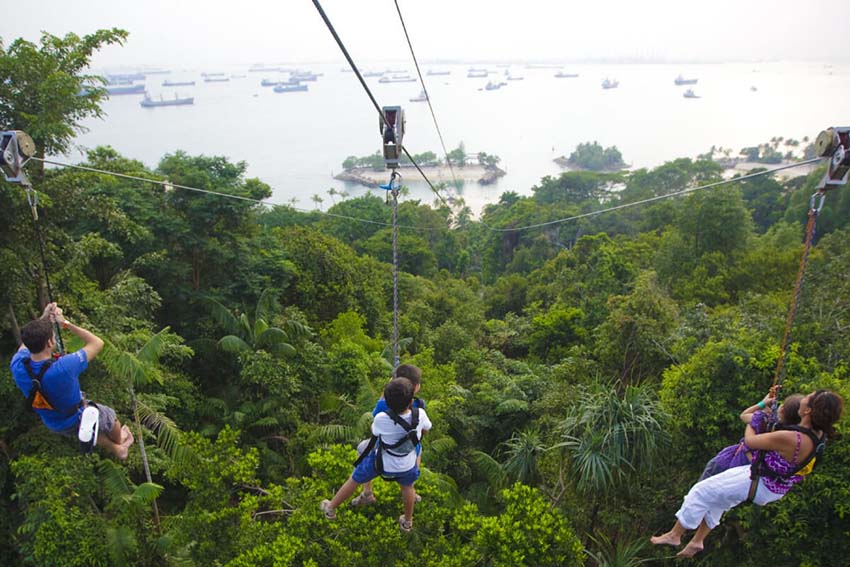 This is one not-to-miss adventure where you'll fly like an eagle over dense rainforests and ocean, throbbing with adrenaline and speed! The MegaZip speeds along at a height of 75 meters, for 450 meters, at 60 kilometers per second. Get on this breathtaking and exhilarating journey all the way from Imbiah Hill with its thick jungle canopy to the pristine white sands of Fox Finish Point. You'll want to do it again and again.
Adventure Cove Waterpark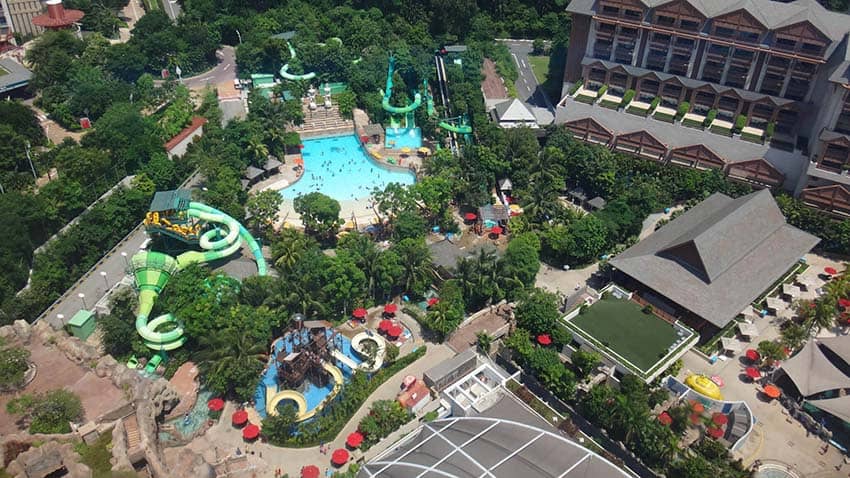 Adventure Cove Waterpark has everything that the young and the young-at-heart could want. Here one can snorkel along with fish over a reef, play on myriad water slides, and challenge oneself on water-based obstacle courses. In the Dolphin Island Marine Life Park, one can play with dolphins and watch the colorful stingrays swim by. You can also tube through the Adventure River through caves, underwater tunnels and fish pools. What fun!
Port of Lost Wonder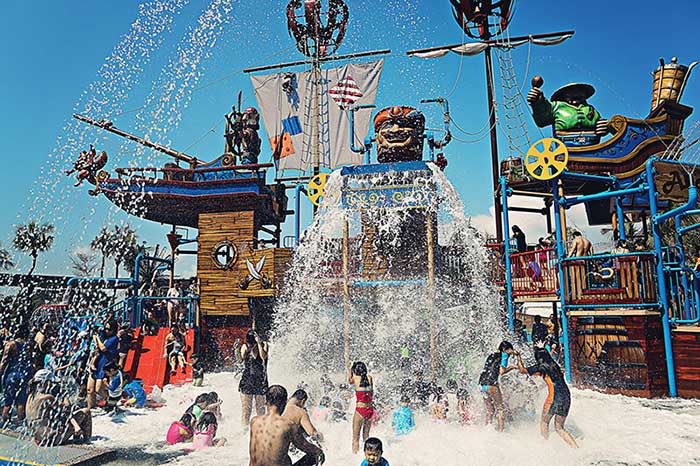 This is a tiny manmade port on Sentosa with a large moored boat wreck that your kids will love to explore. They'll also enjoy clambering onboard using ship's ladders, and sliding down the little water slides into the wading area. They can have fun playing pirates on the fake wreck, and when they're tired, you can settle them down on the grassy picnic area for a nap.
 If you were to ask Singapore's residents to vote for one perfect action-packed and yet luxurious and relaxing spot for people, they'd pick Sentosa Island. Did you know that the word 'Sentosa' actually means "peace and tranquility" in the Malay language? There's plenty of peace and tranquility in Sentosa, with all the lovely blue beaches, green gardens paths and golf courses. No wonder more than twenty thousand people visit Sentosa every year!