New year is the time of fun, joy, celebration & quality time with our loved ones. Are you tired of spending every New Year's Eve boozing, partying hard at clubs or sleeping early? No worries, We present here, some unique ways of celebrating that will stay with you for long.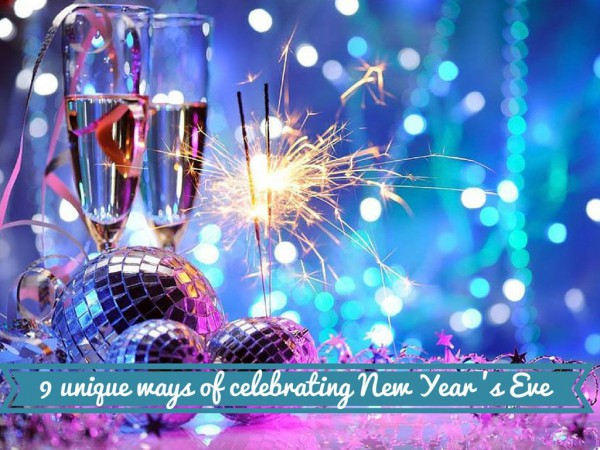 1. Rest & Recreation: It's time to take that long put off vacation. Pack your bags and set out to your dream destination for a refreshing start to the coming year. Pick among your dream destinations or travel to the most happening places to be at during the New Year's Eve.
Here' a list of most coveted travel destinations for year end that you can use: 10 Memorable places in the world to celebrate new year eve
2. Bonfire Banter: Remember those childhood days when we used to have bonfires at school picnics? Recreate those moments with a bonfire with your loved ones. As you snuggle around the fire, you can be lost in happy memories, share anecdotes. Those enthusiastic chefs can also put together yummy barbeques to make the night picture perfect.
PS: Please be careful while handling the fire.
3. Sharing is Caring: This year, spare a thought for those who do not get to celebrate the New Year. Visit an old age home, and spend some quality time with the residents there. Along with happiness and peace of mind, you will also gain some great memories and blessings from those old but sparkling eyes. Trust us, it will brighten up not just your year, but theirs too.
4. Cook-a-thon: Tired of the long waiting and the expensive rates at the best restaurants on New Years Eve? No worries! Just get your friends and family to pitch in and cook a grand New Year fête. Not only will you be able to make all your favorite food, but you will also spend some quality time bonding with your friends. The food made will taste all the more sweet after the long efforts. Good, homemade food and great company – what better way to ring in the New Year?
5. Pajama Party: Leave your hair down, take out your comfiest pair of PJ's and call up your best buddies around for an informal slumber party. Include plenty of munchies, and board games like Monopoly, Ludo , and Scrabble. Put on some great music and groove for a rocking pajama group dance!
PS: Breakfast at midnight is compulsory
6. Show time: For true movie buffs, what better way to start the new year than a movie night? Call your fellow movie buffs over, order some popcorn & food and get going!. If you are a bunch of girls, then chick-flicks could be the way to go. If you love action or horror films, have an action movie marathon — whatever works best for you.
7. Kara-okeeee- There's no party that rocks without music! The music, the fun, and not to mention the enjoyment of being surrounded by your friends and family as they try their hand at singing some of the hardest and most popular songs you can makes a karaoke party a very appealing idea. So what are you waiting for? Download an online karaoke software, tune in your favorite songs and let go! Special prizes can be also given to the brave hearts who also croon well!
8. Take a Hike: Wish to be out, but don't have time for a vacation? Turn out for a vigorous hike/trek through the mountains or a trail. For the ones feeling more adventurous, they can plan a camping trip with their buddies and make a stop for the weekend. There's no better start to the New Year than one amidst nature and your loved ones.
9. Host a Party: For those who love to plan & organize, they can plan a house party. Call up some friends, order some food n drinks, pick up some rocking music and you are ready to roll! One can meet new people; have a ball without the crowd and waiting you face after getting out. Don't forget to click some really memorable moments of the evening.
So, what are you waiting for? Pick one of these and start planning right away!