The camel – acknowledged as the ship and even lifeline of the desert – has long been considered a symbol of the UAE's pride and prosperity. Throughout the history, camels served as an efficient transport system, in addition to its significance as a reliable source of food and milk. Bedouins even gave it as a bride's dowry. In fact, Emirati's connection with camels is long-standing, and the Racing Festival is simply one of the many events that have been organized to honor the country's unique heritage.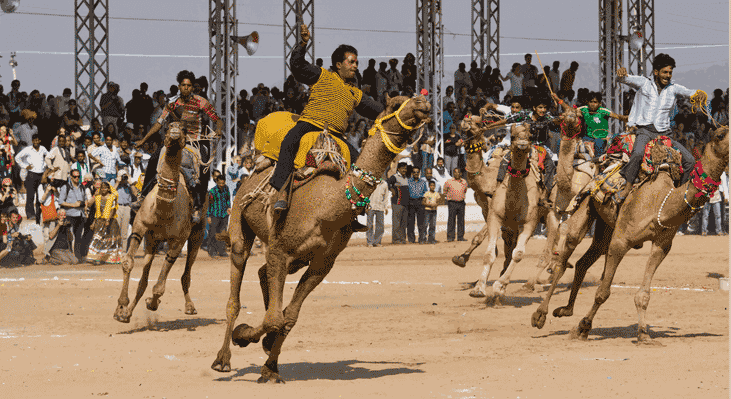 Objective
As discussed earlier, the camel racing is deeply entrenched in the country's tradition and culture. Organized under the patronage of His Highness Sheikh Hamdan bin Rashid Al Maktoum – the Dubai's crown prince and the Chairman of Dubai Sports Council, the Camel Racing Festival is mainly conducted to preserve the rich Emirati cultural values while hailing its prominence as a global event. As part of the event, a lot of other shows reflecting the region's cultural traditions and folklore are also organized.
A Traditional yet Professional Sporting Event
Since ancient times, the camel racing has been a popular racing sport in the UAE. Formerly an unavoidable part of weddings as well as festivities, it became a professional sporting event with the discovery of oil in the 1960s. Attended by thousands of camel owners and race enthusiasts from across the UAE as well as the other Middle Eastern regions, the 12-day long annual event's major highlight is more than 10,000 expertly trained camels of different ages and breeds, competing in more than 300 races. The winning camels eventually walk away with several jaw-dropping prizes including cash prizes worth millions of dirhams as well as luxury cars.
Robotic Jockeys
To provide a new dimension to this sporting event and take it to a whole new level, several revolutionary innovations and technological advancements are being deployed in recent years – the prominent being robotic jockeys that primarily gained importance owing to the announcement of ban of the use of children under 15 as jockeys by Sheikh Hamdan bin Zayed Al Nahyan in the early 2000s. Along with the colorful blankets, a small robotic jockey is attached to the camel's hump, which is steered by the operator or trainer driving in cars along the race tracks.
Organizers & Venue
This unique festival is organized by the Dubai Camel Racing Club – the first of its kind in the emirate – in association with Media World. It is usually held every February or March in Al Marmoom Camel Racetrack or Al Lisaili Racetrack, situated off the Dubai – Al Ain E66 Road.
Regulations
Though it is opened to all and the entry to the racetrack is free, it is vital for the spectators to adhere to certain rules and regulations. For example, the usage of camera is prohibited in the racetracks.